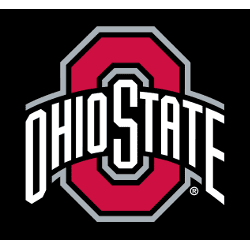 The biggest player on the Ohio State offensive line is 6'8, 360 pound Dawand Jones. You can't miss him because he towers over everyone on the field.
The former high school basketball player has just one year of starting experience but did test the NFL waters to see his worth to the scouts, teams and general managers.
He was neither satisfied or shocked at where the NFL brass had him projected being a fourth or fifth round pick in the upcoming 2022 Draft. He wants to be a first or second round pick.
The knock against Jones is his lower level of experience and that he is a little shaky in pass protection. He is one of the best in the nation in run blocking according to Pro Football Focus. They have him 8th overall at 90.6, but his pass blocking grade was 40th, at 78.8. Not good if you want to be a first round pick.
So he assured all of us in the media when we chatted with him recently that pass blocking is where he needs to vastly improve. He is the outside tackle on the right side protecting the QB's front side.
DAWAND JONES OHIO STATE BIO
HEIGHT 6-8
WEIGHT 360
HOMETOWN INDIANAPOLIS, IND.
LAST SCHOOL BEN DAVIS
YEAR SENIOR
Follow on Social Media
Twitter: @dvj79
Instagram: @dawandj
Ohio State Overview
• Dawand is a true junior who is majoring in communications
• He has played a significant role along the offensive line and on special teams the past two seasons, appearing in 17 games
• Appeared in six of eight games during the Covid-shortened 2020 season, including getting his first career start – and earning team "champion" status – against Michigan State
• In 2019 as a true freshman, he appeared in nine games
More on Dawand
• A four-star prospect by ESPN
• Earned three stars by Rivals.com and 247Sports.com
• Consensus top-15 rated player – regardless of position – in the state of Indiana
• A talented two-sport athlete who also excelled on the basketball court
• Averaged 17.0 points and 9.0 rebounds per game on the hardwood and had several Division I scholarship offers
• Played at Ben Davis for head coaches Mike Kirschner and Jason Simmons
• In his first year as a starter in 2017, helped Ben Davis to an undefeated 6A state championship
• An Indiana Football Coaches Association Top 50 team selection as a senior
• 6A All-State selection in 2017 as a junior
• Is the son of Deanna Jones