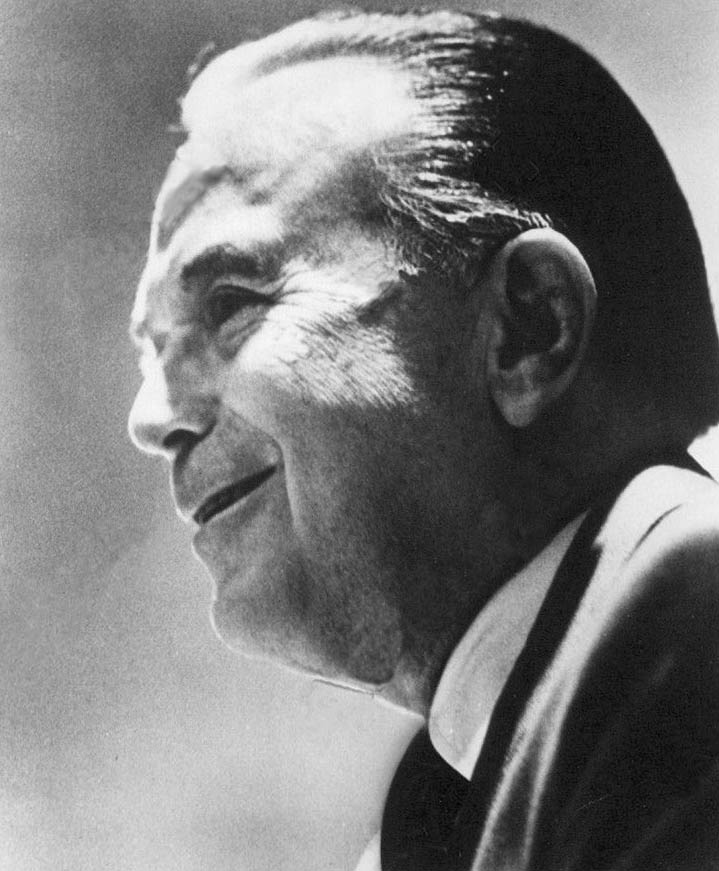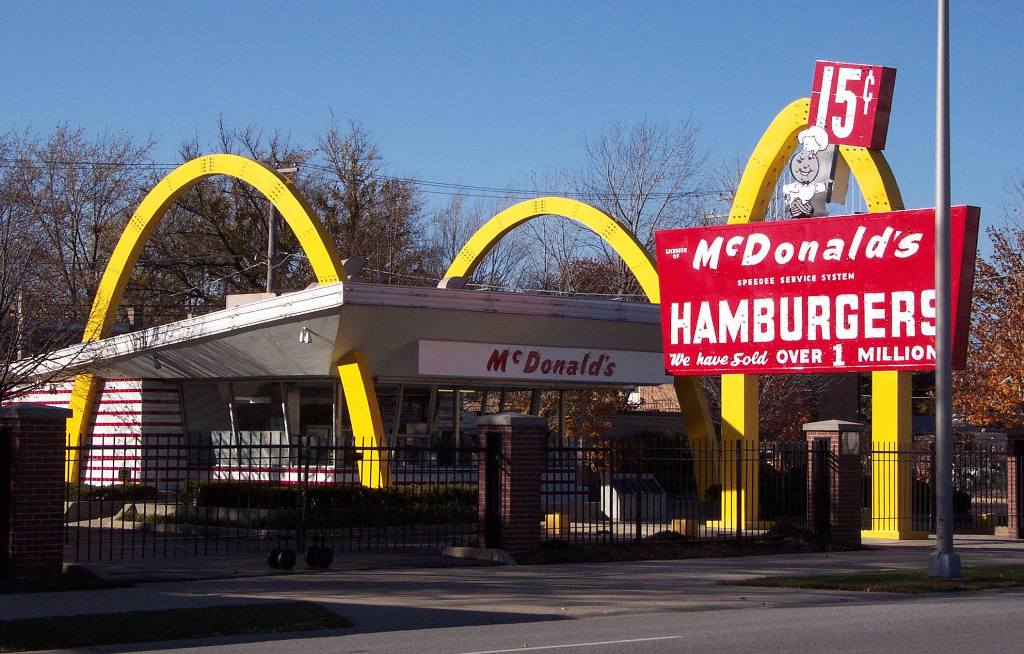 FROM WIKIPEDIA COMMONS
Raymond Albert Kroc (October 5, 1902 – January 14, 1984) was an American businessman. He purchased the fast food company McDonald's in 1961 and was its CEO from 1967 to 1973. Kroc is credited with the global expansion of McDonald's, turning it into the most successful fast food corporation in the world. Due to the company's growth under Kroc, he has also been referred to as the founder of the McDonald's Corporation. After retiring from McDonald's, he owned the San Diego Padres of Major League Baseball (MLB) from 1974 until his death in 1984.
McDonald's
McDonald's is an American multinational fast food corporation, founded in 1940 as a restaurant operated by Richard and Maurice McDonald, in San Bernardino, California, United States. They rechristened their business as a hamburger stand, and later turned the company into a franchise, with the Golden Arches logo being introduced in 1953 at a location in Phoenix, Arizona. In 1955, Ray Kroc, a businessman, joined the company as a franchise agent and proceeded to purchase the chain from the McDonald brothers. McDonald's had its previous headquarters in Oak Brook, Illinois, but moved its global headquarters to Chicago in June 2018.
McDonald's is the world's largest restaurant chain by revenue, serving over 69 million customers daily in over 100 countries across 37,855 outlets as of 2018. Although McDonald's is best known for its hamburgers, cheeseburgers and french fries, they feature chicken products, breakfast items, soft drinks, milkshakes, wraps, and desserts. The company also added salads, fish, smoothies, and fruit in response to changing consumer tastes and a negative backlash because of the unhealthiness of their food. The McDonald's Corporation revenues come from the rent, royalties, and fees paid by the franchisees, as well as sales in company-operated restaurants. According to two reports published in 2018, McDonald's is the world's second-largest private employer with 1.7 million employees (behind Walmart with 2.3 million employees). As of 2020, McDonald's has the ninth-highest global brand valuation.
TODAY'S ALMANAC
Passover begins at sundown on this day. Passover, or Pesach, is an annual weeklong festival commemorating the Exodus of the Jews from Egypt and slavery. The holiday, which begins on the 15th day of the Hebrew month of Nissan, derives its name from the passing over of the homes of the Israelite slaves during the tenth plague. Family and friends gather together on the first and second nights of the holiday for the high point of the festival observance, the Seder. During the Seder, which means "order" in Hebrew, the experience of the Exodus is told in story, song, prayer, and the tasting of symbolic foods. Perhaps the most well-known of these foods is the matzoh (flat, crackerlike unleavened bread), which is a reminder of the haste with which the slaves—who had no time to wait for the bread to rise—left Egypt. Read more about Passover here.
Good Friday, also known as Great Friday, Holy Friday, or Sorrowful Friday, is a major Christian observance that commemorates the crucifixion and death of Jesus Christ. It is a time for Christians to reflect upon his suffering and willing sacrifice to atone for the sins of mankind. Churches may offer special services, as well as cover crosses with black cloth as a sign of mourning. For some worshippers, it is a day of fasting.
Good Friday occurs two days before Easter (which celebrates Christ's resurrection). It is part of Holy Week, which starts with Palm Sunday and ends on Holy Saturday, the day before Easter. In certain countries, such as Canada, it is an official public holiday. In the United States, a number of states declare this a state holiday.
Traditional foods served on Good Friday include hot cross buns. These spiced sweet buns usually contain currants or raisins and are topped with icing in the shape of a cross."
Question of the Day
What are some ways that people paid taxes in the past?In biblical times, taxes were paid with herbs such as anise, and in medieval Europe, people used honey to pay their taxes.
Advice of the Day
To keep a cat at home, rub its paws with butter.
Home Hint of the Day
Every finish has a solvent. For liquid (as opposed to dried) varnish, it's likely to be turpentine; for shellac, denatured alcohol; for lacquer, lacquer thinner.
Word of the Day
EpactA number from 1 to 30 that indicates the Moon's age on January 1 at Greenwich, England; used for determining the date of Easter.
Puzzle of the Day
What happens when it rains cats and dogs?You have to be careful not to step in a poodle.
Born
Leonardo da Vinci (artist) – 1452
Bessie Smith (legendary blues singer) – 1894
Elizabeth Montgomery (actress) – 1933
Emma Thompson (actress) – 1959
Emma Watson (actress) – 1990
Died
Abraham Lincoln (16th U.S. president) – 1865
Jean-Paul Sartre (writer & philosopher) – 1980
Greta Garbo (actress) – 1990
John Curry (figure skater) – 1994
Byron White (Supreme Court justice) – 2002
Events
American School for the Deaf founded in Hartford, Connecticut– 1817
First state entomologist position approved, New York– 1854
President Lincoln called for 75,000 Union militia volunteers– 1861
Last day U.S. silver coins allowed to circulate in Canada– 1870
Canadian thanksgiving day held after Prince of Wales recovered from serious illness– 1872
General Electric Co. is incorporated– 1892
R.M.S. Titanic sank in early morning after striking iceberg on April 14th in late evening– 1912
First Canadian small penny coin released– 1920
Insulin became available for general use– 1923
After acquiring franchising rights from the McDonald brothers, Dick and Maurice, Ray Kroc opened his first McDonald's chain restaurant in Des Plaines, Illinois– 1955
Chesapeake Bay Bridge-Tunnel opened, Virginia-Delmarva Peninsula– 1964
First national lottery drawing in Canada– 1974
COURTESY www.almanac.com