NHL Public RelationsFebruary 21, 2022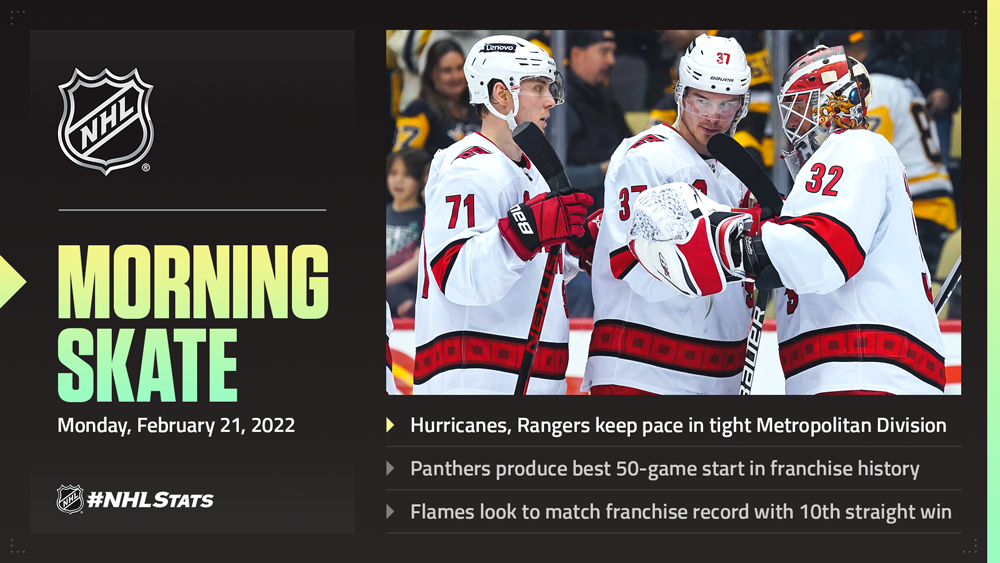 * The Hurricanes and Rangers collected two crucial points in the Metropolitan Division, where the top three teams are separated by just three points.
* Jonathan Huberdeau continued his 100-point pace and helped the Panthers produce their best 50-game start to a season in franchise history.
* Patrik Laine guided the Blue Jackets to their second straight seven-goal outburst as Columbus has its sights set on the second Wild Card spot in the Eastern Conference.

HURRICANES, RANGERS EARN WINS IN LOGJAMMED METROPOLITAN DIVISION
The Metropolitan Division-leading Hurricanes (34-11-4, 72 points) ousted the second-place Penguins (31-13-8, 70 points) Sunday, while the third-place Rangers (32-13-5, 69 points) also collected two points to continue their chase for top spot in the division.
* Carolina padded its lead with goals in the opening nine seconds of the second and third periods to open up a two-point cushion on Pittsburgh. The Hurricanes (49 GP) own three games in hand on the Penguins (52 GP) and one on the Rangers (50 GP), with multiple head-to-head meetings remaining against both teams in 2021-22 (3 vs. NYR; 2 vs. PIT).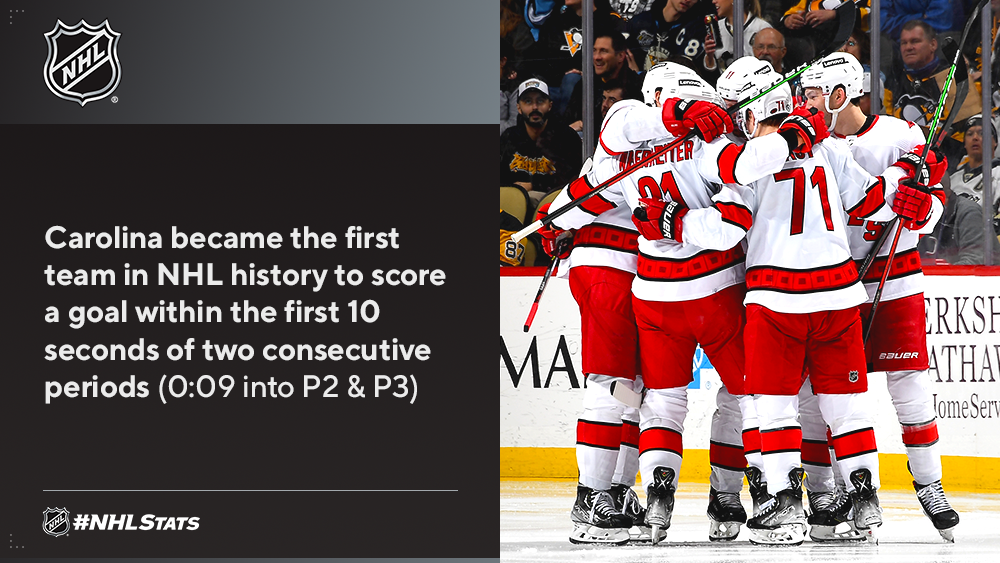 * Igor Shesterkin (29 saves), with an 11-1-1 record in his past 13 contests, improved to 50-21-6 (79 GP) in his career. New York's fourth-round pick in the 2014 NHL Draft (118th overall), required the fewest games by a Rangers goaltender to reach the 50-win mark (debut or otherwise) and bested Gilles Villemure (85 GP).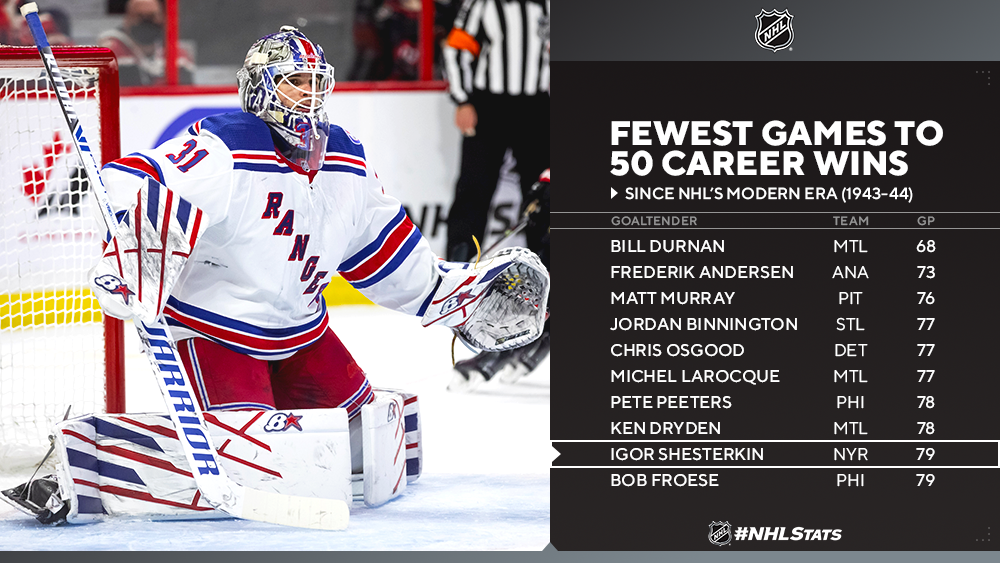 HUBERDEAU PUSHES PANTHERS PAST BLACKHAWKS WITH 70TH POINT
Jonathan Huberdeau (0-2—2) recorded his 70th point of the season as the Panthers (35-10-5, 75 points) moved within one of the NHL-leading Avalanche (36-9-4, 76 points). Florida has recorded its most points through 50 games in a season in franchise history, besting its previous mark of 67 set in 1995-96 (31-14-5) and matched in 2020-21 (31-14-5).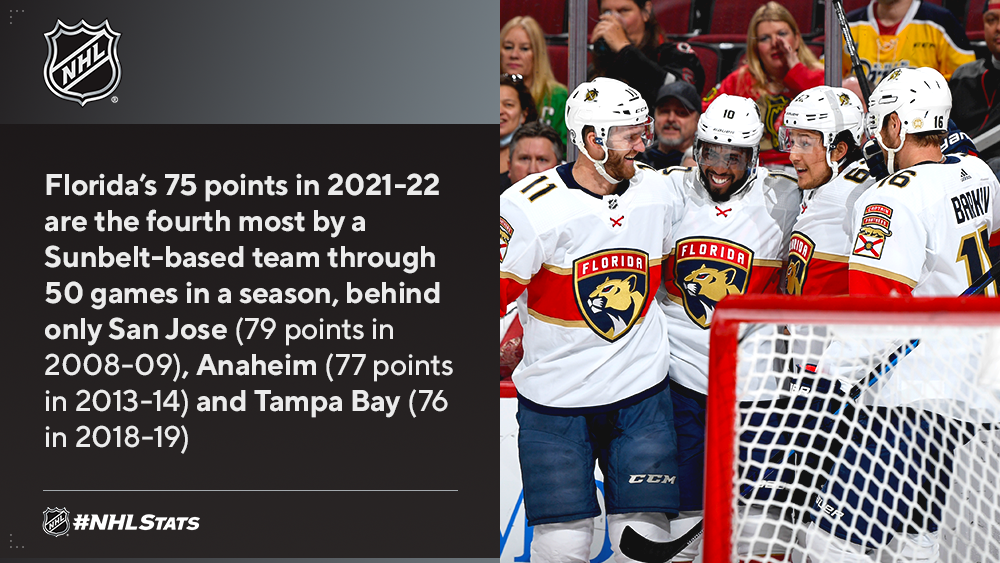 * Huberdeau (17-53—70 in 50 GP) is one of three players with 70 points this season, joining Oilers duo Connor McDavid (26-45—71 in 48 GP) and Leon Draisaitl (35-35—70 in 50 GP). The highest-scoring player in franchise history is on pace to register 115 points in 2021-22 – the first 100-point campaign by a Florida skater. Teammate Aleksander Barkov (35-61—96 in 2018-19) currently holds the franchise record for points in a single season.
LAINE, BLUE JACKETS CONTINUE WILD-CARD PUSH
Fresh off a hat trick in his previous outing, Patrik Laine (0-2—2) propelled the Blue Jackets (25-23-1, 51 points) to their second seven-goal output in as many games. Columbus, with consecutive seven-goal outings for the first time in franchise history, sits within nine points of Boston (28-17-4, 60 points) for the second Wild Card spot in the Eastern Conference.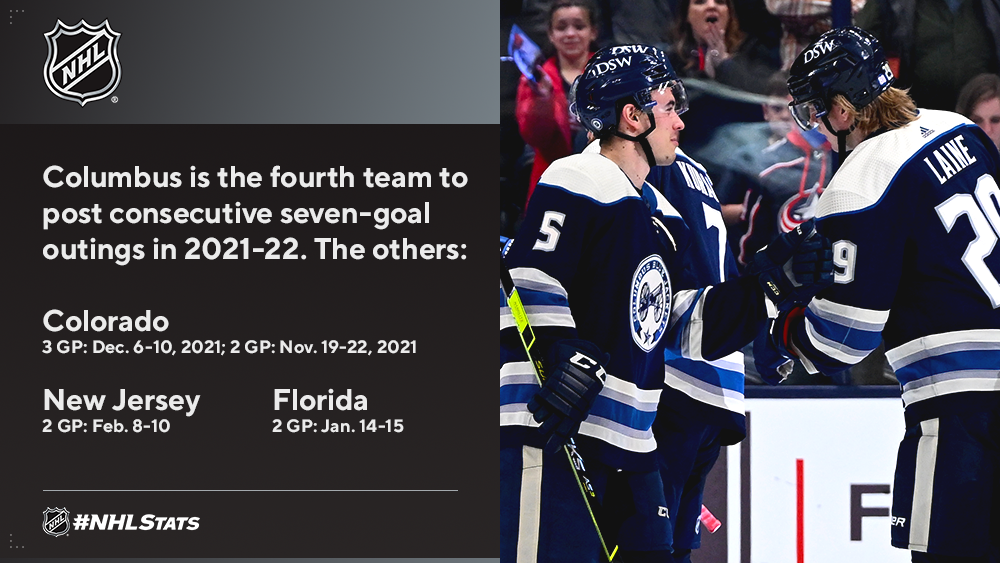 * Laine extended his point streak to nine games in the process (10-8—18 in 9 GP) and moved into a tie with Calgary's Elias Lindholm (8-7—15 in 9 GP) for the longest active run in the NHL. Since his streak began on Jan. 27, Laine and the Blue Jackets have gone 7-2-0 – behind only the Flames (9-1-0) and Oilers (8-3-1) for the most wins among all teams over that span.
GOALIES END WINLESS STRETCHES IN #NHLSTATS: LIVE UPDATES
The Sunday edition of #NHLStats: Live Updates featured Andrew Hammond (30 saves) and J-F Berube (33 saves) backstop the Canadiens and Blue Jackets to victories, respectively, with each ending lengthy stretches without wins in the process.
* Hammond, who has spent 11 games with the Iowa Wild in the AHL this season (6-2-3, 2.44 GAA, .908 SV%), earned his first regular-season win in the NHL since April 9, 2016. Of note, he posted a 44-save victory with the Predators during Game 5 of the 2018 First Round.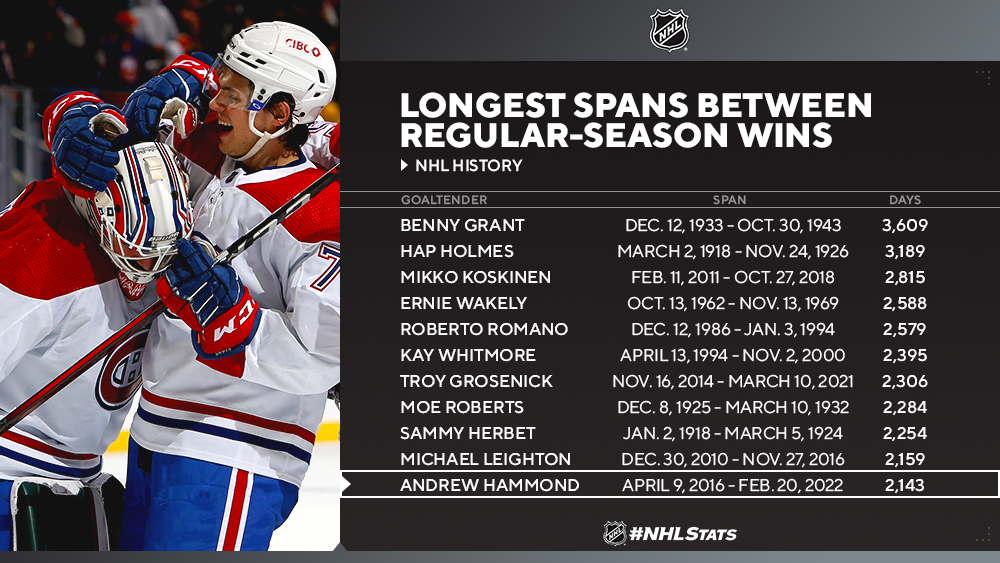 * Berube, who has appeared with five AHL teams over the past four seasons, made his first start in an NHL game since the 2017-18 season and earned his first victory since April 4, 2018 – a stretch spanning 1,418 days.
BLACK HOCKEY HISTORY SPOTLIGHT: SCARBOROUGH, ONT.
For the last quarter century, players like Anson Carter, Joel Ward, Devante Smith-Pelly and Wayne Simmonds have helped Scarborough, Ont., leave its mark in the NHL and have passed the baton to the next generation which includes the likes of Kings prospect Akil Thomas (No. 51 in 2018 NHL Draft).
Click here for an NHL.com feature highlighting the impact Black players from Scarborough have had on the NHL.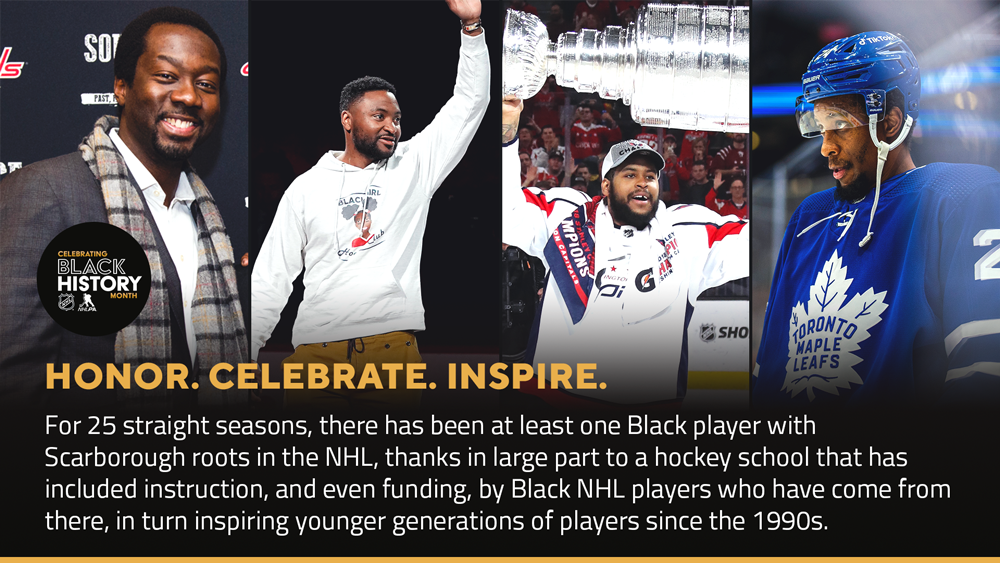 QUICK CLICKS
* Jack Eichel's first goal with Vegas stands as the game winner
* Emile Francis lived by family, faith, devotion to hockey until death at age 95
* Jeremy Swayman talks emerging career with Bruins in sit-down with NHL.com
* Brock Boeser's dog Milo wins very competitive Canucks dog race
* Penguins celebrate Sidney Crosby's 500th goal with pre-game ceremony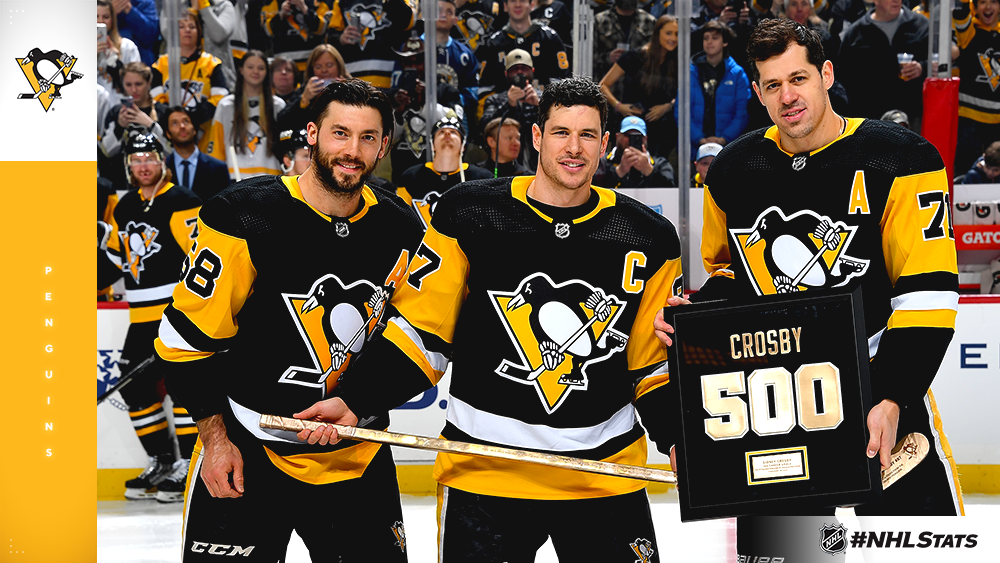 FLAMES EYE DOUBLE-DIGIT WIN STREAK MONDAY
The Pacific Division-leading Flames (29-13-6, 64 points) aim to become the third team to post a double-digit win streak this season when they welcome the Jets (22-19-8, 52 points) to Scotiabank Saddledome. Another victory would witness Calgary match the longest in a single season in franchise history.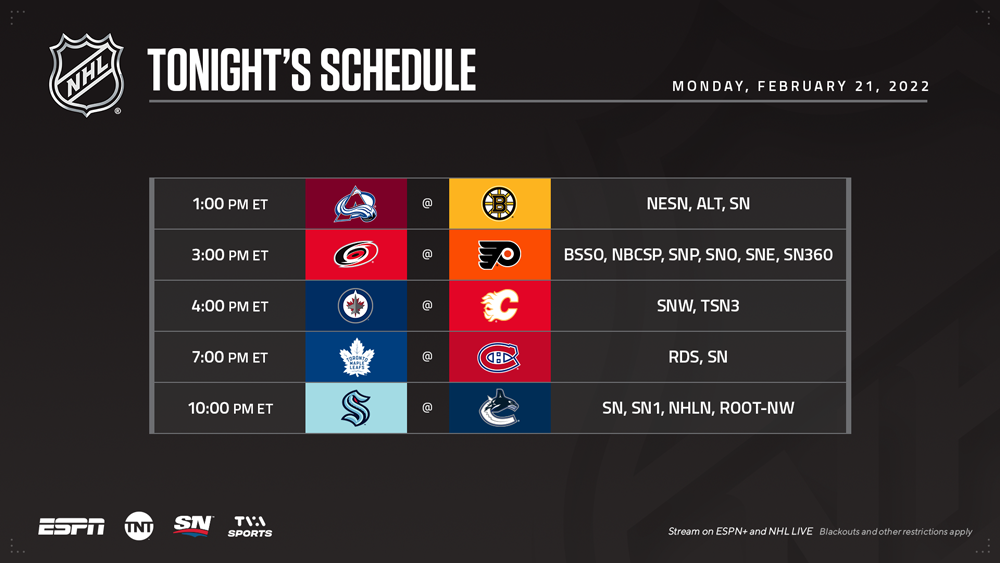 COURTESY NHLmedia.com