NHL Public RelationsFebruary 21, 2022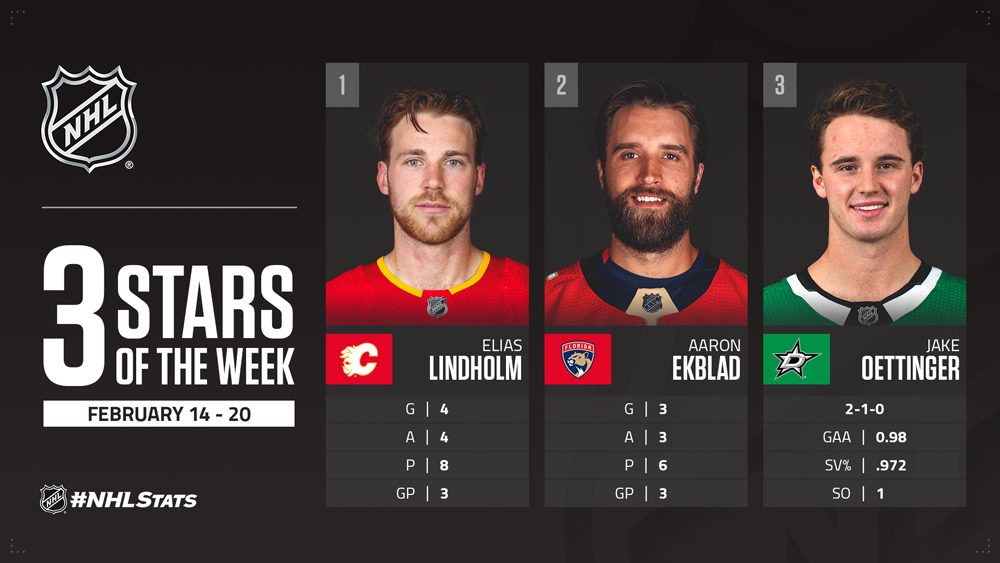 NEW YORK (Feb. 21, 2022) – Calgary Flames center Elias Lindholm, Florida Panthers defenseman Aaron Ekblad and Dallas Stars goaltender Jake Oettinger have been named the NHL's "Three Stars" for the week ending Feb. 20.
FIRST STAR – ELIAS LINDHOLM, C, CALGARY FLAMES
Lindholm ranked second in the NHL with 4-4—8, collecting goals and multiple points in all three of his appearances to help the Flames (29-13-6, 64 points) move into first place in the Pacific Division via their ninth straight win dating to Jan. 29. He opened the week with consecutive three-point performances, posting 1-2—3 in a 6-2 victory over the Columbus Blue Jackets Feb. 15 and 2-1—3 (including the winning goal) in a 6-2 triumph against the Anaheim Ducks Feb. 16. Lindholm added 1-1—2, highlighted by his second straight decisive goal and fifth of the season, in a 2-1 victory over the Seattle Kraken Feb. 19. The 27-year-old Boden, Sweden, native – who has points in each game during Calgary's current win streak (8-7—15 in 9 GP) – has scored in a career-high seven consecutive contests (8-4—12), one shy of the franchise record shared by Kent Nilsson and Gary Roberts. Lindholm is producing at a point-per-game pace overall in 2021-22, placing third on the Flames with 22-26—48 in 48 games and second in entire the League with a +38 rating – behind only teammate Johnny Gaudreau (+40).
SECOND STAR – AARON EKBLAD, D, FLORIDA PANTHERS
Ekblad registered 1-1—2 in each of his three outings to lead NHL defensemen in goals (3), points (6) and plus/minus (tied; +6), helping the Panthers (35-10-5, 75 points) open a five-point cushion atop the Atlantic Division on the strength of a perfect week. Ekblad (1-1—2) first lifted Florida to a 3-2 comeback win against the Carolina Hurricanes Feb. 16, scoring his seventh career overtime goal (and second of the season) to tie teammate Aleksander Barkov for second place in franchise history. He followed that with 1-1—2 in each of his next two games, a 6-2 triumph over the Minnesota Wild Feb. 18 and a 5-2 victory against the Chicago Blackhawks Feb. 20. The 26-year-old Windsor, Ont., native and No. 1 overall pick from the 2014 NHL Draft has skated in 49 total contests this season, ranking fifth among NHL blueliners with a career-high 47 points (13-34—47) while sitting fourth among all skaters (forwards or defensemen) with a +35 rating.
THIRD STAR – JAKE OETTINGER, G, DALLAS STARS
Oettinger stopped 104 of the 107 shots he faced, compiling a 2-1-0 record, 0.98 goals-against average, .972 save percentage and one shutout as the Stars (27-20-2, 56 points) remained within three points of the final playoff spot in the Western Conference. He made a career-high 46 saves in a 4-1 win over the Colorado Avalanche Feb. 15. Oettinger then earned his second career shutout – in front of family and friends at United Center – with 34 stops, plus another five in the shootout, in a 1-0 victory against the Chicago Blackhawks Feb. 18. He closed the week with 24 saves on 26 shots in a 3-1 loss to the Arizona Coyotes Feb. 20. The 23-year-old Lakeville, Minn., native has appeared in 23 total games this season, going 15-6-0 while ranking among the top netminders in goals-against average (8th; 2.34) and save percentage (10th; .921).
COURTESY NHLmedia.com