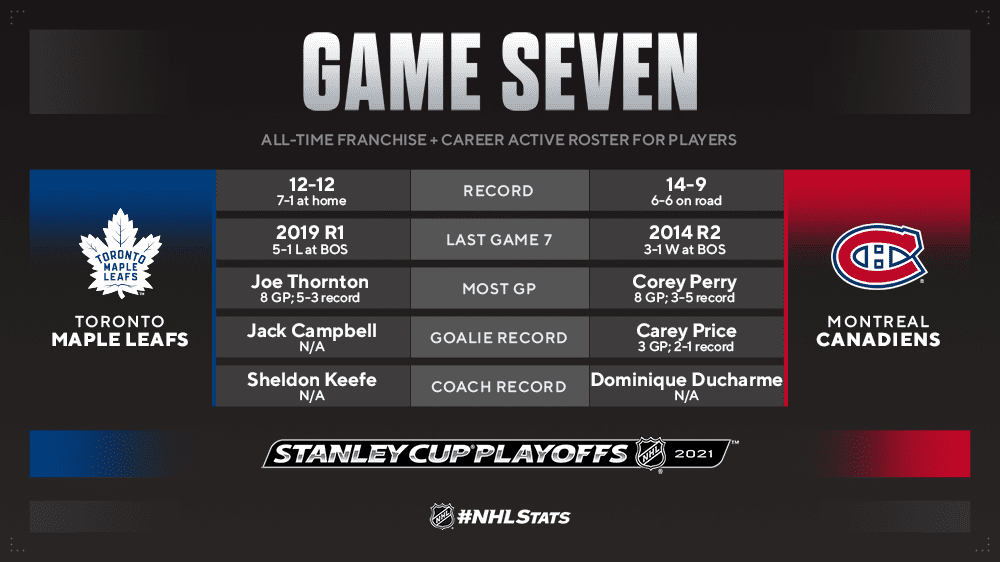 NEW YORK (May 30, 2021) — For just the second time in their storied, century-old rivalry, the Toronto Maple Leafs and Montreal Canadiens will face off in a winner-take-all Game 7 Monday at Scotiabank Arena in Toronto (7 p.m. ET, CBC, SN, TVAS, CNBC).
The winner of Monday's game will advance to the Second Round and a meeting with the Winnipeg Jets to determine the Scotia North Division's representative in the Stanley Cup Semifinals.
Monday's showdown will mark the latest chapter in a Toronto-Montreal playoff history that spans 103 years, dating to their first playoff meeting in the League's inaugural season of 1917-18. Their lone previous Game 7 was played more than 57 years ago, when Dave Keon scored a hat trick to power Toronto to a 3-1 win at the Montreal Forum in the 1964 Semifinals. Keon was the second player in NHL history with a Game 7 hat trick – six skaters have accomplished the feat since, including Golden Knights forward Mattias Janmark on Friday vs. Minnesota.
The Maple Leafs, who will play host to a Game 7 for the first time in 17 years, are 12-12 lifetime in Game 7s. Toronto owns an all-time home win percentage of .875 in Game 7s (7-1), tied with the New York Rangers (7-1) for the highest among NHL franchises (min. 5 GP).
The Canadiens have earned 14 all-time wins in Game 7s (14-9), which trails only the Boston Bruins (15-13) for the most in League history. They have won three of their past four Game 7s on the road since 2010, recording victories at Boston, Pittsburgh and Washington. The club is vying to capture a best-of-seven series it trailed 3-1 for the third time in franchise history, adding to wins over the Bruins in the 2004 Conference Quarterfinals and Capitals in the 2010 Conference Quarterfinals.
Both Montreal and Toronto faced Boston in its last Game 7. Carey Price made 29 saves and Brendan Gallagher had two assists as the Canadiens earned a 3-1 series-clinching win in the 2014 Second Round, while John Tavares scored the Maple Leafs' only goal as they fell by a 5-1 margin in the 2019 First Round.
Four players on the Toronto and Montreal rosters boast at least five games of Game 7 experience. Maple Leafs forward Joe Thornton and defenseman Jake Muzzin have appeared in eight and five such games, respectively, totals matched by Canadiens forwards Corey Perry (eight) and Tyler Toffoli (five).
This marks the 43rd consecutive NHL postseason with a Game 7 (there has been at least one such winner-take-all showdown in every Stanley Cup Playoffs since 1978). The only playoff years in the expansion era (since 1967-68) without a Game 7 – 1970, 1973 and 1977 – featured a playoff format with seven best-of-seven series.
Game 7 Trends
* The team that scores first is 136-46 (.747) in the 182 all-time Game 7s in the Stanley Cup Playoffs (1-0 in 2021).
* Home teams own a 106-76 (.582) advantage in the 182 all-time Game 7s in the Stanley Cup Playoffs (1-0 in 2021).
* Ninety-one of the 182 all-time Game 7s in the Stanley Cup Playoffs (50%) have been decided by a one-goal margin.
* Forty-five Game 7s in the Stanley Cup Playoffs have required overtime (24.7%). Home teams have a 23-22 edge in those contests.
*** Please see attachment for more individual and team Game 7 statistics ***
COURTESY NHLmedia.com