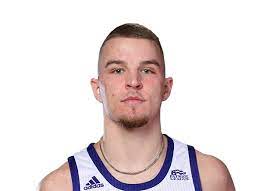 CHARLOTTE, N.C. – The Charlotte 49ers men's basketball program and head coach Ron Sanchez announced that 6-foot-5 guard Austin Butler has transferred from Holy Cross to Charlotte. This season, Butler earned second team All-Patriot League honors while scoring over 1,300 points in his collegiate career. 
Butler graduates this spring from Holy Cross with a degree in visual media and a minor in education. He is immediately eligible to play for the 49ers and will have one year of eligibility as a fifth-year graduate transfer.
ALL-PATRIOT LEAGUE SEASON
In the 2020-21 season, Butler averaged 16.1 points, 8.8 rebounds, and 1.6 steals per game while earning second team All-Patriot League honors. This season, he ranked among the league leaders in several categories: second in rebounding (8.8 rpg), third in three-point field goal percentage (45.8%), tied for third in steals (1.6 spg), and ninth in scoring (16.1 ppg). He recorded 14 double-figure scoring games, including scoring a career-high 30 points while shooting 11-for-14 from the field in a road win at Boston University in the final game of the regular season on February 24. Butler, who led the Crusaders in rebounding 11 times, grabbed 15 rebounds in a road game at Colgate on January 17.
STANDOUT COLLEGIATE CAREER
The Latrobe, Pennsylvania native, enjoyed a stellar four-year career at Holy Cross. In his career, he scored 1,321 points, grabbed 571 rebounds, dished out 188 assists, and recorded 126 steals while connecting on 37.4 percent (158 of 422) of his three-point field goals. He finished his career ranked among the school's career leaders: fifth in three-point field goals made (158) and games started (100) and seventh in three-point field goals attempted (422).
He recorded 71 double-figure scoring games and 15 double-figure rebounds games in his career, including grabbing a career-high 17 rebounds against Sacred Heart, December 22, 2019. He averaged double-digit points in each of the last three seasons.
In 2017-18, Butler was named to the Patriot League All-Rookie team after averaging 9.8 points and 3.7 rebounds per game.
Off the court, he was on the Patriot League Honor Roll several times during his time as an undergraduate.
HIGH SCHOOL CAREER
Butler, who was team captain as a junior and a senior, scored a school-record 1,905 points during his high school career at Greater Latrobe Senior High School. He earned Westmoreland Tribune-Review Player of the Year honors twice. As a senior, he averaged 29.2 points, 6.6 rebounds, and 2.5 assists while earning second team All-State honors. As a junior, he played an integral role in helping his team reach the Western Pennsylvania Interscholastic Athletic League 4A semifinals while compiling a 22-3 record.
Not only did he excel on the basketball court, but he also was captain of his high school football and track teams. He earned second team All-Conference honors as a quarterback while also setting the school record with a javelin throw of 198 feet. As a senior, he was named Westmoreland Tribune-Review Boys Athlete of the Year.
NINERS RECRUITING CLASS
Butler joins incoming freshman 6-foot-4 guard Daylen Berry as newcomers on Charlotte's 2021-22 roster. 
"You don't have to watch Austin long to get a sense of his toughness and competitive spirit. His efficient shooting, playmaking, and rebounding are valuable assets that we will lean on during his time in Charlotte. Austin's contagious energy will be a welcome addition to our team, and we are excited to have him on campus for his final year of eligibility."
Coach Ron Sanchez
"I built a great relationship with Coach Sanchez and the rest of the coaching staff immediately. I felt comfortable with the coaching staff from day one of the recruiting process. Charlotte is a great city. The University has wonderful facilities and a nice-looking campus. Charlotte was the best fit for me. I am excited to join the 49ers program."
Austin Butler
COURTESY CHARLOTTE ATHLETIC COMMUNICATIONS