By Annie Walker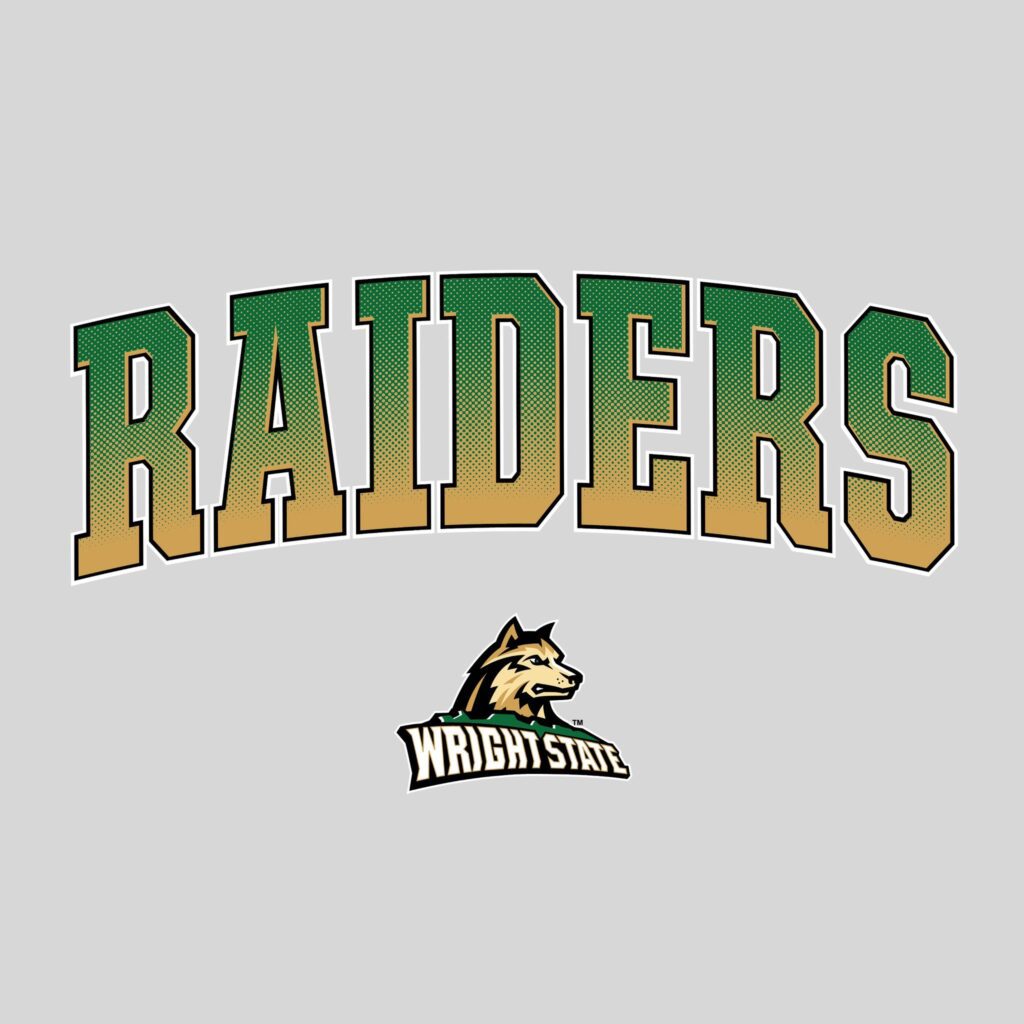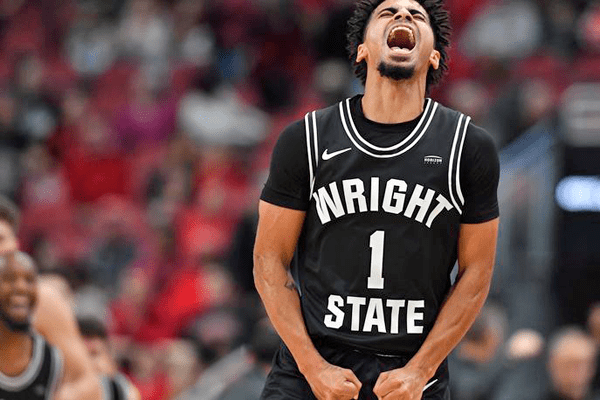 11/10/2023
FORT COLLINS, CO – The Wright State men's basketball team went toe-to-toe with Colorado State over the first 20 minutes on Friday night, but the hosts pulled away in the second half to hand the Raiders a 105-77 defeat in Wright State's 2023-24 season opener.
Wright State (0-1) was led by Trey Calvin's game-high 33 points while Tanner Holden added 16 points in his Raider return and AJ Braun and Brandon Noel each chipped in eight points.
Wright State is back in action on Tuesday night inside the Nutter Center for the home opener against Toledo. Tipoff is set for 7 p.m.
Colorado State (2-0) led by just three at the break but scored the first seven points coming out of the locker room to gain breathing room. The hosts later used a 14-3 run over a three-minute stretch near the midway point of half to extend what was a six-point game into a double-digit advantage.
Calvin tallied 20 of his 33 points in the first half as Wright State came out of the gates hot and hit its first five shots of the half. The Raiders played from in front most of the opening 20 minutes, seeing the lead get as high as 11 at the 10:02 mark after a jumper from Alex Huibregtse. After Colorado State tied the game at 35-all, the sides traded baskets before the hosts took the lead for what turned out to be for good at 40-39 with 1:40 until the break.
Three players – true freshman Kaden Brown and redshirt freshmen Drey Carter and Logan Woods – all saw their first collegiate action, with Carter logging 16 minutes and four points on a pair of second half baskets. Brown and Woods each tallied their first points from the free throw line.
Wright State 59 percent from the floor in the first 20 minutes, including a 5-of-7 mark (71 percent) from three-point range, before cooling off and connecting on just one of eight second half three-point attempts as part of a 41 percent second half shooting percentage. For the night, the Raiders shot an even 50 percent (29-58) and settled for a 6-of-15 tally from three-point range (40 percent).
Colorado State finished the night shooting 64 percent (42-66) from the floor and saw five players finish with double-digit scoring nights, led by Isaiah Stevens' 22 points.
PREGAME NOTES
DAYTON – The Wright State men's basketball team lifts the lid on its 2023-24 campaign Friday night out west as the Raiders take on Colorado State for the first time in program history. Tipoff is set for 9 p.m. ET from Moby Arena in Fort Collins, Colorado. Colorado State is already 1-0 after a home victory Monday night over Louisiana Tech.
LAST SEASON, REVISITED
Wright State finished the 2022-23 campaign with an 18-15 overall record and an even 10-10 mark in Horizon League play. The Raiders won their HL tournament opener over Green Bay before ending the year falling at Milwaukee in the HL quarterfinals. The Raiders were 9-6 at home inside the Nutter Center, 7-8 on the road and 2-1 in a trio of neutral matchups in Las Vegas last November. Brandon Noel was named the Horizon League Freshman of the Year and Trey Calvin was named a first team performer by the conference. The pair also earned numerous recognitions from outside publications for their play in 2022-23.
RAIDERS MEET RAMS
Wright State faces Colorado State for the first time in program history on Friday night, marking the 204th opponent in Raider history.
KNOW THE FOE
– Colorado State opened its 2023-24 season on Monday night with an 81-73 home win over Louisiana Tech thanks to a big 28-6 scoring run over a 10-minute stretch in the second half.
– Isaiah Stevens was named the Mountain West Preseason Player of the Year and one of 20 players named to the Bob Cousy Preseason Watch List. He is coming off a season averaging career highs in scoring (17.9) and assists (6.7).
– Colorado State is coming off a 15-18 season making it to the quarterfinals of the Mountain West Tournament before falling to eventual national runner-up San Diego State 64-61.
– Patrick Cartier is back at CSU after averaging 12.3 points and 4.7 rebounds while shooting 64.7% from the field.
– The Rams welcome four newcomers to the team from Colorado Springs. Joel Scott, Nique Clifford, Javonte Johnson and Cam Lowe all reunited to play together in Fort Collins. Scott, Clifford and Johnson are transfers from Black Hills State, Colorado and New Mexico, respectively.
– CSU has a pair of Division II All-Americans on their roster in Patrick Cartier and Joel Scott. Both were two-time All-America selections with Scott being named the DII Player of the Year last season.
I REMEMBER YOU!
Despite Friday marking the first-ever meeting between Wright State and Colorado State, the Raiders will be familiar with two faces on the Colorado State sideline. Current Colorado State assistant coach Brian Cooley spent five seasons on the Raider sidelines before heading west, helping Wright State to three Horizon League titles and a trip to the 2018 NCAA Tournament. Cooley also spent time on Raider head coach Scott Nagy's staff at South Dakota State before making the move to Wright State.  Former Raider Cole Gentry is currently a graduate assistant at Colorado State after a playing career that saw him tally more than 1,000 career points at Wright State from 2017-2020.
CALVIN COMES BACK
Trey Calvin announced on March 13 his intentions to return to the Raiders for a fifth season in 2023-24 via a social media post that read "Loyalty is the first law of God. Let's run it back one more time Raider Nation!" Calvin recorded 20 or more points 18 times last year – including 11 of the final 14 contests – and now has 25 performances of 20-plus points in his career. He begins the 2023-24 campaign with four 30-plus point performances on his resume, including a career-high 44 points at Youngstown State on Feb. 2, which were the most points scored in a Horizon League contest last season. Calvin became the 37th member of the Wright State 1,000-point club last December against Robert Morris. He is currently the No. 10 all-time leading scorer in program history with 1,532 career points, 232 points shy of fifth place in Raider history.
NOEL NOTES
Brandon Noel collected Horizon League Freshman of the Year honors and a spot on the All-Freshman Team in his first season of action with the Raiders. He appeared in all 33 games during the 2022-23 season, averaging 13.0 points per game, the second-most on the roster, and a team-leading 8.7 rebounds per game. His 60.9 percent field goal shooting percentage was first in the Horizon and 19th nationally. The Lucasville, Ohio native finished with 11 double-doubles, good for the third-most by an HL player. Noel recorded 23 double-figure scoring performances with seven games of 20-plus points. On the glass, he had 13 double-digit rebound games and five-plus rebounds in 28 contests. He became the seventh Raider in program history to be named top freshman and the first since Loudon Love at the end of the 2017-18 campaign.
HOLDEN IT DOWN
Tanner Holden returns to Wright State, where he has played in 92 career games (91 starts) as a Raider. He has averaged 16.1 points, 7.0 rebounds, 2.3 assists and 1.2 steals over three seasons as a Raider, highlighted by a 20.1 points per game average in 2021-22 when his 723 total points were the sixth-most nationally. Holden recorded 33 double-figure scoring games in 2021-22, including scoring 20 or more points a Horizon League-best 20 times, punctuated with a 37-point effort in Wright State's NCAA victory over Bryant in the NCAA First Four.
HELLO HUIBREGTSE
Alex Huibregtse tallied double figures scoring in seven Horizon League games and 12 total double figure games overall in 2022-23, finishing with five-plus points in 24 contests. After being limited to just three games in 2021-22, Huibregtse played in all 33 games last season with 12 starts, tallying 20-plus minutes in 26 contests, including in 21 of the final 23. Huibregtse connected on at least one three-pointer in 28 contests, adding multiple rebounds in 21 games, including a career-best six rebounds three times – the win at Louisville, his first start of the season against Milwaukee on Jan. 26 and Feb. 25 at Detroit Mercy.
BREAKOUT BRAUN
AJ Braun recorded 16 games with 10-plus points in 2022-23 – including five straight contests from Jan. 26 through Feb. 8. This came after Braun tallied just four total games with 10-plus points as a freshman in 2021-22. Additionally, Braun had seven games last season with eight or more rebounds, including a career-best 10 boards on Dec. 10 at Western Kentucky after only recording five-plus rebounds six times in 28 games played as a freshman.
COURTESY WRIGHT STATE ATHLETIC COMMUNICATIONS