By StephanieLee Elliott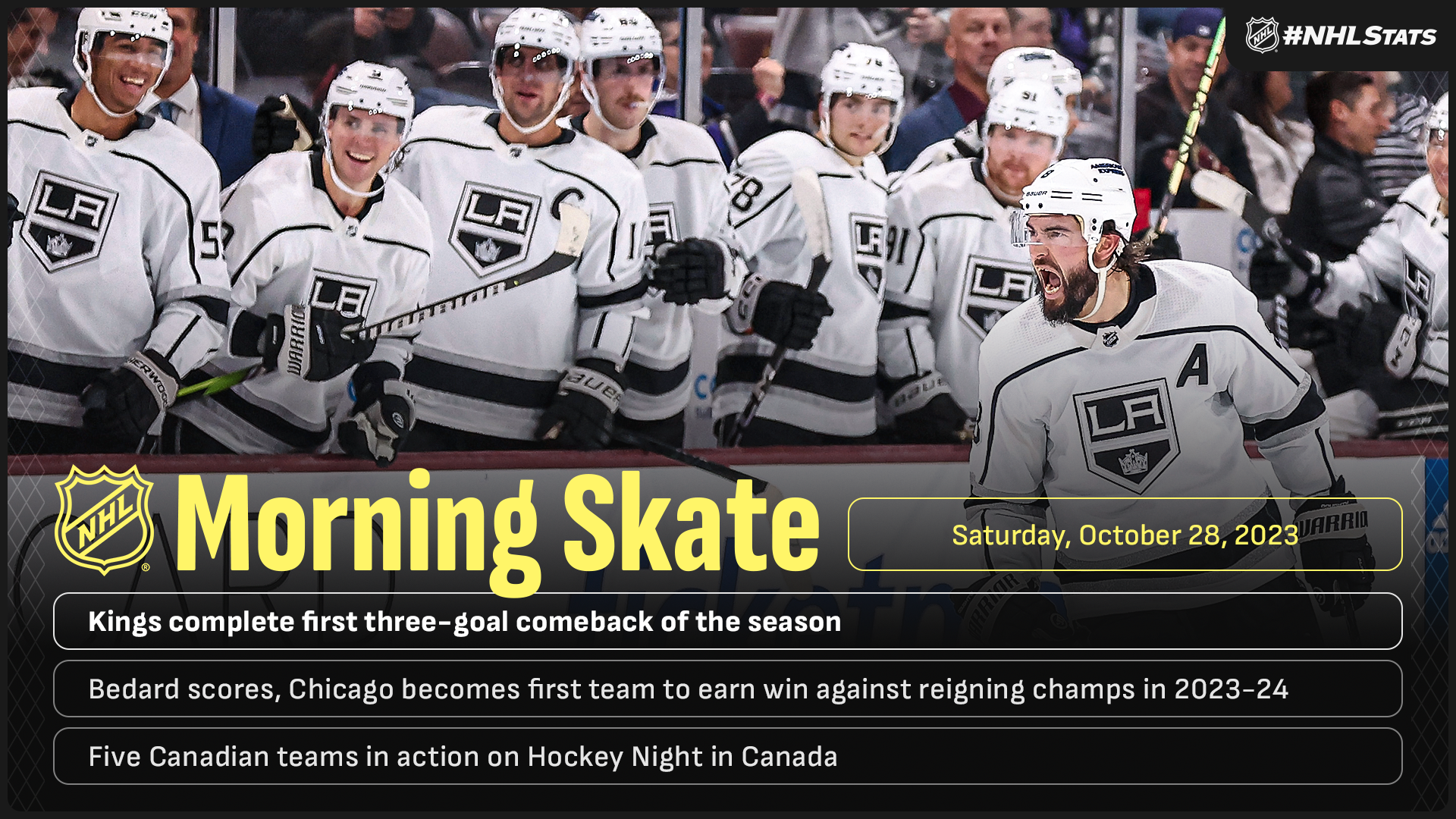 * Drew Doughty capped off the first three-goal comeback win of the season with his game winner for the Kings and became the third defenseman in NHL history with at least three go-ahead goals in the final two minutes of regulation.
* Connor Bedard and the Blackhawks played spoiler to the reigning Stanley Cup champions as they snapped the Golden Knights' season-opening winning streak. The 2023-24 campaign now has no undefeated squads left.
* Five of seven Canadian clubs will take the ice during a four-game Hockey Night in Canada slate, while the two teams left out, the Oilers and Flames, prepare for the 2023 Tim Hortons NHL Heritage Classic.
OILERS, FLAMES PREPARING TO TAKE THINGS OUTSIDE FOR FIRST TIME
The Hockey Night in Canada panel will be on site at Commonwealth Stadium in Edmonton ahead of the 2023 Tim Hortons NHL Heritage Classic between the Oilers and Flames. The "Battle of Alberta" will be contested in the open air for the first time in its 43-year history when the clubs meet Sunday at 5 p.m. MT / 7 p.m. ET on Sportsnet, TVA Sports, TBS and MAX.
* The Oilers and Flames will practice Saturday evening at Commonwealth Stadium, where the first NHL regular-season outdoor game was held 20 years ago. Click here and here for a full rundown of #NHLStats ahead of the 38th such contest and first of four this season.
* As a legacy to the 2023 Tim Hortons NHL Heritage Classic, and in celebration of the 20th anniversary of the first regular-season outdoor game in League history, the Oilers, NHL and Rogers donated $200,000 to Hockey Alberta's Local Hockey Leaders Grant for Equity, Diversity & Inclusion. For the first time ever, Hockey Alberta will launch an equity, diversity and inclusion-focused grant program to educate its leaders, members and participants about maltreatment and safe sport initiatives focused on providing a safe environment for all. Click here for more information.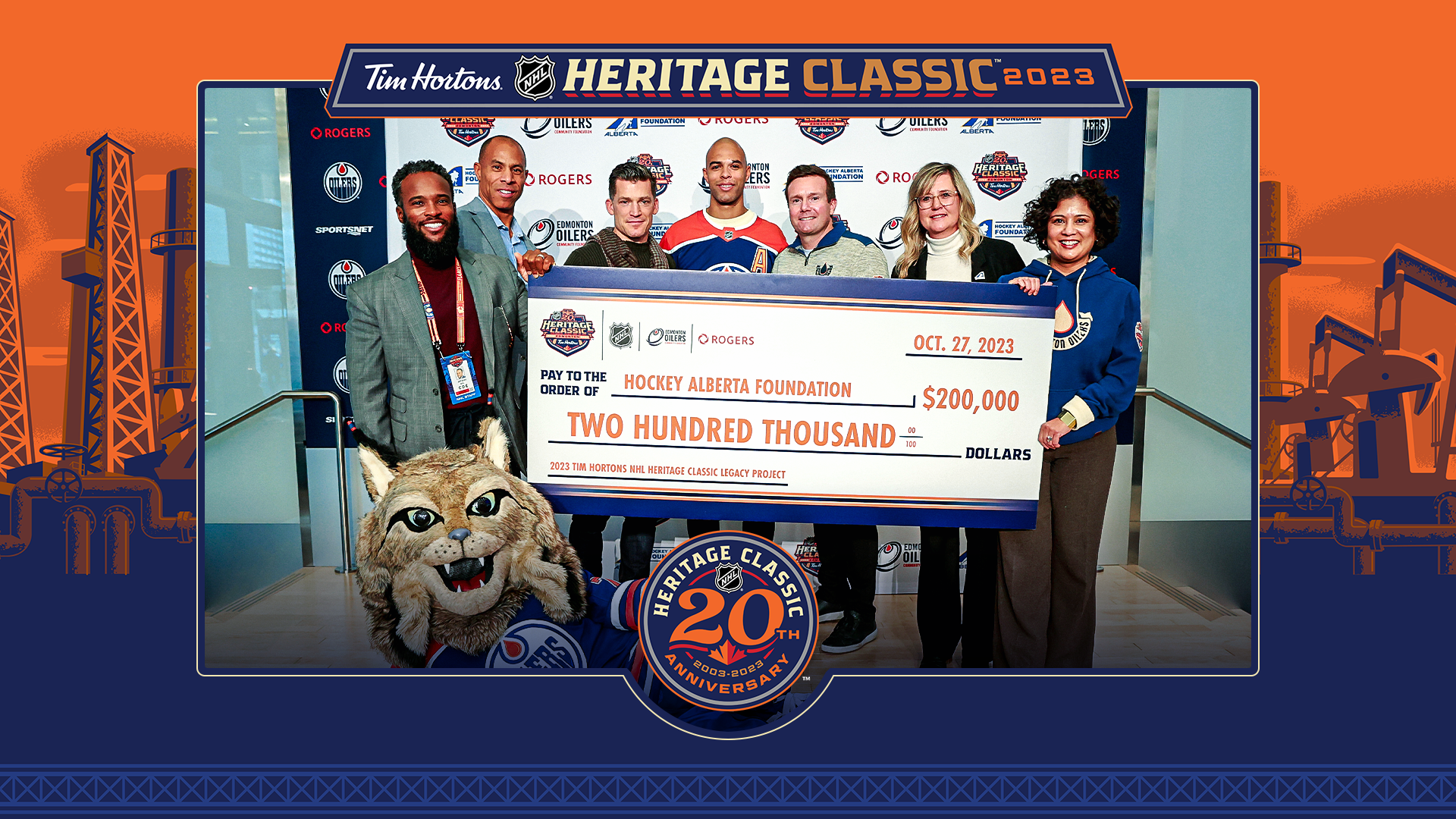 FIVE REMAINING CANADIAN CLUBS TO BE FEATURED ON HOCKEY NIGHT IN CANADA
With the Alberta clubs preparing for the 2023 Tim Hortons Heritage Classic, the other five Canadian clubs will hit the Hockey Night in Canada airwaves Saturday, including William Nylander and John Tavares looking to match a Maple Leafs franchise record in Nashville.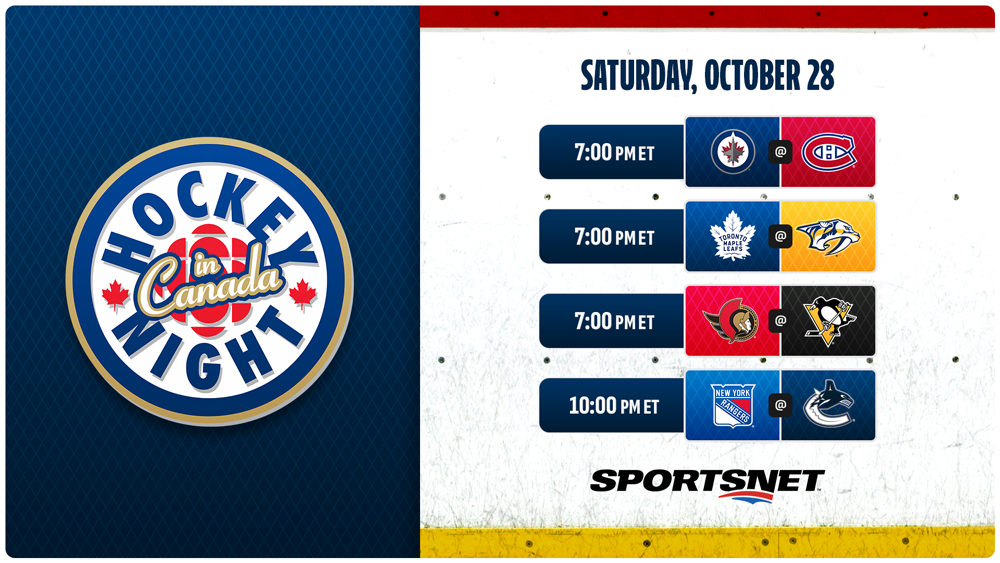 * Nylander (5-6—11 in 7 GP) and Tavares (4-7—11 in 7 GP) can each match the 106-year-old franchise's record for longest point streak from the start of a season. Three players have notched a point in each of Toronto's first eight games of a campaign, with the last occurring 41 years ago: Frank Mahovlich (1961-62), Lanny McDonald (1976-77) and John Anderson (1982-83).
* The Bell Centre faithful will be privy to an all-Canadian matchup featuring two of the fastest skaters in the League so far this season as well as two of the hardest shooters. Entering Friday, Jets forwards Rasmus Kupari (1st; 23.95 mph at 13:44 of P2 on Oct. 17 vs. LAK) and Morgan Barron (6th; 23.41 mph at 14:45 of P1 on Oct. 24 vs. STL) both rank among the top 10 for maximum speed recorded so far in 2023-24. They are likely to be opposed by two of the hardest shooters in the League in Canadiens defenseman Arber Xhekaj, who ranks seventh so far this season with a 99.76 mph shot (7:18 of P3 on Oct. 14 vs. CHI), and Mike Matheson, who entered Friday tied for the sixth-most 90+ mph shots in 2023-24 (6). Visit NHL.com/EDGE for an updated leaderboard heading into Saturday's action.
* Sidney Crosby and the Penguins will be featured on Hockey Night in Canada for the second time this season (also Oct. 14 vs. CGY) as the captain narrows in on his 1,200th career game (554-955—1,509 in 1,197 GP) and approaches his former coach and teammate on the League's all-time assists list. Crosby has 18-36—54 in 46 career games versus the Senators, tied with teammate Evgeni Malkin (25-29—54 in 44 GP) for the second-most points by any active player against the club.
* In the Hockey Night in Canada finale, the Rangers will head into Vancouver after outscoring opponents 10-2 and winning the first three contests of a five-game road trip out west. Artemi Panarin (3-7—10 in 7 GP), who is approaching his 600th NHL game (597 GP), enters on the longest season-opening point streak by a Rangers player since Marian Gaborik began the 2009-10 campaign on an eight-game run.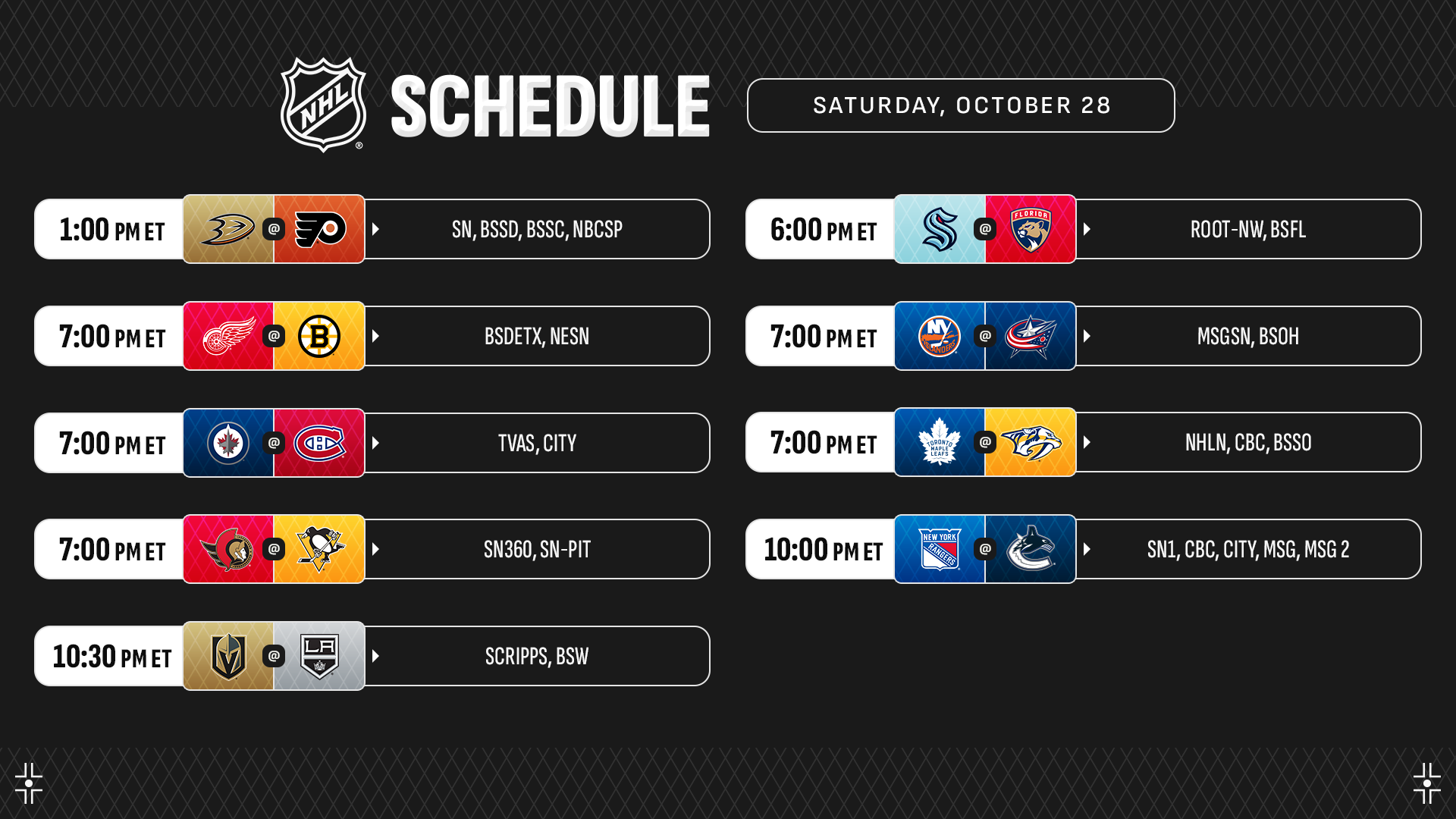 HERITAGE CLASSIC QUICK CLICKS
* Oilers forward Evander Kane fills in as local weatherman
* Oilers fans soak in WestJet NHL Fan Park before Heritage Classic
* 2023 Tim Hortons NHL Heritage Classic: By The Numbers
* Heritage Classic Blog: Blake Coleman
RESULTS FROM A SIX-GAME FRIDAY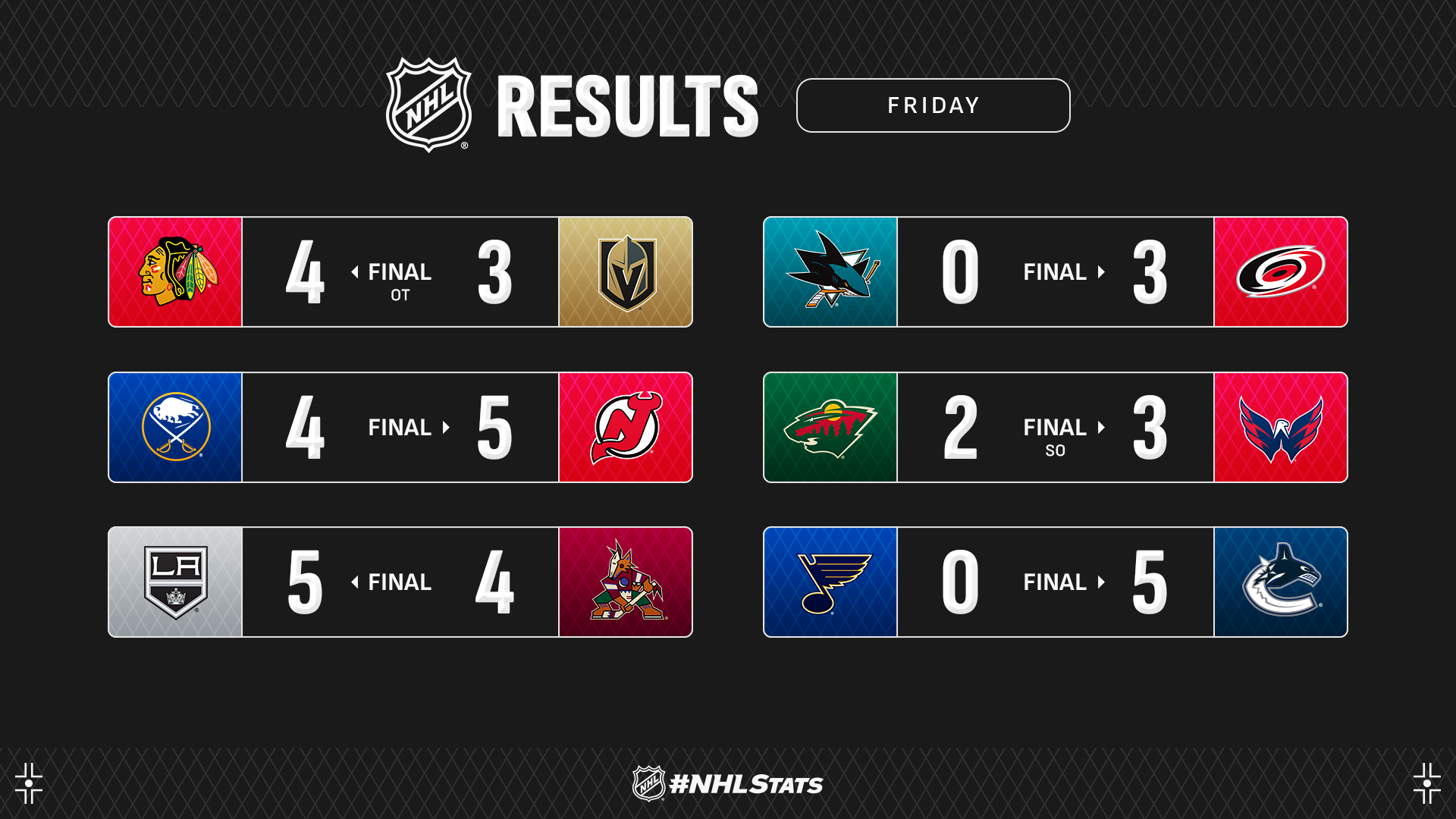 DOUGHTY HELPS KINGS COMPLETE FIRST THREE-GOAL COMEBACK OF THE SEASON…
After the Coyotes made it 4-1 in the opening 8:55 of the first period, marking the second-fastest four goals to start a game in franchise history, veteran defenseman Drew Doughty (2-0—2) helped the Kings rally back by scoring the first and last of four unanswered goals as his club secured the first three-goal comeback win of the season. Friday marked Los Angeles' third three-goal comeback victory in the past decade (also March 6, 2021 & Dec. 18, 2014) and its first on the road since April 6, 2010 (5-4 SO at ANA).
* Doughty scored the go-ahead goal with 1:59 remaining in the third period, which marked his fourth career go-ahead tally in the final two minutes of regulation and moved him into a tie with Marcel Dionne for the most in Kings history.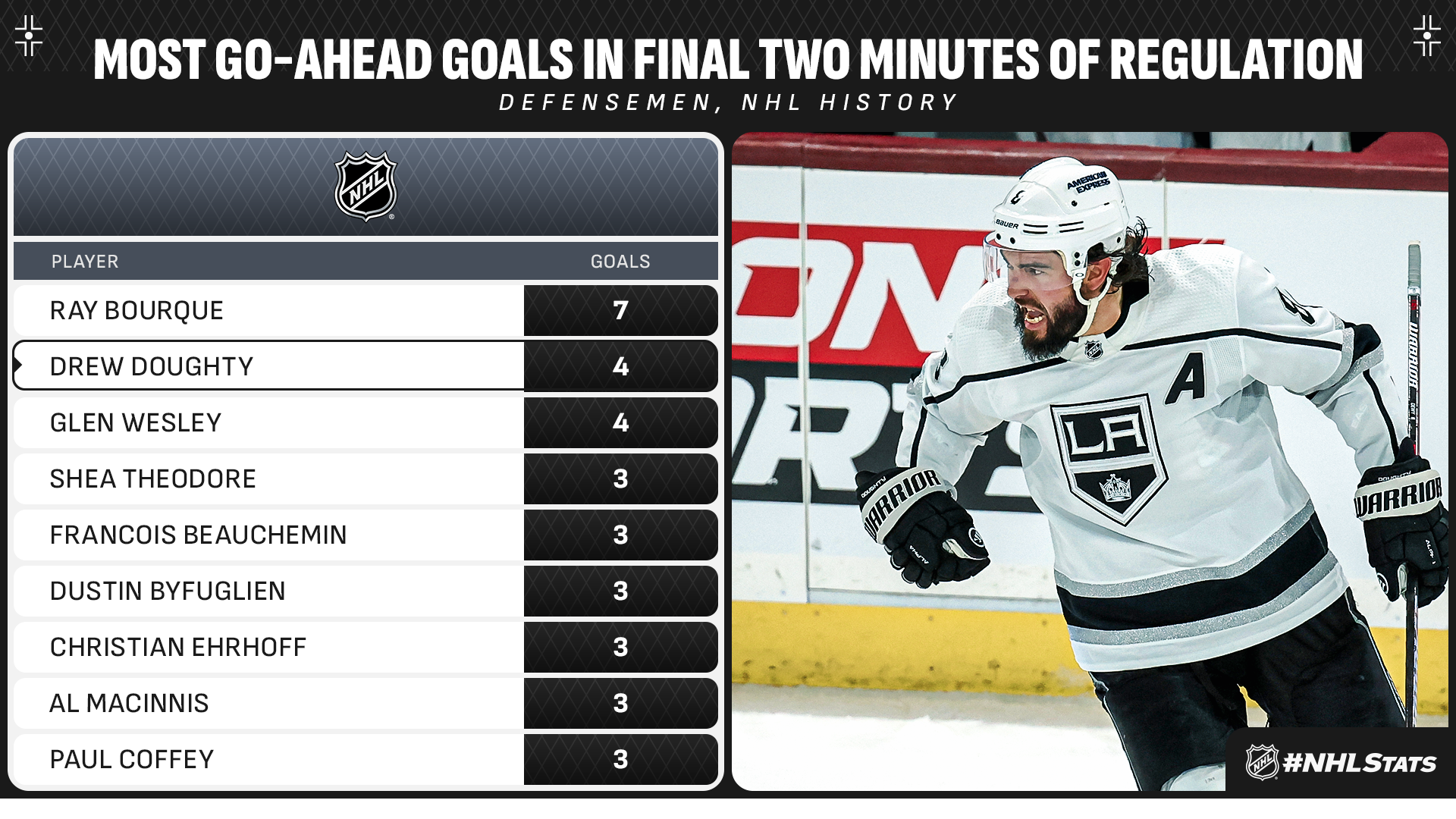 * Jordan Spence, who collected an assist Friday, is kicking off the Not One Path series this season, where we'll highlight unconventional paths to the NHL. Spence was born in Manly, Australia on Feb. 24, 2001 and recorded a point in the first NHL game ever contested in Australia on Sept. 23 against the Coyotes, the club he faced Friday. Click here for all of the Not One Path features from last season, which included players who came from remote or non-traditional hockey markets, overcame financial hardships or medical issues, excelled at other sports before choosing hockey or started the sport late.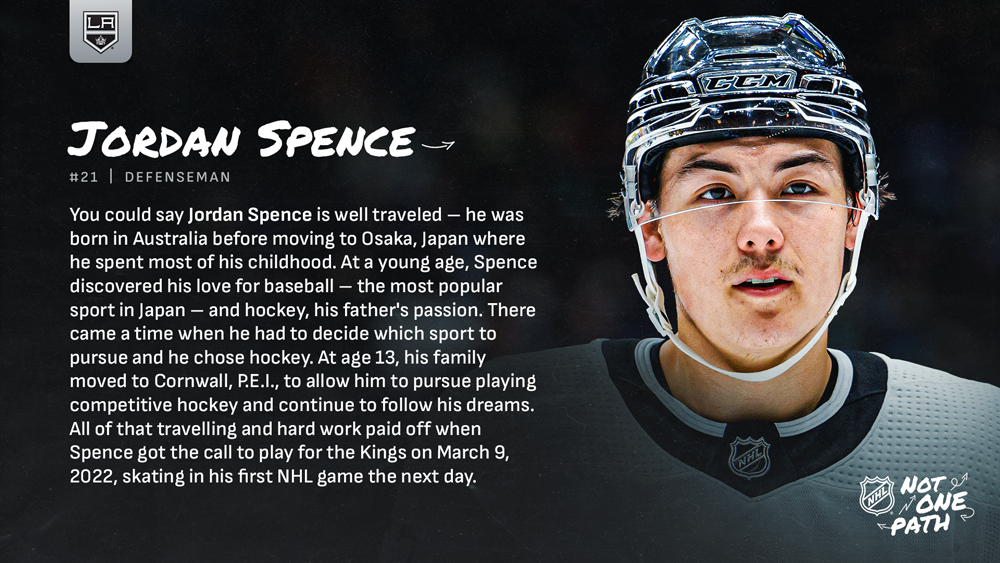 …AS BLACKHAWKS, DEVILS COMPLETE COMEBACKS OF THEIR OWN
Comebacks highlighted Friday's slate as the Blackhawks erased a 2-0 deficit before ending the reigning Stanley Cup champion's season-opening win streak, while the Devils earned their fourth victory of 2023-24, all of which have come after trailing:
* After the Vegas took a 2-0 lead just 3:52 into the contest, Chicago rallied back with three straight goals – including one from Connor Bedard (1-0—1) and a game winner from Philipp Kurashev (1-0—1) in overtime as the Blackhawks joined the 1985-86 Islanders as just the second club in NHL history to snap a team's seven-game season-opening win streak via a multi-goal comeback.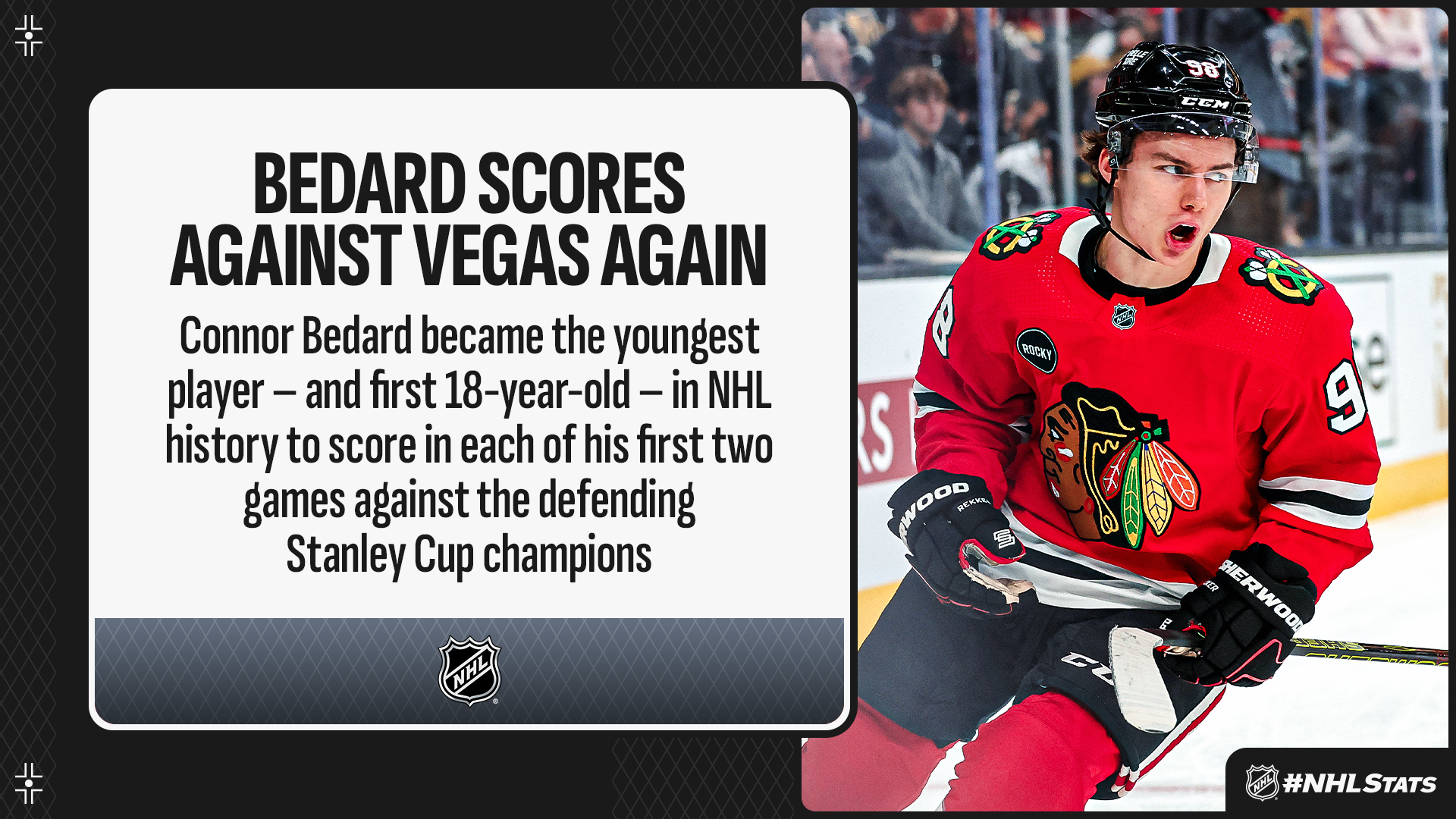 * The Devils tied the game twice in a contest that featured two goals from Erik Haula and saw Jack Hughes extend his season-opening point streak to seven games. New Jersey earned its fourth win of 2023-24 – all of which have been comeback victories – marking the second time in franchise history that each of their first four wins to start the season were in come-from-behind fashion (also 1974-75 w/ 4 GP). The Devils tied the Avalanche and Golden Knights (both w/ 4) for the most comeback wins among all teams this season.
CANUCKS, HURRICANES BLANK OPPONENTS
The Canucks and Hurricanes each earned shutout wins Friday and had stand out performances from J.T. Miller, who recorded a three-assist period, and Teuvo Teravainen, who scored his third career hat trick. More notes from all six games Friday can be found in #NHLStats: Live Updates.
* Miller (1-2—3) notched all of his points in the middle frame and tied Henrik Sedin (6) for the fourth-most three-point periods in franchise history, behind Pavel Bure (8), Trevor Linden (8) and Markus Naslund (7). The Canucks have only conceded 15 times through their first seven games this season – the only clubs with fewer goals allowed are the Bruins (11 in 7 GP) and Rangers (13 in 7 GP).
* Teravainen (3-0—3) was the only player to find the back of the net on either team as he recorded his second career natural hat trick to lift the Hurricanes to a 3-0 win. Teravainen, who netted his first natural hat trick on Nov. 13, 2017, joined Kevyn Adams and Eric Staal as just the third player to record two natural hat tricks with the Hurricanes/Whalers. October has now featured three natural hat tricks (also Boone Jenner on Oct. 14 & Brock Boeser on Oct. 11) – the last time the NHL saw more in the opening month of a season was during the 2006-07 campaign, when there were four in October.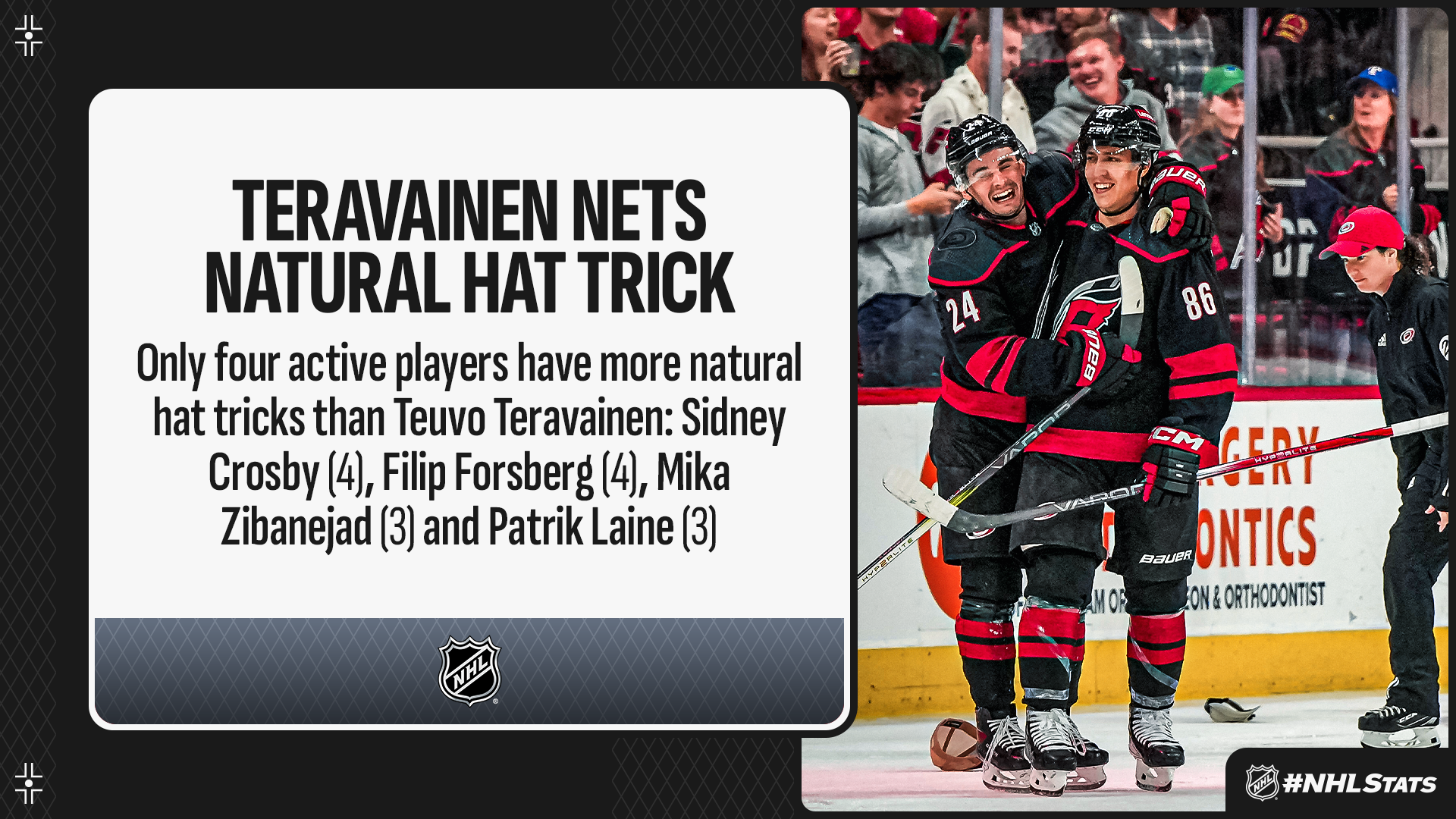 PODCAST ROUND UP
* NHL Fantasy on Ice (10/23): Fantasy waiver wire pickups: Week 3; McDavid injury replacements
* NHL Fantasy on Ice (10/24): Fantasy start/sit for "Frozen Frenzy"
* NHL @TheRink (10/25): Cotsonika joins; Frozen Frenzy, Red "hot" Wings, Flyers surprising
* The Chirp (10/26): Jack Hughes, Evan Bouchard join; Heritage Classic, NHL EDGE insights
* NHL Fantasy on Ice (10/26): Fantasy mailbag: Week 3
COURTESY NHLmedia.com