By Stretch Jenkinson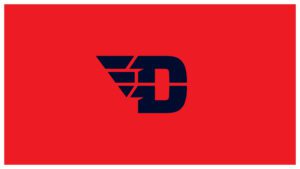 Flyers Will Have At Least 19 Games Televised Nationally
NEWPORT NEWS, Va. – The University of Dayton men's basketball team will have at least 19 nationally-televised games in the upcoming 2023-24 season.  This news, along with the full Atlantic 10 Conference schedule, was announced today by the University and the A-10.
The A-10 also announced the league's national television schedule on ESPN Networks, CBS Sports Network and USA Network.
Counting games at the Shriner's Children's Hospitals Charleston Classic and non-conference games at home with UNLV and Troy, Dayton will play nine games on an ESPN outlet, eight on the CBS Sports Network and two on USA Network.  All games in the A-10 tournament will also be nationally televised.
UD opens the conference season at Davidson on Wednesday, Jan. 3.  That is the first of eight conference games in January for the Flyers.  That includes additional road games at Duquesne (Jan. 12), La Salle (Jan. 23) and Richmond (Jan. 27).  The Flyers are home against UMass (Jan. 7), Saint Louis (Jan. 16), Rhode Island (Jan. 20) and George Washington (Jan. 30).
Dayton has seven games in February, four at home and three on the road – at UD Arena vs. St. Bonaventure (Feb. 2), Duquesne (Feb. 13), Fordham (Feb. 17) and Davidson (Feb. 27); and at Saint Joseph's (Feb. 6), VCU (Feb. 9) and George Mason (Feb. 21).
The Flyers' three regular season games in March are at Loyola Chicago (March 1) and Saint Louis (March 5), and then at home against VCU (March 8).
The Atlantic 10 Men's Basketball Championship is Tuesday-Sunday, March 12-17 at the Barclays Center in Brooklyn.
In A-10 play, Dayton will play seven games on Tuesdays, five on Fridays, three on Saturdays, two on Wednesdays, and one on a Sunday.
Dayton was 22-12 last season, and finished second in the Atlantic 10 in both the regular season and post-season championship.  The Flyers return three starters, including junior forward DaRon Holmes II, a two-time All-Atlantic 10  and A-10 All-Defensive team pick, and the Most Outstanding Player of the 2023 A-10 tournament.
Dayton's 13-game non-conference schedule was announced on July 25.  The Flyers open the season at home on Monday, Nov. 6 against SIUE.  UD will also play two exhibition games at home – Sunday, Oct. 22 with Ohio State and on Saturday, Oct. 28 against Cedarville.
COURTESY DAYTON MEDIA RELATIONS