By StephanieLee Elliott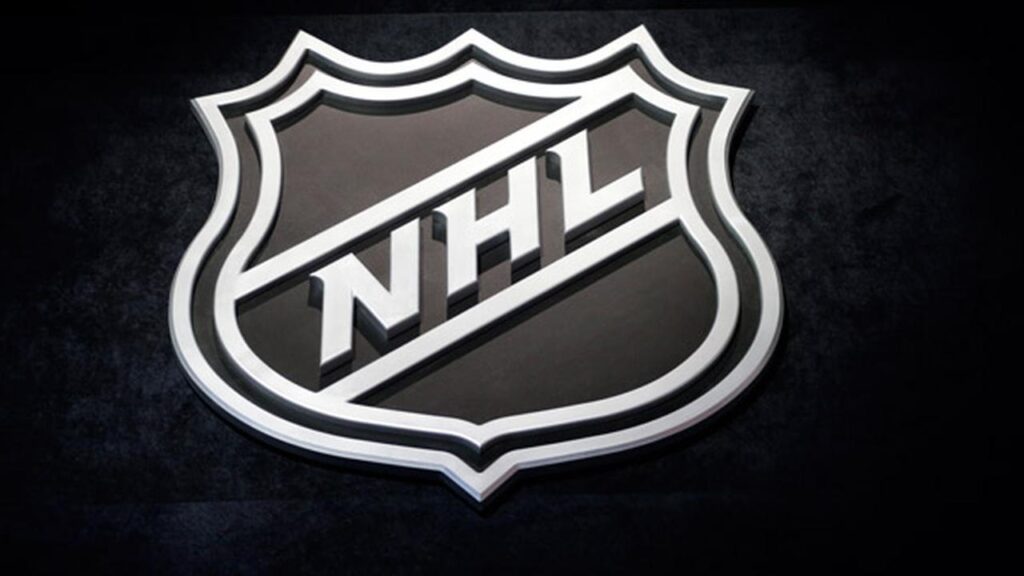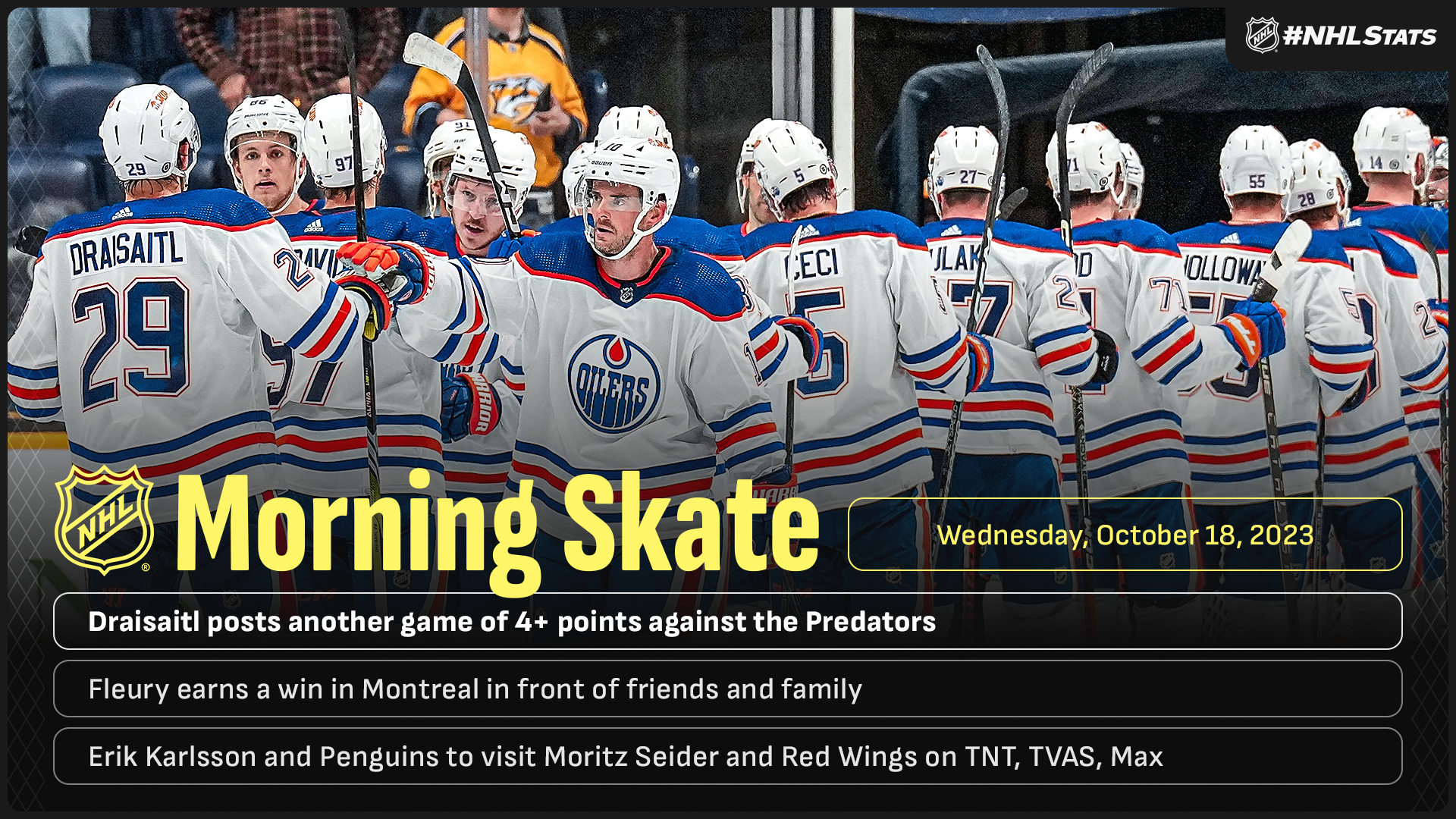 * Leon Draisaitl stole the show Tuesday, setting a franchise record and guiding the Oilers to victory as preparations for the 2023 Tim Hortons NHL Heritage Classic began with the arrival of the NHL mobile refrigeration truck at Commonwealth Stadium.
* Marc-Andre Fleury returned to his home province, rolled out the highlight reel and secured his 12th all-time regular-season win in Montreal with his friends and family in the crowd.
* The Sabres and Avalanche each skated to victories during their respective ESPN broadcasts, with the latter locking up their 14th consecutive regular-season road victory and matching the longest such run in NHL history (spanning seasons or otherwise).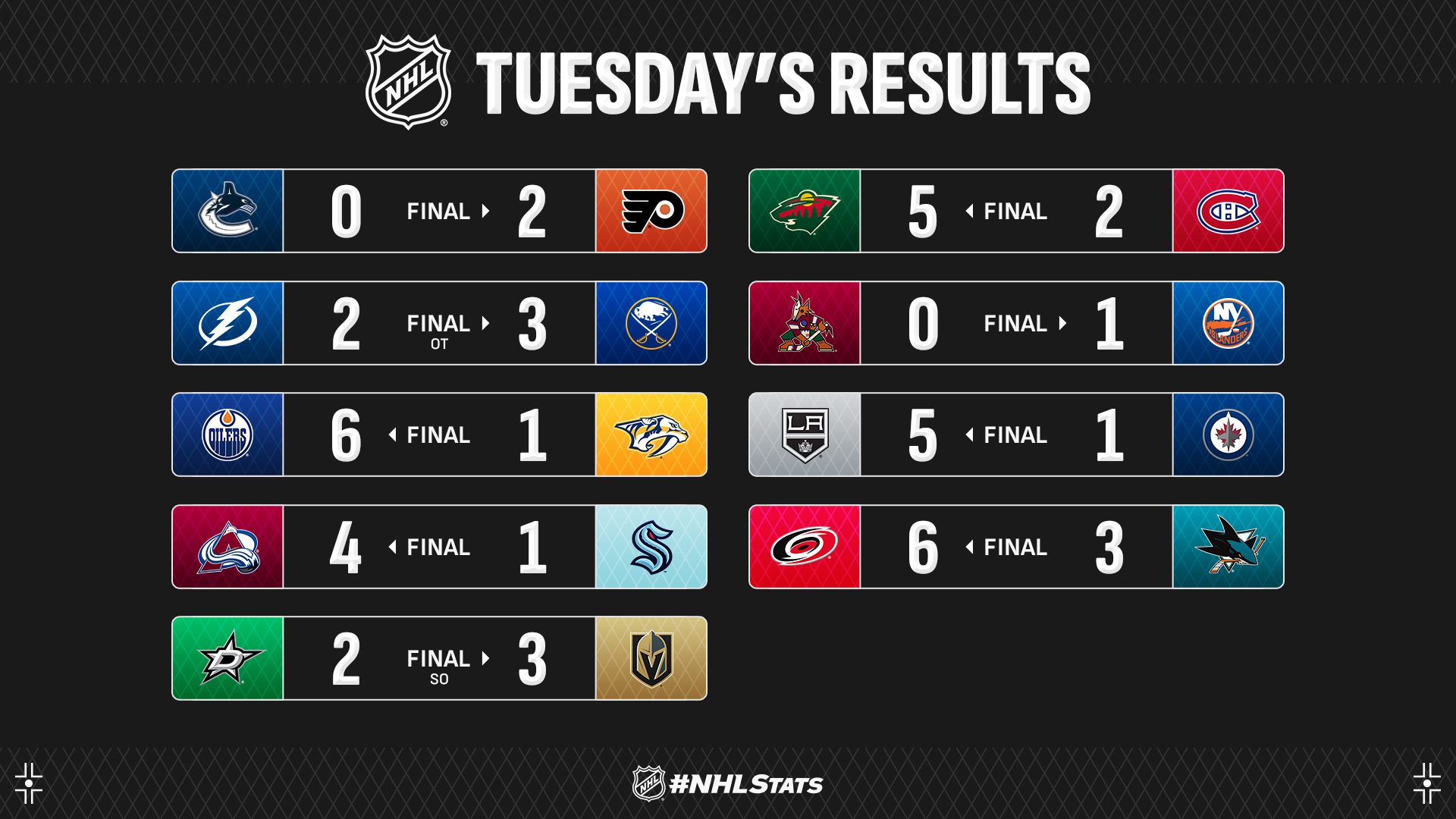 DRAISAITL SETS FRANCHISE RECORD, NETS FOUR MORE POINTS IN NASHVILLE
Leon Draisaitl (2-2—4) extended his season-opening goal streak to three games by setting a franchise record for career power-play tallies, triggering a four-goal first period for the Oilers that was capped by a highlight-reel play by Connor McDavid (1-1—2).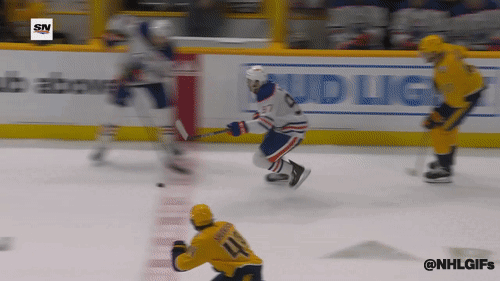 * Draisaitl scored both of his goals on the power play, marking his 127th and 128th career tallies via the man advantage – besting Glenn Anderson and Ryan Smyth (both with 126) for sole possession of the Oilers record.
* Draisaitl now ranks tied for fifth among active players with 23 career four-point games, with four of those coming against the Predators (all in his past eight outings against the club). Edmonton improved to 10-0-2 against Nashville since Oct. 27, 2018 – its longest active point streak against one franchise – with Draisaitl pacing the Oilers with 34 points in those 12 contests (22-12—34).
* With Edmonton's next two games on national telecasts – Thursday on ESPN+, Hulu and SN1 and Saturday on Hockey Night in Canada and TVA Sports – Draisaitl will have a shot to chase down yet another franchise record by keeping his season-opening goal streak alive.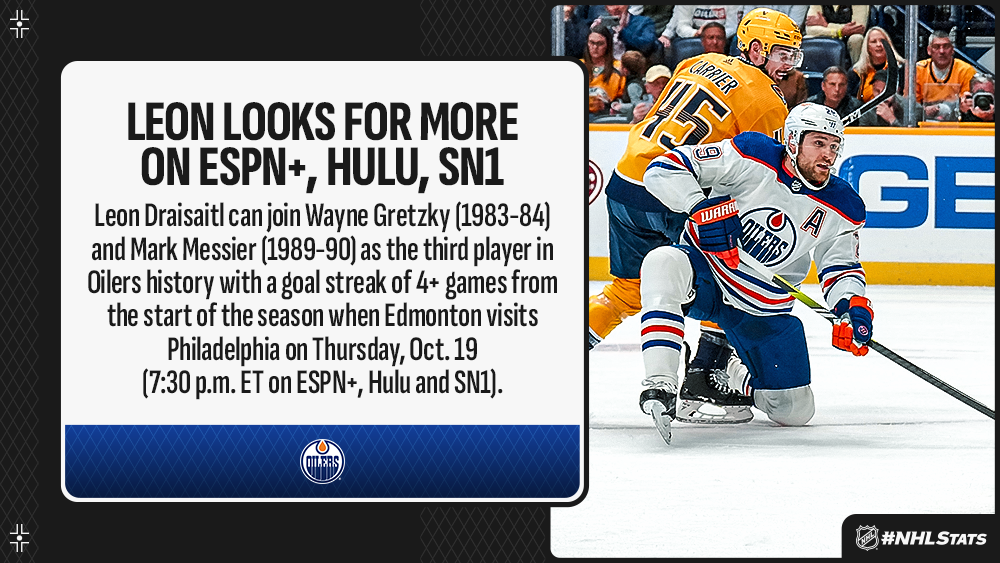 FLEURY ROLLS OUT THE HIGHLIGHT REEL, BACKSTOPS WILD TO WIN IN HOME PROVINCE
Sorel, Que., native Marc-Andre Fleury (27 saves), in the final year of his contract with Minnesota and a veteran of 21 NHL seasons, returned to his home province and outdueled Sam Montembeault (Becancour, Que.) in a head-to-head matchup of Quebec-born goaltenders. Fleury had dozens of family members in attendance as he recorded his 545th career win – and 12th in his home province – to move within six of tying fellow Quebecois Patrick Roy (551) for the second most in NHL history.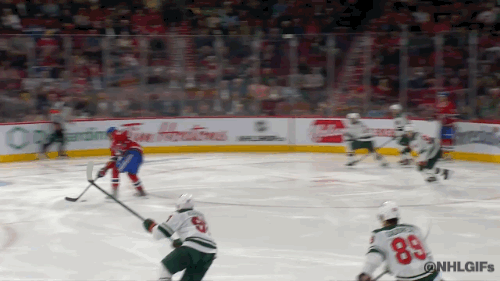 * It was the first game in Montreal to feature opposing Quebec-born goaltenders since Jan. 3, 2006, when Fleury backstopped the Penguins past Jose Theodore (Laval, Que.) in what was his first-ever appearance against the Canadiens in his home province. After Tuesday's contest, the 38-year-old netminder received a standing ovation from the Bell Centre crowd.
* The Wild provided Fleury with five goals of support, all of which came from the special teams (3 PPGs, 2 SHGs) including two shorthanded goals 25 seconds apart. Minnesota matched its highest total of special-teams goals in a game for the franchise, a feat accomplished four other times: Dec. 11, 2018, Nov. 29, 2008, Oct. 7, 2006 and Feb. 7, 2006.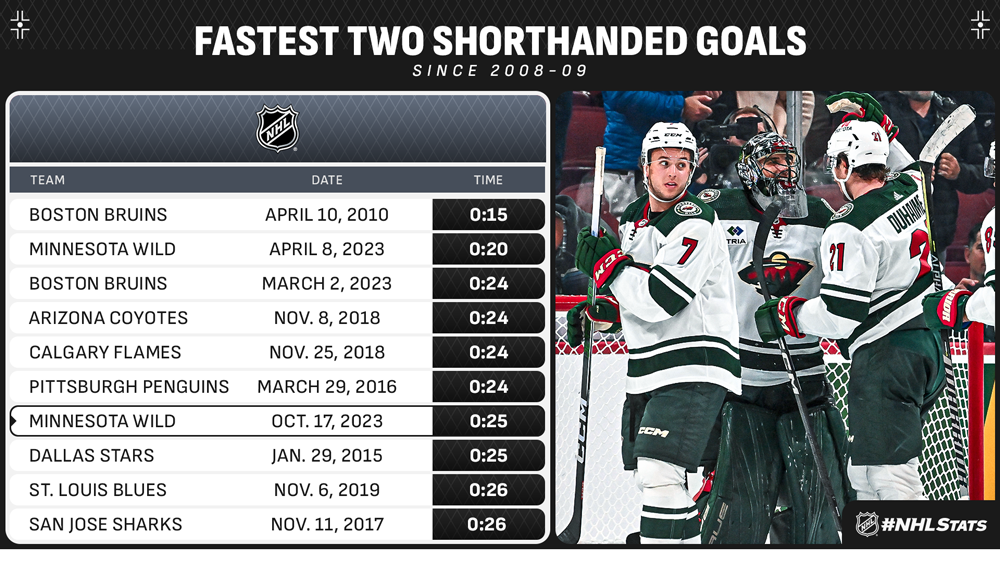 STREAKING CLUBS CONTINUE STRINGS OF SUCCESS IN PLAYOFF REMATCHES
The Avalanche (3-0-0) and Golden Knights (4-0-0) skated to victories in playoff rematches against the Kraken and Stars, respectively, Tuesday night and both extended their win streaks to begin the 2023-24 campaign:
* Colorado, which surrendered the first goal in each contest during its seven-game First Round series against Seattle, did so again Tuesday but watched Mikko Rantanen score one of four unanswered goals to lift the team to its 14th consecutive regular-season road victory dating to March 13. The Avalanche matched the longest regular-season road winning streak in NHL history (spanning seasons or otherwise), a mark the Sabres set from April 3 to Nov. 13, 2006 (14-0-0).
* The Golden Knights and Stars required more than 60 minutes in three of their six games during the 2023 Western Conference Final and watched the trend continue into 2023-24 after William Karlsson netted a tying goal with 2:59 remaining in regulation. Adin Hill turned away two shootout attempts and Conn Smythe Trophy winner Jonathan Marchessault scored the deciding goal as reigning Stanley Cup champion Vegas improved to 4-0-0 in 2023-24 and joined rare company in the process.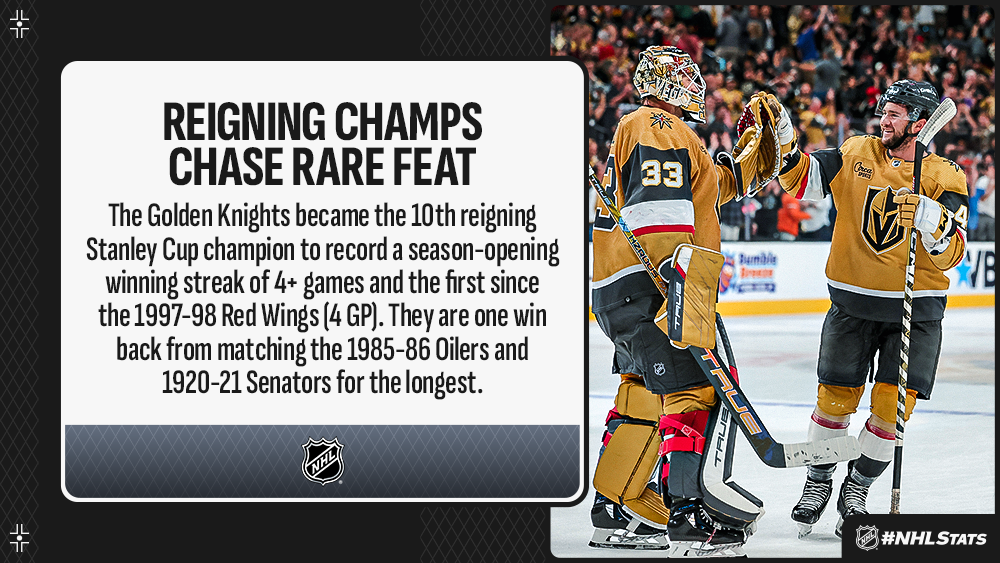 CAROLINA'S DEFENSE BRINGS THE OFFENSE IN THIRD-PERIOD COMEBACK WIN
It was Jaccob Slavin's fourth career shorthanded goal – tied for the most by a defenseman in franchise history – that gave Carolina its first lead of the night, but the Hurricanes found themselves trailing once again heading into the third period before Brady Skjei (0-2—2) factored on two of four Carolina goals to secure the victory for his club.
* Skjei improved his season totals to 1-5—6 (4 GP) and surpassed Victor Hedman (1-4—5 in 4 GP) for the most points by a blueliner so far this season. In fact, he's the only defenseman in Hurricanes/Whalers history to reach six points through the first four games of a campaign.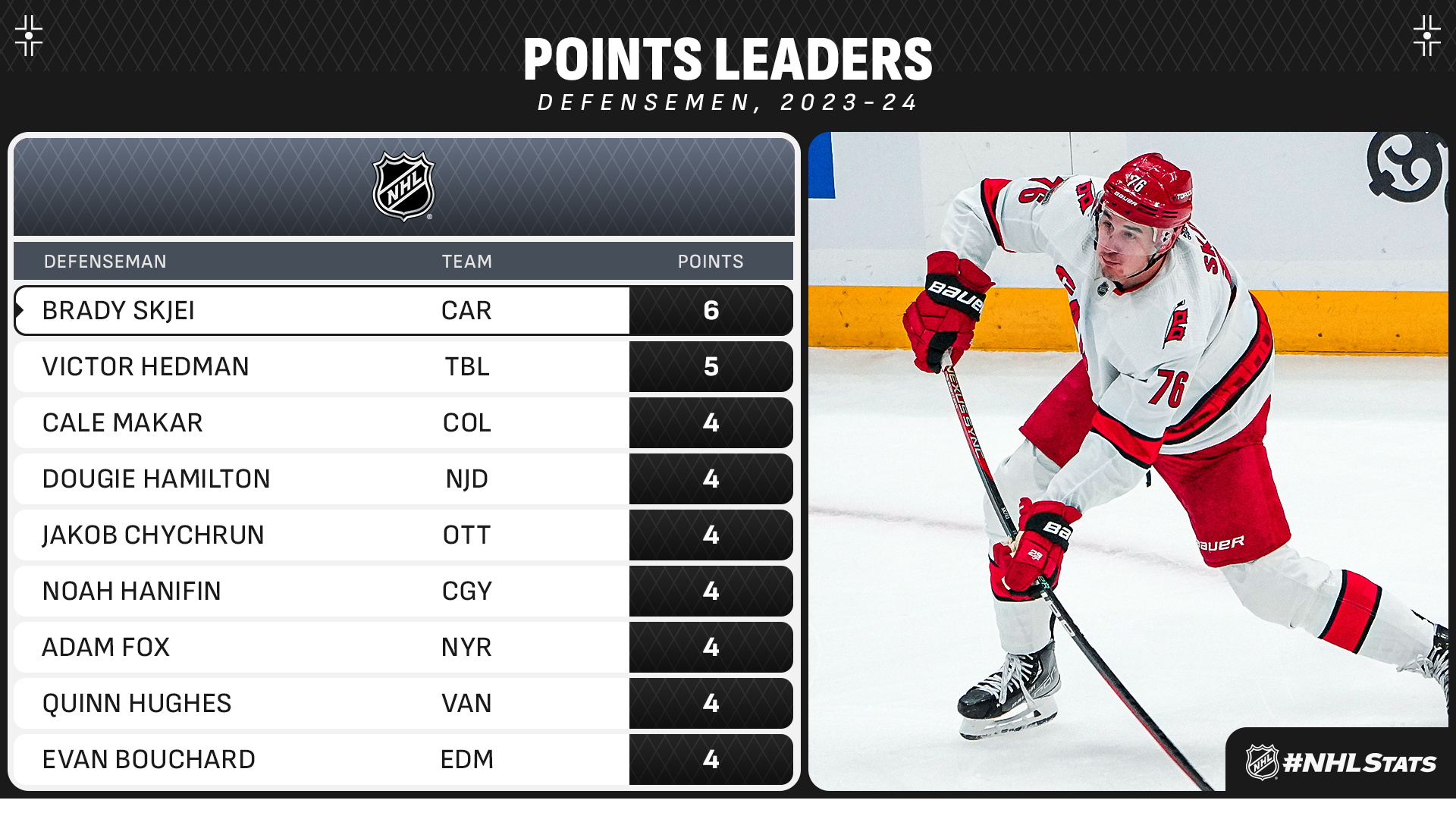 COUTURIER'S RETURN TO PHILADELPHIA FEATURED IN #NHLSTATS: LIVE UPDATES
The latest edition of #NHLStats: Live Updates featured a number of noteworthy performances, including Flyers forward Sean Couturier scoring his first goal of the season as Philadelphia picked up a win Tuesday.
* Playing his first regular-season game in Philadelphia in 22 months after a 135-game absence due to injury, Couturier scored on his first career penalty-shot attempt to help the club to victory in their home opener. It was Couturier's first goal since Dec. 10, 2021 (at VGK) and his first goal in front of the home crowd since Nov. 2, 2021 (vs. ARI).
IN THE COMMUNITY: LARKIN LEADS ON AND OFF THE ICE
Red Wings captain Dylan Larkin, who is in action Wednesday when Detroit hosts Pittsburgh at 7:30 p.m. ET on TNT, Max and TVA Sports, isn't just a leader on the ice – the Waterford, Mich., native also plays an active role in his community, supporting Special Olympics Michigan.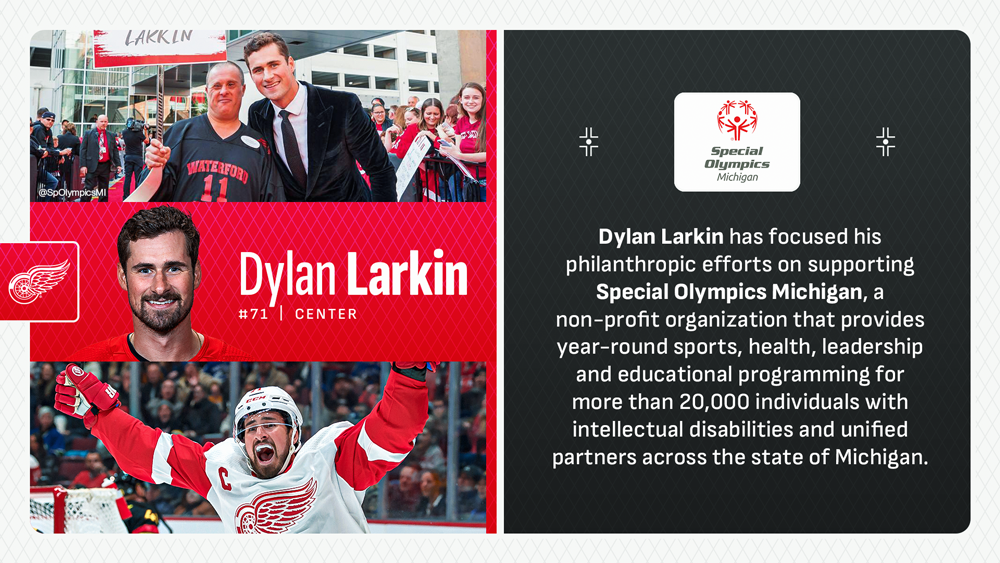 QUICK CLICKS
* New York Islanders host Hispanic Heritage Night at UBS Arena
* Reg Fleming learned from Fred Shero before scoring big goal in 1961 Cup Final
* Kirby Dach to miss remainder of season for Canadiens
* GM wants Canadiens players to 'chart their own path'
* Refrigeration unit arrives for 2023 NHL Heritage Classic in Edmonton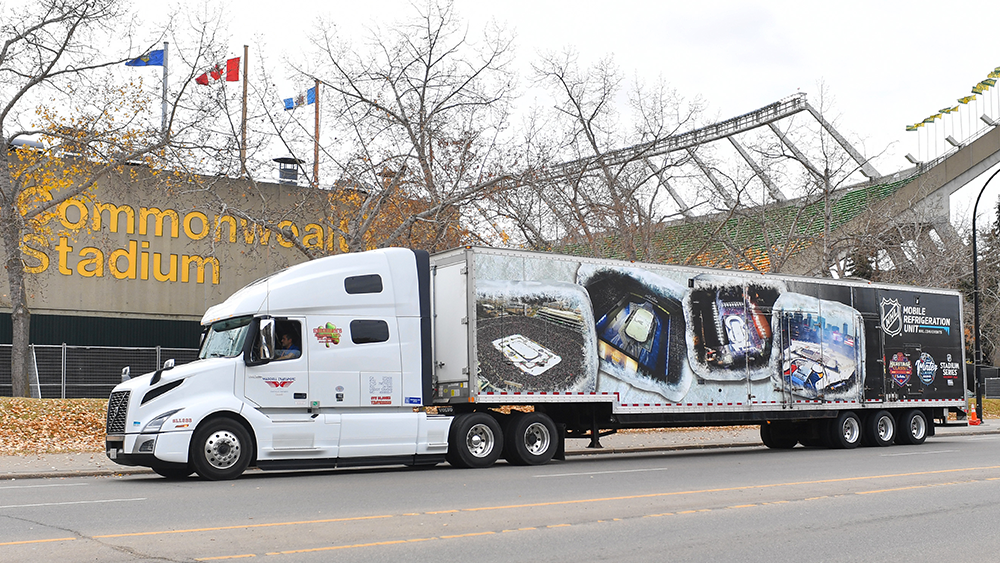 STAR DEFENSEMEN KARLSSON, SEIDER MEET ON TNT, TVA SPORTS
Two of the League's prominent defensemen, one a rising young star in Moritz Seider and one a three-time Norris Trophy winner in Erik Karlsson, will be among the star players featured on TNT and TVA Sports when the Penguins visit the Red Wings.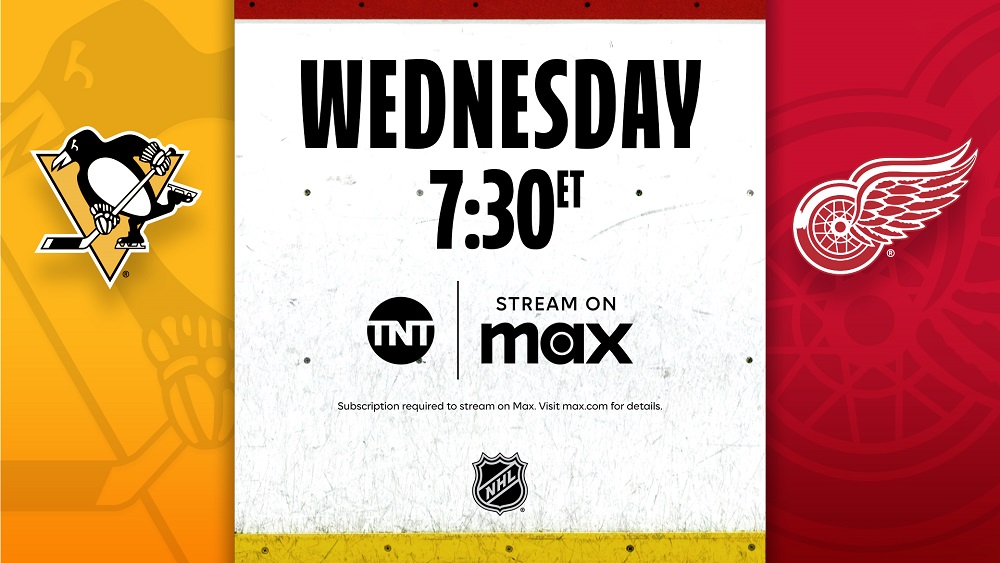 * Seider, a 22-year-old defenseman, leads all Red Wings skaters with 23:47 time on ice per game while producing at a point-per-game clip early this season (1-2—3 in 3 GP). Since time on ice was officially tracked in 1997-98, Seider's career 23:06 TOI/GP ranks third among all Red Wings skaters through that span, behind only Nicklas Lidstrom (26:19) and Mathieu Schneider (24:08).
* Karlsson (age 33) is three games into his first season with the Penguins after becoming the ninth player in NHL history to win the Norris Trophy three or more times. In 2022-23, Karlsson (25-76—101 in 82 GP) became the sixth different blueliner to reach the 100-point milestone and, at age 32, the oldest of that group to do so. Only one defenseman in franchise history has won the Norris Trophy as a member of the Penguins: Randy Carlyle (1980-81).
OVECHKIN FACES SPEEDY OTTAWA DEFENSE ON SPORTSNET
Alex Ovechkin will look to notch his first goal of the 2023-24 season when the Capitals visit the Senators on Sportsnet, an opponent he has historically had success against. Ottawa is one of 13 franchises Ovechkin has scored 30+ regular-season goals against – only Wayne Gretzky (16) and Phil Esposito (14) have done so against more different franchises. Of note, Ovechkin has 28 goals versus Boston and could match Esposito if he scores twice against the Bruins this season.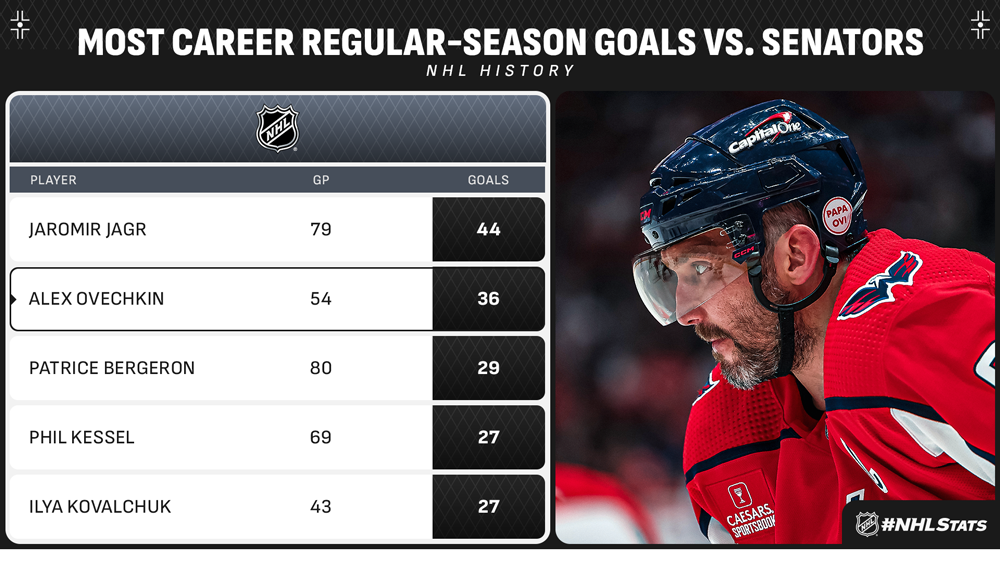 * To do so, Ovechkin will have to contend with the speedy Senators defense that includes Jakob Chychrun (2-2—4 in 3 GP) and Jake Sanderson (1-2—3 in 3 GP). According to NHL Edge data entering play on Tuesday, Sanderson (3rd; 23.00 mph) and Chychrun (8th; 22.77 mph) rank among the top ten overall, and first and second among defensemen, in maximum sustained skating speed this season.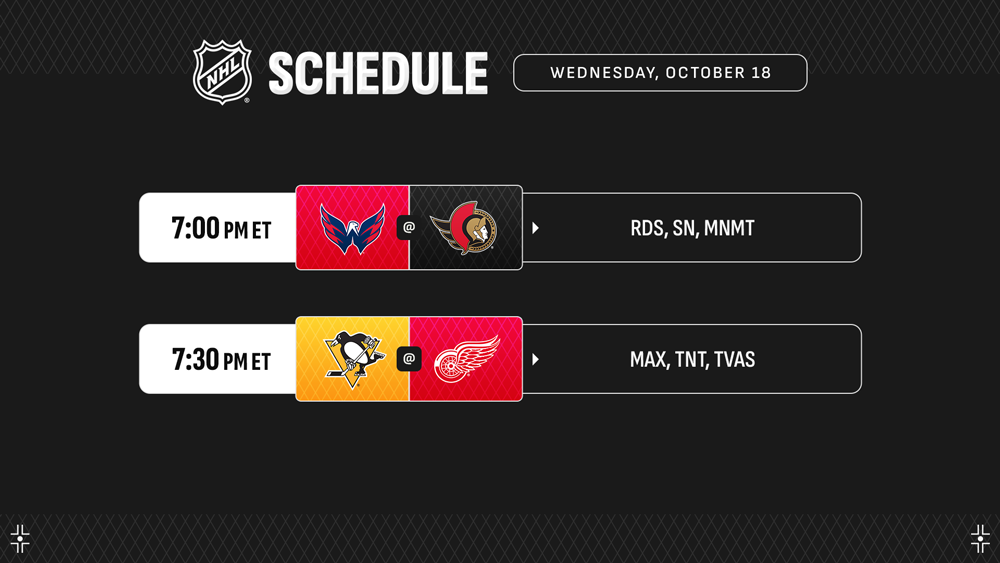 COURTESY NHLmedia.com