By StephanieLee Elliott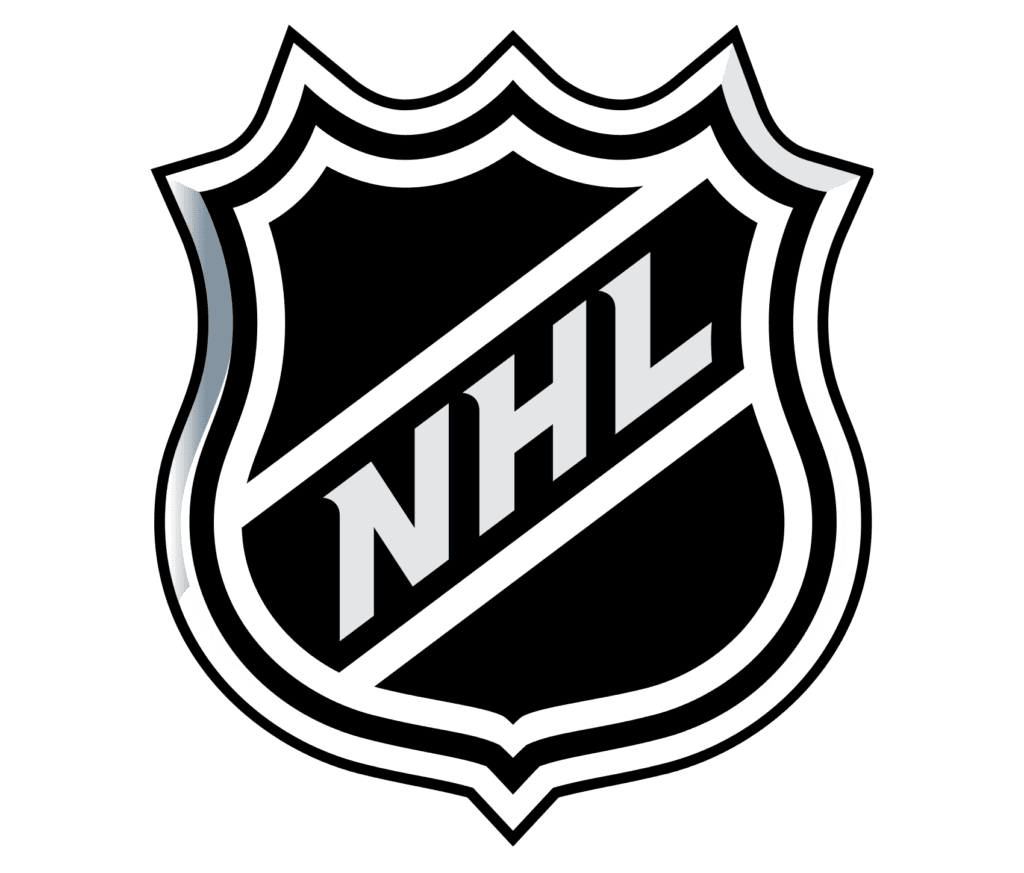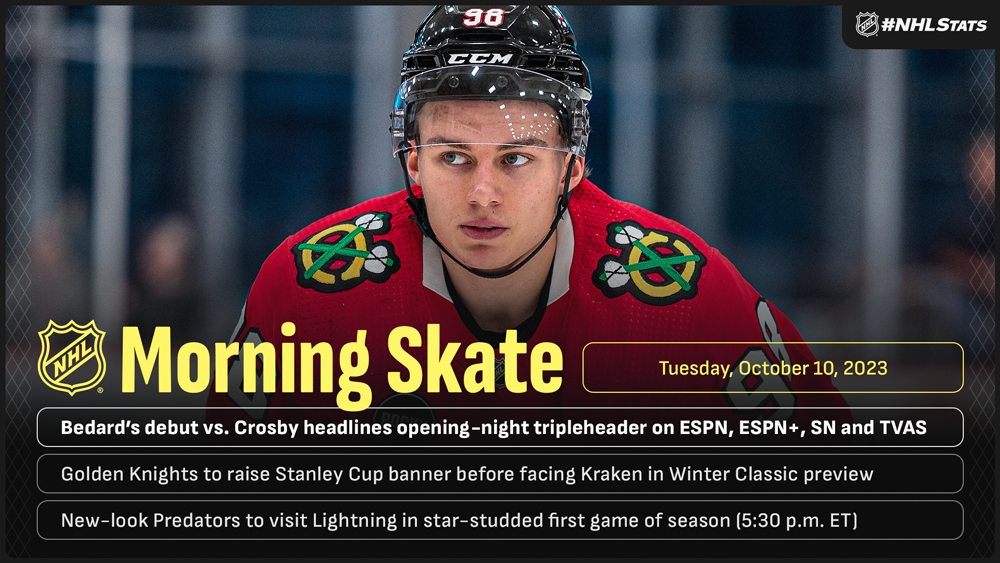 SEASON OPENS WITH NHL FACE-OFF TRIPLEHEADER ON ESPN, ESPN+, SN AND TVAS
A star-studded opening night of the 2023-24 season features a tripleheader on ESPN, ESPN+, SN and TVAS that includes the highly-anticipated debut of No. 1 pick Connor Bedard and the Blackhawks going head-to-head with one of his idols, Sidney Crosby and the Penguins (8 p.m. ET), as well as the Golden Knights raising the first Stanley Cup banner in franchise history (10:30 p.m. ET). More on those games below.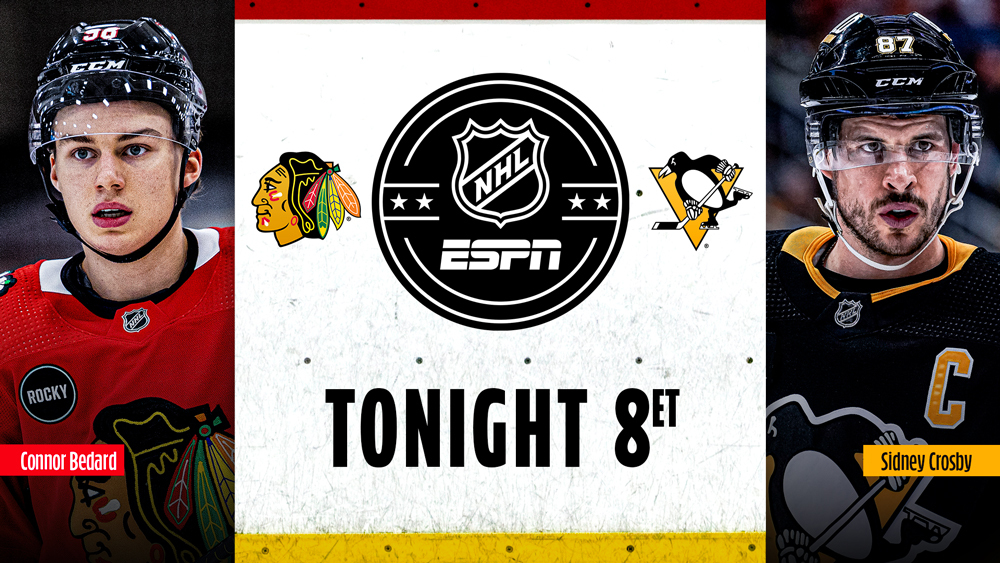 * The broadcast opens with a bevy of NHL Awards winners when the Predators get things started early against the Lightning (5:30 p.m. ET). That matchup includes two Norris Trophy winners (Victor Hedman: 2017-18 & Roman Josi: 2019-20) as well as two Conn Smythe Trophy winners (Ryan O'Reilly: 2018-19 & Hedman: 2019-20). It will also mark the beginning of the Barry Trotz era in Nashville; he replaced David Poile on July 1 as just the second general manager in the franchise's 25-year history.
* In addition to opening night, ESPN and The Walt Disney Company will air 100 exclusive games across ESPN, ESPN+, ABC and Hulu in 2023-24 and also present NHL All-Star Weekend, two NHL Stadium Series games and the 2024 Stanley Cup Final. Click here for full details.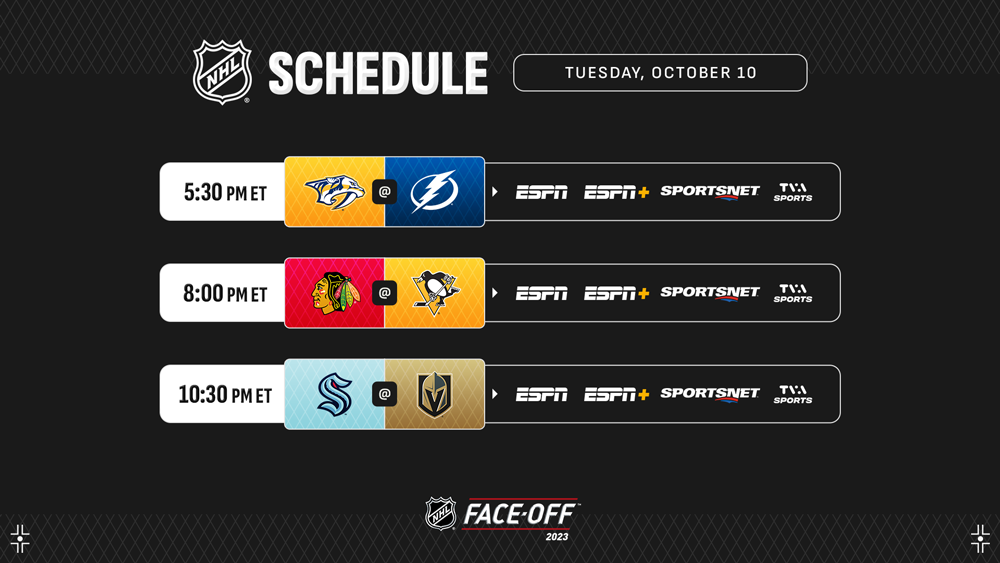 BEDARD TO MAKE HIGHLY ANTICIPATED NHL DEBUT VS. IDOL CROSBY
After leading the Blackhawks in preseason scoring with 1-4—5 in four games, Connor Bedard will make his much-awaited regular-season debut against his childhood idol, Sidney Crosby – a player with whom he shares more with than just the title of No. 1 overall pick.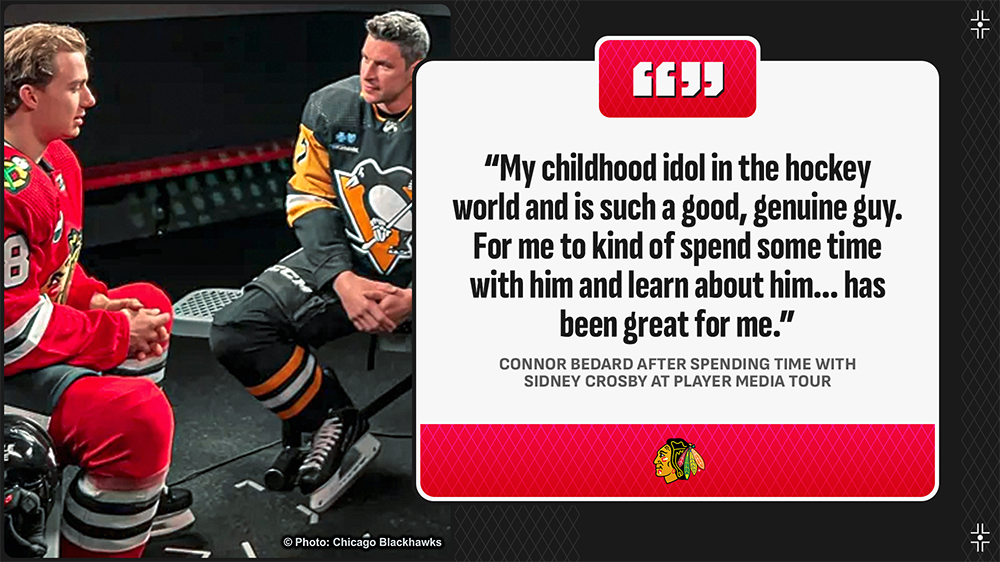 * In addition to being top picks the hockey world anticipated years before even being Draft eligible, other similarities between the two include debuting in the NHL at 18 years of age (Bedard: 18 years, 85 days & Crosby: 18 years, 59 days) coming off a season in which they won gold at the World Junior Championship and earned CHL Player of the Year and CHL Top Scorer honors. Crosby averaged 2.71 points per game in his final junior season in the QMJHL (66-102—168 in 62 GP) while Bedard averaged 2.51 in his last WHL campaign (71-72—143 in 57 GP).
* Bedard is set to make his NHL debut against a legend with three Stanley Cup wins in Crosby, something the Penguins captain knows well. Crosby made his NHL debut against three-time Stanley Cup champion and goaltending legend Martin Brodeur, collecting one assist in a 5-1 loss in New Jersey on Oct. 5, 2005.
* Crosby is one of 21 players selected first overall who recorded at least one point in their first NHL game, doing so after 45:36 of game time. His first goal came against the Bruins in his third regular-season outing – the same opponent Bedard will face in his second career game tomorrow (Oct. 11 at 7:30 p.m. ET on TNT & MAX).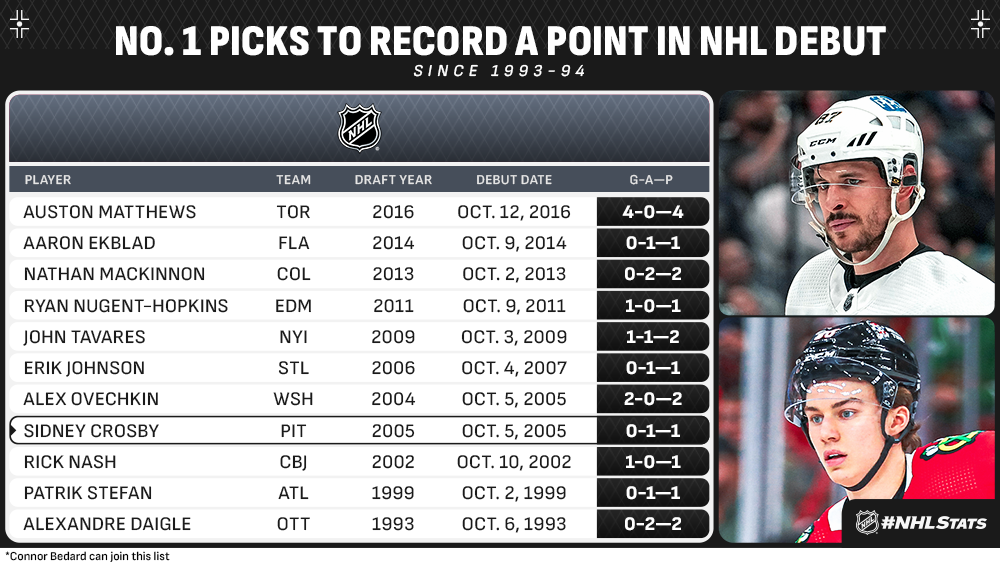 * In his debut season of 2005-06, Crosby posted 39-63—102 in 81 games with the help of a veteran surrounding cast that included franchise icon Mario Lemieux (appearing in his 17th and final NHL season) as well as Mark Recchi (17th season) and John LeClair (15th season), both of whom factored on Crosby's first point. Crosby (952) now sits four assists shy of tying Recchi (956) for 15th place on the League's all-time list.
* The Blackhawks are hoping for similar results with the veteran additions of Stanley Cup champion and Hart Trophy winner Corey Perry (19th season), 2010 No. 1 overall pick and Hart Trophy winner Taylor Hall (14th season), along with Mark Messier Leadership Award winner and veteran of more than 1,000 NHL games in Nick Foligno (17th season).
* With a point Tuesday, Bedard (18 years, 85 days on Oct. 10) would become the fifth-youngest active player to record a point in his NHL debut – a list on which Crosby ranks third. Click herefor more #NHLStats to give context on Bedard's potential achievements as an 18-year-old.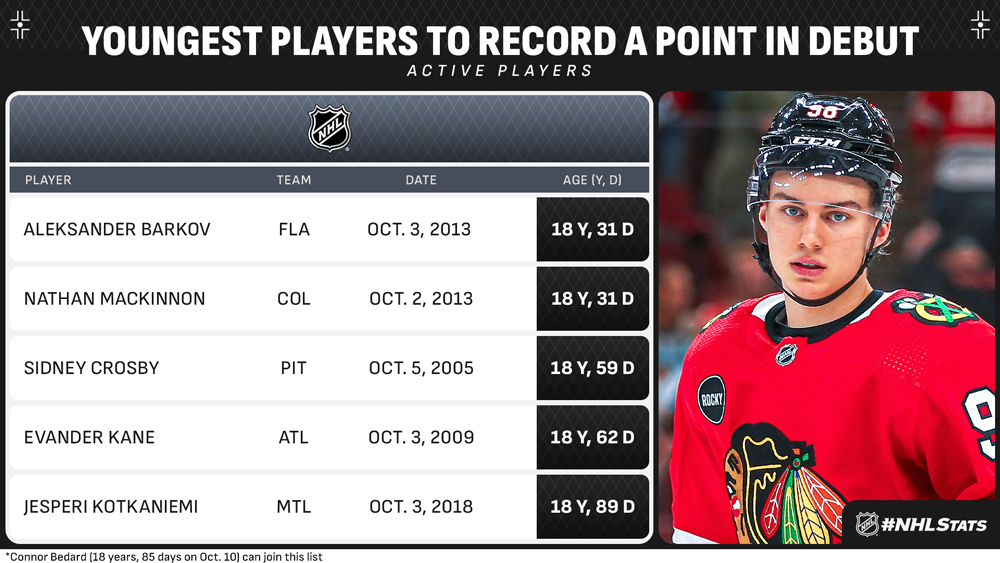 VEGAS SET FOR A BANNER-RAISING KNIGHT
The Golden Knights will open the seventh season in franchise history by raising their first Stanley Cup banner before they face off against the Kraken in a meeting between the NHL's two newest franchises. Vegas clinched its first title with a historic 9-3 victory against the Panthers in Game 5 of the 2023 Stanley Cup Final three months ago. The Golden Knights lifted the Stanley Cup to cap their sixth NHL season, joining the Oilers (5th season) as the only clubs in the modern era to win a title that quickly.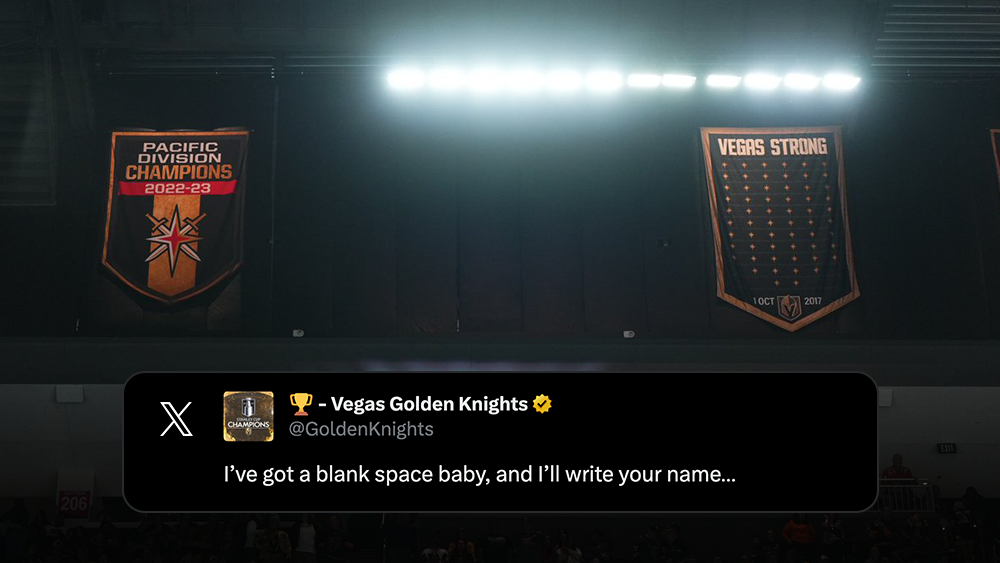 * Twenty-two of the 27 players who had their name etched on the Stanley Cup after Vegas' victory remain with the franchise, including playoff points leader Jack Eichel, Conn Smythe Trophy winner Jonathan Marchessault and captain Mark Stone.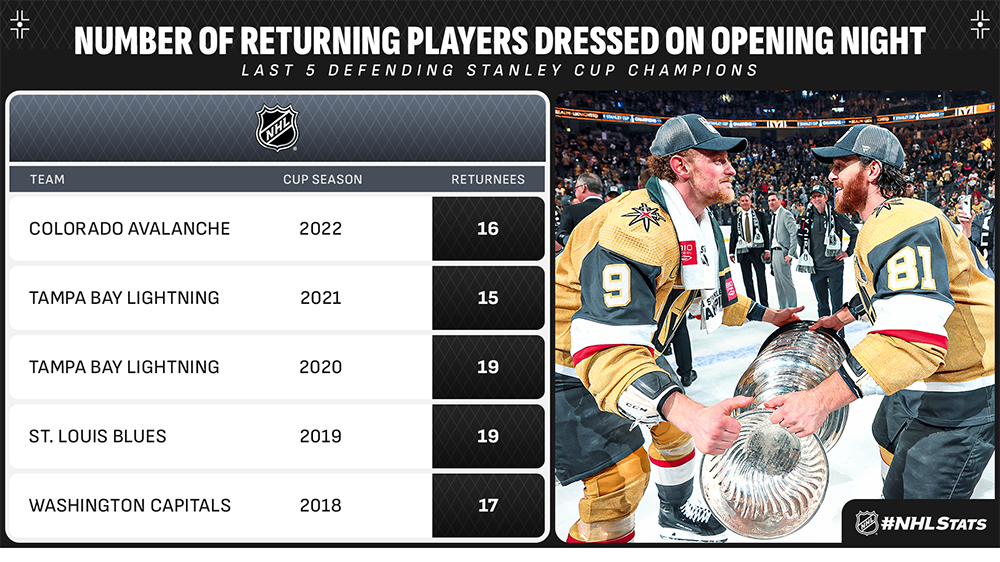 * Vegas will look to become the third team in the last 20 years to repeat as champions – the only other two franchises to do so over that span are both also in action tonight: Tampa Bay (2020 & 2021) and Pittsburgh (2016 & 2017).
* This will mark the only regular season meeting between the Golden Knights and Kraken prior to the clubs facing off outdoors on New Year's Day at the 2024 Discover NHL Winter Classic at T-Mobile Park in Seattle.
* ICYMI: Members of the Golden Knights, including new alternate captain Eichel, attended the Monday Night Football matchup between the Green Bay Packers and Las Vegas Raiders. The team lit the Al Davis Memorial Torch prior to kickoff and Eichel brought the Stanley Cup along for his halftime interview with ESPN's Michelle Beisner-Buck.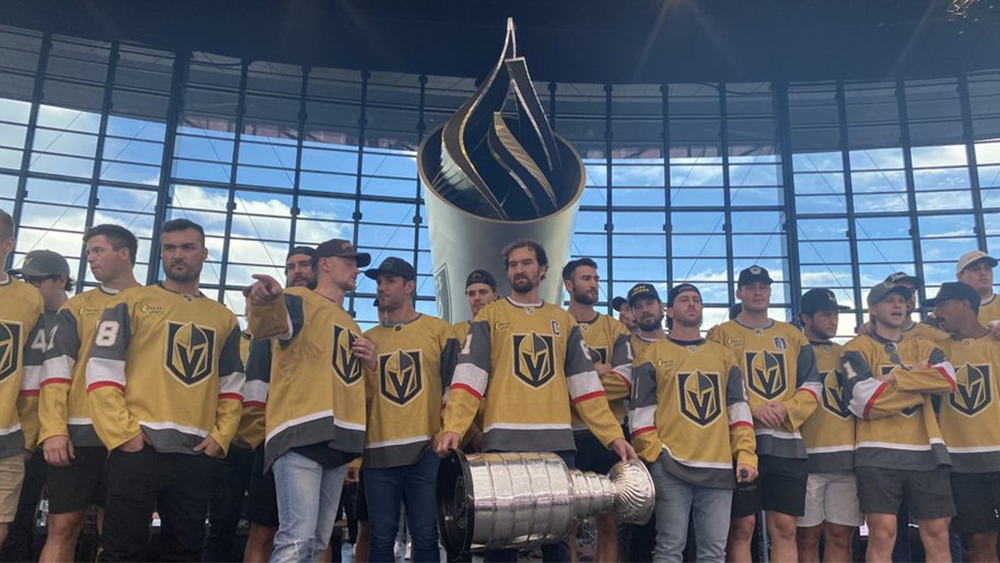 MORE SEASON-OPENING INFORMATION FROM #NHLSTATS
The #NHLStats Season-Opening Information landing page is packed with resources released ahead of the 2023-24 regular season, including:
* Approaching Milestones
* Dates of Interest
* Looking Ahead: Connor Bedard in 2023-24
* New Head Coaches and General Managers
* Offseason Summary
* Rookie Watch: Young Stars on the Radar Entering 2023-24
#NHLStats Packs
* 2023-24 Regular Season Schedule
* Season Openers
NHL FACE-OFF OPENING WEEK FEATURES FULL SLATE OF NATIONAL GAMES
There will be a total of 18 games carried nationally on ESPN, TNT, SN and/or TVAS during the opening week of the 2023-24 regular season, including tonight's tripleheader (ESPN, ESPN+, SN & TVAS) as well as Wednesday's NHL on TNT doubleheader and Sportsnet's first Scotiabank Wednesday Night Hockey telecast (4 games), both of which will be previewed extensively in the Oct. 11 Morning Skate. Each of Connor Bedard's first three NHL games are expected to be national telecasts (and even his fourth, looking ahead to next week).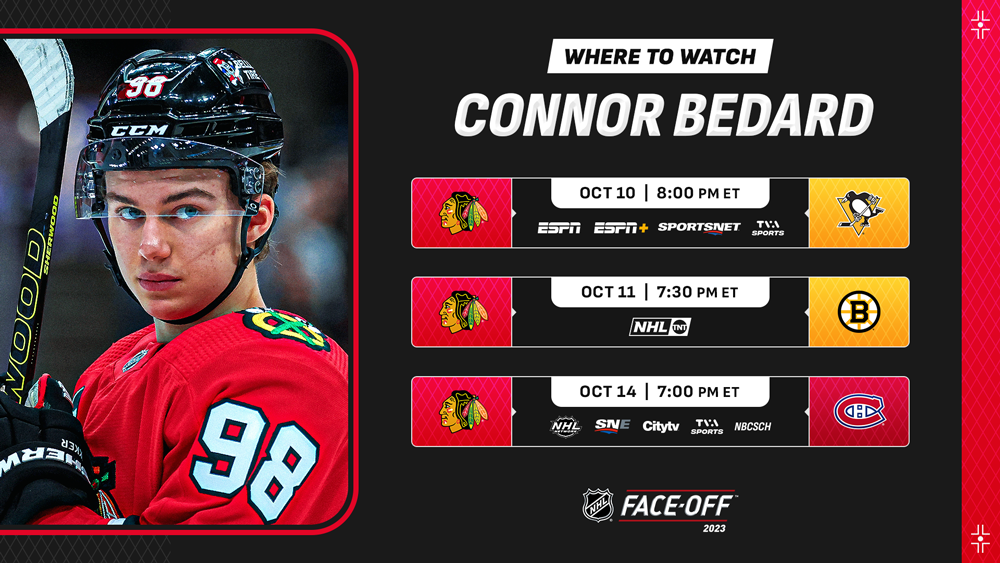 * In addition to the first two days of the regular season, other national game highlights this week includes:
Thursday, Oct. 12: Red Wings at Devils (ESPN+, Hulu, TVAS)
The first ESPN+/Hulu exclusive of 2023-24 in the U.S. will mark the first game of the season for both teams involved as a pair of American star players will have an exciting new addition on their line: Red Wings captain Dylan Larkin with off-season acquisition Alex DeBrincat, as well as Devils forward Jack Hughes who will be joined by newly acquired veteran scorer Tyler Toffoli.
Friday, Oct. 13: Penguins at Capitals (ESPN+, Hulu, TVAS)
The 67th all-time regular season meeting between active legends Sidney Crosby and Alex Ovechkin will see both captains aim to lead their team back into the postseason while climbing all-time lists and hitting milestones. Ovechkin enters the 2023-24 campaign one goal shy of becoming the first player in NHL history to score 300 power-play goals as he continues his chase of Wayne Gretzky for the all-time goals record. Crosby, meanwhile, sits 48 assists shy of 1,000 and needs 89 points to move into the top 10 on the NHL's all-time points list.
Saturday, Oct. 14: First Hockey Night in Canada Broadcast (SN)
The first Hockey Night in Canada broadcast of the season will include four games as Connor Bedard concludes his first week in the NHL when the Blackhawks travel to Montreal. It will mark Bedard's first regular-season game in Canada after starring for the country internationally at the World Junior Championship each of the previous two seasons.
* Other games on the initial Hockey Night in Canada Saturday broadcast include: Nazem Kadri and the Flames visit Sidney Crosby and new teammate Erik Karlsson of the Penguins; Minnesota travels to Toronto to meet before the two teams head to Sweden as part of the NHL Global Series – Stockholm in November with a 40-goal scorer on each side in Kirill Kaprizov and Auston Matthews; and dynamic producers aplenty close the show when the high-scoring Oilers led by Connor McDavid and Leon Draisaitl host Elias Pettersson and new Canucks captain Quinn Hughes.
QUICK CLICKS
* Statement from the NHL, NHLPA
* Start time for Kings–Flyers game on Nov. 4 changed to 7:30 p.m. ET
* Rasmus Dahlin signs 8-year, $88 million contract with Sabres
* Mark Scheifele, Connor Hellebuyck each sign 7-year, $59.5 million contract with Jets
* Golden Knights show off stunning, extra-versatile Stanley Cup rings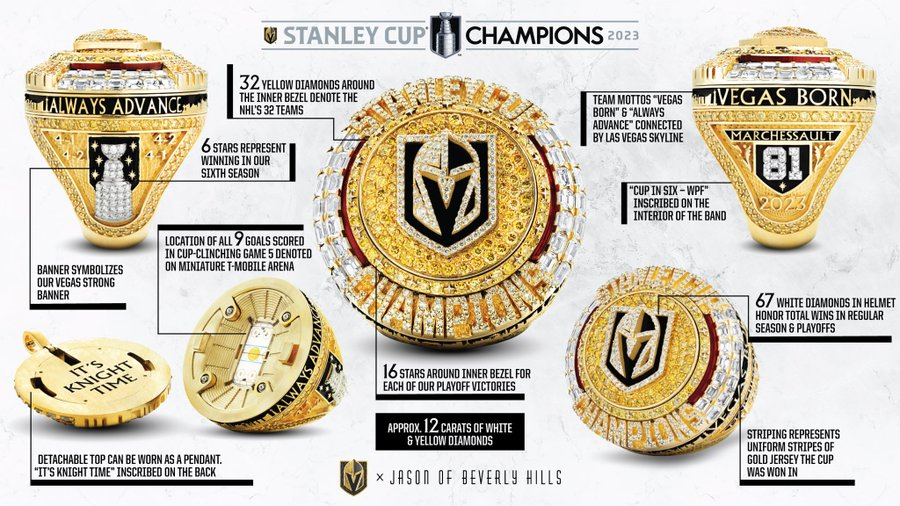 COURTESY NHLmedia.com