By Zola Elder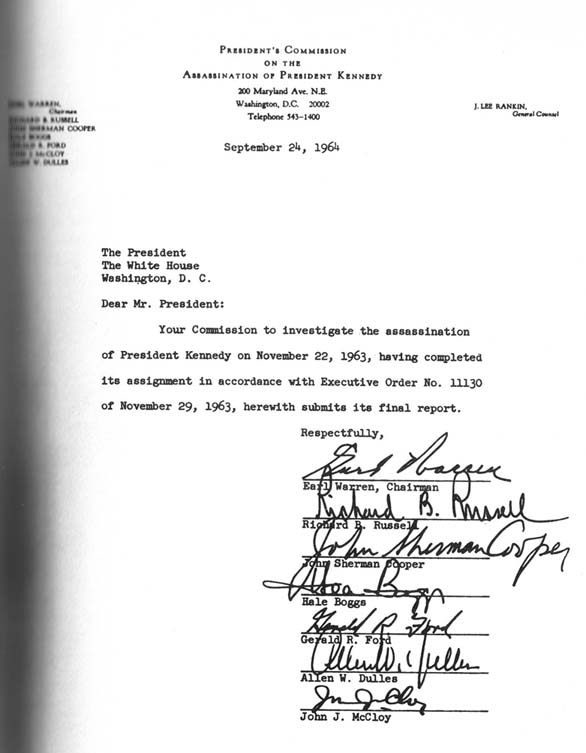 FROM WIKIPEDIA COMMONS
The President's Commission on the Assassination of President Kennedy, known unofficially as the Warren Commission, was established by President Lyndon B. Johnson through Executive Order 11130 on November 29, 1963, to investigate the assassination of United States President John F. Kennedy that had taken place on November 22, 1963.
The U.S. Congress passed Senate Joint Resolution 137 authorizing the Presidential appointed Commission to report on the assassination of President John F. Kennedy, mandating the attendance and testimony of witnesses and the production of evidence. Its 888-page final report was presented to President Johnson on September 24, 1964, and made public three days later.
It concluded that President Kennedy was assassinated by Lee Harvey Oswald and that Oswald acted entirely alone. It also concluded that Jack Ruby acted alone when he killed Oswald two days later. The Commission's findings have proven controversial and have been both challenged and supported by later studies.
The Commission took its unofficial name—the Warren Commission—from its chairman, Chief Justice Earl Warren. According to published transcripts of Johnson's presidential phone conversations, some major officials were opposed to forming such a commission and several commission members took part only reluctantly. One of their chief reservations was that a commission would ultimately create more controversy than consensus.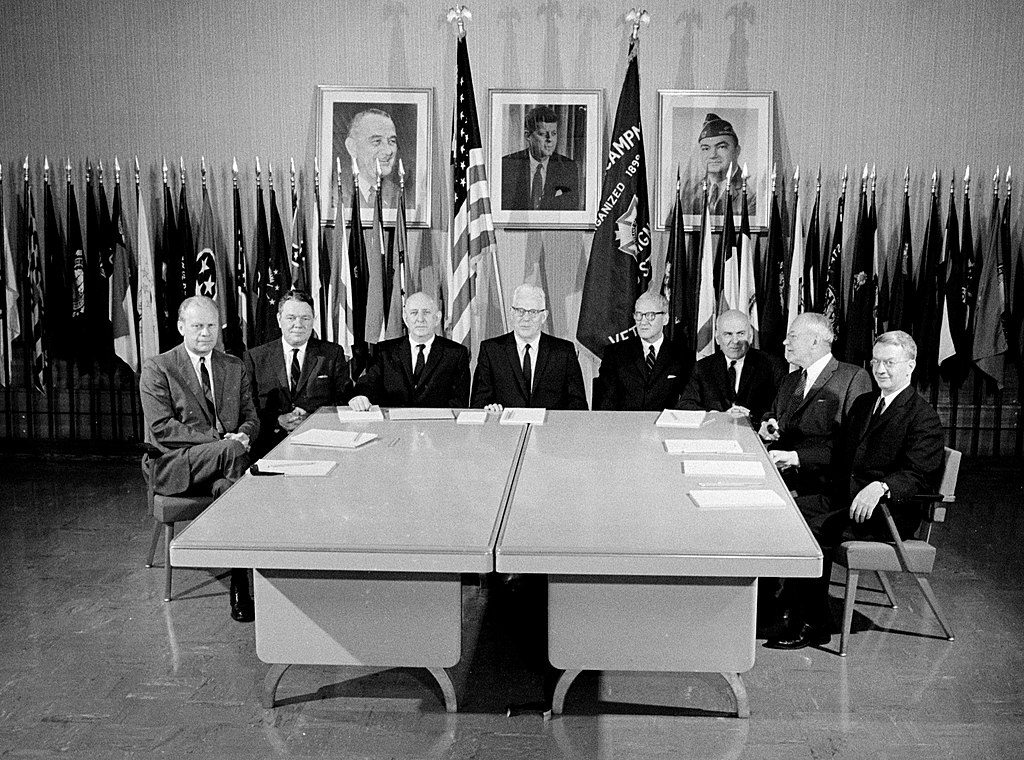 TODAY'S ALMANAC
Question of the Day
What would happen if Earth's rotation started to slow down?
Earth is already slowing down and has been doing so for billions of years. At the present time, our planet is slowing down by about .002 second per century. The slowing occurs mainly because of friction between solid earth and ocean tides. Earth's loss of rotational energy is transferred to the Moon, which goes into a wider orbit, thus lengthening the time between successive full Moons.
Advice of the Day
Two sparrows on the same ear of corn are not long friends.
Home Hint of the Day
To clean a dirty television screen, wipe the screen with alcohol on a clean rag.
Word of the Day
Sunrise/Sunset
The visible rising and setting of the Sun's upper limb across the unobstructed horizon of an observer whose eyes are 15 feet above ground level.
Puzzle of the Day
Soon as I'm made, I'm sought with care, for one whole year consulted. That time elapsed, I'm thrown aside, neglected and insulted. (What is being described?)
Born
Samuel Adams

 

(patriot)

 

– 

Peter Joseph von Cornelius

 

(painter)

 

– 

Thomas Nast

 

(cartoonist)

 

– 

Catherine Marshall

 

(writer)

 

– 

William Conrad

 

(actor)

 

– 

Arthur Penn

 

(director)

 

– 

Wilford Brimley

 

(actor)

 

– 

Shaun Cassidy

 

(singer)

 

– 

Clara Hughes

 

(cyclist)

 

– 

Gwyneth Paltrow

 

(actress)

 

– 

Avril Lavigne

 

(singer)

 

– 
Died
Adelina Patti

 

(opera singer; namesake of the song You're the Flower of My Heart Sweet Adeline)

 

– 

Engelbert Humperdinck

 

(German composer)

 

– 

Donald O'Connor

 

(song and dance man)

 

– 

William Safire

 

(political columnist, language maven)

 

– 
Events
Breakthrough in deciphering the Rosetta Stone announced

– 

SS Arctic and SS Vesta collided in the North Atlantic

– 

The Tonight Show made its television debut with Steve Allen as host

– 

The Warren Commission Report on the assassination of President John F. Kennedy issued

– 

Two men, Jeffrey Petkovich and Peter Debernardi, went over Niagara Falls in a barrel. They were the first pair ever to go over the falls and live. They were charged with unlawfully performing the stunt

– 

Mark McGwire hit his 69th and 70th home runs

– 

Dawn spacecraft launched, Cape Canaveral, Florida

– 
Weather
Unripened corn in much of New England was killed by a severe black frost

– 

Winds gusted to 115 mph on Long Island; 109 mph in Chatham, Massachusetts; and 100 mph in Milton, Massachusetts

– 

Hurricane Gloria made landfall near Fire Island, New York, and then crossed the Connecticut coastline

– 

A rare waterspout was seen in Long Island Sound, New York, off Smithtown Bay

– 

Los Angeles, California, reached a record high temperature of 113 degrees F

– 
COURTESY www.almanac.com