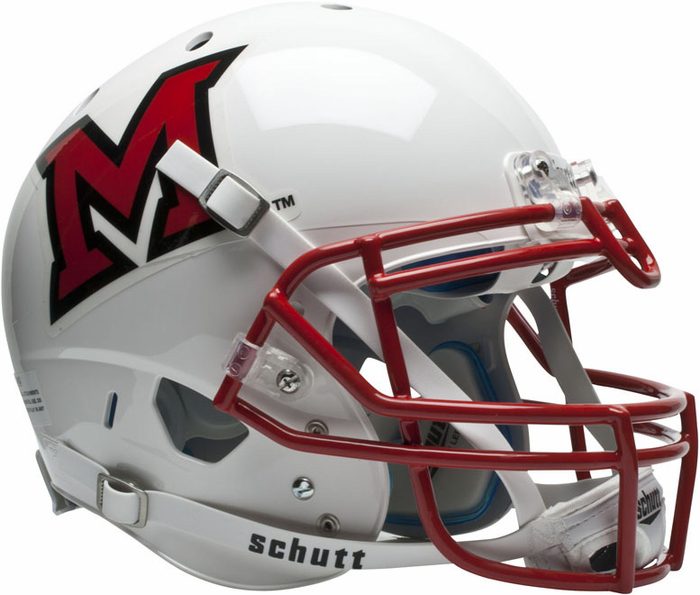 GAME NOTES
DSU.pdfhttps://miamiredhawks.com/documents/2023/9/19/Game_Notes_-_2023-DSU.pdf
After three straight weeks on the road, the Miami University football team hosts Delaware State on Saturday, Sept. 23 in Miami's annual Alumni Day/Hall of Fame Weekend. Opening kick is slated for 3:30 p.m.
Television
The matchup with Delaware State will be carried live on ESPN+. Anthony Lima will handle play-by-play duties, while Ryan Cavanaugh will serve as the color analyst.
Radio
In its fifth year of its partnership with Van Wagner, the Miami Sports Network continues its coverage of Miami Football with a group of affiliates blanketing most of Southwest Ohio and Southeast Indiana. "The Voice of the RedHawks" Steve Baker will deliver the play-by-play coverage, while Terry Bridge will provide color commentary. Tune-in to one of Miami's gameday affiliates:
WMOH-AM 1450 (Hamilton, Ohio)
WFMG-FM 101.3 (Richmond, Ind.)
WDBZ-AM 1230 (Cincinnati, Ohio)
WONE-AM 980 (Dayton, Ohio)
First And Ten
• Miami football ranks first all-time in the Mid-American Conference in wins (715), conference wins (310), MAC Championships (16) and bowl wins (8).
• Historically, Miami's 715 career wins, ranks third all-time among Group-of-Five programs, behind just Navy (734) and Army (722).
• Miami was 4-18 in Coach Martin's first 22 Mid-American Conference games. Since then, the RedHawks are 34-16 in their last 50 games versus schools from the MAC, the best record in the conference during that span.
• Miami has now had a .500 or better conference record in six of the last seven seasons, dating back to 2016. The RedHawks also captured the 2019 MAC Championship game and were a two-point conversion away versus Kent State from playing in the 2021 MACC.
• Martin, in his 10th year leading the RedHawks, has a new look on offense in 2023. Offensive Coordinator Pat Welsh returns for his 10th year with Martin, but his first as offensive coordinator. Defensively, Bill Brechin begins year two as the defensive coordinator (10th year at Miami). Special Teams Coordinator Jacob Bronowski is in his second year with the Red and White.
• Miami is 14-8 in one-score games, dating back to the 2018 campaign.
• After competing in the 2022 Bahamas Bowl, the RedHawks have now been bowl eligible six of the last seven seasons. From 2006-15, Miami was bowl eligible just twice.
• With Saturday's win over Cincinnati, the RedHawks have beaten a Power-5 program for the second straight year. Miami downed Northwestern 17-14 last year.
About Chuck Martin
• Head coach Chuck Martin, who earned that title on Dec. 3, 2013, brings an impressive resume to Oxford, Ohio.
• Not only was he 74-7 in six years at Grand Valley State (2004-09), he has coached in seven national championship games in the past 20 seasons.  Martin has an all-time head coaching record of 121-67.
• He has twice been named the American Football Coaches Association (AFCA) National Coach of the Year and has been a coordinator on both sides of the ball.
• Martin was inducted into the Hall of Fame at Grand Valley State University on Oct. 23, 2015.
About Delaware State
Delaware State is 0-3 on the season with losses to Bowie (22-11), Army (57-0) and Richmond (38-6).
Series Vs. Hornets
This will be the first meeting between Miami and Delaware State.
Home Sweet Home
Miami returns home for the first time in 2023. The last time Miami opened the year with three straight road games was 2003 (at Iowa, at Northwestern and at Colorado State).
RedHawks Reclaim Victory Bell
Joe Wilkins Jr.'s eight-yard touchdown catch in overtime and Yahsyn McKee's game-sealing interception gave the Miami University football team a dramatic 31-24 win at Cincinnati in the annual Battle for the Victory Bell. McKee forced overtime by blocking a field goal in the final seconds of the fourth quarter for the RedHawks. Miami claimed the Bell for the first time since 2005 and won the first overtime game in program history, while handing the Bearcats just their second home loss in the past five seasons. Brett Gabbert threw for 237 yards and three touchdowns to lead the RedHawks' offense.
Tidbits From Cincinnati
• Brett Gabbert rushed for a career-high 75 yards on nine carries.
• Javon Tracy had a career-high three receptions and scored his first touchdown for the Red and White.
• Corban Hondru recorded his first career interception.
•  Matt Salopek had a career-high 18 tackles and topped double-digits in tackles for the 13th time in his career.
• Warren finished with a career-high 13 tackles, while Brian Ugwu and Ty Wise also each set new career highs with 10 stops apiece.
• This was the first Battle for the Victory Bell to go to overtime since 1997.
• Miami defeated a Big 12 Conference team for the first time in program history.
Bend But Don't Break
Biggest factor in Miami's 31-24 overtime win at Cincinnati … red-zone defense. Miami entered the UC red zone four times and came away with 24 points (3 TDs, 1 FG). Cincinnati crossed Miami's 20-yard line eight different times and also scored 24 points (2 TDs, 3 FGs) including three different trips with no points. Miami's defense has allowed just five red-zone touchdowns on 14 chances in 2023.
Up Next … MACTION
Following Saturday's contest, Miami will begin MAC play on Sept. 30 at Kent State. Miami has not entered MAC play at 3-1 (or better) in non-conference action since Ben Roethlisberger and the RedHawks went 3-1 in 2003.
History Made With 2023 Hall of Fame Class
At halftime of Saturday's game, Miami will induct seven new members into its Hall of Fame (Lauren Collins, Rick Goins, Ryan Jones, Kim Kinzler, Jess Kodiak, Pete Lindsay and Barb Ramsey). Miami will also induct its 1973 football team, the first team in program history to go into the Hall of Fame. The 1973 football season is the opening chapter in a trilogy of seasons that helped Miami carve a unique niche in college football history. From 1973-75, Miami amassed an amazing 32-1-1 record, capturing three Mid-American Conference Championships. In 1973 alone, under head coach Bill Mallory, Miami went a perfect 11-0, including wins over Purdue, South Carolina and Florida (in the Tangerine Bowl). In all, the football team outscored its opponents 223-76 in 1973, finishing the year ranked No. 15 in the final Associated Press poll.
Take It Away Defense, Take it Away
The RedHawks defense forced 22 turnovers in 2022, a season-best under coach Martin. Prior to the 2022 season, Miami had averaged 16 turnovers forced per season, with a high of 20 in 2019. Miami finished the 2022 season +11 in turnover margin, 12th best in the country. The RedHawks have already forced five turnovers in 2023, including two last week at Cincinnati.
Five Things to Know About No. 5 Brett Gabbert
• Younger brother of NFL quarterback, Blaine Gabbert.
• Gabbert was named the 2019 MAC Freshman of the Year, joining Ben Roethlisberger (2001) and Deland McCullough (1992) as the only other RedHawks to capture this award.
• When Miami opened the 2019 season at Iowa, Gabbert became the first true freshman quarterback to open the season as the starter in Miami football history.
• Is responsible for 57 touchdowns (52 passing, 5 rushing) in his Miami career.
• Ranks fourth in program history with 6,925 passing yards and is sixth in completion percentage (.588) and fifth in passing touchdowns (52).
Gabbert Versus Gus
Back in 2018, senior quarterback star Gus Ragland helped recruit Brett Gabbert to Miami. Five years later, Ragland is now coaching quarterbacks for Miami and will soon see Gabbert surpass many of his career numbers. Gabbert ranks fourth in career passing yards and passed Ragland in week one at Miami (FL). Gabbert's completion percentage (.588) is just two spots behind Ragland (.602) and with five touchdown passes, Gabbert will move into third all-time in program history … ahead of Ragland.
"Gage"ing Interest
Coming from a smaller school (Southeast Louisiana), Gage Larvadain did not receive much interest from the major programs, something Miami is thankful for. In his debut with the RedHawks, Larvadain had a game-high eight grabs for 80 yards versus the Hurricanes. He followed that up with eight catches for 273 yards and three scores versus UMass and had a 79-yard touchdown on the opening play versus Cincinnati. Larvadain currently ranks 38th in the NCAA with 17 catches and is  first with 432 receiving yards.
Bombs Away
Through three games, the Miami offense is averaging 19.0 yards per completion, which ranks third in the country. Two weeks ago Miami threw for 302 yards on just 12 completions (25.2/completion) and last week at UC recorded 237 yards on 12 completions (19.8/completion).
Trench Warfare
Miami's offensive line has two major holes to fill along the offensive line after losing both Rusty Feth and Caleb Shaffer to the transfer portal. Combined, those two started 69 games, dating back to 2019. Miami still has plenty of experience returning in 2023. Reid Holskey has started each of the last 29 games for the Red and White, followed by Sam Vaughan (14), Will Jados (13), Kolby Borders (12), Ben Jackson (5) and John Young (3).
Tackling Machine
Linebacker Matt Salopek has 283 career tackles and has surpassed 100 stops in each of the past two years. With 100 tackles (has 35 currently) in 2023 he would become the first Miami player to secure 100-plus tackles in three-straight seasons since Matt Pusateri did the same from 2002-04.
Nothing But Net
In his first year with the football program, Graham Nicholson did not disappoint. He finished the season 15-20 on field goals, including 6-of-7 on attempts between 40-49 yards. He added 30 touchbacks on 65 kickoffs in 2021. He was 18-for-22 on field goals in 2022. He also had his first game-winning field goal, connecting on a 36-yard field goal with 21 seconds to go in the 17-14 win at Northwestern. This season he is a perfect 4-for-4.
COURTESY MIAMI ATHLETIC COMMUNICATIONS