By Bane Rossi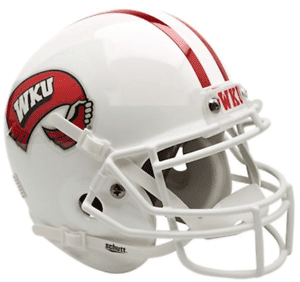 BOWLING GREEN, Ky. – The WKU Football team started fast and took down Houston Christian 52-22 in front of 20,712 fans on Saturday during Parent and Family Weekend at Houchens-Smith Stadium.
"First of all, I want to thank our fans tonight," WKU head coach Tyson Helton said. "I thought the crowd was outstanding. It was a great college atmosphere. That's what college football is all about and I love our Hilltopper fans … and so my hat's off to them. I can't say thank you enough for the atmosphere they created tonight, and we need to keep doing that for sure."
The Hilltoppers (2-0) put up 433 yards of offense in the win, which gave the program a 2-0 start in back-to-back seasons for the first time since the 1999 and 2000 seasons.
Austin Reed threw for 253 yards and four touchdowns on 27 of 33 passing, and he also rushed for a touchdown. Easton Messer led a group of 10 WKU players to catch passes with nine receptions for 116 yards and a touchdown. Jimmy Holiday had four catches for 62 yards and a touchdown, Blue Smith grabbed three passes for 38 yards and a score, and River Helms and Denzil Alleyne also had touchdown receptions in the victory.
The WKU defense forced three turnovers for the second straight game. Kendrick Simpkins led the unit with six tackles, a sack, two tackles for loss and a forced fumble. Talique Allen had five tackles with a forced fumble, and Upton Stout had a 53-yard pick six to go along with his three tackles.
"Good win. We have a motto – celebrate all wins, right? Celebrate all wins," Helton said. "Down in the locker room, I had a big smile on my face. Players – about 50% of them had a smile on their face and the other 50% didn't. I had to remind them we celebrate all wins around here.
"When we get in this building tomorrow, we'll make all the corrections and you won't know whether we won or lost. We take a pro mentality about it and we go and we try to get better."
The Hilltoppers put up 24 of their 52 points in the opening period with a combination of offensive and defensive highlights.
Lucas Carneiro – the reigning CUSA Special Teams Player of the Week – knocked through a 27-yard field goal with 4:13 to play in the first quarter, and Stout picked off a pass and returned it 53 yards for a touchdown that made it 24-0 by the end of the first quarter.
COURTESY WKU ATHLETIC COMMUNICATION