By Mona Hatfield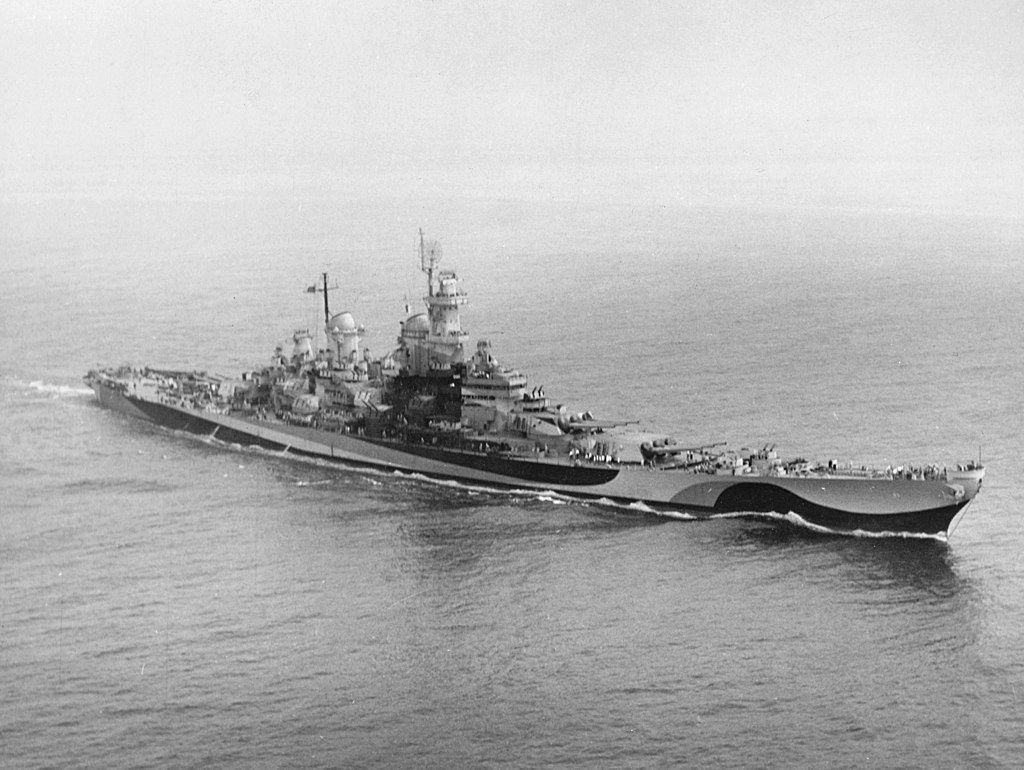 FROM WIKIPEDIA COMMONS
USS Missouri (BB-63) is an Iowa-class battleship built for the United States Navy (USN) in the 1940s and is currently a museum ship. Completed in 1944, she is the last battleship commissioned by the United States. The ship was assigned to the Pacific Theater during World War II, where she participated in the Battles of Iwo Jima and Okinawa and shelled the Japanese home islands. Her quarterdeck was the site of the surrender of the Empire of Japan, which ended World War II.
After World War II, Missouri served in various diplomatic, show of force and training missions. On 17 January 1950 the ship ran aground during high tide in Chesapeake Bay and after great effort was re-floated several weeks later. She later fought in the Korean War during two tours between 1950 and 1953. Missouri was the first American battleship to arrive in Korean waters and served as the flagship for several admirals. The battleship took part in numerous shore bombardment operations and also served in a screening role for aircraft carriers. Missouri was decommissioned in 1955 and transferred to the reserve fleet, (also known as the "Mothball Fleet").
Missouri was reactivated and modernized in 1984 as part of the 600-ship Navy plan. Cruise missile and anti-ship missile launchers were added along with updated electronics. The ship served in the Persian Gulf escorting oil tankers during threats from Iran, often while keeping her fire-control systems trained on land-based Iranian missile launchers. She served in Operation Desert Storm in 1991 including providing fire support.
Missouri was again decommissioned in 1992, but remained on the Naval Vessel Register until her name was struck in 1995. In 1998, she was donated to the USS Missouri Memorial Association and became a museum ship at Pearl Harbor, Hawaii.
TODAY'S ALMANAC
Question of the Day
How long ago did aluminum cans start having pop tops on them?
In 1963, a patent for a rivet device made these kinds of cans possible to produce. The patent was obtained by Ermal Fraze.
Advice of the Day
Soften butter quickly by grating it.
Home Hint of the Day
Clean windows with a mixture of 1 part white vinegar and 10 parts warm water.
Word of the Day
Cirrus cloud
Thin feather-like crystal cloud.
Puzzle of the Day
The Buckeye State.(Name the 

U.S.

 state!)
Born
Albert Spalding

 

(baseball player)

 

– 

Cleveland Amory

 

(author of The Cat Who Came for Christmas)

 

– 

Peter Ueberroth

 

(businessman)

 

– 

Terry Bradshaw

 

(football player)

 

– 

Christa McAuliffe

 

(selected to be the first teacher in space)

 

– 

Mark Harmon

 

(actor)

 

– 

Keanu Reeves

 

(actor)

 

– 

Salma Hayek

 

(actress)

 

– 

Erin Hershey Presley

 

(actress)

 

– 
Died
J. R. R. Tolkien

 

(author)

 

– 

Troy Donahue

 

(actor)

 

– 

Bob Denver

 

(actor)

 

– 
Events
Great Fire of London began

– 

Congress established the United States Department of the Treasury

– 

The first issue of McCall's magazine was published. The magazine had previously been called Queens Magazine and Queen of Fashion

– 

Vice President Theodore Roosevelt uttered the famous phrase, Speak softly and carry a big stick at the Minnesota State Fair

– 

Japan surrendered formally at ceremonies held aboard the battleship Missouri, to end World War II

– 

First ATM in U.S. debuted, Rockville Centre, N.Y.

– 

Charles Burton started 3-year pole-to-pole expedition

– 

The long awaited chess rematch between Bobby Fischer and Boris Spassky began in Yugoslavia

– 

Diana Nyad completed a two-day, two-night swim from Cuba to Florida and became the first person to accomplish the feat unaided by a shark cage

– 
Weather
Denver had its earliest measurable snow, 4.2 inches

– 

Hurricane Frances caused 2.5 million Florida residents and vacationers to flee the state. It was the biggest evacuation ever ordered in Florida

– 
COURTESY www.almanac.com