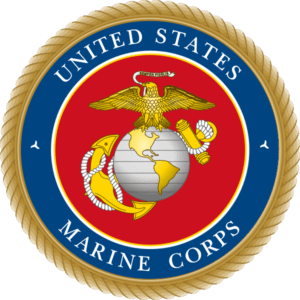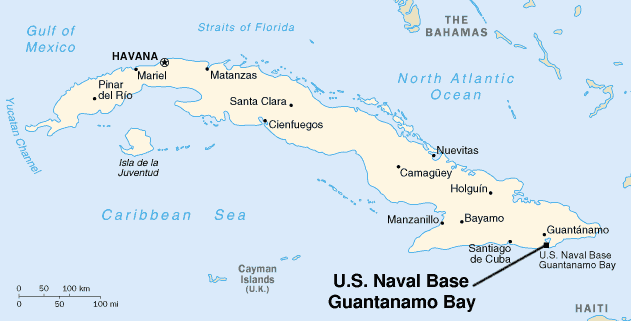 FROM WIKIPEDIA COMMONS
Guantanamo Bay Naval Base (Spanish: Base Naval de la Bahía de Guantánamo), officially known as Naval Station Guantanamo Bay or NSGB, (also called GTMO, pronounced Gitmo as jargon by members of the U.S. military) is a United States military base located on 45 square miles (117 km2) of land and water on the shore of Guantánamo Bay at the southeastern end of Cuba. It has been permanently leased to the United States since 1903 as a coaling station and naval base, making it the oldest overseas U.S. naval base in the world. The lease was $2,000 in gold per year until 1934, when the payment was set to match the value in gold in dollars; in 1974, the yearly lease was set to $4,085.
Since taking power in 1959, the Cuban communist government has consistently protested against the U.S. presence on Cuban soil, arguing that the base "was imposed on Cuba by force" and is "illegal under international law." Since 2002, the naval base has contained a military prison, for alleged unlawful combatants captured in Afghanistan, Iraq, and other places during the War on Terror. Cases of alleged torture of prisoners by the U.S. military, and their denial of protection under the Geneva Conventions, have been criticized.
The 1903 lease has no fixed expiration date, and as such it can only be ended if the US Navy decided to abandon the area or both countries agreed mutually to end the lease.
TODAY'S ALMANAC
Question of the Day
How do egg producers know they are putting good eggs on the market?
Shortly after an egg is laid, it is placed in front of a light source that reveals the condition of the innards. This process, called candling, can detect cracks in the shell or harmless but unappetizing blood spots on the yolk. It also reveals the size of the egg's air cell: the smaller the cell, the better the egg.
Advice of the Day
Fruit trees will drop a few fruits this month—no cause for alarm unless it's excessive.
Home Hint of the Day
Set fence posts on a couple of inches of crushed stone, then pour an additional 2 inches of stone around the posts before filling in with either soil or cement. This will allow for drainage at the base and deter rotting.
Word of the Day
Cryophobia
Fear of extreme cold, frost, or ice
Puzzle of the Day
The numerical state(s). (Abbreviations of U.S. states)
MI (1,001 in Roman numerals), Tenn (10), and MD (1,500 in Roman numerals).
Born
Gustave Courbet

 

(painter)

 

– 1819

Hattie McDaniel

 

(actress; the first African American to win an Academy Award)

 

– 1895

Judy Garland

 

(actress & singer)

 

– 1922

Eugene Parker

 

(American astrophysicist; proposed the idea of solar wind in 1958 )

 

– 1927

F. Lee Bailey

 

(attorney)

 

– 1933

Jim Shea

 

(Olympic gold medalist, Men's Skeleton)

 

– 1968

Pokey Reese

 

(baseball player)

 

– 1973

Tara Lipinski

 

(figure skater)

 

– 1982

Princess Madeleine of Sweden

 

– 1982

Leelee Sobieski

 

(actress)

 

– 1982
Died
Sir Robert Laird Borden

 

(Canadian prime minister)

 

– 1937

Spencer Tracy

 

(actor)

 

– 1967

Louis L'Amour

 

(author)

 

– 1988

John Gotti

 

(gangster)

 

– 2002

Ray Charles

 

(singer)

 

– 2004

John A. Eddy

 

(solar astronomer, coined the term Maunder Minimum)

 

– 2009

Gordie Howe

 

(hockey player)

 

– 2016
Events
Bridget Bishop was the first person to be hanged at the Salem Witch trials

– 1692

Ben Franklin's kite and key experiment proved lightning is electricity

– 1752

Canada Constitution Act is passed by British Parliament, creating Upper and Lower Canada

– 1791

Phoenix steamboat first in U.S. to sail on open sea

– 1809

First boat race between Oxford and Cambridge

– 1829

The United States Naval Academy graduated its first students

– 1854

U.S. Marines landed at Guantanamo Bay, Cuba

– 1898

Alcoholics Anonymous founded 

– 1935

The Deep premiered

– 1977

United States War Dogs Memorial was dedicated, Holmdel, New Jersey

– 2006
Weather
Yakutat, Alaska, reached 87 degrees F, a record for that town

– 1995
COURTESY www.almanac.com