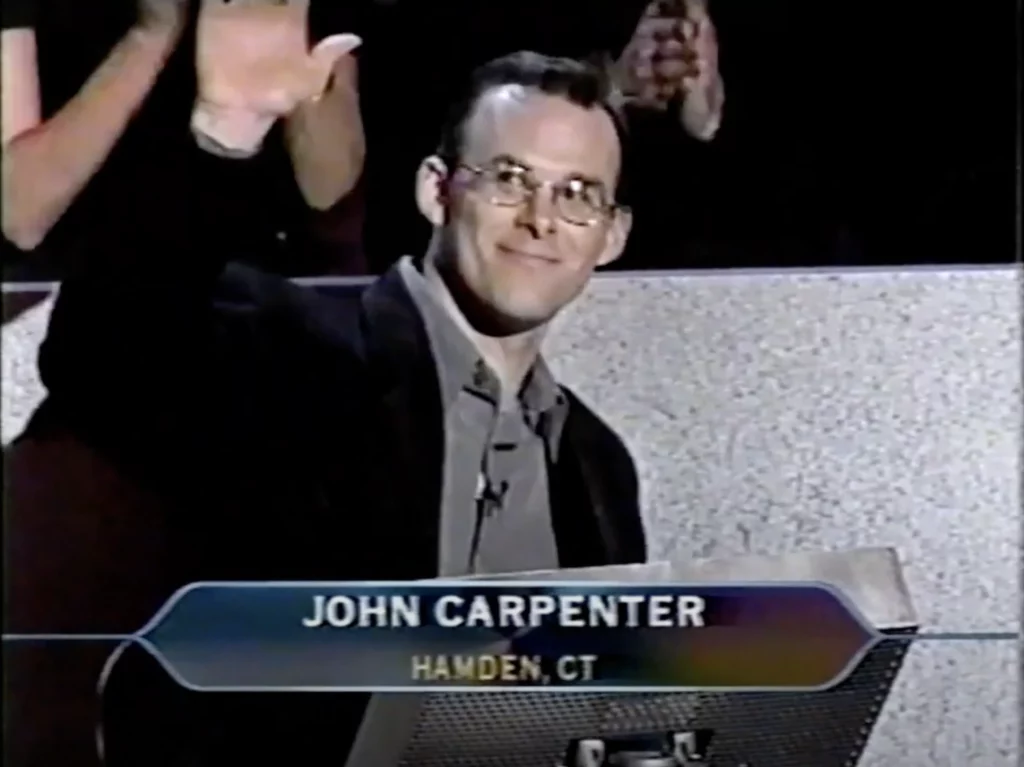 FROM WIKIPEDIA COMMONS
John Carpenter (born December 24, 1967) is an American game show contestant and Internal Revenue Service agent. He is the twelfth highest-earning American game show contestant of all time. Carpenter is best known for becoming the first top-prize winner on the American version of Who Wants to Be a Millionaire, and the first ever top-prize winner in the entire Who Wants to Be a Millionaire? franchise. He held the record for the largest single win in United States game show history, until it was broken by Rahim Oberholtzer who won $1.12 million on another U.S. quiz show, Twenty One.
On the November 19, 1999, episode of Millionaire, Carpenter proceeded to advance to the million-dollar question without using any lifelines. He then used his Phone-a-Friend to call his father, not for help, but rather to tell him he was going to win the game. Carpenter answered the question correctly and became the show's first millionaire. His win gave him national recognition and led to multiple talk show appearances, as well as subsequent appearances on Millionaire. Carpenter is currently 54 years old.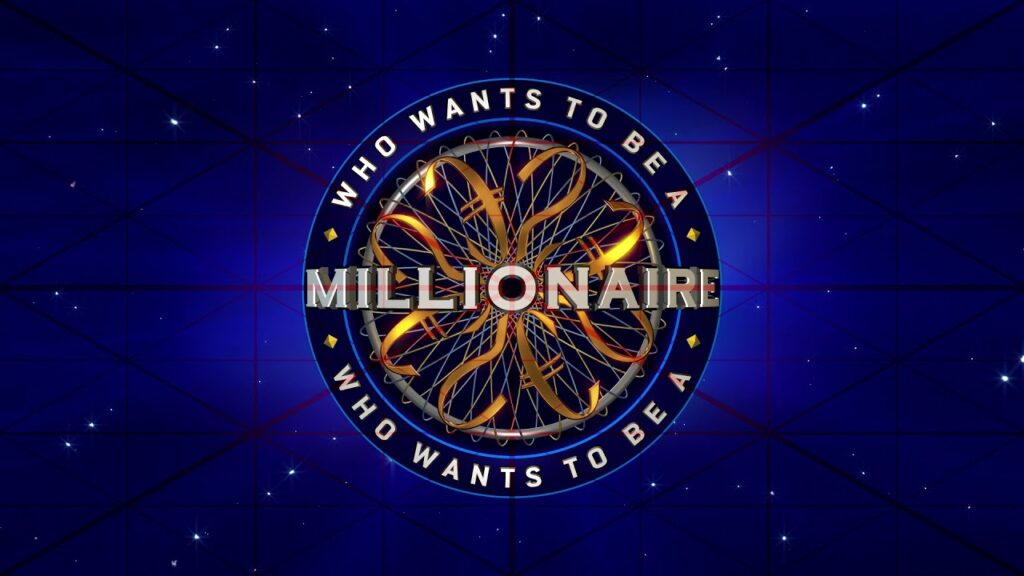 Who Wants to Be a Millionaire? (often informally called Millionaire) is an international television game show franchise of British origin, created by David Briggs, Mike Whitehill and Steven Knight. In its format, currently owned and licensed by Sony Pictures Television, contestants tackle a series of multiple-choice questions to win large cash prizes in a format that twists on many game show genre conventions – only one contestant plays at a time, similar to radio quizzes; contestants are given the question before deciding whether to answer, and have no time limit to answer questions; and the amount offered increases as they tackle questions that become increasingly difficult. The maximum cash prize offered in most versions of the format is an aspirational value in local currency, such as one million pounds in the U.K. or 75 million rupees (7.5 crore) in India.
The original British version debuted on 4 September 1998 on the ITV network, hosted by Chris Tarrant, who presented his final episode on 11 February 2014 after which the show was discontinued. A revived series of seven episodes to commemorate its 20th anniversary aired from 5 to 11 May 2018, hosted by Jeremy Clarkson. The revival received mostly positive reviews from critics and fans, as well as high viewing figures, leading ITV to renew the show for several more series. Since its debut, international variants of the game show have been aired in around 160 countries.
TODAY'S ALMANAC
Question of the Day
What does it mean to "pull out all the stops"?
This phrase means to put all one's efforts and energies into something in order to have it succeed. It originally referred to an organ player, who must manipulate the numerous "stops" of the instrument to achieve the desired musical effect, usually involving both hands, both feet, and several keyboards. If all the stops were pulled out on many traditional organs, the volume would be intolerable.
Advice of the Day
Nature, time, and patience are the three great physicians.
Home Hint of the Day
A rocking chair will "walk" forward or from side to side when one rocker is smaller or more worn than the other. To correct this, turn the chair over and plane the bottom of the larger rocker to match the size of the smaller one.
Word of the Day
Wallop
A quick, rolling movement; a gallop. To boil with a continued bubbling or heaving and rolling, with noise.
Puzzle of the Day
From a word of five letters, take two and leave one.
Stone. Alternate answers include: Clone, Drone, Prone
Born
George Rogers Clark (military leader) – 1752
James Garfield (20th U.S. president) – 1831
Tommy Dorsey (musician) – 1905
Roy Campanella (baseball player) – 1921
Larry King (radio & television personality) – 1933
Dick Cavett (talk show host) – 1936
Ted Turner (businessman) – 1938
Calvin Klein (fashion designer) – 1942
Eileen Collins (astronaut) – 1956
Meg Ryan (actress) – 1961
Jodie Foster (actress) – 1962
Died
Franz Schubert (composer) – 1828
Emma Lazarus (poet) – 1887
Sir Basil Spence (architect) – 1976
Mike Nichols (director) – 2014
Ron Hynes (Canadian singer-songwriter) – 2015
Della Reese (singer and actress) – 2017
Larry Korn (agricultural educator and author) – 2019
Events
Christopher Columbus first sighted what is now Puerto Rico– 1493
Jay's Treaty between the U.S. and Great Britain signed– 1794
President Abraham Lincoln delivered the Gettysburg Address– 1863
Hudson Bay Co. ceded territory to Canada– 1869
Boss Tweed sentenced to 12 years in prison, New York City– 1873
Frederick Blaisdell was granted a patent for a paper-wrapped pencil– 1895
Five-year old TIME magazine presented a cover portrait for the first time– 1928
Leonard Bernstein appointed Music Director of the New York Philharmonic– 1957
Ford Motor Co. discontinued the Edsel– 1959
Pele, Brazilian soccer star, scores his 1000th goal, at Maracana Stadium, Rio de Janiero.– 1969
John Carpenter became the first contestant to win $1,000,000 on the game show Who Wants to Be a Millionaire– 1999
David L. Pickens granted patent for registered pedigree stuffed animals""– 2002
Weather
Up to 18 inches of snow fell on the Great Plains of Colorado, with 5-foot drifts in suburban Denver– 1956
Seventy-nine degrees F, Denver, Colorado– 1989
COURTESY www.almanac.com