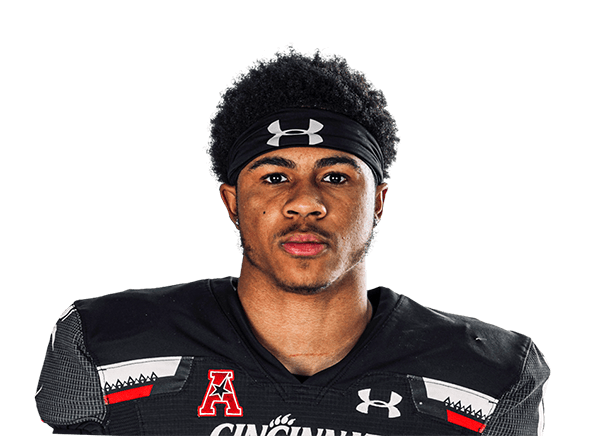 The Bearcats extend their active home win streak to 31 straight games.
CINCINNATI – Junior wide receiver Tyler Scott hauled in two touchdown passes to lead the Cincinnati to a 20-10 victory over Navy in a game that finished in under three hours on Saturday at Nippert Stadium.
 
The Bearcats improved to 7-2 overall and 4-1 in the American Athletic Conference.   
 
In a game where possessions were limited due to Navy's run-heavy triple-option offense, redshirt senior quarterback Ben Bryant finished 25-of-35 for 299 yards and two touchdowns. Scott tied a career-best 10 receptions for 139 yards, his third career-game over the century mark.
 
"I always say that when you go into play Navy, especially when you prepare for it, it makes you go back to the basics," head coach Luke Fickell said. "Not saying we're going to try and schedule them as we switch leagues and things like that with the triple option, though."
 
Cincinnati was able to bounce back from a rare loss last week at UCF by winning for the 31st straight time at Nippert Stadium.
 
"I'm proud of our guys because they've had their backs against the wall over this past week, taking a gut punch," Fickell added. "What we went through last week, which I think everybody goes through, we, fortunately, didn't go through it as much, and you find out a lot more about who you are, what your seniors are like, and what your leadership's like, you have weeks like that. We'll find out what it's like again because we've got another one gunning for us, and it will be a quick turnaround."
 
The Bearcats host ECU next at 8 p.m. (ESPN2) on Friday night at Nippert Stadium.
 
Senior linebacker Ivan Pace Jr. led the Blackcats defense against Navy's rushing attack with 14 tackles, one sack and 2.0 TFLs, while redshirt freshman Dontay Corleone tallied a career-best 11 tackles.
 
Sophomore punter Mason Fletcher unloaded his second punt that was downed at the 1-yard line for the second time this season in the second quarter. He flipped possession for the Bearcats all game, pinning the Midshipmen inside the 20-yard line on three of his four punts.
 
Junior wide receiver Jadon Thompson's 35-yard catch on the first play of the game led to a 47-yard field goal by Ryan Coe two minutes into the contest to give the Bearcats an early 3-0 lead. Coe connected on his second field goal eight minutes later from 27-yards out to extend the lead to 6-0. He has converted on nine of his last 10 field goal attempts.
 
Navy threatened early in the second quarter, but senior nose tackle Jowon Briggs blocked the Midshipmen's 25-yard field goal attempt. A few minutes later, Bryant connected with Scott for the Bearcats' first touchdown from 38 yards out at 7:12 in the second quarter to make the score 13-0.
 
Navy finally got on the board with just under two minutes left in the first half when the Midshipmen capped off a nine-play, 54-yard drive with a 28-yard field goal from Daniel Davies to cut the deficit to 13-3 heading into the locker room.
 
Holding a 13-3 lead coming out the half, the Blackcats defense forced a three-and-out and then marched 98 yards in eight plays to set up Bryant's 27-yard touchdown pass to Scott that extended the lead to 20-3 with 9:51 remaining in the third quarter.
 
Navy scored its first touchdown on a fourth-and-goal quarterback dive from the 1-yard line at 1:14 in the third quarter to cap off a 16-play, 75-yard drive that took 8:37 off the clock.
 
The Midshipmen had an opportunity for a field goal to make a one score game at the end of the fourth quarter, but Davie' 44-yard attempt was wide left.
 
Navy had one final chance with 19 seconds left after a 59-yard Fletcher punt, but senior defensive lineman Jabari Taylor had a strip sack on the final play.  

COURTESY UC ATHLETIC COMMUNICATIONS