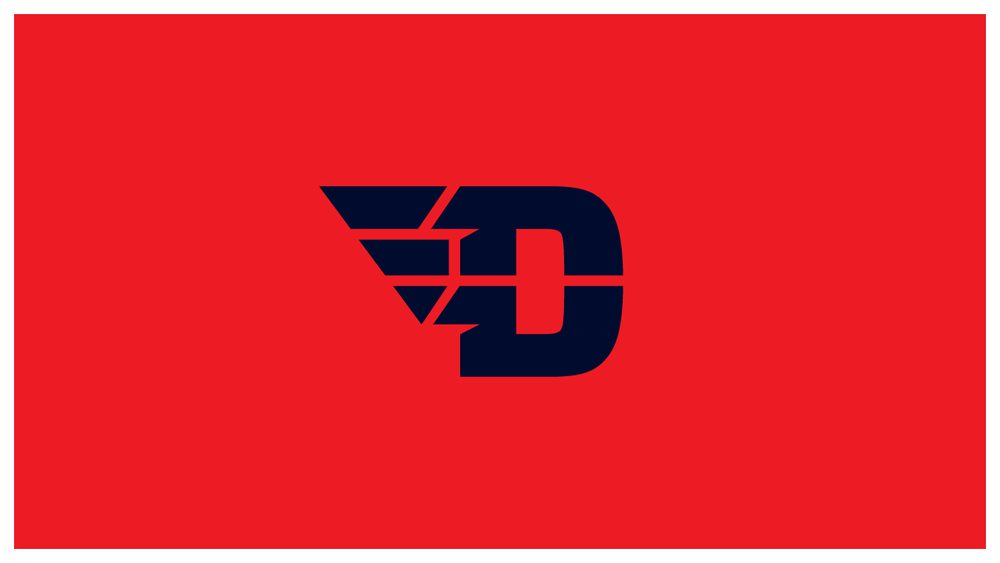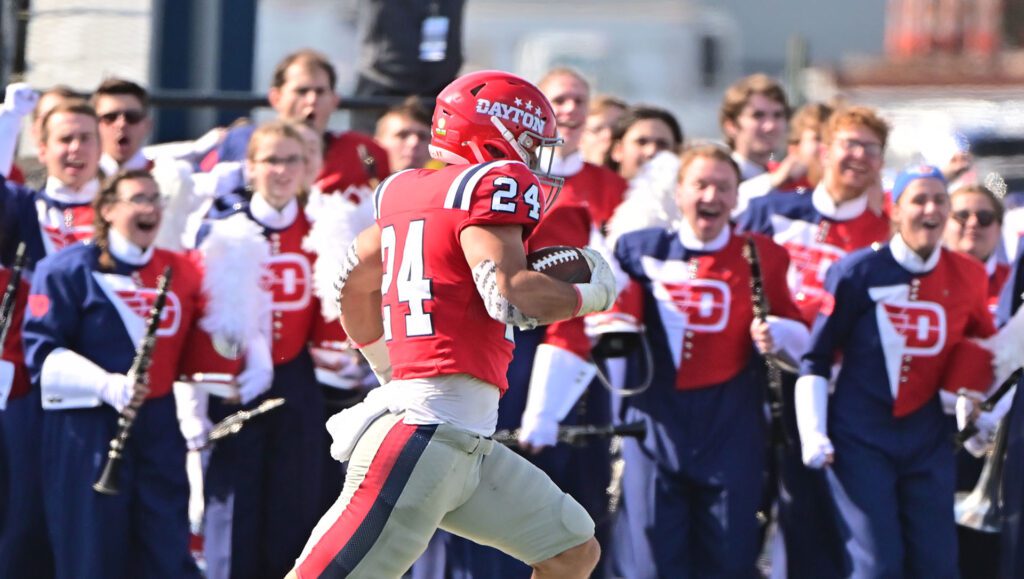 Flyers Score Final 13 Points To Win The Game
DAYTON — The University of Dayton Flyer football team earned a 23-20 win over Stetson on Saturday, bringing the Flyers to 3-1 in Pioneer Football League play. Dayton's defense came through early with a pick-six by Logan Dalton to give the Flyers their first lead in the second quarter. Sam Webster converted all three of his field goal attempts for the Flyers (39, 44, 22 yards). The defense was also supported by Ben Schmiesing, who led the Flyers with nine tackles and also contributed one sack. Dayton improves to 5-2 overall, while the Hatters fall to 3-3 and 1-2 in the PFL.
1st Quarter — Dayton 0, Stetson 0
The Flyers and Hatters both started the game with a pair of punts.
Michael Franks provided a spark to the Flyers on special teams as he tackled the punt returner for a one-yard loss at Stetson's 20-yard line. This resulted in a Stetson three-and-out on offense.
Stetson's next offensive drive took them into Dayton territory with Drew Robertson getting a big third-down sack to get the Flyers the ball back.
On a later drive, Stetson saw a touchdown called back, canceled by an offensive pass interference call.
The quarter ended with a sack by Sam Schadek just inside of Dayton territory, making Stetson punt it to the Flyers to begin the second quarter.
2nd Quarter — Dayton 10, Stetson 10
Stetson's punt was downed at Dayton's one-yard line to start the quarter.
The Flyers' offensive drive took 2:56 off the clock, but ended up resulting in a punt.
Stetson's next possession was stunted by a 3rd-and-1 false start with 7:03 left on the clock. The Hatters still got on the board first, converting a 33-yard field goal to make the score 3-0.
Luke Brenner exploded for a 72-yard kickoff return to bring the Flyers within scoring distance.
The drive resulted in a 39-yard field goal by Sam Webster, tying the game at 3-3.
Logan Dalton intercepted his first career pass at Stetson's 34-yard line and returned it to the house for six. The Hatters' quarterback, Brady Meitz, was under pressure by Schadek when he threw the pick. The extra point attempt by Webster was good to make the score 10-3.
The Hatters responded with a one-yard rushing touchdown with a successful extra point, bringing the score back to a tie at 10-10.
3rd Quarter — Stetson 20, Dayton 13
The Hatters stormed out of the gates with a 75-yard passing touchdown on the first offensive play of the second half to receiver Quinton Lane. The extra point put Stetson up 17-10 early in the third quarter.
Quarterback Shane Hamm used his legs for a nine-yard gain to get a first down for the Flyers on the next drive.
The Flyers drove into Stetson territory, but an unsuccessful fourth-down attempt turned the ball back over to the Hatters at the Stetson 37-yard line.
Dayton nearly stopped Stetson on the following drive, but a 34-yard pass on fourth down from the Hatters pushed the ball into the red zone of the Flyers.
However, Dayton's defense bounced back, holding Stetson to a 21-yard field goal to make it a two-score game at 20-10.
Another big return from Dayton's special teams followed, with Brenner returning the Stetson kickoff 41 yards to start the Dayton drive at Stetson's 44-yard line.
Joey Swanson made a 16-yard catch on 2nd-and-16 to earn a Flyer first down.
That set up a 44-yard field goal attempt by Webster, which he put through the uprights, bringing the Flyers within a touchdown at 20-13.
Later in the quarter, Derek Willits gained 58 yards off of a catch-and-run up the middle to get to the Stetson 12-yard line.
4th Quarter — Dayton 23, Stetson 20
Hamm opened the final quarter with a one-yard rushing touchdown. The extra point by the Flyers made it an even game at 20-20.
Dayton's defense allowed Stetson to gain only two yards on a three-and-out. The Stetson punt was downed at Dayton's 45-yard line.
Hamm used his legs to convert two first downs on 3rd-and-longs to continue the Flyers' offensive drive.
That drive lasted 7:25 and resulted in a 22-yard field goal by Webster to give Dayton the lead at 23-20.
The Hatters' drive was stopped in Stetson territory with a sack by Schmiesing on third down.
Running back Jake Chisholm and Hamm gained a pair of first downs, which allowed the Flyers to get into victory formation, ending the game.
Hamm essentially ended the game with a 10-yard keeper around left end on third-and three with 2:05 remaining in the game.
BY THE NUMBERS
Dayton's 145 rushing yards were headlined by Chisholm (96 yards) and Hamm (44 yards).
Hamm gained 39 yards in the second half, and scored his first career rushing touchdown.
Stetson maintained its strong passing attack by passing for 327 total yards. QB Brady Meitz was 21 for 34, highlighted by Quinton Lane's 142 yards and one touchdown.
Hamm was 11 for 17 with 122 yards passing.
Hamm's 122 passing yards and 44 rushing yards were both career highs in his second career start.
Derek Willits caught four passes for 83 yards, with 58 yards after catch.
Linebacker Ben Schmiesing led the Flyers with nine tackles (seven solo). His sack of Meitz forced a Stetson punt with around four minutes remaining, and Dayton ran out the clock from there.
Logan Dalton added five tackles (four solo) and a sack on a safety blitz to his 34-yard interception return for UD's first touchdown.
Defensive tackle Sam Schadek also had five tackles (four solo), and led UD with 1.5 sacks, 2.5 TFL and two quarterback hurries.
The Dayton D held Stetson to 61 yards rushing in 27 attempts, with 36 coming on one play.
Flyer special teams were excellent in the win.
The dangerous Stetson return game was held to two punt returns for -1 yards, and two kickoff returns for six yards.
Four of Michael Denning's six kickoffs were touchbacks in addition to the two short returns.
Punter Drew Nieman had four punts for a 47.2 average, with a career-long 64-yarder becoming his first touchback of the season.
Luke Brenner returned five kickoffs for a 33.6 average.
Sam Webster was three-for-three on field goals, with a season-long 44-yarder to begin the 13-point comeback, and what turned out to be the game winner with 6:06 in the fourth quarter.
Stetson came into the game leading the PFL in turnover margin, but Dayton had the advantage with the interception in the second quarter vs. no Flyer turnovers.
Each team's possessions were relatively even, with total plays being 63 to 61 and time of possession being 33:35 to 26:25, both in Dayton's favor.
Dayton scored 13 unanswered points to end the game.
UP NEXT
Dayton is back at Welcome Stadium next Saturday at 1 p.m. ET against their Pioneer Football League rivals, the Valparaiso Beacons.
The University will be hosting a reunion of the late Matt Dahlinghaus' teammates. Dahlinghaus died as a result of injuries suffered in the Flyers' game with Bowling Green in 1972. UD and his teammates will be dedicating a new memorial to Dahlinghaus at Dayton's Jerry Von Mohr Practice Facility.
COURTESY DAYTON MEDIA RELATIONS