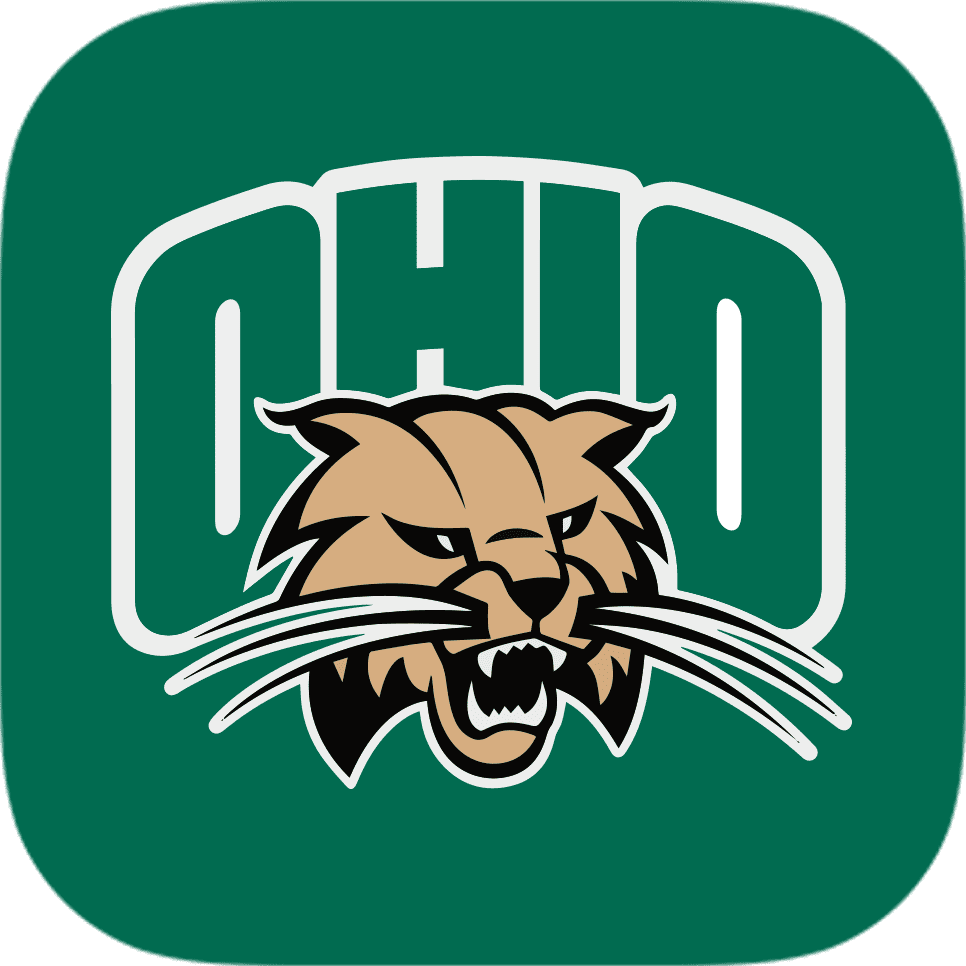 FOLLOW OHIO FOOTBALL: Facebook | Twitter | Instagram
https://ohiobobcats.com/documents/2022/10/28/ohio_fb_110122_buffalo.pdf
https://ubbulls.com/documents/2022/10/27/gamenotes_ohio_2022_.pdf
BUY TICKETS
https://ohiobobcats.evenue.net/cgi-bin/ncommerce3/SEGetEventInfo?ticketCode=GS%3AOHIO%3AFB22%3AFB05%3A&linkID=ohio&shopperContext=&pc=&caller=&appCode=&groupCode=&cgc=
ATHENS, Ohio– The Ohio football team (5-3, 3-1 MAC) hosts their first midweek MAC game on Tuesday, Nov. 1 when they face off against Buffalo (5-3, 4-0 MAC). Kickoff is set for 7:30 p.m. ET at Frank Solich Field at Stadium. The game can be seen on ESPN2 with Mike Corey and Tom Luginbill on the call with Taylor McGregor on the sideline.

The Bobcats' matchup can also be heard on the Ohio Sports Network from Learfield. Russ Eisenstein returns for his 15th season as the "Voice of the Bobcats" and will be joined by Ohio alum Rob Cornelius, who has been a part of the broadcasts for two decades.

SERIES HISTORY VS. BUFFALO
The Bobcats and the Bulls have met 27 times since 1949, with an overall record of 16-11.

The two teams last met in 2021, where the Bobcats fell 27-26. After the Bobcats posted 21 points in the first quarter, Buffalo defense held them to five points the rest of the game.

The Bulls wrapped up a 17-point fourth quarter with a 31-yard field goal. They missed the first attempt on the field goal; however, Ohio was called for an offsides, allowing Buffalo to re-kick. Buffalo connected, sealing the 27-26 win.

SCOUTING BUFFALO
Buffalo enters this matchup with the Bobcats with a 5-3 overall record. They are currently undefeated against Toledo 34-17 on Saturday, Oct. 22, extending their winning streak to five games.

In the air, junior quarterback Cole Snyder finished with 245 passing yards and a TD. On the ground, senior running back Ron Cook, Jr. finished the day with a career-high 118 yards rushing and a touchdown and added three receptions for 40 yards.

Linebacker Shaun Dolac had another stellar game for the Bulls, finishing with 12 tackles, three tackles for loss and two pass breakups. Cornerback Isaiah King had a career-high 11 tackles and an incredible sequence where he forced and recovered a fumble in the third quarter.

As a team, Buffalo finished with 153 rushing yards on 38 carries and 245 passing yards, maintaining possession for 27:03.

On the season, the Bulls are averaging 30.88 points per game; their opponents have been averaging 24.75 points per game.

Buffalo averages 156.6 rushing yards per game, while putting up an average of 242 yards per game through the air.

LAST TIME OUT
The Ohio football remains undefeated at Frank Solich Field, defeating Northern Illinois 24-17 on Saturday, Oct. 22.

In the air, redshirt junior quarterback Kurtis Rourke finished the game 14-for-26 with two touchdowns on 200 yards. Graduate student wide receiver Sam Wiglusz recorded two touchdowns on 69 yards and six receptions while redshirt freshman running back Sieh Bangura had 32 yards on three catches.

On the ground, Rourke set a personal record with a 61-yard rush in the second quarter, netting a total of 64 rushing yards and one rushing touchdown on seven attempts while Bangura net 62 yards on 10 carries. Defensively, redshirt senior linebacker Keye Thompson led the way with 14 total tackles, five of which were solo. He also recorded 2.5 tackles for loss and one quarterback hurry. Both graduate student Zack Sanders and sixth year Alvin Floyd finished with nine tackles each.

Freshman kicker Nathanial Vakos (Avon, Ohio) went 1-for-2 on field goals and 3-for-3 on PATs. Sixth year Jonah Wieland (Hudson, Ohio) and redshirt sophomore Jack Wilson (Lancefield, Victoria, Australia) each registered two punts while redshirt junior Tristian Vandenberg (Buffalo, N.Y.) kicked for five kickoffs, finishing with 312 yards.

The Bobcats' opening drive put them ahead 7-0, ending with a Wiglusz touchdown. With 10:49 remaining in the half, a 38-yard field goal put the Huskies on the board, cutting Ohio's lead to four points. Field goals from both teams put the score at 10-6 heading into halftime.

With 10:56 left in the third quarter, the Huskies concluded a nine-play, 48-yard drive with a 45-yaard field goal, giving the Bobcats a one-point lead. Rourke wrapped up an 81-yard drive with a one-yard rushing touchdown, extending Ohio's lead to 17-9. Northern Illinois answered with a touchdown and a two-point conversion, tying the game, 17-17.

With seven minutes remaining in the game, a 22-yard receiving touchdown by Wiglusz followed by a successful PAT from Vakos gave the Bobcats a 24-17 lead. After four consecutive NIU incomplete passes, Ohio went into victory formation, solidifying their fourth home win of the season.

SCOUTING OHIO
Currently, the Bobcats are 5-3 overall and 3-1 in MAC play. They average 32 points, 118 rushing yards and 308.5 passing yards per game.

In the air, quarterback Kurtis Rourke is 187-for-273 for 2,408 yards and 16 touchdowns. On the ground, Sieh Bangura has net 495 rushing yards with seven touchdowns, Nolan McCormick has 219 rushing yards on 61 attempts, while Rourke has four rushing touchdowns on 189 yards.

Sam Wiglusz leads the receivers with 49 catches and seven touchdowns on 579 yards. Jacoby Jones has two touchdowns on 366 yards while James Bostic currently has 395 yards, 18 receptions and one touchdown.

Jack Wilson has 18 punts on the season, accumulating 676 yards and averaging 37.56 yards per punt while Jonah Weiland has recorded 621 yards on 16 punts.

In 50 kickoffs, Tristian Vandenberg has recorded 2,988 yards and 18 touchbacks.

Nathanial Vakos continues his strong freshman season, going 11-for-13 on field goals and 29-for-30 on PATs. So far this season, he's scored 62 points.

VAKOS KICKS FOR 55 YARDS
Freshman kicker Nathanial Vakos set a personal record, kicking a 55-yard field goal against Western Michigan.

The field goal put Vakos in the record book, tying him at third for longest field goal in program history. Kevin Kerr is the only other Bobcat to kick a 55-yard field goal, doing so in 1999 and again in 2001.

DEFENSE SNAGS FIVE INTERCEPTIONS AGAINST WESTERN MICHIGAN
The Bobcats defense put on one of their best performances of the season, finishing the game against the Broncos with five interceptions in the second half.

Redshirt senior Bryce Dugan (Milford, Ohio) recorded one while both graduate student Zack Sanders (Lawrence, Kan.) and redshirt freshman Torrie Cox, Jr. (Miami Gardens, Fla.).

The last time the defense recorded five interceptions in a game was against Bowling Green in 1985. This marks the fourth time in program history the defense recorded five interceptions, tying them for the second-most interceptions in program history.

VAKOS ONE OF THREE TO EARN LOU GROZA AWARD STAR OF THE WEEK FOR WEEK SEVEN
College football's top kicking award, the Palm Beach County Sports Commission Lou Groza Collegiate Place-Kicker Award presented by the Orange Bowl recognizes top kickers each week from FBS division teams as the "Stars of the Week." Representing Ohio is freshman kicker Nathanial Vakos.

Freshman Nathanial Vakos made four field goals including a career-long 55-yard bomb in Ohio's 33-14 defeat of Western Michigan in MAC action in Kalamazoo, Mich. on Saturday, the Bobcats first road win of the season. The Avon, Ohio native also scored from 35, 33 and 26 yards out. He was 4-for-5 on the day with the miss being the first of a career that now stands at 10-for-11 on field goals. He made his three extra point attempts for a 15-point game, tied for second among FBS kickers this week. His 56 points for the season lead the team in scoring.

The Award is named for National Football League Hall of Fame kicker Lou "The Toe" Groza, who played 21 seasons with the Cleveland Browns. Groza won four NFL championships with Cleveland and was named NFL Player of the Year in 1954. Although an All-Pro offensive lineman as well, Groza ushered in the notion that there should be a place on an NFL roster for a kicker.

NO. 1 PASSING OFFENSE IN THE MAC
As of week seven, the Bobcats are leading the Mid-American Conference in pass completion perentage (67.8), yards (2,268) and average yards per game (324).

WIGLUSZ & JONES GET 100 YARDS EACH
Against Akron, the Bobcats finished the game with two 100+ yard receivers: graduate student Sam Wiglusz and junior Jacoby Jones. This marks the first time Ohio has had two 100-yard receivers in a game since 2013 against Eastern Michigan.

FOUR TDs FOR BANGURA
Redshirt freshman running back Sieh Bangura was unstoppable on Saturday's game against Akron, recording four total touchdowns.

Bangura led the team on the ground with three rushing touchdowns on 16 attempts, accumulating 90 yards. In the air, he made the most of his one reception, recording a touchdown and 25 receiving yards.

His performance earned him MAC East Offensive Player of the Week honors (Oct. 10).

ROURKE ONE OF EIGHT QUARTERBACKS NAMED MANNING AWARD STARS OF THE WEEK
Manning Award, sponsored by the Allstate Sugar Bowl, has named eight quarterbacks as its "Stars of the Week." Representing Ohio football is redshirt junior Kurtis Rourke (Oakville, Ontario, Canada). Rourke finished Saturday's game 24-for-27 with 427 yards in the air and three passing touchdowns, marking his fourth game over 300 yards.

The Manning Award was created by the Allstate Sugar Bowl in 2004 to honor the college football accomplishments of Archie, Peyton and Eli Manning. It is the only quarterback award that includes the candidates' bowl performances in its balloting. Since the Manning Award started recognizing Stars of the Week in 2011, 464 different quarterbacks from 129 schools have been recognized. Sixty-seven players from 66 different schools were honored during the 2021 season.

WIGLUSZ GOES FOR 100
Graduate student wide receiver Sam Wiglusz cross a milestone in his Bobcat career against Kent State (Oct. 1), recording 115 receiving yards.

Wiglusz recorded six receptions and one touchdown, setting another personal record with a 71-yard reception.
MAPLE MISSILE MAKES HISTORY
Saturday (Sept. 24) was a record-setting night for redshirt junior quarterback Kurtis Rourke. Not only did he break his personal career records for pass attempts (50) and pass completions (41) while matching his career high for passing touchdowns (4), the redshirt junior set a new single-game program high with 537 passing yards, breaking a record that was set in 1983. On the ground, Rourke finished the night with 10 carries, 45 yards and one touchdown.
This performance earned Rourke his second MAC East Offensive Player of the Week title.
BOBCAT OFFENSE SETS RECORD
In addition to Kurtis Rourke's single-game program best 537 passing yards against Fordham, Ohio's offense broke the program record for total offensive yards in a single game with 692 yards.

The 2018 Bobcats previously held the title, going for 664 offensive yards against UMass in 2018.

WILBURN RETURNS FOR RECORD
In addition to the offensive records set against the Fordham Rams (Sept. 24), redshirt sophomore wide receiver Keegan Wilburn made history with the third-longest kickoff return for a touchdown in program history at 98 yards.

Three Bobcats have recorded 100-yard kickoff returns and one Bobcat recorded a 99-yard kickoff return.

JONES LEADS RECEIVERS AGAINST FORDHAM
Junior wide receiver Jacoby Jones closed non-conference play with a milestone, receiving over 100 yards in one game as a Bobcat. He also scored his first Ohio touchdowns.

Jones, who transferred from Northwest Mississippi Community College, finished the game with 104 receiving yards, six receptions and two touchdowns.

MAC EAST OFFENSIVE POW
Quarterback Kurtis Rourke has been named the MAC East Offensive Player of the Week twice during non-conference play: once for his performance against Florida Atlantic (Sept. 3) and again for his record-setting outing against Fordham (Sept. 24).

Rourke led the Bobcats to a 41-38 victory over the Owls (Sept. 3). The redshirt junior hit 345 passing yards and threw four touchdown passes, finishing the game 27-for-34 in the air. On the ground, he net 11 yards on 14 rushing attempts with one touchdown, putting him at five total.

Against Fordham (Sept. 24), not only did Rourke break his personal career records for pass attempts (50) and pass completions (41) while matching his career high for passing touchdowns (4), the redshirt junior set a new single-game program high with 537 passing yards, breaking a record that was set in 1983. On the ground, Rourke finished the night with 10 carries, 45 yards and one touchdown.

STRONG DEBUT FOR VAKOS
Kicker Nathanial Vakos earned MAC East Special Teams Player of the Week (Sept. 5) after his collegiate debut in the Bobcats' 2022 season opener.

The freshman was 2-for-2 on field goals, putting Ohio on the board in the first quarter with a 29-yard kick. With 1:24 remaining in the second quarter, Vakos' second field goal attempt hit its mark, this time from 36 yards. He was also 5-for-5 in his PAT attempts.

SIEH BREAKS 100 YARDS
Running back Sieh Bangura kicked off the 2022 season with a milestone, rushing over 100 yards in one game for the first time in his collegiate career.

The redshirt freshman led the Bobcats with 114 net rushing yards, surpassing his total yards in the four games he played in during the 2021 season (93).

RECORD-SETTING DAY FOR ROURKE
Rourke led the Bobcats to a 41-38 victory over the Owls (Sept. 3). Rourke also broke multiple personal records, setting two career highs. The redshirt junior hit 345 passing yards, surpassing his 308 yard record and threw four touchdown passes, beating his previous record of three. Overall, Rourke was 27-for-34 in the air. On the ground, he net 11 yards on 14 rushing attempts with one touchdown, putting him at five total.

FRANK SOLICH FIELD AT PEDEN STADIUM
The Ohio University Board of Trustees agreed to name the football field in Peden Stadium to honor long-time Ohio head coach Frank Solich, as announced by the program on Aug. 18.

The field will carry the name Frank Solich Field starting at first home game of the 2022 season against Florida Atlantic (Sept. 3), with an official field dedication ceremony to take place on senior night against Northern Illinois (Oct. 22).

Solich owns a career coaching record of 173-101. His 173 overall wins rank as the fourth most among active NCAA FBS head coaches. He is the winningest head coach in Mid-American Conference history with 115 overall victories while his 77 conference-only wins rank second to former Central Michigan head coach Herb Deromedi's 90. His 16 years of service match Deromedi's (1978-93) for the most in MAC history. Ohio is 115-82 during the Solich era. His 115 victories are the second-most in program history behind Don Peden (121; 1924-46). Ohio has gone 77-46 in conference play since Solich'sarrival in Athens in 2005.

Ohio has had a run of 12-straight non-losing seasons that has included 11 winning campaigns and six years with at least nine victories — including a 10-win campaign in 2011. The 2012 season began with the Bobcats earning a signature win at Penn State, upsetting the Nittany Lions by a score of 24-14. Ohio captured division titles in 2006, 2009, 2011 and 2016. Solich led the Bobcats to 11 of their 13 bowl appearances and the first five bowl victories in program history, with back-to-back wins in the 2011 Famous Idaho Potato Bowl and '12 Independence Bowl and back-to-back-to-back victories in the 2017 Bahamas Bowl, '18 DXL Frisco Bowl and '20 Famous Idaho Potato Bowl (2019 season).

YEAR TWO FOR ALBIN
Tim Albin enters his second season as head coach in 2022 after serving as Ohio's offensive coordinator for 16 years under Frank Solich.

The 2021 Bobcats finished the season 3-9 overall and 3-5 against MAC opponents. Ohio opened MAC play with a 34-17 victory over Akron (Oct.2). They secured back-to-back wins over Miami (Nov. 2) and Eastern Michigan (Nov. 9), with 35-33 and 34-26 final scores, respectively.

Albin joined the Ohio Football coaching staff as offensive coordinator in 2005, reuniting with Frank Solich after four seasons together at Nebraska. The 2021 season will mark Albin's 17th year in Athens. Since his arrival in Athens, Albinhas produced offensive units that have consistently ranked among the top of the Mid-American Conference. He also has directed an offensive attack that has practically rewritten all of Ohio's rushing, passing records, and scoring records. In the past 10 seasons, Albin's offensive units rank No. 1, 2, 4, 5, 6, 7, and 8 on the Ohio all-time Top-10 single season scoring list. The Bobcats 368 points in 2018 rank fourth on the all-time list.

Albin spent the 2004 season as offensive coordinator and running backs coach at North Dakota State, helping the Bison to an 8-3 record and No. 25 national ranking in their first season at the Division I-AA level. NDSU finished the season averaging 378.5 yards of total offense, including 192.4 on the ground, and had four offensive players named first-team All-Great West Football Conference. Albin served with Solich at Nebraska from 2000 to 2003. He started with the Cornhusker program as a graduate assistant, a position he held for three seasons before being promoted to running backs coach and passing game coordinator for the 2003 season. Prior to his stint at Nebraska, Albin was the head coach at Northwestern Oklahoma State for three seasons, winning the NAIA national championship in 1999 with a 13-0 record. He was named NAIA Football Coach of the Year by Rawlings and American Football Coach Magazine as the Rangers recorded their first undefeated season in history.

FRESH FACES ON STAFF
Ohio football head coach Tim Albin announced the addition of Spence Nowinsky, John Hauser and Brian Smith to the 2022 coaching staff.

Nowinsky is stepping into the defensive coordinator role. Most recently, Nowinsky was co-defensive coordinator with Hauser at Miami. Prior to Miami, Nowinsky spent nine seasons at Illinois State, including four as the defensive coordinator, where he coached two-time All-American Colton Underwood. He also coached at NCAA Division II member Emporia State and his alma mater, Minnesota State, where he was a defensive lineman from 1991-94.

Hauser is joining the Bobcats' coaching staff as the safeties coach after spending the last eight seasons with Miami, six of which as the co-defensive coordinator. During his first season with the RedHawks, Hauser coached Quinten Rollins, who earned MAC Defensive Player of the Year honors and was drafted by the Green Bay Packers. Prior to Miami, Hauser made appearances at the Citadel, Wayne State, Northern Illinois and his alma mater, Wittenberg. While he was a student-athlete at Wittenberg, Hauser earned all-conference honors three times and was on the NCAA Division III All-American team in 2002.

Smith is filling the role of running backs coach and passing game coordinator. Most recently, he was the offensive coordinator and running backs coach at Washington State before being promoted to associate head coach. Smith had multiple stints at his alma mater Hawaii, where he served as the associate head coach and offensive coordinator (2016-19), running backs coach (2009-11) and offensive line coach (2008) and coached 2020 NFL Draft pick Cole McDonald. Other coaching experience includes California Lutheran (2005, 2012) and Occidental College (2013-15). Smith played for Hawaii from 1998-2001 before signing professional contracts with the Baltimore Ravens (2002) and the Green Bay Packers (2003).

A LOOK BACK AT 2021
Ohio finished the 2021 season 3-9 overall. They registered three wins against MAC opponents, highlighted by their Battle of the Bricks victory at Peden against Miami (35-33) on Nov. 2. On the road, they defeated Akron (34-17) on Oct. 2 and Eastern Michigan (34-26) on Nov. 9.

CONTINUITY ON OFFENSIVE STAFF
Wide receivers coach Dwayne Dixon (16 years) and offensive coordinator/quarterbacks coach Scott Isphording (10 years). Co-offensive coordinator/offensive line coach Allen Rudolph is in his fourth year at Ohio. Tight ends coach Brian Metz, is in his third year with the Bobcats, however, Metz is no stranger to the Bobcats, having spent time as an intern with the program from 2013-14 and as an offensive graduate assistant from 2016-18.

AYE AYE, CAPTAIN
The Ohio football team has named seven team captains for the 2022 squad: graduate student defensive tackle Kai Caesar (Cache, Okla.), redshirt senior linebacker Bryce Houston (Lewis Center, Ohio) and redshirt junior quarterback Kurtis Rourke (Oakville, Ontario, Canada).

All three were captains for the 2021 team as well. Caesar and Houston are entering their third year as captains while this season marks Rourke's second season as captain.

Caesar played in all 12 games in the 2021 season. He finished with 25 tackles, including seven solo tackles. Caesar also registered two pass breakups and three quarterback hurries.

Houston led the team with 104 tackles, including 53 solo stops and eight tackles for loss, putting him sixth overall in the MAC. He set a career-high mark on Oct. 16 at Buffalo, finishing the game with 15 tackles, including 11 solo and four assisted.

Rourke went 169-for-259, throwing 11 touchdowns in 1,801 yards. He completed 31-of-38 passes against Kent State (Oct. 23) for a season-high 308 yards. On the ground, Rourke rushed 327 yards on 74 attempts and scored three touchdowns, registering a season-high 75 yards against Bowling Green (Nov. 26).

ROURKE NAMED ON THE JOHNNY UNITAS GOLDEN ARM AWARD 2022 WATCH LIST
Redshirt junior quarterback Kurtis Rourke (Oakville, Ontario, Canada) was named on the Johnny Unitas Golden Arm Award Watch List.

The Johnny Unitas Golden Arm Educational Foundation, Inc., along with presenting sponsor A. O. Smith Corporation announce the 2022 class of Golden Arm Award candidates. This is the largest selection of active quarterbacks in the history of the Johnny Unitas Golden Arm Award representing 76 schools around the nation. All 10 FBS conferences as well as a football independent are represented on the list. The Big Ten leads the way with 13 preseason selections.

The preseason Watch List, semifinalists, finalists, and award recipient are selected by the distinguished Johnny Unitas Golden Arm Selection Committee, a group of prominent college football journalists, commentators, announcers, and former players. The award annually recognizes the top senior or upperclassman quarterback set to graduate with their class. Candidates are chosen based on player performance on-and-off the field as we head into the 2022 college football season.

WELCOMING NEW BOBCATS
The Ohio football program welcomed a variety of new student-athletes via the transfer portal. Newcomers include: redshirt sophomore defensive tackle Rayyan Buell, redshirt junior defensive end Dontay Hunter II, junior wide receiver Jacoby Jones, redshirt freshman Parker Navarro, graduate student cornerback Zack Sanders and graduate student wide receiver Sam Wiglusz.

Buell (Hornell, N.Y.) joins the Bobcats after playing for Northwest Mississippi Community College, where he was recognized as a Distinguished Academic All- MACCC and first team NJCAA All-Academic selection. While playing for Hornell High School, he was named the Section V Defensive Player of the Year twice as well as New York State Sportswriters Association Class B All-State third team as a linebacker and Hornell Sports Night Male Athlete of the Year.

Hunter (Westerville, Ohio) transferred from Purdue. Prior to Purdue, he helped lead the 2018 Westerville Central high school team to the Ohio State playoffs. Hunter finished his senior season with 113 total tackles, 101 solo tackles and 12.0 sacks and was named three-star defensive ends by 247Sports, Rivals and ESPN.

Jones (Tunica, Miss.) previously played for Northwest Mississippi Community College, where he had 63 receptions, 929 yards and five touchdowns. Jones was named First Team All-MACCC, Third Team All-MACCC and Third Team Fall All-American. He was a two-time Academic All-MACCC and a two-time First Team NJCAA All-American Academic selection. Prior to playing at Northerst Mississippi Community College, Jones was named Second Team All-State and District Offense MVP at Rosa Fort High School.

Navarro (Temp, Ariz.) joins the Bobcats from University of Central Florida. Prior to college, he captained the Desert Vista High School football team from 2018-20. He also played volleyball and ran track in high school.

Sanders (Lawrence, Kan.) joins the Bobcats as a graduate transfer after a successful career at Missouri State. He made a name for himself quickly, playing in all 11 games as a true freshman in 2017. Sanders played in the majority of Missouri State's games in 2018, 2020 and 2021, starting in six of 11 games for the 2021 Bears. He finished the 2021 campaign with 23 total stops, including 15 solos and 4 pass break-ups.

Wiglusz (Brecksville, Ohio) transferred from Ohio State, where he played in 13 games and was named 2021 Academic All-Big 10 He earned three letters in football at Brecksville High School and captained the 2017 team, finishing his high school career with 37 touchdowns and 3,129 yard. Wiglusz was named Second Team All-Ohio, Cleveland.com All-Star and set the school record for yards in a single season in 2017 (1,432).

BOBCATS IN THE CFL
Five former Bobcats are currently active in the CFL, starting with former QB Nathan Rourke (BC Lions). Running back Maleek Irons and wide receiver Papi White are both with the Hamilton Tiger-Cats, while running back AJ Ouellette(Toronto Argonauts) and defensive tackle Casey Sayles (Winnipeg Blue Bombers) are also active.

Ohio football alumnus Chip Cox is apart of the 2022 CFL Hall of Fame class, earning the honor in his first year of eligibility. Cox played 13 seasons for the Montreal Alouettes, wrapping up his career with the fourth highest total defensive tackles in CFL history (979).

BOBCATS IN THE NFL
One former Ohio football student-athlete are representing the Bobcats at the highest level of the sport — Dallas Cowboys outside linebacker Tarell Basham.

After signing as an undrafted free agent in April, former Ohio quarterback Armani Rogers made the Washington Commanders' 53-man roster as a tight end (Aug. 30).

On Wednesday (Sept. 14), the Baltimore Ravens signed cornerback T.J. Carrie to their practice squad.

Javon Hagan is currently a free agent. Previously, he was signed by the Tampa Bay Buccaneers as an undrafted free agent before signing with the Arizona Cardinals.

BOBCATS IN THE USFL
Former Bobcat Quentin Poling is currently active in the USFL, playing for the Birmingham Stallions. In the USFL's inaugural championship, Poling and the Stallions defeated the Philadelphia Stars 33-30 at the Tom Benson Hall of Fame Stadium.

UP NEXT
The Bobcats return to action on Tuesday, Nov. 8 when the travel to Oxford, Ohio to take on MAC rival Miami. Kickoff for the Battle of the Bricks will be at 7 p.m., 7:30 p.m. or 8 p.m. and will be on ESPN, ESNP2 or CBSSN.