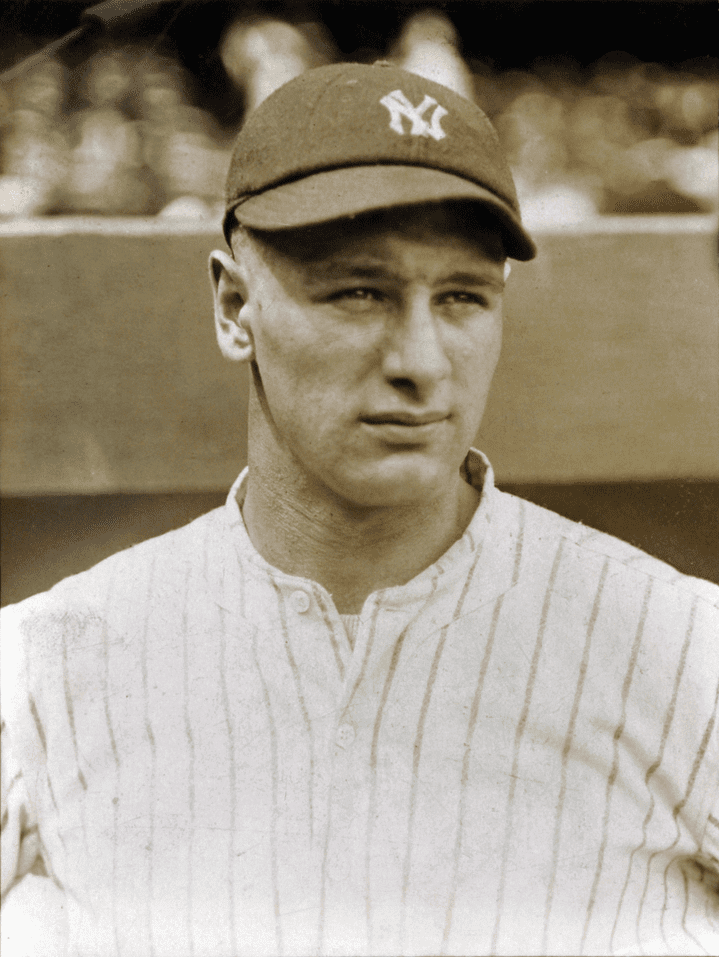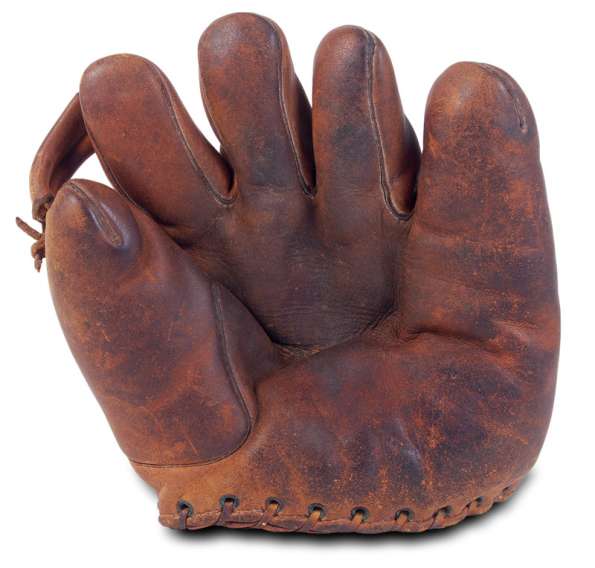 FROM WIKIPEDIA COMMONS
Henry Louis Gehrig (born Heinrich Ludwig Gehrig; June 19, 1903 – June 2, 1941) was an American professional baseball first baseman who played 17 seasons in Major League Baseball (MLB) for the New York Yankees (1923–1939). Gehrig was renowned for his prowess as a hitter and for his durability, which earned him his nickname "the Iron Horse". He was an All-Star seven consecutive times, a Triple Crown winner once, an American League (AL) Most Valuable Player twice, and a member of six World Series champion teams. He had a career .340 batting average, .632 slugging average, and a .447 on base average. He hit 493 home runs and had 1,995 runs batted in (RBI). He still has the highest ratio of runs scored plus runs batted in per 100 plate appearances (35.08) and per 100 games (156.7) among Hall of Fame players. In 1939, he was elected to the Baseball Hall of Fame and was the first MLB player to have his uniform number (4) retired by a team.
A native of New York City and a student at Columbia University, Gehrig signed with the Yankees on April 29, 1923. He set several major-league records during his career, including the most career grand slams (23; since broken by Alex Rodriguez) and most consecutive games played (2,130), a record that stood for 56 years and was long considered unbreakable until surpassed by Cal Ripken Jr., in 1995. Gehrig's consecutive game streak ended on May 2, 1939, when he voluntarily took himself out of the lineup, stunning both players and fans, after his performance on the field became hampered by an undiagnosed ailment subsequently confirmed to be amyotrophic lateral sclerosis, an incurable neuromuscular illness; it is now commonly referred to in North America as "Lou Gehrig's disease".
The disease forced him to retire at age 36, and claimed his life two years later. The pathos of his farewell from baseball was capped off by his iconic 1939 "Luckiest Man on the Face of the Earth" speech at Yankee Stadium. In 1969, the Baseball Writers' Association of America voted Gehrig the greatest first baseman of all time, and he was the leading vote-getter on the MLB All-Century Team chosen by fans in 1999.[12] A monument in Gehrig's honor, originally dedicated by the Yankees in 1941, currently resides in Monument Park at Yankee Stadium. The Lou Gehrig Memorial Award is given annually to the MLB player who best exhibits Gehrig's integrity and character.
TODAY'S ALMANAC
The feast day of St. Michael, the archangel and overcomer of the Devil, is a Christian celebration based on the ancient Celtic calendar. Its main importance in people's lives was that of a seasonal signpost in the year. In the British Isles, crops were harvested and the surplus sold by late September, so this became the time when farmers would pay their yearly rents to landowners. Everyone ate goose at Michaelmas to bring prosperity, and many farmers included "a goose fit for the lord's dinner" with their rent payments. Great market fairs occurred just before the feast day, and the large crowds these attracted made it convenient to hold elections at this time. Michaelmas is also a "Quarter Day." The ancient Celtic people divided the year into four major sections, or quarters, and then divided each of these in half to make an eight-part year that reflected the natural progression of the seasons. Foods traditional for Michaelmas include new wine; goose; cakes of oats, barley, and rye; and carrots. Some groups in the United States, such as the Pennsylvania Dutch, have kept Michaelmas, or "Harvest Home," traditions alive.
Question of the Day
Is there a natural way to lighten my hair without using those smelly hair dyes from the store?
You can use lemon juice, from either a bottle or real lemons. Comb it through your hair evenly, then let it dry in the sun. Do this once a day for about a week, and you'll see results.
Advice of the Day
Polish pewter with a cabbage leaf.
Home Hint of the Day
To clean a dishwasher, place a bowl containing 2 cups of vinegar on the bottom rack, leaving all the racks in place (but emptied of dishes!). Run the dishwasher through the wash and rinse cycles only. The vinegar will splash about inside, cleaning the whole thing.
Word of the Day
Sunrise/Sunset
The visible rising and setting of the Sun's upper limb across the unobstructed horizon of an observer whose eyes are 15 feet above ground level.
Puzzle of the Day
Often we are covered with wisdom and wit, and oft with a cloth where the dinner guests sit; In beauty around you and over your head, we are countless, though numbered when bound to be read. (What is being described?)
Leaves
Born
Francois Boucher (painter) – 1703
Elizabeth Cleghorn Gaskell (author) – 1810
Henry Hobson Richardson (architect) – 1838
Herbert Agar (journalist) – 1897
Gene Autry (actor) – 1907
Michelangelo Antonioni (director) – 1912
Stanley Kramer (producer) – 1913
Jerry Lee Lewis (musician) – 1935
Madeline Kahn (actress) – 1942
Lech Walesa (Polish labor leader) – 1943
Bryant Gumbel (broadcast journalist) – 1948
Died
William Topaz McGonagall (poet) – 1902
W. H. Auden (poet) – 1973
Roy Lichtenstein (artist) – 1997
Tony Curtis (actor) – 2010
Events
Canadian satellite, Alouette 1, was launched– 1962
OSO 7 solar satellite launched from Cape Kennedy, Florida– 1971
Space shuttle Discovery launched– 1988
$389,500 paid for Lou Gehrig's last baseball glove– 1999
2-pound 13-ounce southern kingfish caught near Sandbridge, Virginia– 2002
Adventurer David Hempleman-Adams became the first person to cross the Atlantic solo in an open wicker basket balloon, landing in England after surviving hail, snow and a Concorde's sonic boom. He lifted off from Sussex in New Brunswick, Canada– 2003
John G. Roberts Jr. was sworn in as the 17th Chief Justice of the United States Supreme Court– 2005
31 ears of corn husked by 4 people in 1 minute, Markham, Ontario– 2012
Weather
Hurricane hit SE Louisiana. Wind gusts up to 140 mph recorded– 1915
Tornado hit Charleston, South Carolina– 1938
Snow began to fall in Caribou, Maine, and ended on the 30th, with 2.5 inches accumulating– 1991
COURTESY www.almanac.com