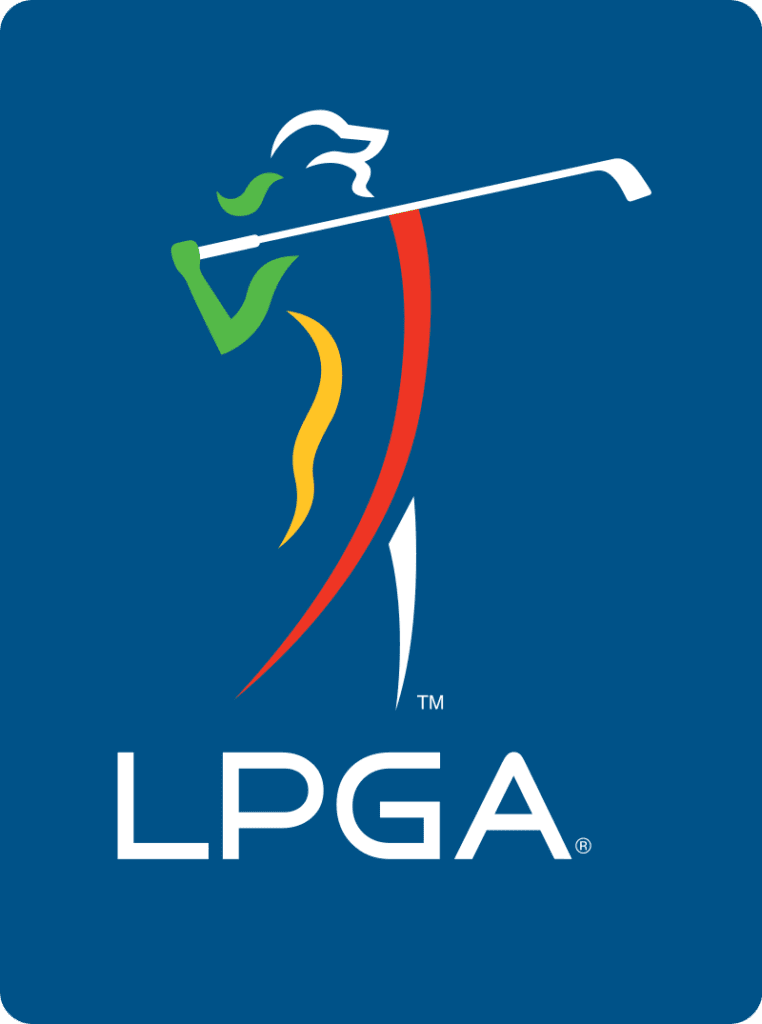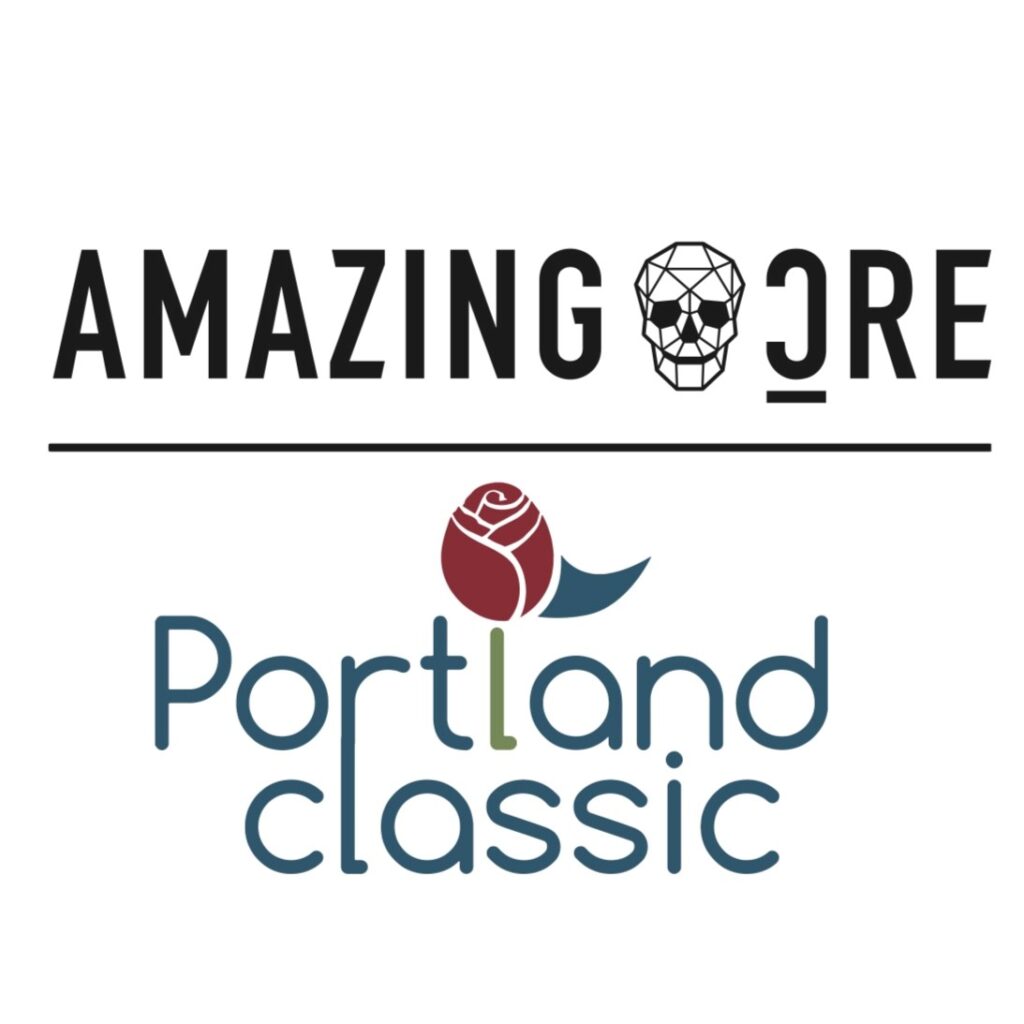 AmazingCre Portland Classic
Columbia Edgewater Country Club | Portland, Oregon | Sept. 15-18, 2022
Wednesday Pre-Tournament Notes
Sept. 14, 2022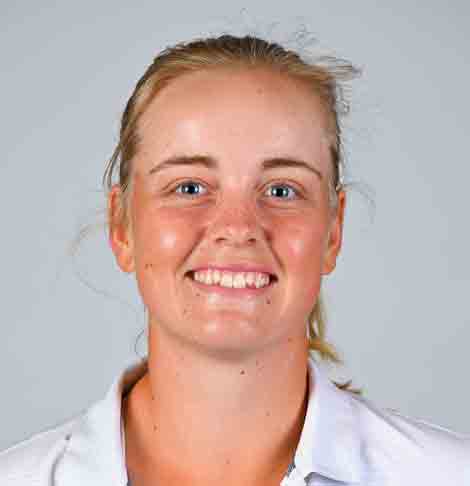 MAJA STARK MAKING LPGA TOUR MEMBERSHIP DEBUT IN PORTLAND
One month ago, Sweden's Maja Stark ran away with the ISPS Handa World Invitational, shooting a 10-under 63 in the final round en route to a five-stroke win in Northern Ireland. The victory was the sixth professional win of the 22-year-old's career and ticked off a huge box on her career to-do list – earning LPGA Tour Membership.
"I just always figured that I was going to have to qualify for it and stuff like that," said Stark, who was in her second season on the LET. "I was talking to my friend Linn Grant and we said, we have four LPGAs in Europe. You win one, I win one. It was obviously, yeah, as if we're going to really win it. But, yeah, no, it was way quicker journey than I expected for sure."
Stark played in her home country's Skaftö Open the next week and only then did her new reality truly set in. "It took a while to really settle," she said. "I didn't even think about it, like get the nice emotions until like one and a half weeks after the win."
Now Stark has finally joined the LPGA Tour as a full-time competitor starting at this week's AmazingCre Portland Classic. She already has her schedule planned for the rest of the season, competing in the Tour's next four straight events in the United States before taking a break during the Fall Asian Swing and returning for the final two Florida stops in November.
Despite holding LPGA Tour rookie status, Stark isn't focusing on any major season-ending awards. She just wants to win – again.
"I think just not going to try to stress through it and try to win the rookie award and have that as a goal. Doesn't really feel that realistic, and I think it'll just stress me out. I think just try to play well at the tournaments and not really think about the awards that can come," said Stark, who will play the first two rounds alongside Americans Mina Harigae and Lauren Stephenson. "I could keep going on the LET and try to go for the automatic win, but I feel like I'm here to play the big tournaments and not to win the big awards. Because, yeah, that's kind of what golf is all about, winning tournaments."
AS SHE PREPARES FOR A LIFE ON TOUR, NATASHA ANDREA OON LEANS ON MENTOR JULI INKSTER
Ever since she turned pro in June, Natasha Andrea Oon has faced a myriad of challenges that are not uncommon for a standout amateur transitioning to life as a professional golfer. Budgeting, scheduling, injury prevention and confidence on the course are important aspects of life on Tour but learning to manage it all can be overwhelming.
"It's really easy like in college life to just go with the wave because everything is planned out for you," said Oon, a 2021 graduate from San Jose State University. "Now it's like everything is in your hands. It's just been like how do I make sure I'm taking care of myself while playing every single week? Like when to book flights, how to rent cars, where to stay in tournaments, where and when can I see my coach? It's just been a whirlwind."
Luckily for the 21-year-old, she has a seasoned mentor to guide her as she sets her sights on becoming a member of the LPGA Tour: seven-time major champion and 31-time LPGA Tour winner Juli Inkster. Both San Jose State alumnae, Inkster and Oon have played together and interacted often. But since Oon was awarded the Juli Inkster Senior Award in June, which goes to the highest-ranked collegiate senior, Inkster and award sponsor Workday have been able to provide even more support.
"I just didn't want to put my name on a trophy. I really wanted to be involved with their career," Inkster said. "If they have someone in their right pocket they can call… I think it really helps them. And Workday helps them financially, and they don't have to worry about getting sponsors. They can go out there on their own and make a name for themselves."
With the award, Oon earned a sponsor exemption into the AmazingCre Portland Classic, which will be her fourth event on the LPGA Tour. She earned her best finish of T49 in her most recent start at the Dana Open presented by Marathon. Now, she is ready to earn another strong finish on Tour as she prepares herself to achieve her lifelong dream of becoming an LPGA Tour member.
"Juli making this award a thing has helped me so much free my mind up to play these amazing tournaments and expose me so much to these really, really competitive level type of golf games," Oon said. "Just the pressure out there, managing my expectations, having weeks of just LPGA golf just makes me feel like a little bit more ready to just be out there next year, to try and just qualify my way into LPGA."
Inkster believes the Malaysia-born golfer is up to the challenge.
"I don't think she realizes how good she is yet, and I think when she gets more comfortable out here she's going to have a successful life on Tour," Inkster said. "The thing that I think she has that a lot of players don't is she likes the hunt. I've seen her and her scores on Saturday and Sunday how she plays well. I don't think you can teach that. I think you just have that."
FEATURED GROUP OF FASSI, A. LEE AND MAGUIRE IS MUST-WATCH GOLF IN PORTLAND
Of the many groups worth watching in the first two rounds of the AmazingCre Portland Classic, none offers more potential than the threesome of Maria Fassi, Andrea Lee and Leona Maguire.
Days ago, Fassi played herself into the final group on Sunday at the Kroger Queen City Championship presented by P&G for the first time in her career. The Mexican golfer has been the longest driver on the LPGA Tour for the last two seasons, and as she showed in Cincinnati, she has a lot more in the tank.
Lee gets the job done much differently. While the Stanford graduate ranks 153rd on Tour in driving distance, she hits almost 84% of her fairways, making her one of the accurate drivers in the game.
Meanwhile, Maguire is one of three players averaging more than one-third of a stroke gained per round both on and around the greens in 2022. She gains an average of 0.37 strokes on the field every week. The only players better are Aditi Ashok and Hyo Joo Kim.
Read more at www.lpga.com/news/2022/amazingcre-portland-classic-featured-group.
KPMG PERFORMANCE INSIGHTS – AMAZINGCRE PORTLAND CLASSIC PRE-TOURNAMENT INTELLIGENCE
KPMG Insight of the Week
Nelly Korda enters this week as the only player on the LPGA Tour to average at least one-quarter of a stroke gained per round in each of the measured disciplines: off-the-tee, approach, around the green and putting. It's all added up to ranking second on Tour in strokes gained total in 2022: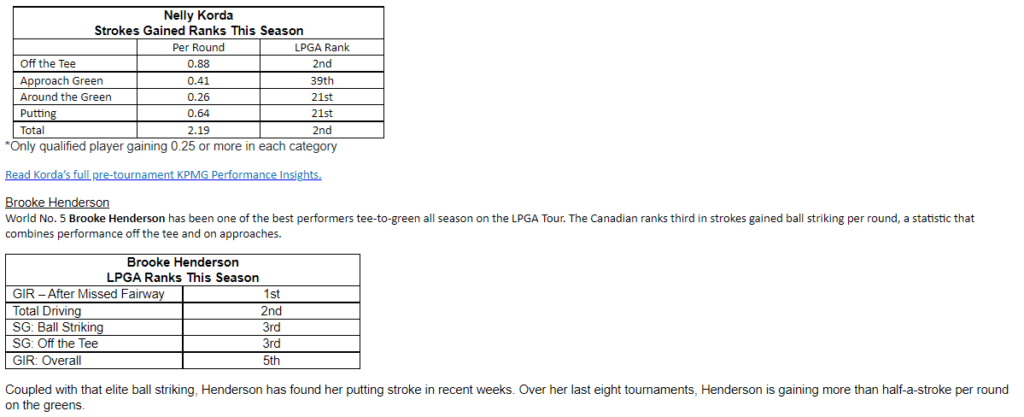 SOCIAL MEDIA – #DriveOn
Tournament: @PortlandClassic (Twitter) @amazingcreportlandclassic (Instagram), #BeAmazing
LPGA: @LPGA, @LPGAMedia (Twitter), @lpga_tour (Instagram)
TV & STREAMING TIMES (all times Eastern on Golf Channel, golfchannel.com and the NBC Sports App)
Thursday, Sept. 15 – 3-6 p.m.
Friday, Sept. 16 – 3-6 p.m.
Saturday, Sept. 17 – 3-6 p.m.
Sunday, Sept. 18 – 3-6 p.m.
COURTESY LPGA TOUR COMMUNICATIONS