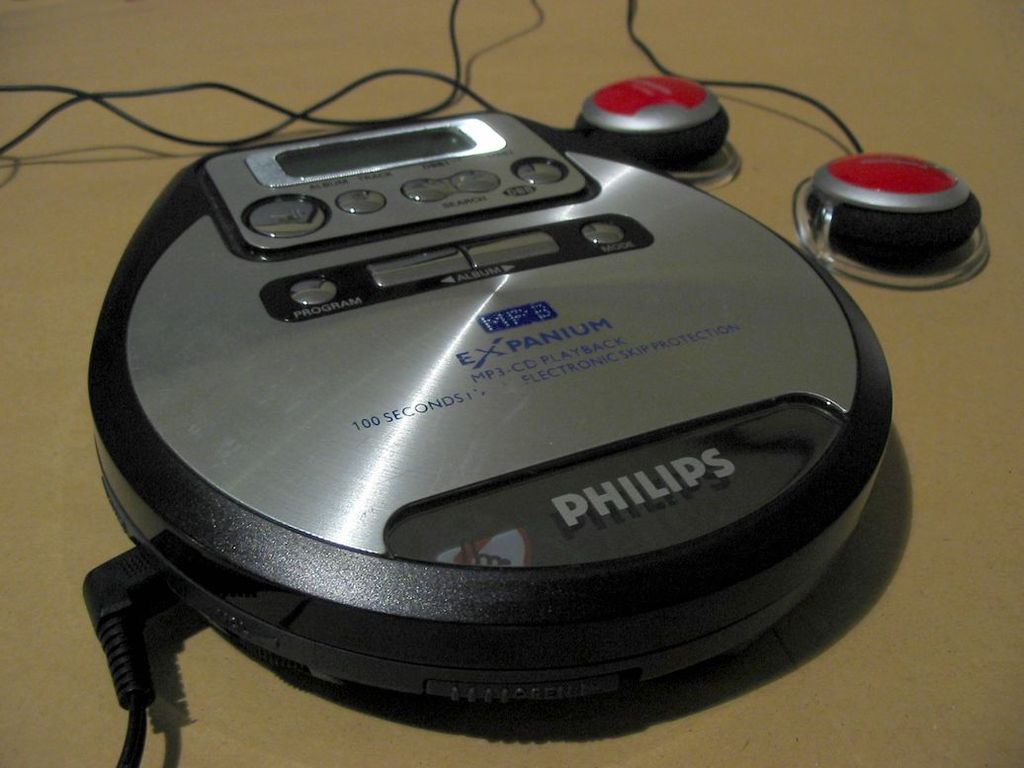 FROM WIKIPEDIA COMMONS
A portable media player (PMP) (also including the related digital audio player (DAP)) is a portable consumer electronics device capable of storing and playing digital media such as audio, images, and video files. The data is typically stored on a compact disc (CD), Digital Video Disc (DVD), Blu-ray Disc (BD), flash memory, microdrive, or hard drive; most earlier PMPs used physical media, but modern players mostly use flash memory. In contrast, analogue portable audio players play music from non-digital media that use analogue signal storage, such as cassette tapes or vinyl records.
Digital audio players (DAP) were in the past often marketed and sold as "MP3 players", even if they also support other file formats and media types. The PMP term was introduced later for devices that had additional capabilities such as video playback. Generally speaking, they are portable, employing internal or replaceable batteries, equipped with a 3.5 mm headphone jack which users can plug headphones into or connect to a boombox or shelf stereo system, or may be connected to car and home stereos via a wireless connection such as Bluetooth. Some players also include FM radio tuners, voice recording and other features.
DAPs started in the late 1990s following the creation of the MP3 codec in Germany. MP3-playing devices were mostly pioneered by South Korean startups, who by 2002 would control the majority of global sales. However the industry would eventually be defined by the popular Apple iPod. In 2006, 20% of Americans owned a DAP/MP3 player and it was mostly driven by the young, as more than half (54%) of American teens owned one, while 30% of young adults aged 18 to 34 did so. 210 million PMPs were sold worldwide, worth $19.5 billion, in 2007, and in 2008 video-enabled players would overtake audio-only players. Increasing sales of smartphones and tablet computers have led to a decline in sales of PMPs and DAPs, leading to most devices being phased out, such as the iPod Touch on May 10, 2022, though certain flagship devices like the Sony Walkman are still in production. Portable DVD/BD players are still manufactured by brands across the world.
TODAY'S ALMANAC
Question of the Day
We have a bread box that is lined with wood. How can I get the smell of the wood out of the box?
Put a few drops of vanilla extract in a cup of water and mix. Apply this mixture to the interior by rubbing hard with a rag.
Advice of the Day
Wisdom is oftimes nearer when we stoop than when we soar.
Home Hint of the Day
Furnaces should be checked and cleaned each year by a professional. Improved efficiency will lead to fuel savings that will more than cover the cleaning cost.
Word of the Day
Syzygy
The nearly straight-line configuration that occurs twice a month, when the Sun and the Moon are in conjunction (on the same side of Earth at the new Moon) and when they are in opposition (on opposite sides of Earth at the full Moon). In both cases, the gravitational effects of the Sun and the Moon reinforce each other, and tidal range is increased.
Puzzle of the Day
Emblem of majesty am I, which "shows force of temporal power," but twist me about and I become a thing which makes even monarchs cower. (What word fits the first clue, but when rearranged, fits the second?)
Scepter – specter
Died
Andre Le Notre (landscape architect) – 1700
Robert Penn Warren (poet) – 1989
Johnny Ramone (guitarist and co-founder of The Ramones) – 2004
Born
James Fenimore Cooper (author) – 1789
Alexander Roberts Dunn (Victoria Cross recipient) – 1833
William Howard Taft (27th U.S. president) – 1857
Bruno Walter (symphony conductor) – 1876
Agatha Christie (author) – 1890
Robert McCloskey (author and illustrator of the children's classics Make Way for Ducklings and Blueberries for Sal) – 1914
Bobby Short (jazz musician) – 1924
Murray Gell-Mann (physicist) – 1929
Tomie dePaola (children's author, illustrator) – 1934
Merlin Olsen (football player) – 1940
Oliver Stone (director) – 1946
Tommy Lee Jones (actor) – 1946
Dan Marino (football player) – 1961
Tom Dolan (Olympic gold medalist) – 1975
Dave Annable (actor) – 1979
Ben Schwartz (actor and comedian) – 1981
Prince Harry (youngest son of Prince Charles and Princess Diana) – 1984
Events
British troops occupied New York– 1776
The U.S. Department of Foreign Affairs was renamed the Department of State– 1789
Orville Wright made first turn with airplane in air– 1904
A milch goat show started at the Rochester Industrial Exposition in New York state– 1913
The Lone Ranger TV series debuted with American Clayton Moore and Canadian Jay Silverheels– 1949
Bomb killed four girls in a Birmingham, Alabama, church that was popular for civil rights meetings– 1963
Greenpeace, an environmental organization, was founded.– 1971
113 lb. 1-oz. black drum caught, Lewes, Delaware– 1975
22 lb. 7-oz. summer flounder caught, Montauk, New York– 1975
First successful portable MP3 player debuted– 1998
Earth received the last radio signals from NASA's Cassini spacecraft, at 7:55 a.m. EDT. Launched in 1997, Cassini traveled 7 years to reach Saturn. There, it spent 13 years gathering data about the planet and its moons, until the craft's fuel was almost exhausted. Its mission ended when operators purposely had it dive into Saturn's atmosphere to disintegrate.– 2017
Weather
The temperature in Wilmington, Vermont, was 27 degrees F– 1983
COURTESY www.almanac.com