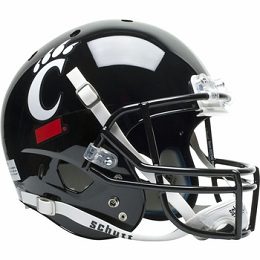 Sat, Aug 13, 2022 
Ben Bryant and Evan Prater both had touchdown passes
CINCINNATI – The Bearcats' top two quarterbacks both tossed touchdown passes and senior leaders Ty Van Fossen and Jabari Taylor both had game-changing plays on defense as the Cincinnati football team held its first scrimmage of the fall camp on Saturday at Nippert Stadium.
Three weeks from the season-opener at Arkansas and on the ninth day of fall camp, UC simulated a game-day atmosphere by driving to campus from Camp Higher Ground in West Harrison, Ind., in the morning before a two-hour practice that include "good-on-good," situational plays and ended with a two-minute drill.
"[Iron sharpens iron] is what it's all about for us, even more so this year than I think than any of the past," head coach Luke Fickell said. "I mean that because of all the expectations and some of the high-end guys that have left. You try and create that competition that made those guys what they are. It's not like you've got three or four games to get rolling before you get into league play. September 3rd, we have to be ready to roll. That whole mentality and focus about our first 9, 10, 11, 12 practices are going to be a grind."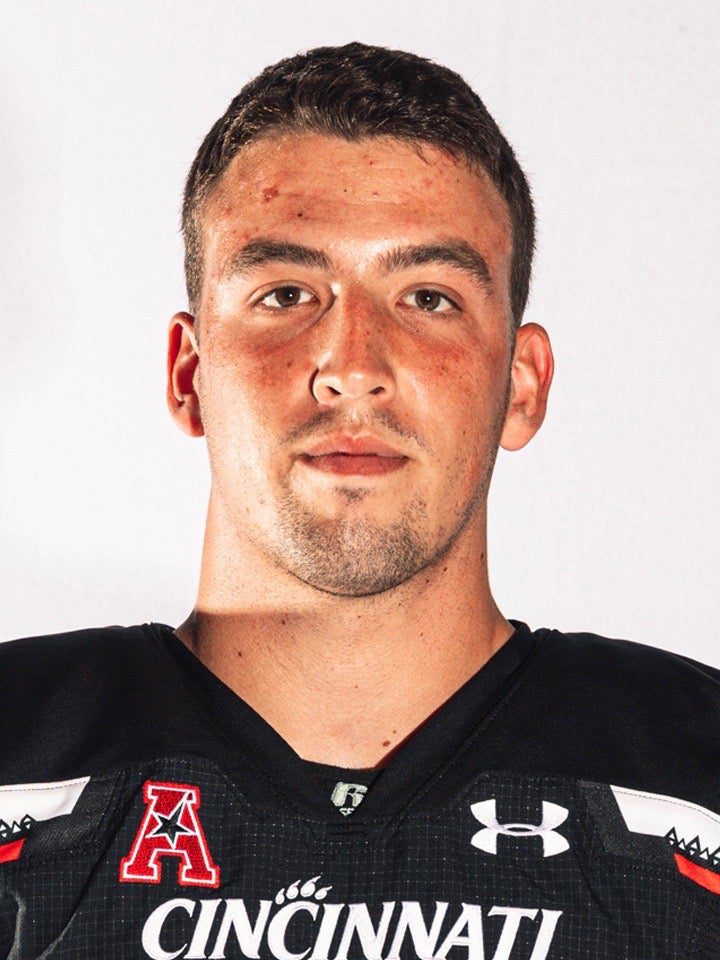 Senior quarterback Ben Bryant tossed a touchdown to senior wide receiver Nick Mardner, who made a contested grab in the back of the end zone, while redshirt junior signal-caller Evan Prater threw a touchdown to junior receiver Jadon Thompson.
Mardner was named to the preseason Watch List for the Biletnikoff Award given to the nation's top wide receiver earlier this summer. He transferred to UC in the winter after catching 46 passes for 913 yards and five touchdowns at Hawaii last season. His 19.9 yards per catch average ranked ninth in the nation.
"I'm just doing my job and what I came here to do: catch jump balls and make the quarterback's job a little easier," Mardner said. "It's just another day, and iron sharpens iron, so we'll keep working. I use my length to my advantage, and if they can put it in the right spot, I'll make a play on it."
Taylor, a sixth-year defensive lineman from Akron, Ohio, made a diving interception off a tipped pass on the game's first series.
"I got lucky right there," he said of the pick. "I was playing hard and happened to be around the ball. I caught a little dive in there and I wish I stayed on my feet. I just happened to be in one of the play calls to sell the man up-field and drop back a little bit. I think I spoke it into existence, because I had been talking about getting it all camp and that I was going to get one. It was a good feeling."
Taylor is expected to be one of the team's leaders this season. He has appeared in 44 games and made 74 tackles in his career. He was a top reserve last season but is expected to start at defensive end with fellow seniors Malik Vann and Jowon Briggs to give the Bearcats' a formidable and experienced defensive front.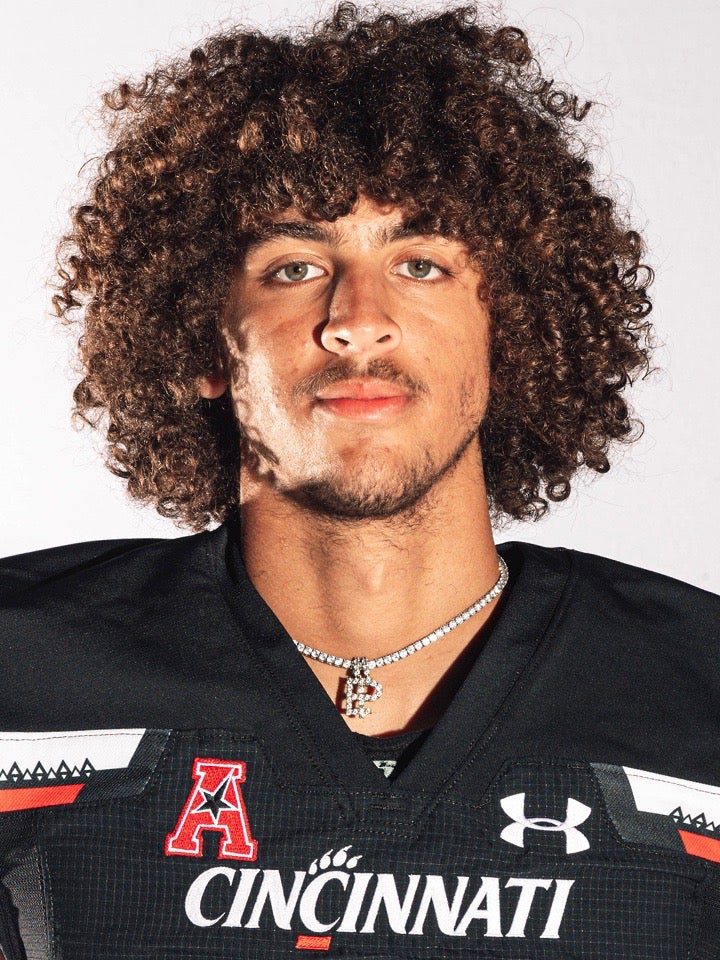 Later, Van Fossen sprinted nearly 40 yards on a scoop-and-score.
"It doesn't get much better than that, and you have to capitalize on that one," Van Fossen said. "You have to make sure you scoop it up and don't fall over your feet, and that's in your head a little bit, but you just have to go and can't think about it."
Van Fossen is another player looking to step up as a leader. The Columbus native started 10 games at outside linebacker a year ago, splitting time with rising junior Deshawn Pace. The pair combined for 164 tackles as Cincinnati won its first 13 games en route to the College Football Playoff.
The Bearcats will spend next week back at Camp Higher Ground, but Saturday was a welcomed change-of-pace during training camp.
"Coming out here, in this stadium, where we know we'll have a lot of big moments this season, it was a great experience," Van Fossen said.
// FICKELL ASSESSING THE QUARTERBACKS
Fickell said the coaches continue to evaluate the quarterbacks and neither Bryant nor Prater has separated themselves yet.
"Ben (Bryant) hadn't been in a whole lot the last couple of days, so I would say that he is a little rusty because he hasn't' had as many opportunities," Fickell said. "I thought that he was really efficient today. I thought that at the end there Evan (Prater) came on and made some plays down the field, which is what you want to see. I think that 88 percent of our touchdown drives last year had an explosive play, a play of plus-20 yards, and if we can't find way to create those, then it's going to be difficult. I think both of them found some ways to create some of those plays down the field. I think Evan's (Prater) was a little bit later in practice, maybe Ben's (Bryant) was a little bit earlier, but it's always kind of unique to who you're running with to. We are going to continue to evaluate."
// FOLLOW THE BEARCATS
For all the latest information on Cincinnati Athletics, please visit GoBEARCATS.com. For up-to-the-minute updates, follow Cincinnati Athletics on Twitter, Instagram and Facebook.
// ABOUT CINCINNATI ATHLETICS
The University of Cincinnati Department of Athletics competes at the highest level of intercollegiate athletics with the vision to reach Next Level Success for all 18 varsity teams and more than 500 student-athletes. The Bearcats have a proud athletics history, winning eight national championships and 117 conference titles. The Cincinnati men's basketball team is among the 15 winningest programs all-time, while the football team became the first American Athletic Conference program to compete in the College Football Playoff in 2021. Olympic gold medalist volleyball player Jordan Thompson, NBA Hall of Famer Oscar Robertson and Major League Baseball legend Sandy Koufax are among the several luminaries who have competed as Bearcats.

UC student-athletes collectively posted a 3.369 overall GPA in the spring of 2021 with 77 percent earning spots on the Honor Roll, while six student-athletes collected CoSIDA Academic All-America accolades.

Under the leadership of Director of Athletics John Cunningham, and supported by more than 150 full-time staff members, UC Athletics' mission is to connect our community, enhance our University and impact the lives of student-athletes as they prepare to change the world on and off the field.
For more information visit gobearcats.com.
COURTESY UC SPORTS COMMUNICATIONS