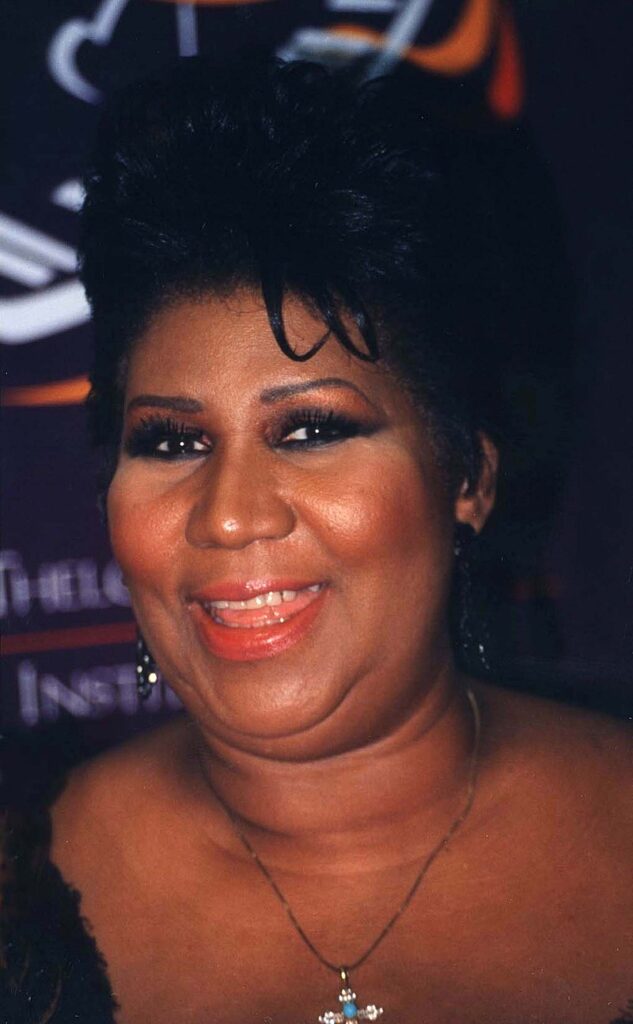 FROM WIKIPEDIA COMMONS
HER LEGACY AND HONORS
Franklin received a star on the Hollywood Walk of Fame in 1979, had her voice declared a Michigan "natural resource" in 1985, and became the first woman inducted into the Rock and Roll Hall of Fame in 1987. The National Academy of Recording Arts and Sciences awarded her a Grammy Legend Award in 1991, then the Grammy Lifetime Achievement Award in 1994. Franklin was a Kennedy Center Honoree in 1994, recipient of the National Medal of Arts in 1999, recipient of the American Academy of Achievement's Golden Plate Award presented by Awards Council member Coretta Scott King, and was bestowed the Presidential Medal of Freedom in 2005 by then President George W. Bush. She was inducted into the Michigan Rock and Roll Legends Hall of Fame in 2005, and the Rhythm & Blues Hall of Fame in 2015. Franklin became the second woman inducted to the UK Music Hall of Fame in 2005. She was the 2008 MusiCares Person of the Year, performing at the Grammys days later. In 2019 she was awarded a Pulitzer Prize Special Citation "[f]or her indelible contribution to American music and culture for more than five decades". Franklin was the first individual woman to receive a Pulitzer Prize Special Citation.
In 2010 Franklin was ranked first on Rolling Stone magazine's list of the "100 Greatest Singers of All Time" and ninth on their list of "100 Greatest Artists of All Time". Following news of Franklin's surgery and recovery in February 2011, the Grammys ceremony paid tribute to the singer with a medley of her classics performed by Christina Aguilera, Florence Welch, Jennifer Hudson, Martina McBride, and Yolanda Adams. That same year she was ranked 19th among the Billboard Hot 100 All-Time top artists.
When Rolling Stone listed the "Women in Rock: 50 Essential Albums" in 2002 and again 2012, it listed Franklin's 1967, I Never Loved a Man the Way I Love You, number one. Inducted to the GMA Gospel Music Hall of Fame in 2012, Franklin was described as "the voice of the civil rights movement, the voice of black America". Asteroid 249516 Aretha was named in her honor in 2014. The next year, Billboard named her the greatest female R&B artist of all time. In 2018, Franklin was inducted in to the Memphis Music Hall of Fame.
"American history wells up when Aretha sings", President Obama explained in response to her performance of "A Natural Woman" at the 2015 Kennedy Center Honors. "Nobody embodies more fully the connection between the African-American spiritual, the blues, R&B, rock and roll—the way that hardship and sorrow were transformed into something full of beauty and vitality and hope." Franklin later recalled the 2015 Kennedy Center Honors as one of the best nights of her life. On June 8, 2017, the City of Detroit honored Franklin's legacy by renaming a portion of Madison Street, between Brush and Witherell Streets, Aretha Franklin Way. The Aretha Franklin Post Office Building was named in 2021, and is located at 12711 East Jefferson Avenue in Detroit, Michigan.
Rolling Stone called Franklin "the greatest singer of her generation".
In April 2021, Aretha Franklin was featured in National Geographic magazine and in the previous month, the society began airing the third season of the television series Genius about her life and career. After working with the artist for nearly four decades, Clive Davis, said that Aretha "understood the essence of both language and melody and was able to take it to a place very few—if any—could". According to National Geographic, "she was a musical genius unmatched in her range, power, and soul".
TODAY'S ALMANAC
Question of the Day
How can I control the aphids on my lettuce?
In next year's garden, consider planting rows of chives or garlic between your lettuce to control aphids. They act as "barrier plants" for the lettuce.Spray your lettuce with a cold spray from you hose. This will knock the bugs off the leaves. Repeat daily until all the aphids are gone.
Advice of the Day
Keep a thing for seven years, and you will find a use for it.
Home Hint of the Day
Refer to this for nail lengths. The letter d, the first letter of denarius (a Roman coin), stands for "penny." A 2d equals 1 inch, 3d=1-1/4 inches, 4d=1-1/2 inches, 5d=1-3/4 inches, 6d=2 inches, 10d=3 inches, 20d=4 inches, and 40d=5inches.
Word of the Day
Growing season
Period betweenthe last killing frost in spring and first killing frost in fall.
Puzzle of the Day
The Sunshine State.(Name the U.S. state!)
Florida
Born
Ernest Lawrence Thayer (poet) – 1863
Alice Ghostley (actress) – 1926
David Crosby (singer, songwriter) – 1941
Steve Martin (actor) – 1945
Danielle Steel (author) – 1947
Gary Larson (cartoonist, creator of The Far Side) – 1950
Earvin Magic" Johnson" (basketball player) – 1959
Susan Olsen (actress) – 1961
Halle Berry (actress) – 1966
Catherine Bell (actress) – 1968
Mila Kunis (actress) – 1983
Tim Tebow (football player) – 1987
Died
Sarah Childress Polk (U.S. First Lady) – 1891
Alice Childress (playwright) – 1994
Bruno Kirby (actor) – 2006
Phil Rizzuto (baseball player & announcer) – 2007
Ron Palillo (actor) – 2012
Events
Oregon Territory organized by Act of Congress– 1848
Oliver B. Shallenberger received patent for an electric meter– 1888
President Franklin D. Roosevelt signed the Social Security Act– 1935
President Franklin D. Roosevelt and British Prime Minister Winston Churchill signed an eight point agreement known as the Atlantic Charter– 1941
U.S. satellite Explorer VI transmitted the first picture of Earth from space– 1959
The biggest blackout in U.S. history, affecting some 50 million people, engulfed New York City, Albany, Hartford, Toronto, Ottawa, Detroit, Cleveland and Ontario– 2003
An estimated 65,000 fans attended Phish's last concert– 2004
First Lady Laura Bush announced that Cristeta Comerford was hired to be executive chef at the White House—the first time that a woman has held the job– 2005
Aretha Franklin was inducted into the Gospel Music Hall of Fame– 2012
Weather
The temperature in Kansas City, Missouri, reached 113 degrees F– 1936
COURTESY www.almanac.com