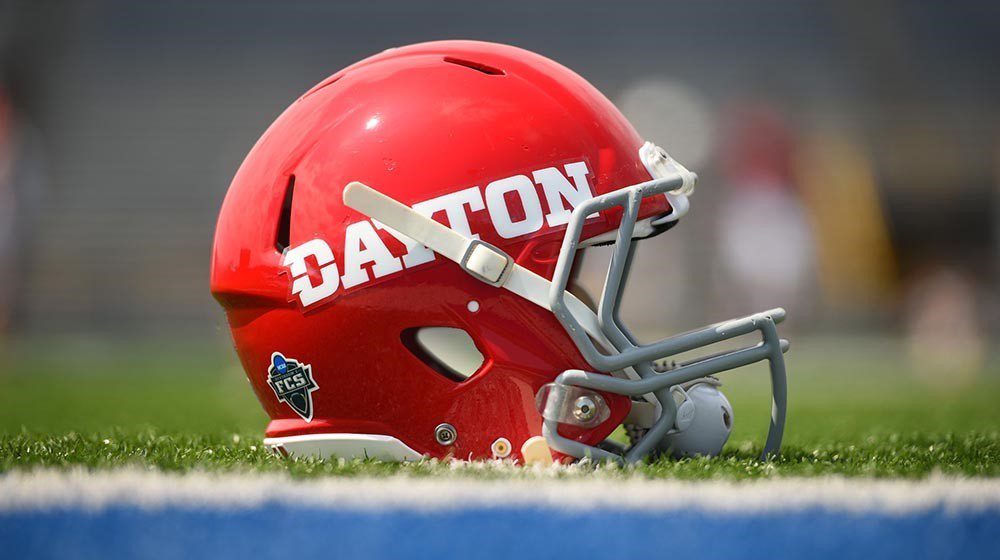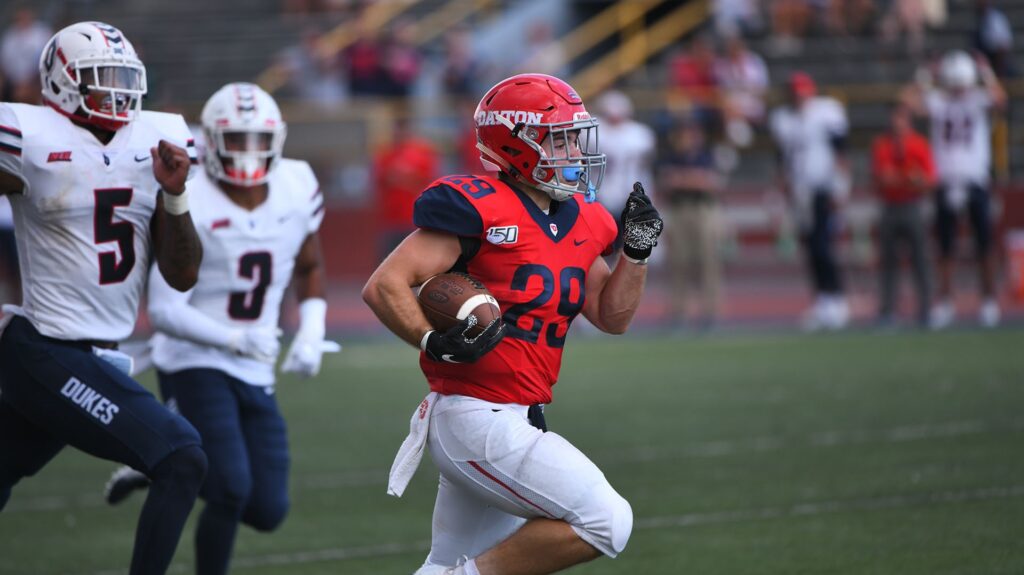 Thu, Aug 11, 2022
Flyer Co-Captain Named As An All-Purpose Runner
HERO Sports – University of Dayton redshirt senior running back Jake Chisholm has been named to the 2022 HERO Sports Preseason All-America team. The Flyer co-captain from Union, Ky. was named to the second team as an all-purpose runner.
He is the only player from the Pioneer Football League named to the HERO Sports preseason first or second teams.
Chisholm had already been named to the Walter Payton Award Watch List, and a second team All-American all-purpose runner by Stats perform earlier this preseason.
He was a Second Team FCS All-American last year as an all-purpose runner after finishing second in FCS football in all-purpose yardage (163.9 yards per game). He also led FCS in rushing attempts per game (23.5) and touchdowns per game (1.8).
Chisholm led the Pioneer Football League in rushing (103.3 yards per game) and scoring (11.0 points per game), as well as all-purpose yardage. Playing behind a brand-new and improving offensive line, he finished the year with 502 yards and 13 touchdowns over the last three games, all Flyer wins. In addition to leading UD in rushing (1,073 yards), Chisholm also caught 30 passes for 361 yards, which was the third highest on the team.
This is Chisholm's second season as a team captain. He is a three-time CoSIDA Academic All-American and was the 2021 PFL Scholar-Athlete of the Year.
Dayton finished the 2021 season with three consecutive wins (including a season-ending win over Davidson), ending up 6-4 overall and 5-3 in the Pioneer Football League. The Flyers return six All-PFL performers. In addition to Chisholm, fellow captains Ben Schmiesing and Brian Stevens were named at linebacker and offensive tackle respectively.
The Flyers open the 2022 season at Robert Morris on Saturday, Sept. 3. Dayton's home opener is on Saturday, September 17 against Kentucky State. For ticket information, please visit DaytonFlyers.com.
The Flyers began preseason camp on August 8.

COURTESY DAYTON MEDIA RELATIONS