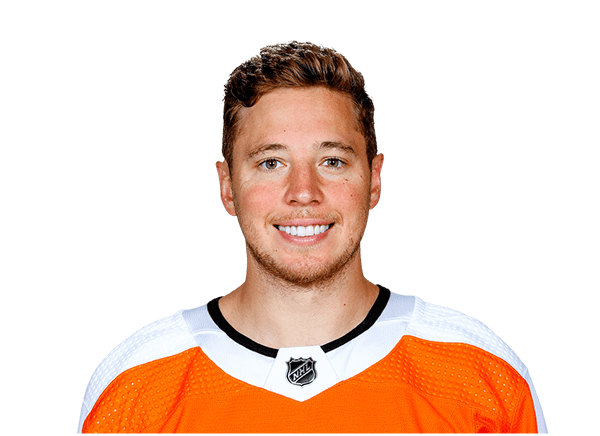 GAME AT A GLANCE
GOAL SCORERS
Columbus: SHG – E. Robinson (9)
Philadelphia: K. Connauton (1), O. Tippett (8), N. Cates (2), T. Konecny (13)

GOALTENDERS
Columbus: E. Merzlikins (27 saves, L)
Philadelphia: M. Jones (26 saves, W)
CBJ TEAM NOTES
The Blue Jackets completed their season series with Philadelphia tonight, going 2-1-0. The visiting team won all three games of the 2021-22 series.
CBJ fell to 22-9-2 vs. the Flyers since 2013 with tonight's loss. It was just the fourth regulation loss against the Flyers at Nationwide Arena in the all-time series (13-4-4).
The winning team in the series has scored three-plus goals in 11 of the last 12 contests and scored four goals in each contest in the just completed home-and-home series.
Columbus killed off all four Flyers' power play opportunities tonight and has killed off all 13 opponent power play chances over the last three games this season.
CBJ now have seven shorthanded goals on the campaign following tonight's first period tally.
The Blue Jackets now have 157 points by blueliners this season after picking up an assist. The club's defensemen have combined for 6-23-29 in the last 14 outings.
CBJ PLAYER NOTES
· LW Eric Robinson scored his second shorthanded goal of the season to give him points in two-straight games (1-2-3). He has set a new single-season high in goals, assists and points with 9-16-25 in 57 games.
· D Vladislav Gavrikov tallied his 26th assist of the campaign and now has 2-4-6 in the last ten outings (5-26-31 in 70 GP).
· C Sean Kuraly recorded his 16th assist of the season, giving him points in two consecutive games (1-2-3) and 1-3-4 in the last four games. He has already set single-season career highs in goals and points and is one short from tying his high in assists (17; 2019-20) with 12-16-28 in 72 games.
POST-GAME VIDEO INTERVIEWS
HC Brad Larsen | F Eric Robinson | D Zach Werenski
CBJ UPCOMING SCHEDULE
Saturday, April 9 at Detroit – 7pm ET at Little Caesars Arena
Sunday, April 10                      No Practice
COURTESY BLUE JACKETS COMMUNICATIONS