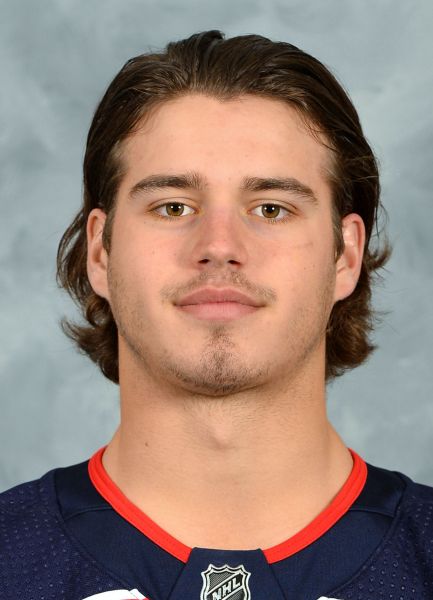 GAME AT A GLANCE
GOAL SCORERS
Columbus: PP – P. Laine (23), C. Sillinger (9), O. Bjorkstrand (21), C. Sillinger (10), C. Sillinger (11), EN – E. Robinson (7)
Vegas: J. Marchessault (25), W. Carrier (7), E. Dadonov (12), PP – J. Eichel (5)

GOALTENDERS
Columbus: E. Merzlikins (23 saves, W)
Vegas: L. Thompson (32 saves, L)
CBJ TEAM NOTES
The Blue Jackets won their second consecutive game, improving to 12-6-2 in the last 20 games. The club has now recorded points in 12 of its last 17 contests (10-5-2) after tonight's regulation win.
The clubs split the season series with each team winning on home ice (VGK 3-2 on Nov. 22). The winning team has recorded three-plus goals in six of the last eight games.
CBJ killed off three-of-four Vegas power play attempts tonight and have now killed off 17-of-18 attempts over the past seven meetings in the series.
The Blue Jackets scored a power play goal for the second-straight game and now have PPGs in five of the last seven games (6-of-20; 30.0 pct.).
Columbus has scored three-plus goals in 37 of its contests (including SO). The club is 24-4-1 when scoring four goals or more in a contest this season, recording four-plus goals in eight of the last 13 games.
After trailing 2-1 in the first period, the Blue Jackets have now earned their victories this season with the club coming back at some point in the game in 20 of their 30 wins, including ten of its last 12 victories. The 20 comeback victories are the most in the NHL and have tied the single-season franchise record (2005-06 and 2018-19).
With four assists by defensemen tonight, CBJ now have 134 points by blueliners this season.
CBJ improved to 5-2-0 in Sunday games this season.
CBJ PLAYER NOTES
· C Cole Sillinger notched his first career NHL hat trick with one goal in the first period and two in the second. He is the second youngest player to score a hat trick in franchise history (Nikita Filatov, 18 years and 230 days on Jan. 10, 2009 vs. MIN). The rookie also became the second player in club history to score at least 10 goals in a season before the age of 19, joining Rick Nash (17 in 2002-03).
· RW Oliver Bjorkstrand recorded his second four-point game of the season (Oct. 14 vs. ARI) and 10th multi-point with 1-3-4, tying his single-game career-high in assists (fourth time) and points (second). The forward now has points in seven of the last eight games (5-5-10) and in 13 of the last 17 contests (9-8-17, overall 21-24-45 in 58 GP).
· LW Patrik Laine scored his fourth power play goal of the season and his 28th career game-opening goal. He has 4-3-7 in the last seven games and 17-11-28 since Jan. 27, recording points in 16 of those outings.
· LW Gustav Nyquist tallied his 22nd assist of the campaign, giving him assists in two-straight games and points in four of the last five contests (1-4-5). He has 4-11-15 in the last 20 contests and 10-16-26 with eight multi-point outings in 33 games since Dec. 16.
· C Max Domi tallied his fifth multi-assist and seventh multi-point game of the season with two assists. He now has assists in two-straight games (0-3-3) and 0-7-7 in the last seven games (overall 9-22-31 in 50 GP).
· D Zach Werenski recorded an assist to give him points in two consecutive games (1-1-2) and in four of the last five outings (2-2-4). He also now has 4-12-16 in his last 18 appearances.
· D Dean Kukan notched his second career multi-assist game (Feb. 5, 2019 at COL) and second multi-point contest of the season (2-1-3 on Feb. 20 vs. BUF) with two assists (3-6-9 in 28 outings).
· D Andrew Peeke recorded his 11th assist of the campaign to give him 0-2-2 in the last four games (overall, 1-11-12 in 60 GP).
· C Jack Roslovic tallied his 17th assist of the season and now has 2-5-7 in the last 10 games (overall 10-17-27 in 59 GP).
· LW Eric Robinson scored a goal in his third appearance since returning from injury to give him 7-11-18 in 45 games.
· G Elvis Merzlikins played in his 100th career NHL game tonight, stopping 23-of-27 shots for his 21st victory of the season.
POST-GAME VIDEO INTERVIEWS
HC Brad Larsen | F Oliver Bjorkstrand | F Max Domi | F Cole Sillinger
CBJ UPCOMING SCHEDULE
Monday, March 14 No Practice
Tuesday, March 15 Practice – 11:00am ET at Nationwide Arena
Wednesday, March 16 at Ottawa – 7:30pm ET at Canadian Tire Centre
COURTESY CBJ COMMUNICATIONS