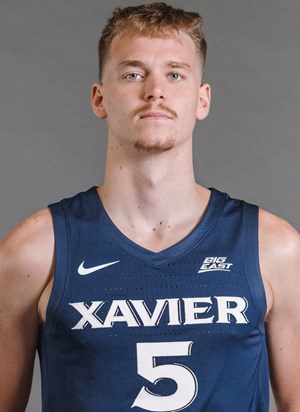 02.19.22 
STORRS, Conn. – Adam Kunkel had 15 points to lead four Musketeers in double figures but Xavier couldn't overcome a slow start, falling to UConn, 72-61, on Saturday afternoon.
Xavier trailed by as many as 18 in the first half but came back to make it a four-point game midway through the second half. The Huskies pushed the lead back out to double figures late, winning by 11, 72-61. Kunkel's 15 led the way for Xavier, and Colby Jones, Jack Nunge and Zach Freemantle each added 11 as Xavier moved to 17-9 overall and 7-8 in BIG EAST play.
FIRST HALF RECAP
After Xavier opened up a 4-0 lead to start the game, UConn went on an 11-2 run to take a 11-6 lead with 12:33 before halftime.
The Huskies would push the lead out to seven, before Xavier respond with seven straight to tie the game at 15-15 with 9:25 to play.
After maintaining a two-possession lead over the next three minutes, UConn went on an 11-2 run to take a 12 point lead, then another 7-0 lead pushed it out to an 18 point UConn lead in the final minute, before a Xavier free throw made it 44-27 at the half.
Adam Kunkel had eight points to lead Xavier in the first half.
The Musketeers shot 36 percent from the floor while UConn shot 51.5 percent.
The Huskies had a 21-12 advantage on the boards in the first half. Zach Freemantle had four to lead Xavier.
SECOND HALF RECAP
UConn maintained the double-figure lead over the first six minutes of the second half before a 10-0 Xavier run brought the Musketeers within two possessions, 49-43, with 12 minutes to play.
After a Huskies three, Xavier scored five more unanswered to pull within four, 52-48, the closest the Musketeers had been since the 5:02 mark in the first half.
A 7-0 UConn run re-extended the lead for the Huskies and Xavier would pull back to within five, trailing 61-54 with four to play.
Xavier was outscored 11-5 over the final four minutes to take the 72-61 win.
Zach Freemantle had eight second half points to lead the Musketeers after the break.
Adam Kunkel added seven for the Musketeers.
UConn held a 21-14 advantage on the boards in the second half. Freemantle grabbed six to lead the Musketeers.
NOTABLES
Adam Kunkel finished with 15 points, going 3-of-4 from three, to lead Xavier.
Zach Freemantle finished with a double-double, scoring 11 points and grabbing 10 rebounds.
Jack Nunge scored 11 and grabbed seven rebounds.
Colby Jones finished with 11 points after going 5-of-8 from the floor.
Xavier forced 18 turnovers, committing just eight and had a 20-11 advantage on points off turnovers.
UConn finished with a 42-26 advantage on rebounds.
COURTESY XAVIER ATHLETIC COMMUNICATIONS