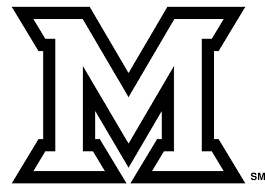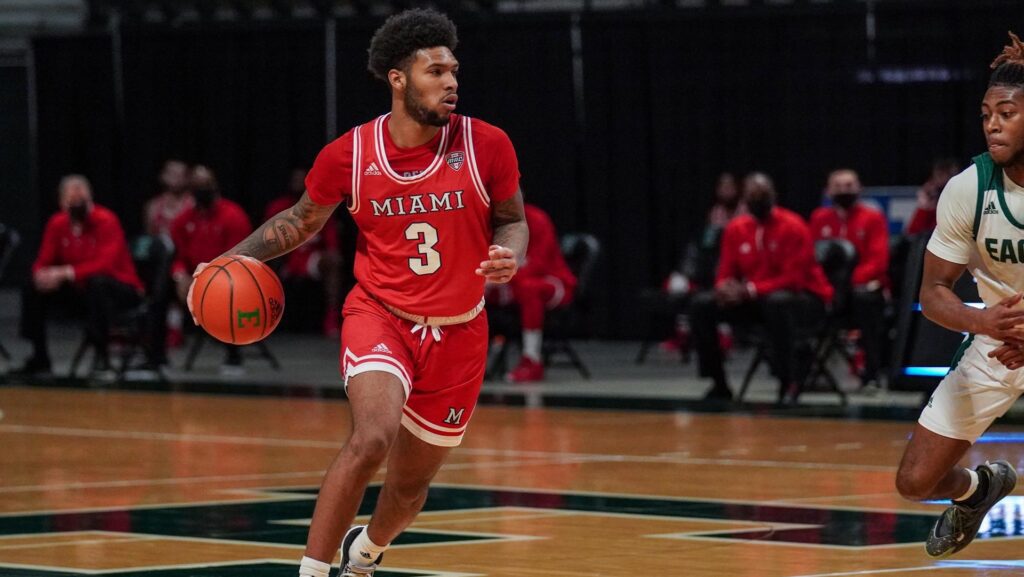 2/19/2022
DeKALB, Ill.—Another dramatic finish punctuated a back-and-forth battle in the second match-up between the Miami University men's basketball team and Northern Illinois University on Saturday afternoon at the NIU Convocation Center. Dae Dae Grant drained a pair of free throws with eight seconds left to lift Miami to a one-point edge. Precious Ayah collected a critical defensive rebound and sank the ensuing free throws after a quick NIU foul with four seconds left to secure an important 78-75 road win for the RedHawks (12-14; 6-9 Mid-American Conference) against the Huskies (8-17; 5-10 MAC).

HOW IT HAPPENED:
Miami's forwards lifted Miami to an early 14-7 lead with Ayah contributing six points, Dalonte Brown tallying five and James Beck chipping in three.
The Huskies fired back with a 16-5 run to notch a 23-19 lead by the 7:20 mark, NIU's first lead of the game. Marr Avance scored five straight for the RedHawks to put Miami back on top, 24-23.
NIU came back to take the lead and pushed its advantage to 38-32 with 1:26 to go, but Elijah McNamara closed out the half with five unanswered points for the RedHawks to put Miami with one going into the intermission, 38-37.
The teams went back and forth throughout the second half. Miami led by as many as four several times over the final 20 minutes.
Trailing three with less than three minutes to go, Grant tossed in a layup to shrink the NIU lead. He then came up with a steal, which led to a Myja White triple to hand Miami a 72-70 lead.
NIU took a 75-74 lead with 23 seconds left but was not able to complete the three-point play, missing the free throw and Grant coming down with the defensive rebound.
Miami went 4-for-4 from the free-throw line over the final eight seconds to clinch a hard-fought win.

NOTES:
Grant led all players with 19 points and added four assists.
Brown followed with 17 points, and a game-high-tying eight rebounds. Brown has eclipsed 800 rebounds for his career and has 802 to rank sixth all-time at Miami.
Ayah was the other RedHawk to score in double figures with 12 points.
Both teams shot 50 percent or better in both halves. Miami finished the game shooting 51.9 percent, while NIU hit 50.9 of its field goals.
 
UP NEXT:
Miami returns home for a pair of mid-week games next week, hosting Buffalo at 7 p.m. on Tuesday, Feb. 22 before entertaining Central Michigan at 7 p.m. on Thursday, Feb. 24.
COURTESY MIAMI ATHLETIC COMMUNICATIONS