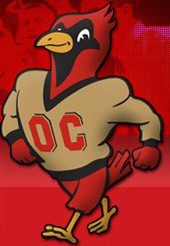 2/16/2022
WILMINGTON, Ohio – An always-hungry Otterbein men's basketball team ordered a six-piece nugget Wednesday night on the road, incorporating a variety of sauces and staying in their bag to secure a critical 76-66 triumph over host Wilmington.
As a result, the surging Cardinals have now won six games in a row and achieve the most single-season victories since the 2004-05 campaign. Otterbein (17-6, 11-5 OAC) likely secures a home game in the upcoming league tournament and still remains just one game out of third place.
Otterbein also sweeps the season series with Wilmington after a narrow 63-61 decision last month in Westerville, where Cam Evans made a go-ahead layup in the closing seconds.

WHAT HAPPENED THIS TIME:
Otterbein fell behind after a few minutes, but quickly embarked on a 17-4 run approaching the midway portion of the first half. That effort settled the Cards into an early 19-11 advantage.

Wilmington only trailed by seven with 3:09 to play before the break, but Otterbein closed the frame on a 9-2 run to assume a two-touchdown lead.

The Quakers got back within single digits after opening the second half on a 9-3 run. However, Otterbein thwarted any significant momentum from the hosts to remain 4-5 possessions ahead across the 10:00 mark.

Wilmington eventually clawed within six, 60-54, entering crunch time… but the battle-tested Cards responded with a 7-0 run to create enough separation down the stretch.
INSIDE THE BOX SCORE:
The 45 points before intermission marked the third-highest total in a half this season for the Cards, who were coming off 51 points in the second frame against Heidelberg over the weekend.

Otterbein has scored more than 70 points in each game of the winning streak, winning three by double digits.

Evans led four Otterbein players in double figures with 17 points off the bench, helping the Cards post a 35-6 scoring edge from reserves.

Wilmington standout Jeffery Mansfield flirted with a triple-double by finishing with 22 points, nine rebounds and eight assists. He only shot 4 of 14 from the field but went 14 of 18 at the free-throw line.

Otterbein shot 49% for the game while limiting the hosts to just a 34% output. Wilmington was 8 of 32 in the first half.

Alex Hannah had nine points and six boards for the Cardinals, making all four shots from the field.
COURTESY OTTERBEIN ATHLETIC COMMUNICATIONS