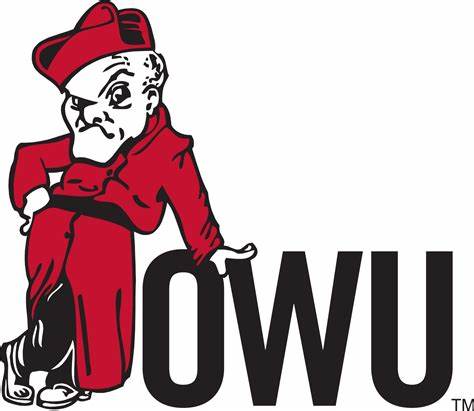 1/29/2022 6:00:00 PM
Box Score
Ohio Wesleyan 78, Allegheny 64
Senior wing Zane Ries (Barberton) buried a pair of 3-pointers during a 19-4 run that gave Ohio Wesleyan the lead for good, and the Bishops went on to a North Coast Athletic Conference win over Allegheny on Saturday in Meadville, Pa.
Allegheny had taken a 57-53 lead on a lay-in by Brian Roberts Jr. midway through the second half.
Freshman wing David Rice (Brook Park/Parma Padua Franciscan) started the decisive Bishop run with a lay-in, and senior guard Curtis White (Lawrenceburg, Ind.) evened the score with a lay-in before a 3-pointer from senior post Nick Carlson (Dublin/Coffman) put Ohio Wesleyan ahead to stay. Freshman guard Henry Hinkle (Powell/Olentangy Liberty) followed with a pair of free throws and junior wing Jack Clement (Bellefontaine) added a lay-in for a 64-57 lead with 8:00 left in regulation time before a pair of Andre Wilder free throws ended Allegheny's scoring drought of nearly 4 minutes.
Ries buried a 3-pointer to push the Ohio Wesleyan lead back to 8, and after a Wilder bucket, Clement canned a jumper and Ries connected again from long distance to make it 72-61 at the 4:50 mark.
The Bishop defense would take over from there, holding the Gators to 3 free throws during the final 6 minutes of the contest.
Ohio Wesleyan trailed only once during the first half and led by as many as 11 points, with a lay-in from by junior post Grant Spicer (Cincinnati/Lakota East) giving the visitors a 30-19 lead with 7:59 left in the period.
The Gators pulled within 41-34 on Jordan Greynolds' 3-pointer during the waning seconds of the half, then held the Bishops to 2 baskets during the first 7-plus minutes of the second period while getting a pair of 3-pointers from Roberts and another by Greynolds on the way to a 53-48 lead.
Clement led the Bishops with 27 points, one short of the career best he set against Allegheny earlier this season. Carlson added 15 points and sophomore wing Tony Carter (Cleveland/Parma Heights Holy Name) grabbed a team-high 9 rebounds
Roberts had 21 points for Allegheny.
COURTESY OHIO WESLEYAN SPORTS INFORMATION