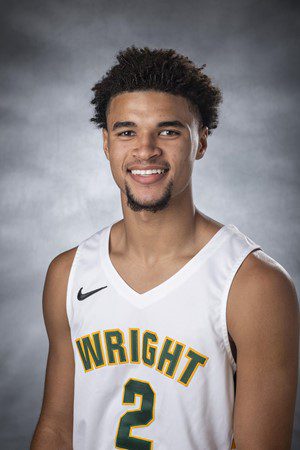 1/22/2022
CHICAGO – Tanner Holden poured in a career-best 38 points and reached 500 career rebounds on Saturday night as the Wright State men's basketball team downed UIC 97-81 behind five Raiders in double figures scoring overall.
 
Wright State (11-8, 8-2 HL) saw Holden balance his scoring throughout the night, tallying 17 in the opening 20 minutes before 21 points in the second half behind a 14-of-24 shooting night while hitting 10-of-11 free throw attempts.
 
Holden's 38 points are the most by a Wright State player since former Raider Mark Alstork scored 39 points against Toledo inside the Nutter Center on November 19, 2016 and were seven shy of Bill Edwards' program record 45 points from December 8, 1992 against Morehead State.
 
Along with his scoring, Holden finished the night with seven rebounds, becoming the 21st Raider to reach 500 career rebounds with his defensive rebound with 5:23 remaining in the first half.
 
On Saturday, Holden was joined in double figures by the four other Raider starters, as Trey Calvin turned in 23 points, and Grant Basile, AJ Braun and Tim Finke all finished with 10 points as Wright State shot 57 percent from the floor as a team in the win.
 
Wright State led UIC (7-10, 3-5 HL) by six at the half, using an 11-4 run through the midway point of the opening 20 minutes to erase an early deficit. Up three points with 12 minutes remaining, the Raiders scored 13 of the next 17 points over a four-minute stretch behind nine points from Holden to gain some breathing room with the margin extended to double figures. Wright State closed the night by holding UIC scoreless over the final 3:38 to secure the road win.
 
Basile's nine rebounds led all players, while he, Calvin and Finke each passed out four assists as the Raiders tallied 20 total assists on their 39 made baskets. Wright State won the rebounding battle, 40-29, including pulling down 29 boards on the defensive glass alone.
 
Wright State's 57 percent shooting came on 39-of-69 shooting from the floor with five three-pointers and a 14-of-17 team mark (82 percent) at the free throw stripe behind Holden's 10 made free throws. UIC finished the night with a 31-of-68 (46 percent) shooting mark, but was only 4-of-17 from three-point range, while shooting 71 percent (15-of-21) from the free throw line.
 
Damaria Franklin finished with a team-high 25 points for UIC in the loss, as the Flames also had five players finish in double figures scoring.
 
Wright State now gets set to close out the five-game road trip with Tuesday night's rescheduled contest at Northern Kentucky before returning home for a nationally televised contest Friday night, January 28 against Cleveland State.
COURTESY WSU ATHLETIC COMMUNICATIONS