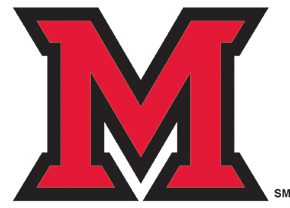 1/18/2022
OXFORD, Ohio— The Miami University men's basketball team dropped an 86-63 decision to Ohio Tuesday night at Millett Hall. In the 209th all-time meeting between the teams, Dae Dae Grant scored 11 points and pulled down nine rebounds to lead Miami (8-8, 2-3 MAC). Marr Avance added 10 points off the bench for the RedHawks.

Ohio's Ben Vander Plas scored 20 of his 23 points in the first half as the Bobcats (14-2, 5-0 MAC) won their ninth straight game.


HOW IT HAPPENED
Ohio's hot shooting got the Bobcats out to a 22-8 lead midway through the first half.
Miami got as close as 31-23 on a Curtis Harrison IV layup, but the visitors responded with an 8-0 run.
Vander Plas scored on three straight possessions late in the period to give OU a 45-27 halftime lead.
The Bobcats outscored Miami 41-36 in the second half.
Miami closed the game on a 20-8 run.
NOTES
Mekhi Lairy was 2-2 from the foul line and has now made 25 straight free throws.
Avance's 10 points was a career high; his previous high was two points.
Miami outscored Ohio 27-20 in bench points.
UP NEXT:
The RedHawks host Northern Illinois at 3:30 p.m. on Saturday, Jan. 22 in the second game of a doubleheader at Millett Hall, with the Miami women's basketball team taking on Western Michigan at 1 p.m.
COURTESY MIAMI ATHLETIC COMMUNICATIONS