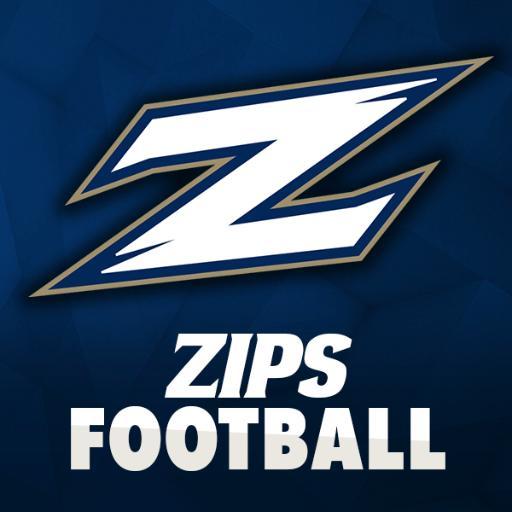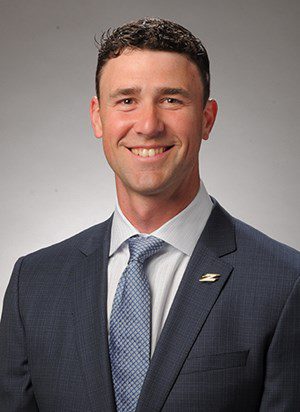 Former NFL quarterback and Ohio native Tom Arth was named the Zips' head football coach on December 14, 2018. Arth became the Zips' 28th all-time head coach and just the eighth person to hold the position since 1960. He is also just the sixth head coach for the Zips since moving up to Division I in 1987.

During his first year at the helm at the University of Akron in 2019, Arth made an immediate impact. He challenged his players to develop and grow not only on the gridiron but in the classroom and in the community. During the Spring 2019 semester, his first on campus, the Zips showed vast improvement. As a team, the 85 players on the spring roster combined for a 2.954 grade-point average (GPA), up from 2.466 from Fall 2018 (an increase of 0.488). The average semester GPA improvement was 0.619 per student. A total of 73 percent of all grades earned were A's or B's. The number of A's earned increased by 83 percent.

Following a volatile Spring 2020 semester due to the COVID-19 pandemic, the Zips continued to make strides in the classroom. As a team, the 110 players on the spring roster combined for a 3.091 GPA, the highest team semester GPA in program history.

The UA football team put its free time to good use in 2019-20. The players combined to work on a community service project each week with a goal of 1,000 volunteer hours in the spring alone. Among the projects the Zips worked were: filled orders at the Akron-Canton Regional Foodbank, weeded flower gardens at the Haven of Rest, and cleaned out an abandoned warehouse for Well Akron. For its efforts, the football team received the 2020 Zippy Cup for community service at the seventh annual Zippy Awards, compiling the most volunteer hours among all 20 UA sports teams.

In the Fall, Arth implemented a pro style offense and multiple defensive schemes. The Zips led the nation in kickoff return defense (14.87) and ranked third nationally with the most freshmen (3) in the starting line-up. Seniors LB John Lako and DB Alvin Davis, Jr., earned All-Mid-American Conference honors. Lako was a first-team honoree, while Davis garnered third-team recognition. Additionally, seven Zips– DL Logan Hawkins, TE Brandon Junk, QB Robbie Kelley, Lako, TE Darryl Long, LS Cameron Lyons, and DE Dylan Meeks– earned Academic All-MAC honors for sporting a 3.20+ cumulative grade-point average. Lako was also a MAC Distinguished Scholar- Athlete for achieving first-team All-MAC accolades along with a 3.5+ GPA. Meeks was named to the College Sports Information Directors of America (CoSIDA) Academic All-District 5 football team.
Arth took the reins at Akron after two seasons at the University of Tennessee at Chattanooga. During his tenure, Arth hit the ground running, putting together a top-notch staff that went out and secured one of the best recruiting classes in the Football Championship Subdivision in less than two months. He mixed a talented roster of returners with some outstanding newcomers in 2017.
He followed up his first season with the Mocs with the top recruiting class in the Southern Conference. He entered the 2018 season with a solid core of experienced returners.

In four seasons at John Carroll University, his alma mater, Arth owned a 40-8 overall record while guiding the Blue Streaks to three postseason appearances. His building of the John Carroll program was highlighted by road victories over two No. 1 ranked opponents in Mount Union and Wisconsin-Whitewater.
The 2016 Ohio Athletic Conference Coach of the Year guided the Blue Streaks to the NCAA Division III Playoffs for the third time in his four-year tenure. In the four seasons under Arth's leadership, John Carroll was among the nation's elite, finishing inside the top 25 every season including top 5 finishes in 2016 (No. 3) and 2014 (No. 5).
John Carroll won the league's automatic bid for the first time in school history in 2016, breaking Mount Union's run of 24 consecutive OAC titles. The Blue Streaks finished the season ranked No. 3 in the nation, tying a school record with a 12-2 overall tally and a 9-0 mark in league action. It was their first outright conference championship since 1989.
After graduating from JCU in 2003, Arth spent three seasons as a backup quarterback to Peyton Manning with the Indianapolis Colts. He spent part of those years playing in NFL Europe and was on the preseason roster with the Green Bay Packers in 2006.
Arth returned to John Carroll in 2010, where he assisted for three seasons before taking the reins as head coach in 2013. His roles included director of football operations, co-offensive coordinator, assistant recruiting coordinator and quarterbacks coach.
In the four seasons prior to Arth becoming head coach, JCU was 19-21. His squads averaged 10 wins per season since. Arth earned NCAA Division III Regional Coach of the Year honors after a 9-2 record in his first season in 2013. Those nine wins were the most by a first-year JCU head coach, and the Blue Streaks climbed into the top 25 in the national polls.
The 2014 team made it back to the DIII playoffs, giving John Carroll back-to-back appearances for the first time in school history. His charges matched a school record soaring to a No. 5 national ranking, while advancing to the quarterfinals with an 11-2 record. The 2015 squad won eight of 10 games, marking the first time since 1996-98 JCU had three-straight eight-win seasons.

A native of Cleveland, Arth earned a bachelor's degree in physical education from John Carroll in 2003 where he played quarterback. A unanimous All-American as a junior and senior, he set 18 school records. As a senior in 2002, he guided JCU to a 12-2 record, and East region championship, and a berth in to the NCAA Division III national semifinals for the first time in program history. He is a graduate of Cleveland's St. Ignatius High School.

Arth, 39, and his wife Lauren have five children– Caroline, Tommy, Kate, Patrick, and Elizabeth.

THE ARTH FILE
Born: May 11, 1981 (age 39)
Hometown: Cleveland, Ohio
Family: wife Lauren, daughters– Caroline, Kate, Elizabeth; sons– Tommy, Patrick
Education:
John Carroll University [1999-03]
Bachelor's in physical education

PLAYING CAREER [quarterback]
St. Ignatius High School (Cleveland)
John Carroll University [1999-02]
Indianapolis Colts [2003-05]
Scottish Claymores [2004]
Hamburg Sea Devils [2005]
Green Bay Packers [2006]
Toronto Argonauts [2007]
Grand Rapids Rampage [2007]
Georgia Force [2008]

HONORS
2016 NCAA Division III National Coach of the Year
2016 Ohio Athletic Conference Coach of the Year
2011 D3Football.com's All-Decade Team
2002 Unanimous All-American
2001 Unanimous All-American

COACHING CAREER
Assistant coach, John Carroll University [2010-12]
Head coach, John Carroll University [2013-16]
Head coach, University of Tennessee at Chattanooga [2017-18]
Head coach, University of Akron [2019 to present]

COLLEGIATE CAREER RECORD
Season School Overall Conference Notable
2013 John Carroll 9-2 8-1 | 2nd OAC NCAA Division III First Round
2014 John Carroll 11-2 8-1 | 2nd OAC NCAA Division III Quarterfinal
2015 John Carroll 8-2 7-2 | T2nd OAC
2016 John Carroll 12-2 9-0 | 1st OAC NCAA Division III Semifinal
John Carroll Totals (4 yrs.) 40-8 32-4
2017 UT Chattanooga 3-8 3-5 | T6th SoCon
2018 UT Chattanooga 6-5 4-4 | T5th SoCon
UT Chattanooga Totals (2 yrs.) 9-13 7-9
2019 Akron 0-12 0-8 | 6th MAC East
Akron Totals (1 yr.) 0-12 0-8
Career Totals (7 yrs.) 49-33 39-21 5-3 in Division III playoffs


What They're Saying About Tom Arth . . .
"I was fortunate to have Tom Arth as a teammate for a few seasons with the Colts as well as an instructor at our passing camp. With his football knowledge and work ethic, it was easy to see that Tom had the makings of a successful head coach. I congratulate Tom and wish him the best at the University of Akron."
Peyton Manning
Retired Quarterback
Indianapolis Colts | Denver Broncos


"I had a chance to see Tom Arth on a daily basis when he was a quarterback with the Colts and have followed his coaching career thereafter. Tom has the unique ability to combine his knowledge of football with his understanding of how to build a winning culture. He possesses all the traits you look for in a leader. This is an exciting time for Akron football."
Tom Telesco
General Manager
Los Angeles Chargers


"Congratulations to the University of Akron, the Akron Athletics Department, and Tom Arth on the recent hiring to lead their football program. Tom is an outstanding person and leader with a track record of success both as a player and a coach. Tom has had a positive impact in all of his stops in developing a winning culture on all levels. The Zips are in good hands with Tom Arth as their head football coach."
Nick Caserio
Director of Player Personnel
New England Patriots


"I've watched Tom Arth grow from the good little quarterback out of St. Raphael's at the youth camps in Cleveland that I would help at, to the successful quarterback at St. Ignatius, John Carroll and Colts, to the fantastic coach he is today. He was a smart kid who learned from the great coaches here in Cleveland. With that background and the facilities he has to work with at the University of Akron, I know he will elevate that football program to championship levels of success. We expect, and we will win, on and off the field."
Bernie Kosar
Retired Quarterback
Cleveland Browns

COURTESY AKRON ATHLETIC COMMUNICATIONS