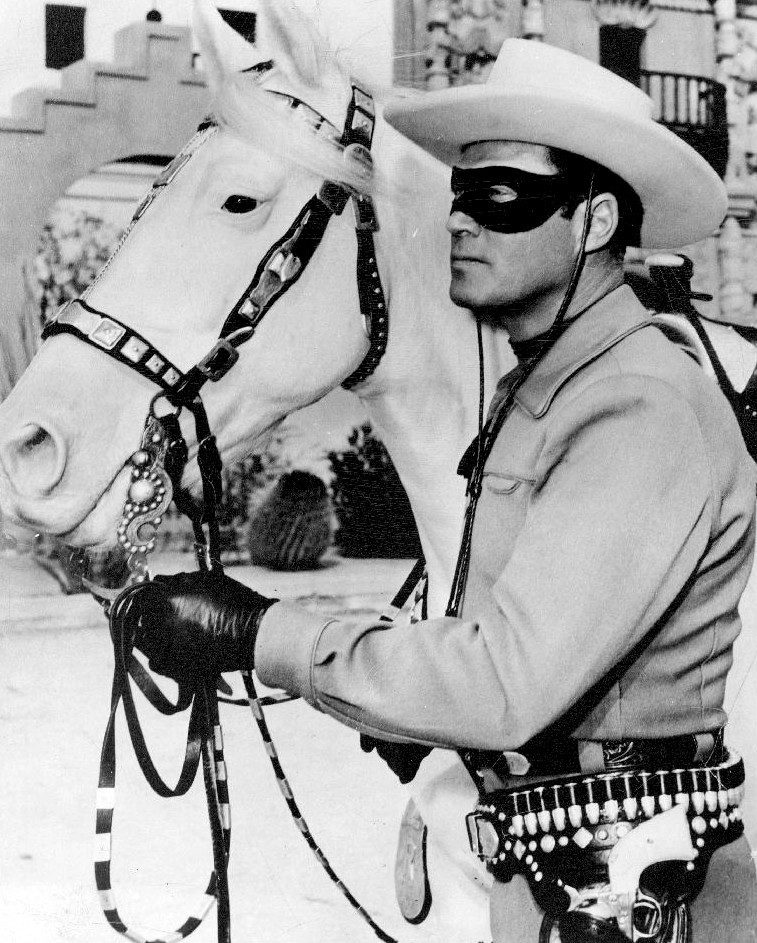 FROM WIKIPEDIA COMMONS
The Lone Ranger is a fictional masked former Texas Ranger who fought outlaws in the American Old West with his Native American friend, Tonto. The character has been called an enduring icon of American culture.
He first appeared in 1933 in a radio show on WXYZ (Detroit), conceived either by station owner George W. Trendle or by Fran Striker, the show's writer. The radio series proved to be a hit, and spawned a series of books (largely written by Striker), an equally popular television show that ran from 1949 to 1957, comic books, and several films. The title character was played on the radio show by Earle Graser for some 1,300 episodes, but three others preceded him, according to The New York Times: "a man named Deeds, who lasted only a few weeks; a George Stenius [actually George Seaton according to the Los Angeles Times], and then Brace Beemer; the latter became the narrator of the program.
Clayton Moore portrayed the Lone Ranger on television, although, during a contract dispute, Moore was replaced for a season by John Hart, who wore a different style of mask. On the radio, Tonto was played by, among others, John Todd and Roland Parker; and in the television series, by Jay Silverheels, who was a Mohawk from the Six Nations Indian Reserve in Ontario, Canada.
TODAY'S ALMANAC
Ember Days occur next on September 15, 17, 18. Ember Days happen four times a year at the start of each season. In Latin, Ember Days are known as the quattuor anni tempora (the "four seasons of the year"). Traditionally observed by some Christian denominations, each set of Ember Days is three days, kept on a successive Wednesday, Friday, and Saturday. These three days are set apart for fasting, abstinence, and prayer. The first of these four times comes in winter, after the Feast of St. Lucia, December 13; the second set comes with the First Sunday in Lent; the third set comes after Whitsunday/Pentecost Sunday; the four and last set comes after the Feast of the Holy Cross. Their dates can be remembered by this old mnemonic: "Sant Crux, Lucia, Cineres, Charismata Dia Ut sit in angaria quarta sequens feria." Which means: "Holy Cross, Lucy, Ash Wednesday, Pentecost, are when the quarter holidays follow." Folklore has it that the weather on each of the three days foretells the weather for three successive months. As with much folklore, this is grounded in some common sense since the beginning of the four seasons cue the changes in weather as well as a shift in how we keep harmony with the Earth and respect our stewardship of the Earth, our "garden of Eden."
Every Year
1700s
1770s
1780s
1830s
1850s
1870s
1890s
1900s
1910s
1920s
1930s
1940s
1960s
1970s
1980s
1990s
2000s
2010s
COURTESY www.almanac.com