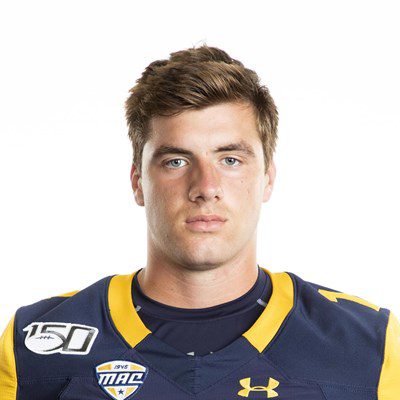 Louisville, Ky. — The Louisville Sports Commission today named 57 multi-talented college football players to the 2021 Watch List for the Paul Hornung Award presented by Texas Roadhouse.
The Paul Hornung Award, now in its 12th season, is given annually to the most versatile player in major college football by the Louisville Sports Commission in the memory of the late football legend and Louisville native Paul Hornung. The winner and his family will be honored at the annual Paul Hornung Award dinner at the Galt House Hotel in downtown Louisville in March 2021.
Ball State's Justin Hall, NIU's Clint Ratkovich and Central Michigan's Kalil Pimpleton all recieved watch list honors for the Mid-American Conference.
Hall enters the 2021 season as the nation's active leader in career receptions. He sits atop the Cardinals' all-time career receptions list (257) and ranks fifth in BSU history in career receiving yards (2,772), entering the 2021 campaign 258 yards shy of Dante Ridgeway's school record.
Hall holds the nation's longest active receptions streak at 43 straight games (every game of his career). He led the Cardinals last season with 49 receptions and 665 receiving yards, ranking second in the MAC in both categories.  

A transfer to NIU this season, Ratkovich was a two-time first team all-Missouri Valley Football Conference and amassed 1,204 yards and 10 touchdowns receiving on 128 receptions in 35 games played.

Pimpleton, a junior from Muskegon, had 26 catches for 277 yards, carried 16 times for 134 yards and completed five of his eight pass attempts for 149 yards during the 2020 season. He accounted for six touchdowns in total on the season and returned eight punts and two kickoffs and averaged 82 yards per game in all-purpose yardage.
 
He earned second team All-Mid-American Conference honors at wide receiver in 2020 after earning first-team honors at both wide receiver and punt returner in 2019.
COURTESY MID-AMERICAN CONFERENCE COMMUNICATIONS