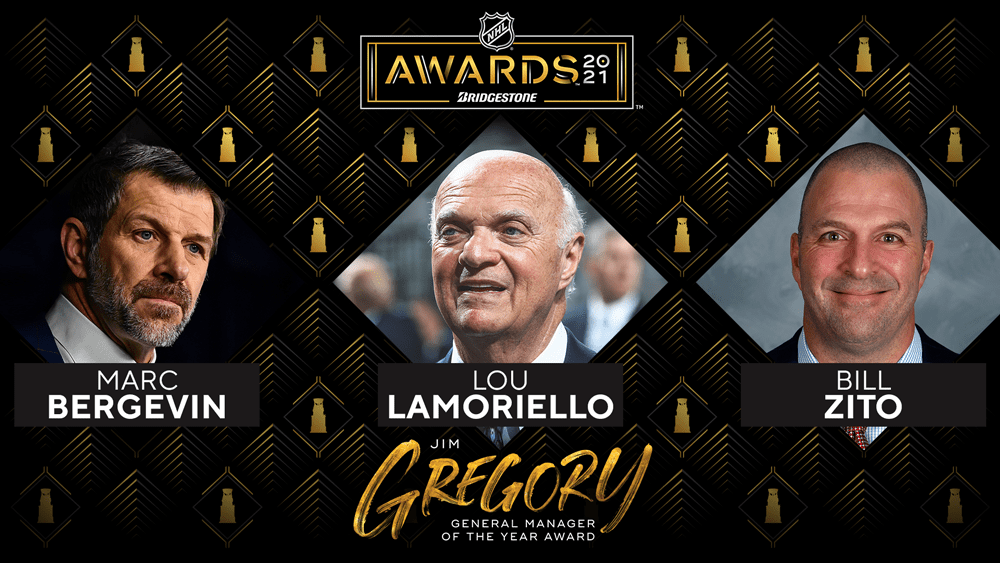 NEW YORK (June 17, 2021) – Marc Bergevin of the Montreal Canadiens, Lou Lamoriello of the New York Islanders and Bill Zito of the Florida Panthers are the three finalists for the 2020-21 Jim Gregory General Manager of the Year Award, the National Hockey League announced today.
Voting for this award was conducted among the NHL general managers and a panel of League executives, print and broadcast media at the conclusion of the Second Round of the 2021 Stanley Cup Playoffs. The winner will be announced Monday, June 21, by NBC Sports, Sportsnet and TVA Sports during their pregame window for Game 5 of the Stanley Cup Semifinals series between the Islanders and the Tampa Bay Lightning.
The NHL General Manager of the Year Award was first presented in 2009-10. It was renamed in 2019-20 in honor of Jim Gregory, the 2007 Hockey Hall of Fame inductee who served as Toronto Maple Leafs general manager and a League executive for four decades.
Following are the finalists for the Jim Gregory General Manager of the Year Award, in alphabetical order:
Marc Bergevin, Montreal Canadiens
Bergevin's several moves in the past year to strengthen the Canadiens roster have paid off in the 2021 Stanley Cup Playoffs, as Montreal triumphed over Scotia NHL North Division rivals the Toronto Maple Leafs and Winnipeg Jets to reach the Stanley Cup Semifinals. Bergevin acquired six Stanley Cup champions via trade or free agency since September: goaltender Jake Allen; defenseman Joel Edmundson; and forwards Michael Frolik, Corey Perry, Eric Staal and Tyler Toffoli. He also added forward Josh Anderson in an offseason trade; signed defenseman Alexander Romanov, a 2018 2nd-round draft pick, last summer; and inked forward Cole Caufield, their 1st-rounder in 2019, in March. Under interim head coach Dominque Ducharme, whom Bergevin named to the post Feb. 24, the Canadiens ended the Second Round with an active streak of 437:53 without trailing in a game, the second-longest span in Stanley Cup Playoffs history. Bergevin, who has served as Canadiens GM since May 2, 2012, is a Jim Gregory finalist for the third time. He placed third in voting in 2012-13 and was second in 2013-14.
Lou Lamoriello, New York Islanders
Under Lamoriello's management the Islanders have advanced to the Stanley Cup Semifinals round for the second consecutive year, achieving a feat last done by the franchise for six straight seasons from 1978-79 through 1983-84. The Islanders have recorded 26 playoff wins since Lamoriello was hired ahead of the 2018-19 season; the only franchise with more in that span is their current Stanley Cup Semifinals opponent, the Lightning (27). A year after obtaining forward Jean-Gabriel Pageau and defenseman Andy Greene prior to the trade deadline, Lamoriello added forwards Kyle Palmieri and Travis Zajac on April 7 to aid this year's postseason push. A three-time Stanley Cup champion and Hockey Hall of Fame inductee in the Builders Category in 2009, Lamoriello is in his 33rd season as an NHL general manager. He became the first Islanders GM to capture Jim Gregory honors in 2019-20, is the first GM to earn back-to-back nominations since Anaheim's Bob Murray (2012-13 through 2014-15) and is vying to become the first two-time winner since the award's inception in 2009-10.
Bill Zito, Florida Panthers
Named Florida GM on Sept. 2, 2020, Zito oversaw a Panthers team (37-14-5, 79 points) that set several franchise highs en route to a second-place finish in the Discover NHL Central Division and fourth in the League overall. Florida set franchise records in categories including highest points percentage (.705), most goals-per-game (3.36) and most shots-per-game (34.9). Their 2020-21 team puck possession metric SAT was 321, indicating 321 more shot attempts than allowed at 5-on-5; the corresponding 2019-20 figure was -29 and their previous best in a season (since 2009-10) was 173 in 2014-15. Five of the Panthers' top 10 goal-scorers during the regular season were Zito acquisitions via free agency or trade (Carter Verhaeghe, 18; Alex Wennberg, 17; Patric Hornqvist, 14; Anthony Duclair, 10; and trade deadline pickup Sam Bennett, who tallied 6-9—15 in 10 GP down the stretch). Zito is a first-time NHL Awards finalist and the second Panthers GM nominated for the Jim Gregory, following the second-place finish by Dale Tallon in 2011-12. He is the first finalist in his NHL debut season as GM since Ottawa's Pierre Dorion (3rd in 2016-17) and is seeking to become the first rookie GM to capture the award.
COURTESY NHLmedia.com