April 27, 2021
Ten #NHLStats about the Florida Panthers, who are headed to the postseason for the second consecutive season and seventh time in franchise history.
1. After reaching the Stanley Cup Qualifiers in 2020, the Panthers will make consecutive postseason appearances for the second time in club history (also 1996 and 1997).

2. In 1996, the Panthers became the first of the seven 1990s expansion franchises to reach the Stanley Cup Final. The Tampa Bay Lightning (2004, 2015, 2020), Anaheim Ducks (2003, 2007), Ottawa Senators (2007), San Jose Sharks (2016) and Nashville Predators (2017) have since followed suit. Florida will look to follow Tampa Bay (2004, 2020) and Anaheim (2007) as the third 1990s expansion club to hoist the Cup.

3. When the Panthers made their run to the 1996 Stanley Cup Final, they accomplished many feats that were later achieved by the Vegas Golden Knights in 2018. Florida became the first NHL franchise to win each of its first three playoff series; the fifth to reach the Stanley Cup Final in its first playoff appearance; and the eighth to reach the Final within its first three seasons.

4. Florida is one of three teams in the Discover Central Division (also CHI, TBL) with a player who has won the Stanley Cup more than once (Patric Hornqvist: 2016 PIT, 2017 PIT). In 2017, Hornqvist became the second player in NHL history to score a Cup-clinching goal versus the team that drafted him (also Rick MacLeish, 1974).

5. After winning the Stanley Cup as a rookie with rival Tampa Bay in 2020, Carter Verhaeghe will aim to become the second player in as many seasons, fourth in the NHL's expansion era (since 1967-68) and ninth in League history to win a championship in consecutive seasons with different teams. Verhaeghe also can become the first player in NHL history to win a Cup in each of his first two NHL seasons with different clubs, as well as the eighth ever to win a championship with multiple NHL franchises based in the same state or province.

6. Aleksander Barkov and Jonathan Huberdeau, the top two highest-scoring players in regular-season franchise history, are the only current Panthers with multiple career postseason goals for the club. Barkov (Tampere, Finland) aims to become the first Finnish-born captain in NHL history to lead his team to a Stanley Cup. Nicklas Lidstrom (Vasteras, Sweden; 2008 DET), Zdeno Chara (Trencin, Slovakia; 2011 BOS) and Alex Ovechkin (Moscow, Russia; 2018 WSH) are the only non-North American players to captain a Cup winner.

7. Joel Quenneville hoisted the Stanley Cup for the first time in 1996 as an assistant coach, when his Colorado Avalanche defeated the Panthers in Game 4 at Miami Arena. He has since become one of 11 head coaches in NHL history to win the Stanley Cup three times (2010 CHI, 2013 CHI, 2015 CHI). He ranks third among head coaches with 119 career playoff wins and fourth in series victories (23) behind Scotty Bowman (49), Al Arbour (30) and Dick Irvin (25).

8. Keith Yandle is one of 12 active NHL players with 1,000 or more career regular-season games who is in search of his first Stanley Cup. Yandle, who owns the second-longest consecutive games played streak in NHL history, will look to become the fifth member of the top 10 on that list to win the Stanley Cup – he would follow Doug Jarvis, Phil Kessel, Steve Larmer and Jay Bouwmeester.

9. Sam Bennett (11) has the second-most career playoff goals among current Panthers (behind Patric Hornqvist: 25), all with the Calgary Flames. In 2014-15, at age 18, Bennett notched a point in both his first career NHL regular-season and playoff games – doing so four days apart en route to helping the Flames to their first playoff series victory in more than a decade.

10. The Panthers will aim to halt a run of six consecutive postseason series defeats that dates to the 1996 Stanley Cup Final, tied with the Maple Leafs (6 straight from 2004 Conference Semifinals to 2020 Stanley Cup Qualifiers) for the longest active run of consecutive postseason series losses.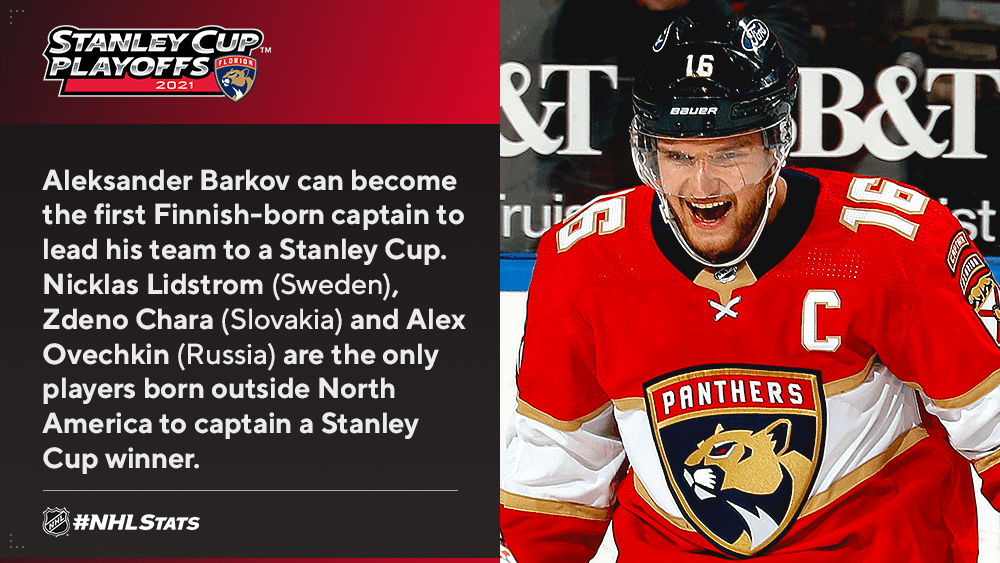 COURTESY NHLmedia.com