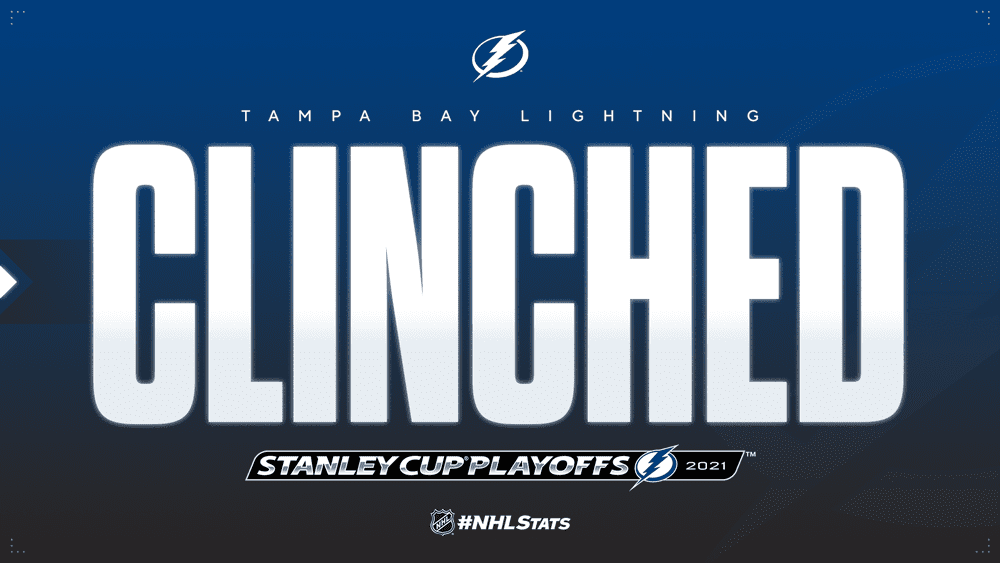 April 27, 2021
Ten #NHLStats about the Tampa Bay Lightning, who enter the postseason as defending Stanley Cup champions for the second time (also 2006). This is their fourth consecutive playoff berth and 13th in franchise history.
1. This is the second time the Lightning have made four consecutive postseason appearances, equaling a run achieved from 2003 to 2007 during which they also won the Stanley Cup. Among franchises to join the NHL in the 1990s or later, Tampa Bay was the first to both win a Stanley Cup (ahead of the Anaheim Ducks) and to win it more than once.
2. The Lightning will aim to become the ninth different franchise to repeat as Stanley Cup champions – and fifth among clubs to join the League in 1967-68 or later (Philadelphia Flyers, New York Islanders, Edmonton Oilers, Pittsburgh Penguins).
3. Tampa Bay (2) can become the second Florida-based franchise to win at least three titles in either the NHL, NBA (Miami Heat: 3), NFL (Miami Dolphins: 2; Tampa Bay Buccaneers: 2) or MLB (Florida Marlins: 2). The Heat (2012, 2013) and Dolphins (1973, 1974) repeated as NBA and Super Bowl champions, respectively. The Florida Panthers, whom the Lightning have yet to face in the postseason despite sharing a division for each of their 27 seasons in the League together, are in search of their first Cup.
4. Victor Hedman won the Conn Smythe Trophy in 2020 after leading all defensemen – and ranking fifth in the entire NHL – with 10 goals, joining Paul Coffey and Brian Leetch as the third defenseman in NHL history to score at least 10 goals in a playoff year. Hedman, the Lightning leader in playoff games played (109), needs three goals to become the 15th defenseman in NHL history to accumulate 20 career playoff goals for one franchise – a feat achieved by only two active blueliners (Kris Letang: 21 G w/ PIT; Brent Burns: 20 G w/ SJS).
5. Andrei Vasilevskiy (Tyumen, Russia) can become the first Russian and second goaltender born outside North America to win the Stanley Cup more than once – Dominik Hasek (Pardubice, Czech Republic) is the only one to do so to date. However, Vasilevskiy has a chance to become the first goaltender born outside North America to earn multiple Stanley Cup-clinching victories – Hasek was part of the Detroit Red Wings championship teams in both 2002 and 2008, but only claimed the clinching victory in 2002.
6. After becoming the franchise leader in career playoff wins in 2020, Andrei Vasilevskiy (33-22) will have a chance to become the NHL's all-time leader in postseason victories among Russian-born goaltenders – he trails only Nikolai Khabibulin (39-31; Sverdlovsk, Russia). Evgeni Nabokov, who was born in Kazakhstan, is the only netminder of Russian nationality with more career playoff wins than either Vasilevskiy or Khabibulin.
7. After becoming the eighth different player in NHL history to win the Stanley Cup in consecutive seasons with different teams, Pat Maroon now will look to become the first player in nearly 40 years to win three consecutive championships. The last players to do so were members of the Islanders dynasty which claimed its last of four straight Stanley Cup wins in 1983.
8. Including Nikita Kucherov, who has missed the entire 2020-21 regular season, the Lightning have six players with at least 20 career playoff goals (also Ondrej Palat, Tyler Johnson, Alex Killorn, Steven Stamkos, BraydenPoint) – the highest such total in the NHL ahead of Pittsburgh and Washington who each have five.
9. Jon Cooper (54-39 in 93 GC) currently ranks ninth in career playoff wins among active head coaches, two back of tying former Lightning bench boss John Tortorella (56-64 in 120 GC). Cooper can become the 11th head coach in NHL history to serve at least 100 postseason games with a single franchise.
10. The Lightning worked overtime in 2020, becoming the first team in NHL history to reach the Stanley Cup Final via the three series-clinching wins in overtime and finished with a League-record 221:14 overtime minutes in the 2020 postseason – equivalent to nearly four extra regulation games. The Lightning logged 216:14 of overtime from the First Round onward, beginning with a victory in the fourth-longest NHL game ever played (150:27).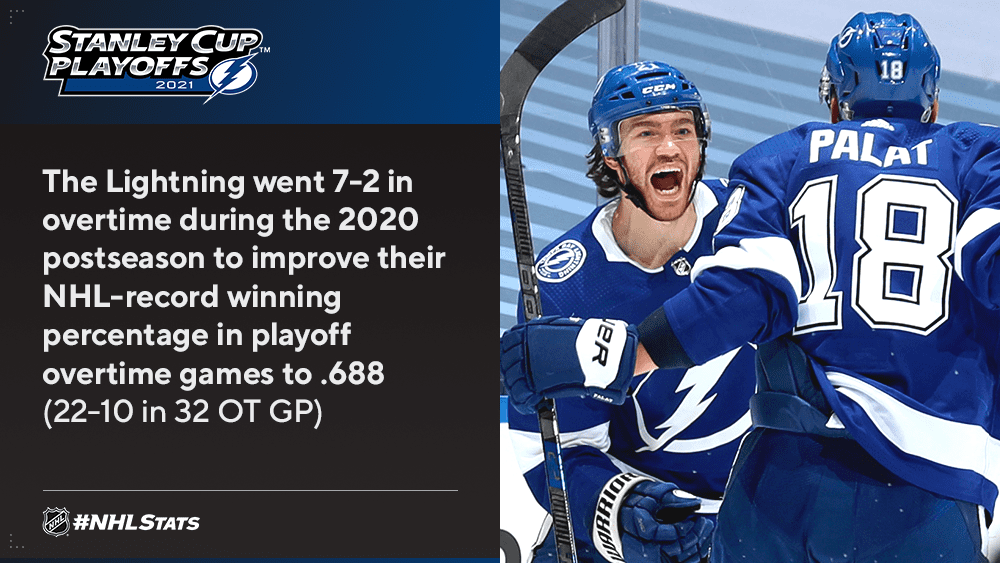 COURTESY NHLmedia.com