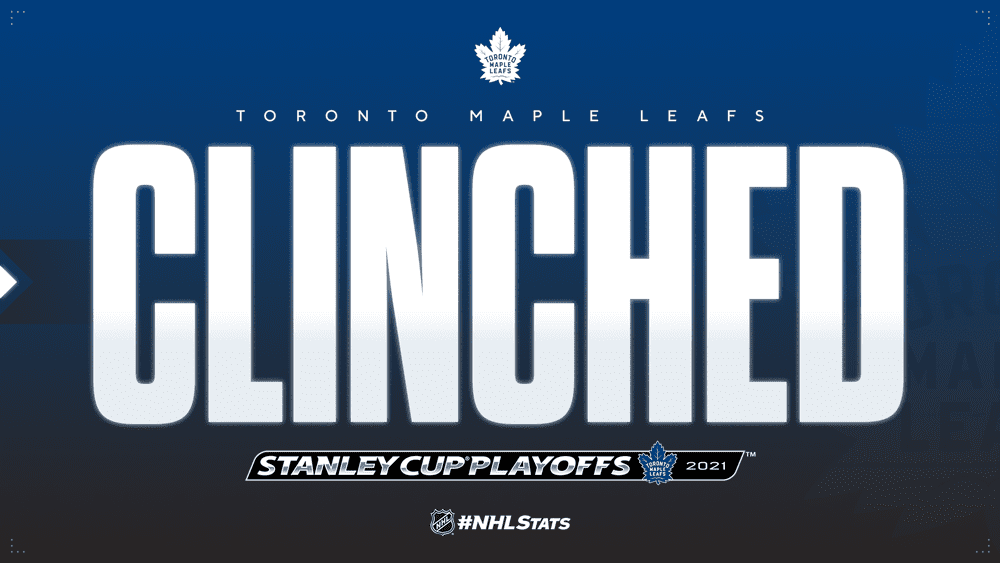 April 28, 2021
Ten #NHLStats about the Toronto Maple Leafs, who are headed to the postseason for the fifth consecutive season and 70th time in franchise history.
1. The Maple Leafs aim to win a playoff series for the first time in 17 years. Their last series victory came in the 2004 Conference Quarterfinals against the Senators, with Joe Nieuwendyk scoring twice and Ed Belfour making 36 saves in a Game 7 win. Only one player from that game remains in the NHL: Zdeno Chara notched one assist over 24:21 of ice time for the Senators (at age 27).
2. Toronto has required a winner-take-all game in eight of its past 11 series dating to 2002, including seven Game 7s (3-4) and a Game 5 defeat against Columbus in the 2020 Stanley Cup Qualifiers.
3. If the playoffs started today, Toronto would face Montreal in the First Round. It has been more than 42 years since the Maple Leafs and Canadiens met in the Stanley Cup Playoffs, with their last contest in the 1979 Quarterfinals taking place April 22, 1979 – about two months before Joe Thornton was born (July 2, 1979). Zdeno Chara (March 18, 1977) is the only active NHL player who was alive at the time.
4. The Maple Leafs have yet to face either the Oilers or Jets in the postseason.
5. Joe Thornton, Frederik Andersen and TJ Brodie are the only current Maple Leafs with postseason experience against either the Oilers, Jets or Canadiens – the three clubs currently occupying a playoff position in the Scotia North Division. Thornton has faced the Canadiens (2-4—6 in 13 GP w/ BOS) and Oilers (2-5—7 in 10 GP w/ SJS), Andersen swept the Jets in 2015 (4-0, 2.20 GAA, .924 SV% in 4 GP w/ ANA) and Brodie helped eliminate the Jets in the 2020 Stanley Cup Qualifiers (0-1—1 in 4 GP w/ CGY).
6. Joe Thornton (1,673 GP), who ranks sixth in NHL history for regular-season games played, is in search of his first Stanley Cup. He can join Ray Bourque (1,612 GP) and Dave Andreychuk (1,597 GP) as the third NHL player to win his first championship after skating in 1,500 or more regular-season games.
7. The Maple Leafs roster includes two of 12 active NHL players with 1,000 or more career regular-season games in search of their first Stanley Cup. Joe Thornton and Jason Spezza are joined on that list by Patrick Marleau (SJS), Ryan Suter (MIN), Brent Burns (SJS), Marc-Edouard Vlasic (SJS), Joe Pavelski (DAL), Andrew Cogliano (DAL), Zach Parise (MIN), Shea Weber (MTL), Travis Zajac (NJD) and Keith Yandle (FLA).
8. Auston Matthews and Mitchell Marner have reached the postseason in each of their first five NHL campaigns, a feat achieved by only four other Maple Leafs in the expansion era: Tomas Kaberle (1998-99 to 2003-04), Dave Williams (1974-75 to 1978-79), Borje Salming (1973-74 to 1980-81) and Ian Turnbull (1973-74 to 1980-81).
9. Mitchell Marner is averaging 0.84 points-per-game in his playoff career (5-16—21 in 25 GP), tops among current Maple Leafs (John Tavares ranks second: 0.83 P/GP, 15-15—30 in 36 GP).
10. Frederik Andersen (10-14 in 25 GP w/ TOR) needs four wins to move into fifth place in franchise history for career playoff victories. He can become the third goaltender in franchise history to appear in five or more consecutive postseasons (Turk Broda: 2x; and Johnny Bower). Jack Campbell has yet to make his postseason debut.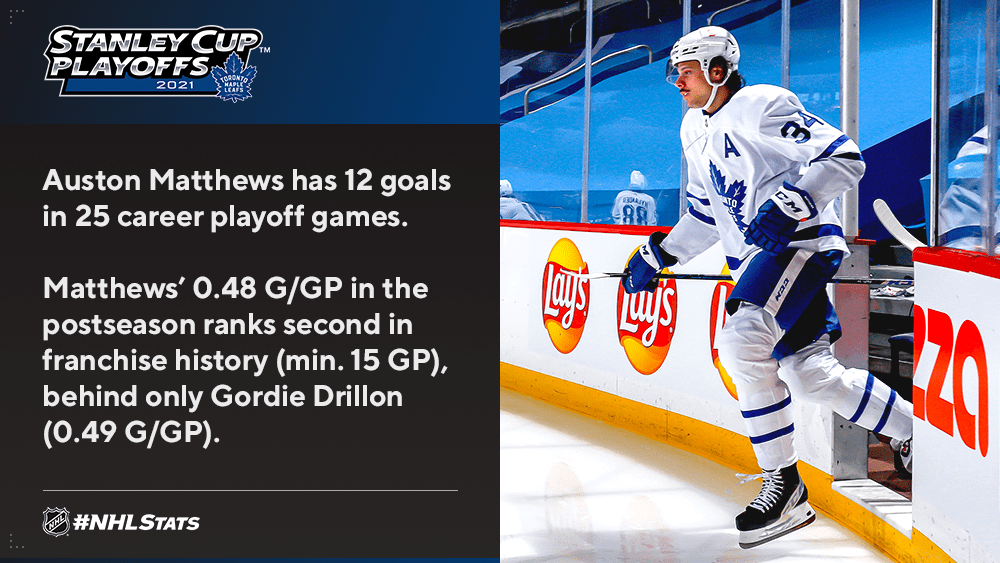 COURTESY NHLmedia.com