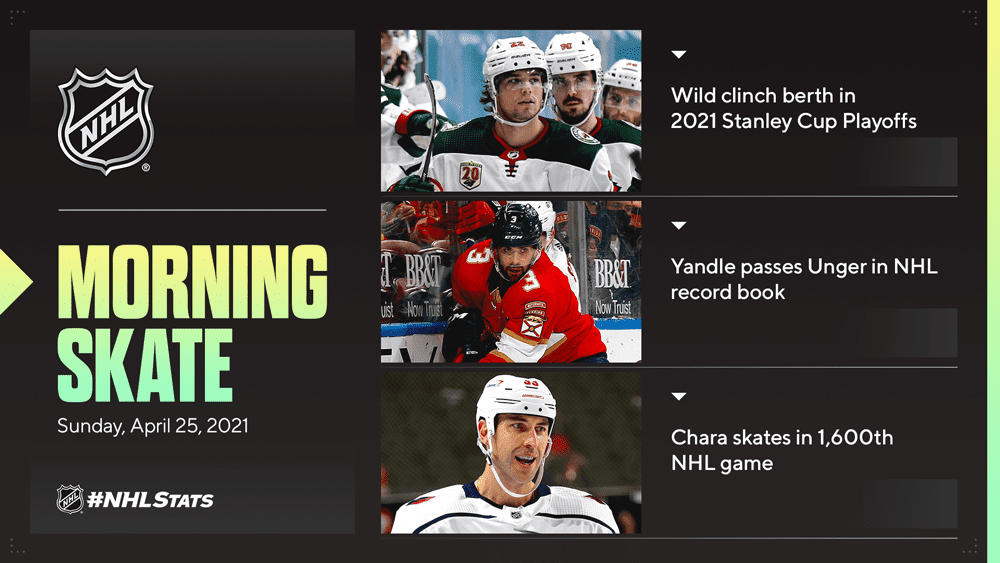 THREE HARD LAPS 
 
 * The Wild benefited from a six-goal outing to win and have qualified for the postseason for the eighth time in nine seasons (since 2012-13).
 
 * Panthers defenseman Keith Yandle (915 GP) now trails only Doug Jarvis (964 GP) for the longest "Ironman" streak in NHL history.
 
 * The Capitals and Penguins each skated to victories on Saturday and continue to jockey for top spot in the MassMutual East Division.
WILD WIN AS HONDA WEST CLAIMS ANOTHER BERTH IN STANLEY CUP PLAYOFFS
Kirill Kaprizov extended his goal streak to five games as Minnesota earned a decisive victory to clinch a berth into the 2021 Stanley Cup Playoffs and extend its win streak to seven games. The Honda West Division now has three of its four playoff spots accounted for after Vegas clinched on April 21 and Colorado on April 22.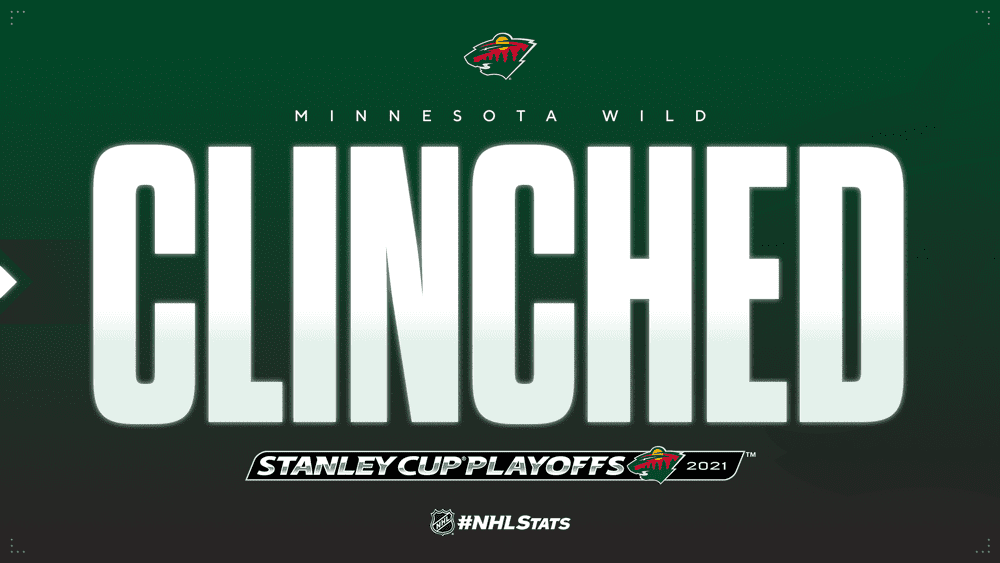 * Minnesota has reached the postseason for the eighth time in nine seasons (since 2012-13), one of four clubs to either do so (also Pittsburgh Penguins) or have the chance to do so in 2020-21 (St. Louis Blues, Washington Capitals). Each of the other three clubs have won the Stanley Cup at least once in that span.
* Kaprizov leads all Wild skaters in goals and points in 2020-21 (22-19—41). Only three rookies since 1993-94 have led a team in points during the regular season, while also helping them qualify for the playoffs: Auston Matthews (2016-17 w/ TOR), Filip Forsberg (2014-15 w/ NSH) and Trent Hunter (2003-04 w/ NYI).
YANDLE PASSES UNGER FOR NHL'S SECOND-LONGEST "IRONMAN" STREAK
Panthers defenseman Keith Yandle skated in his 915th consecutive regular-season game dating to March 26, 2009 and passed Garry Unger (914 GP from Feb. 24, 1968 – Dec. 21, 1979) for the second-longest "Ironman" streak in NHL history. Yandle now trails only Doug Jarvis (964 GP) for the most – he has held the record for over 35 years (Dec. 26, 1986).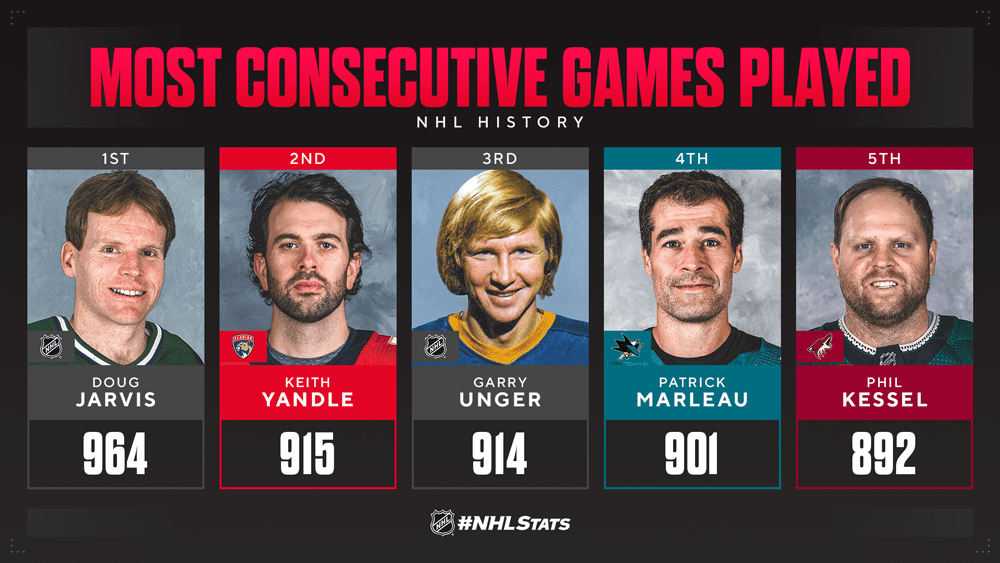 * Teammate and fellow defenseman MacKenzie Weegar (1-3—4) factored on all four goals as the Panthers earned their NHL-leading eighth overtime win in 2020-21. Second-place Florida (31-13-5, 67 points) earned a crucial point against first-place Carolina (31-10-6, 68 points) in the Discover Central Division.
* Weegar matched the franchise record for points in a game by a defenseman – a feat accomplished eight other times and once already in 2020-21 (Aaron Ekblad: 2-2—4 on March 4 at NSH).
CAPITALS MAINTAIN TOP SPOT IN EAST ON CHARA'S MILESTONE NIGHT. . .
On the night Zdeno Chara joined Chris Chelios (1,651 GP), Scott Stevens (1,635 GP), Larry Murphy (1,615 GP) and Ray Bourque (1,612 GP) as the fifth defenseman in NHL history to skate in 1,600 career games, the Capitals (31-13-4, 66 points) scored six goals to retake top spot in the MassMutual East Division from the Penguins (31-14-3, 65 points) after Pittsburgh claimed the position earlier in the afternoon.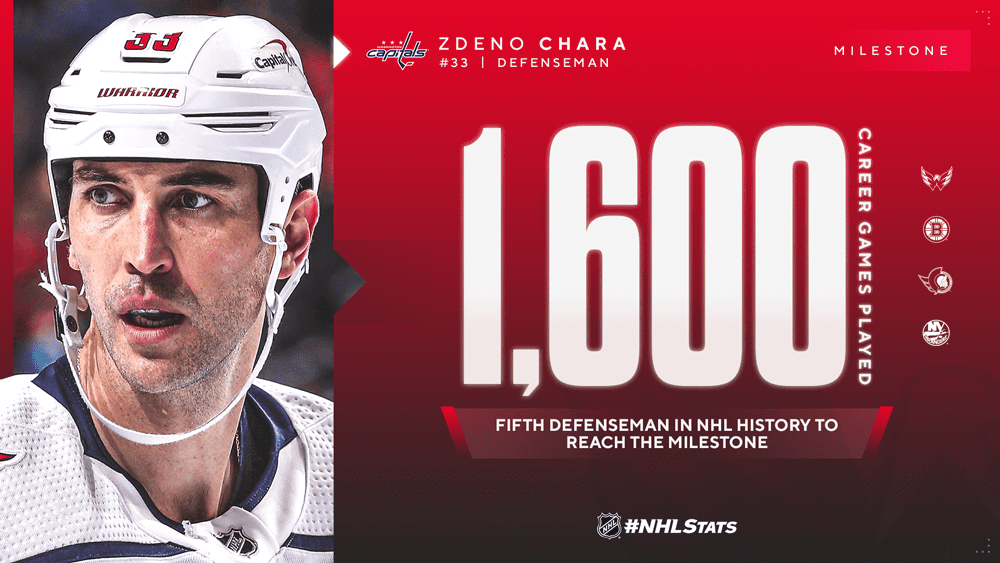 * Washington outscored third-place New York 7-3 over its two-game series at Nassau Veterans Memorial Coliseum and will conclude its three-game set against the club at Capital One Arena on April 27. The Capitals joined the Penguins (Feb. 11 and Feb. 27) as just the second team to earn two road wins against the Islanders this season.
. . . WHILE CROSBY HITS 20 GOALS, CLINCHES 16TH POINT-PER-GAME SEASON
Sidney Crosby (20-35—55 in 47 GP) scored Pittsburgh's fourth goal into an empty net with 0.01 seconds remaining in the game to complete a 4-2 victory and help the Penguins sweep their three-game set with the Devils.
* Crosby's buzzer-beating goal marked his 20th of the season, eclipsing the benchmark for the 13th time in his career to break a tie with Mario Lemieux (12) and Evgeni Malkin (12) for the most 20-goal campaigns in Penguins history.
* Crosby's tally marked his 55th point of the season, subsequently guaranteeing that he'll average a point-per-game for the 16th season of his career. He trails only Wayne Gretzky (19) and Gordie Howe (17) for the most point-per-game seasons in NHL history.
* The Penguins captain has now recorded point-per-game seasons in each of his first 16 NHL campaigns, joining Gretzky (19) as the only players in NHL history to achieve that feat.
GOLDEN KNIGHTS EXTEND WIN STREAK TO FRANCHISE-RECORD NINE GAMES
Chandler Stephenson posted a game-high 2-1—3 and Max Pacioretty (0-1—1) extended his point streak to seven games as Honda West Division-leading Vegas (34-11-2, 70 points) improved to 9-0-0 over the last nine games dating to April 9. The Golden Knights established the longest win streak in franchise history and matched the Islanders for the lengthiest run by a team this season (9-0-0 from Feb. 28 – March 14).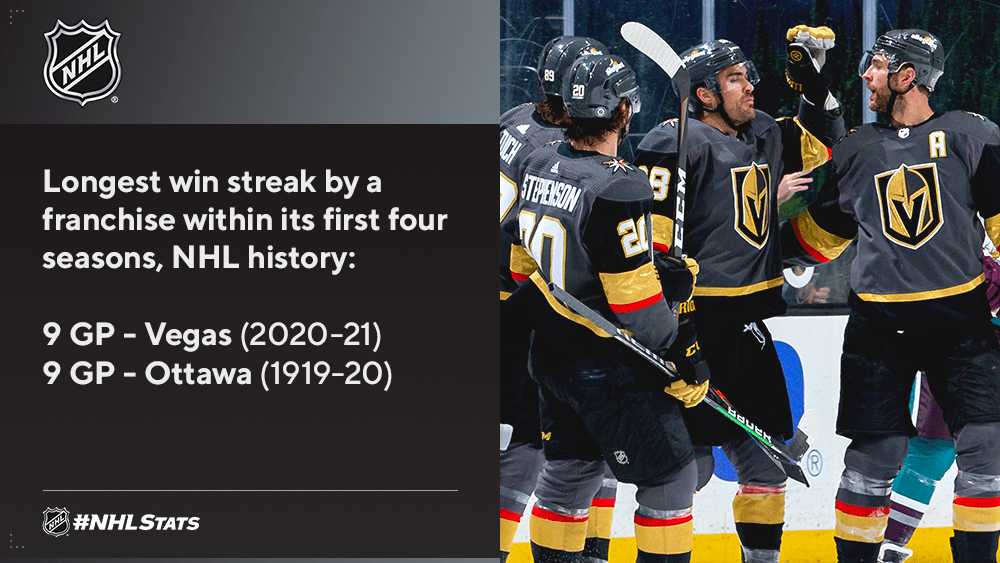 NAG-SHOOT SIYA, NAG-ISKOR SIYA (HE SHOOTS, HE SCORES IN TAGALOG)
The Maple Leafs (30-13-5, 65 wins), Flames (21-23-3, 45 points) and Canucks (19-19-3, 41 points) each earned wins on Hockey Night in Canada's 'Multilingual Edition' broadcast, which featured an additional seven languages: Arabic, Cantonese, German, Hindi, Mandarin, Tagalog and Vietnamese.
* Mitch Marner scored his 100th career goal and second game winner in as many contests as the Scotia North Division-leading Maple Leafs earned their 30th win of the season. The 2020-21 campaign marks the fifth in franchise history in which Toronto is the first team in its division to 30 wins. The others: 2003-04, 1999-00, 1998-99 and 1934-35.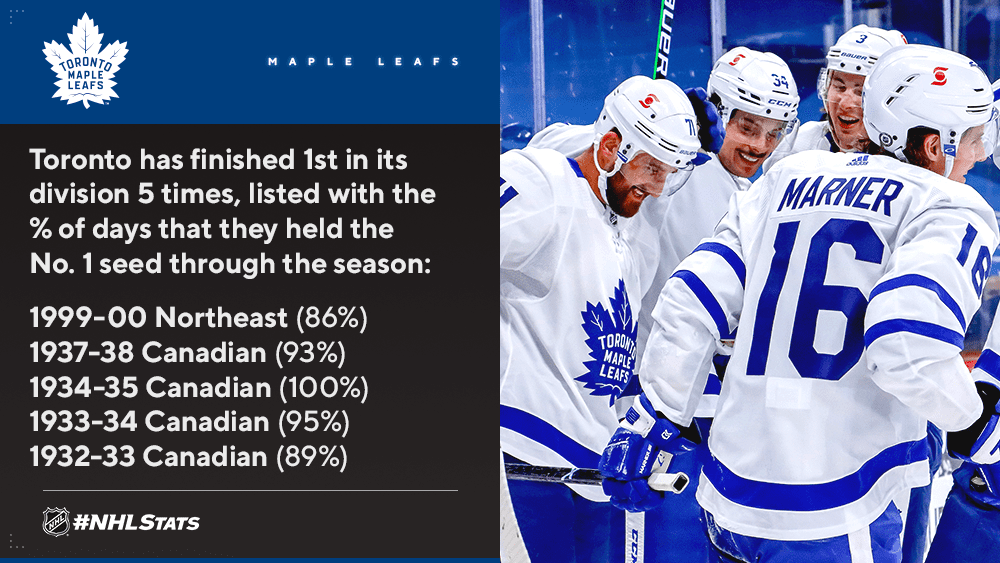 Johnny Gaudreau recorded his 26th career multi-goal outing as Calgary improved to 6-2-0 versus Montreal in 2020-21, outscoring them 23-13 in those contests. The Flames, who rank fifth in the Scotia North Division standings, earned two crucial regulation wins in as many days versus the fourth-place Canadiens and trails them by four points. The two clubs are set to conclude their nine-game season series on Monday (6:30 p.m. ET on RDS, TSN2, SNW).
COYOTES, BLUES AND STARS CONTINUE TO BATTLE FOR PLAYOFF SPOTS
* Darcy Kuemper (26 saves) posted his 10th career shutout with Arizona as the Coyotes (21-22-5, 47 points) maintained fourth place in the Honda West Division. Kuemper, who posted his second shutout of the season (also Feb. 15 vs. STL), became the sixth goaltender to post at least 10 such performances with the Coyotes/Jets franchise. The others: Mike Smith (22), Nikolai Khabibulin (21), Ilya Bryzgalov (21), Bob Essensa (15) and Sean Burke (15).
* Ryan O'Reilly (3-1—4) scored his second hat trick of the season and third of his career to help the fifth-place Blues (20-19-6, 46 points) keep pace with the Coyotes in the Honda West Division. O'Reilly, a second-round pick in the 2009 NHL Draft (No. 33), surpassed the 600-point mark (215-388—603) and became the second player from his draft class to reach the milestone behind first-overall pick John Tavares (362-451—813 in 862 GP).
* Despite having to contend with Jonathan Bernier's 50-save performance, Jamie Benn scored 32 seconds into overtime as the Stars (20-15-12, 52 points) moved within two points of the idle and fourth-place Predators (26-21-2, 54 points) in the Discover Central Division and hold two games in hand. Only one player in Stars/North Stars history has scored more overtime goals than Benn (8), franchise icon Mike Modano (9).
COURTESY NHLmedia.com