By Danielle Daniels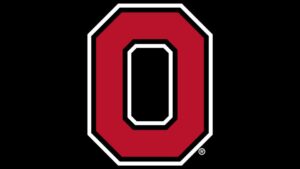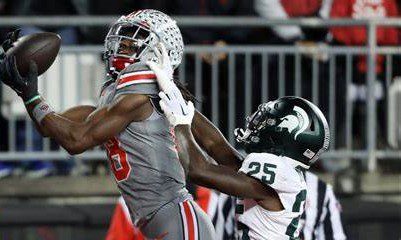 No. 1 Ohio State 38, Michigan State 3
Nov. 11, 2023 – Ohio Stadium; Columbus, Ohio
Attendance: 105,137
Ohio State head coach Ryan Day
On the performance of Marvin Harrison Jr. and the offense's fast start…
"It was great to have everybody back. It was great to have Cade (Stover) back. It was to see (TreyVeyon Henderson) running. It was good to have (Emeka Egbuka) and Julian (Fleming) out there. Certainly Marvin made some big time plays early on in the game that got us going. I thought the reverse was really well executed by the guys up front. You talk about a couple of those blocks that were made, (Gee Scott Jr.) came around and set that edge and then Marvin did the rest. Josh Fryar was hustling down the field. I thought the O-line, the first group, did a nice job. Trey ran hard, Kyle made some good decisions. Like you said, Marv is a special player. We are always going to try to find ways to get him the ball, not that it's always easy. There was a lot of double coverage out there tonight and he still found a way to make plays.
On the defense… 
"It was great to see some guys step up. Guys that you never know how they're going to shake out. Even at the end of the game, those are precious reps because you never know when guys are going to have to be put in those situations. You think back to that down the stretch run last year, at running back and tight end, there were a lot of times where we needed guys to step up and so we'll watch the film and figure out who did that today."
On what stood out to him from the team…
"I feel like we're getting all of our pieces back. I think you're starting to see our identity start to forge a little bit of what we're doing on offense. Every year, sometimes it takes a little bit longer to figure that out and I think you're seeing us play with more and more confidence… I felt like something like this was right around the corner. We were knocking on the door. I'm counting on this momentum to push us forward and finish the season the way that we should."
On more players getting to play in the second half…
"It is competitive to them. This is an opportunity. They practice and they earn the opportunity to get on the field and now they have to grab on to those reps. And some guys did flash. That's where you see a guy on the field… They are all gradeable snaps on film, it doesn't matter what the score is. That should have nothing to do with it. For example, a young guy who just flashed to me was Calvin Simpson-Hunt on that screen play. What a great play for him to show up there."
Ohio State wide receiver Marvin Harrison Jr. 
On playing in the slot more…
"I've definitely played in the slot more. I played slot the whole spring with Emeka (Egbuka) being out. I'm just enhancing my game as much as I can. Last year I was just an outside guy, but this year I'm showcasing more of my abilities. I'd like to credit Coach Day."
On if he's focused on the Heisman…
"Honestly, that wasn't in my head at all. I just want to beat The Team Up North and win the Big Ten Championship. Those are the two goals that I've had."
On his connection with Kyle McCord growing…
"Definitely. We played with each other in high school, but it's totally different in college. The players are better and schemes are different. So we're still trying to adjust and we've had 10 games now. We're still developing chemistry and giving each other different looks in practice so we can be on the same page as much as we can."
On what it means to be the first Ohio State receiver with two 1,000-yard seasons… 
"It's crazy, all glory to God. He's blessed me a lot with a lot of different skills."
Ohio State quarterback Kyle McCord
On his opinion on Marvin Harrison Jr.'s versatility impacts him…
"I can't quantify how impactful he is to this offense. You know in those one-on-one situations, obviously he wins. There are situations where he takes two defenders with him and [the defense] wants to double him, so somebody else is open. He does a good job. He does so much for the offense and, I think I said this about a month ago, but if it's truly an award [Heisman] that goes to the best player, you know he has to be right there in contention."
On why he thinks tonight's game was so consistent…
"The game plan. I think we were super clear in the game plan, had a good week of preparation and knew how we wanted to attack them. I think the guys just did a great job. I mentioned the offensive line earlier – I thought they had a really good game, especially in pass protection. I had a clean pocket all night and obviously the receivers going out, making some really good contested plays. On third downs we were really efficient tonight and I think anytime on third down you're efficient and keep the chains moving, points are going to follow."
On Cade Stover…
"I think the way he blocks, the way he runs routes, the way he was just selfless on the field – the whole offense benefits from that."
On playing their best football…
"The urgency has been passed down from the coaches to the players and I think as an offense we knew that this had to be a good game for us and a step in the right direction. I think it was. We were rolling in the first half."
On the offensive players…
"I'm supporting, that's the only way to put it. You look around on the field and every single position is just a dog."
On Marvin Harrison Jr….
"I can't quantify how impactful he is to this offense. It's truly an award [Heisman] that goes to the best player and he has to be right there in contention."
Ohio State safety Sonny Styles
 On Kyle McCord and Marvin Harrison Jr. …
"That was great. You love seeing that when you're on the sideline as defense – seeing your offense just click."
On Malik Hartford…
"I think Malik did a good job. He's a young guy. I think he's getting better every week."
On younger players going in during the second half…
"I love seeing the younger guys get in there and make plays. They work hard in practice every week so for them to get that moment out there and take advantage, it's great."
The effect that the offense playing well has on the defense…
"I think it gives [the defense] a little bit of an extra boost. It gives you a little bit of pep in your step."
On Coach Day cutting down practices this week…
"Later in the season he's trying to take care of our bodies. He's a player's coach, tries to make sure we are feeling good and I think it definitely helped. My body felt great today."
On learning how to play multiple positions…
"I think it helps me raise my football IQ. It gave me a bigger understanding of defense as a whole."
On Cody Simon stepping in for Tommy Eichenberg…
"One thing about Cody – he's going to execute. He's a great leader. I think he's one of those 'Mr. Perfect' guys who does everything right."
Ohio State linebacker Cody Simon
On new guys being put in the second half…
"College football is a tough sport to play  and to be able to celebrate with your guys, to be able to make big plays, it's not easy to do. So it's awesome to celebrate the guys who don't usually get the opportunity and can make big plays."
On the mentality it took to limit Michigan State's offense … 
"Our mentality is bend, but don't break. It's ok to let up a play here and there, but it's all about the next play and getting a stop."
On C.J. Hicks … 
"He's a talented player. He's playing a high level of football. He's super smart and I'm excited for him."
On Tommy Eichenberg … 
"Tommy is an all-time leader. It doesn't matter what his role is on the field, at practice, or anywhere. He's going to be vocal and will always be helping us. I'm so happy to have him on our side, he's such a great leader."
Michigan State interim head coach Harlon Barnett
On the status of the Michigan State football program…
"We've got a ways to go… You see what teams in the Top 10 look like and how they play. I look back and I know what our teams have looked like before when we were Top 10 and so we have to get back to that… There's another level to this thing and we can get there."
On Marvin Harrison Jr.…
"He's a tough matchup and one of the best receivers in the country."
On offensive performance…
"We could get some nice plays and runs but all of a sudden, we're taking two steps forward and three steps back… We just couldn't sustain drives and ultimately you want to get in the endzone and … we weren't able to do that."
On the mindset from here…
"We've danced the playing for personal pride part. [The team] should go out there and compete and try to get better throughout the course of the week of practice."
COURTESY OSU ATHLETIC COMMUNICATIONS