By Annie Walker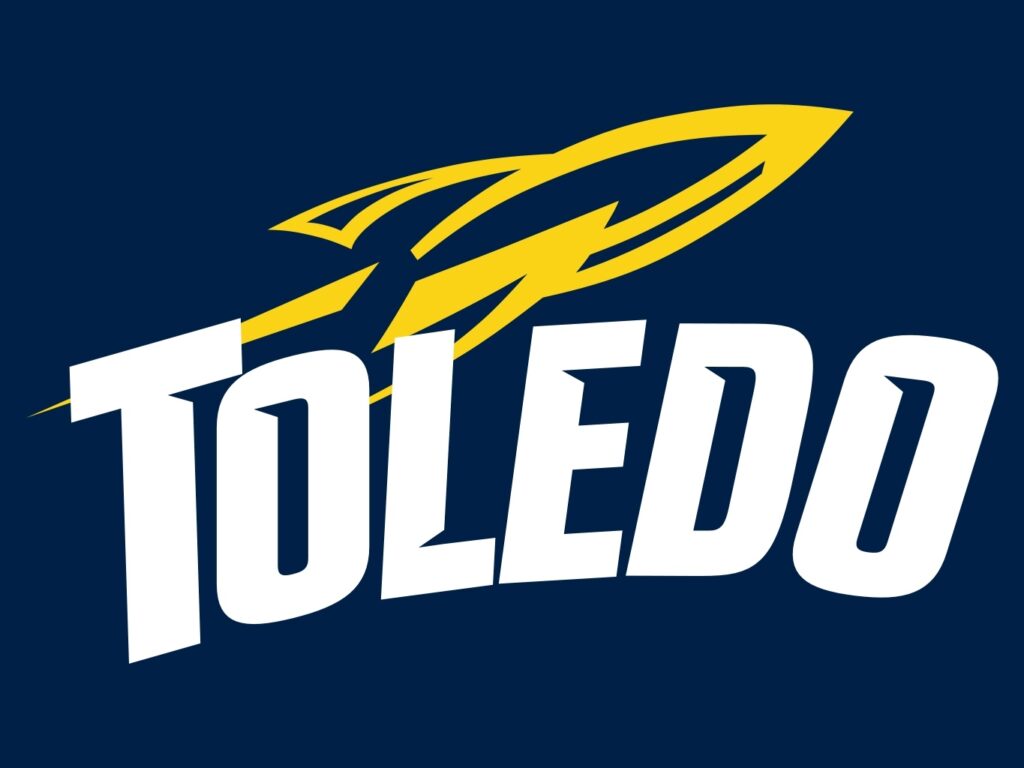 Toledo to face Raiders for first time since 2019 on Tuesday night in Nutter Center
11/13/2023
GAME NOTES
https://utrockets.com/documents/2023/11/13/2023-24_MBB_Game_Notes-Game_3.pdf
TOLEDO, Ohio – The Toledo men's basketball team (2-0) will receive its first road test of the season on Tuesday, Nov. 14 when it makes the short trip down I-75 to battle Wright State in Dayton, Ohio. Tip-off time in the Nutter Center is set for 7:00 p.m. with streaming on ESPN+.
The Rockets won their second-straight game to open the season on Saturday night by rallying from a 16-point deficit with 12:41 remaining to post an 87-78 victory over Louisiana. Tyler Cochran topped the Rockets' offensively with 18 points off the bench. Ra'Heim Moss and Sonny Wilson each scored 16 points apiece to join Cochran in double figures.
Toledo, which is leading the MAC with 90.5 ppg and a 53.8 field-goal percentage,  shot over 50% from the field for a second-straight game with its 57.1 shooting mark. Louisiana also was efficient shooting the ball with a 54.1 FG%, but its 18 miscues led to a 24-13 Rocket advantage in points off turnovers.
Moss leads UT with 15.5 ppg and 6.5 rpg. Also scoring in double digits for the Rockets are Cochran (13.5), Dante Maddox Jr. (10.5), Javan Simmons (10.5) and Wilson (10.0).
Wright State opened its season on Friday night with a 105-77 setback at Colorado State. Preseason Horizon League Player of the Year Trey Calvin paced the Raiders with 33 points. WSU shot 59 percent in the first half and trailed by just three points at halftime.
Toledo has dropped its last three decisions against Wright State, including a 79-72 setback in Savage Arena on Dec. 21, 2019. Marreon Jackson led the Rockets in scoring with 21 points, while Tanner Holden tallied a game-high 27 points and 17 rebounds for the Raiders.
GAME INFORMATION
Date: Tuesday, Nov. 14, 2023.
Tip-Off: 7:00 p.m.
Location: Dayton, Ohio.
Arena: Nutter Center (10,400).
Streaming: ESPN+.
Radio: Rocket Radio Network. WCWA (1230 AM) in Toledo. Jim Heller will provide play-by-play for broadcast with Jay Lehman serving as analyst.
SERIES
Wright State leads 8-6. The Raiders have won three straight over Toledo to take the all-time series lead. UT is 3-3 in the Nutter Center. The last meeting between the schools resulted in a 79-72 WSU win in Savage Arena in 2019.
POST TOUCHES
•  Junior Ra'Heim Moss tied his career high with eight free throws made in UT's win over Louisiana (Nov. 11). He has knocked down 14-of-16 free-throw attempts this season.
•  Moss led the Rockets in scoring for the first time in his career with his 15-point outing in UT's season-opening win over Detroit Mercy (Nov. 6).
•  Juniors Tyler Cochran and Dante Maddox Jr. are leading the MAC with 3.5 spg and 3.0 spg, respectively.
•  Maddox and Moss lead the Rockets and rank second in the MAC with a 3.5 A/TO ratio.
TEAM TIDBITS
•  Toledo leads the MAC in SEVEN categories — 90.5 ppg, 53.8 FG%, 51.7 3PTFG%, 17.5 apg, 11.0 spg, +11.5 turnover margin, and 1.9 A/TO ratio.
•  Toledo is tied for FIRST in the country with a 51.7 three-point FG% (15-of-29).
•  The Rockets rank SEVENTH in the nation with an 11.5 turnover margin and EIGHTH in fewest fouls per game with 11.0 per game.
•  The Rockets' 34-point victory over Detroit Mercy in their season opener was their biggest margin of victory in an opener vs. a Division I opponent since a 96-60 win over Tulane on Nov. 30, 1963.
•  TEN Rockets are scoring 5.0 ppg or more with FIVE averaging 10.0 ppg or higher.
•  Toledo's 76 victories over the last three-plus seasons rank 13TH nationally.
ROAD WARRIORS
The Rockets have posted a 26-14 (.650) win-loss mark in road games since the start of the 2020-21 season. Toledo possesses a 50-34 (.595) win-loss mark on enemy courts since the start of the 2017-18 season.
ON THE HORIZON
Toledo will head to Henderson, Nev. next week to compete in the Ball Dawgs Classic. The Rockets face New Mexico on Tuesday, Nov. 21 at 11:15 p.m. ET, UC-Irvine on Wednesday, Nov. 22 at 11:45 p.m. ET and Indiana State on Friday, Nov. 24 at 2:00 p.m. ET.
UT will then have a week off before hosting George Mason on Saturday, Dec. 2. Tip-off time in Savage Arena is set for 7:00 p.m.
COURTESY TOLEDO ATHLETIC COMMUNICATIONS