By Chris Garvin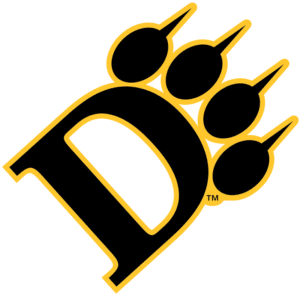 OHIO DOMINICAN GAME NOTES
https://ohiodominicanpanthers.com/documents/2023/11/9/ODUfb23_FALL_Notes11_HC.pdf
HILLSDALE COLLEGE GAME NOTES
https://ohiodominicanpanthers.com/documents/2023/11/9/Week_11__ODU_.pdf
COLUMBUS, Ohio – The Ohio Dominican Panthers football team concludes the 2023 regular season with a very common November trip to the Wolverine State for a Great Midwest matchup against the Hillsdale College Chargers on Saturday (Nov. 11) afternoon.
The Panthers enter the last game of the 2023 season with a 4-6 record and 3-5 in the G-MAC. This is the first time since the 2010 season that the Panthers will finish below .500 after 11 straight winning full (Fall) seasons.
OPENING KICKOFF
The Panthers were defeated 44-10 last week by the #17/22 ranked Tiffin Dragons in the home finale. 
Drew Gallehue (Edon, Ohio) accounted for 156 passing yards on 13-of-27 passing. He added one passing touchdown in the fourth quarter to Spencer Klopfenstein (Troy, Ohio).
Isaac Allegretto (Lima, Ohio) completed three-of-four passes for 21 yards in his first action at quarterback.
Travis Whittaker (Gahanna, Ohio) ran for 86 yards on the ground on ten carries. He added three catches for 26 yards as well.

He has moved into fifth all-time with 1,947 career rushing yards. He passed Frederick Pitts V for fifth all-time against Northwood in Week 8. With 469 rushing attempts, Whittaker is fourth in program history, passing Nathan Clark (411) at Walsh in Week 7. In 37 career games, Whittaker averages 52.6 yards a game, good enough for sixth among career ODU running backs. With 2,000 yards, he would be the 5th in program history to reach that mark.

Ty Wiley (Pickerington, Ohio) earned his third 100-yard game of the season (fifth of career) as he caught seven passes for 115 yards.

He leads the Panthers with 45 catches for 647 yards.  Also, Wiley has 15 kick returns for 294 yards.
Wiley has a career 75 catches (18th most) for 1,116 yards (16th all-time) in 27 career games. He became the 18th receiver with 1,000 career yards at Findlay in Week 9.
For kick returns, Wiley is fifth all-time with 35 returns and 702 yards.

Brady Blattner (Cumberland, Ohio), Daishaun Hill (Rocky River, Ohio) and Jayden Hill (Gahanna, Ohio) all made nine tackles to lead the Panthers.

Blattner has 12.0 tackles for loss among 68 tackles (team-high), 1.5 sacks and two forced fumbles. With 52 unassisted tackles this season, he is tied for 6th most in a season among the program's history. He has 14.5 career TFL and 2.5 sacks.
D. Hill is fourth on the team with 55 tackles this season and came away with the fifth interception of his career in Week 2 vs. Winston-Salem State. After picks at Kentucky Wesleyan in Week 4 and Week 5 vs. Ashland, Hill now has seven INT's and he is tied for eighth in program history tied with Eisen Hardy.
J. Hill has 64 tackles on the season (2nd on the team) with one pass breakup and one forced fumble. He led with eight tackles against Lake Erie and Northwood.
The pair of Hills have jumped into the top 20 all-time for career tackles. J. Hill is 10th with 244 tackles (5 from 9th) and D. Hill is 12th at 230 (14 from 10th).
J. Hill and D. Hill are both tied for 8th all-time in pass breakups (21).

Eddie Miller-Garrett (Newark, New Jersey) added 2.5 tackles for loss on his six tackle afternoon.

In D2, he is 1st in tackles for loss and T-3rd in total sacks this season. Across all divisions, he is 2nd in TFL and T-14th for sacks. For his career, EMG is currently 2nd among active D2 players for tackles for loss (9th across all divisions) and tied for 6th in sacks.

AJ Young (Lexington, Ohio) added a 38-yard field goal, the second of his career and the second straight week that he has converted on a field goal attempt.
ODU is 16-6 after a loss under Kelly Cummings and he is 2-3 after losses this season.
Ohio Dominican's defense forced Tiffin into four three-and-outs, the most for the Dragons this season and held the 3rd best rushing attack to 166 yards total (lowest output this season).
ODU is in the top three of the G-MAC in nine of 11 defensive categories this season. They also rank in the top 20 nationally in three different categories.

Rushing: 83.5 YPG – 2nd (12th in D2)
Sacks: 26 – 3rd
First Down Defense: 163 – 3rd
Red Zone Defense: 72.4% – 3rd
Total Defense: 284.7 YPG – 3rd
Passing Efficiency: 120.1 – 3rd
Scoring: 18.3 PPG – 3rd
Third Down Conversions: 34.6% – T-3rd
Fourth Down Conversions: 40.0% – 3rd
Passing: 201.2 YPG – 5th
Interceptions: 6 – T-8th

Ohio Dominican holds a 7-5 lead in the series history with Hillsdale, with the Panthers going 3-2 in Hillsdale contests.

Ohio Dominican won 20-10 in Columbus last season.
NUMBERS TO KNOW
3 – Ohio Dominican is 10-3 in November games under Kelly Cummings.
5 – The Panthers and the Chargers will end a season for the 5th year in a row.
17 – Ty Wiley leads the team with 17 plays over 20 yards, including 12 catches of at least 20 yards.
47 – ODU has counted for 47 QB hurries this season, the most in the program's history.
HILLSDALE AT A GLANCE
Hillsdale has made it a tale of two halves for the Chargers. After an 0-4 start and then 1-5, the Chargers have won four straight games to get back to even at 5-5 for the season. Hillsdale is 5-3 in G-MAC games.
In non-conference play, they dropped games to #20/21 Indianapolis (39-20) and Michigan Tech (45-20) on the road.
For conference play, Hillsdale fell to Ashland (38-14), Findlay (31-21) and Tiffin (35-21) while winning vs. Northwood (40-18), a part of a 1-4 G-MAC start
Four straight wins within the G-MAC have put them at 5-3 including victories over Kentucky Wesleyan (44-14), Thomas More (35-33), Lake Erie (52-21) and Walsh (28-3).
Only one game for the Chargers has been one-possession as they have won their five games by an average of 22 points (+110) and have lost by 18.4 points (-92). That one possession contest was at Thomas More, a 35-33 win.
For the season, Hillsdale averages 29.5 points scored, 210.9 rushing yards, and 162.0 passing yards per game on offense. The Chargers are allowing 27.7 points, 133.6 rushing yards and 241.2 passing yards per contest. Overall on offense, the Chargers sit second in rushing, third in scoring and total offense (374.9 YPG) and then eighth in passing offense. For the defense, HC is fifth in rushing, seventh in total defense (374.8 YPG), eighth in scoring and tenth in passing defense.
Keith Otterbein has been with the Chargers for the last 22 years as head coach and has coached at two different schools at HC (Ferris State –  nine seasons). Ten of his 21 previous seasons have gotten the Chargers above .500 (this weekend could make 11 with a win).
In the 2023 G-MAC Preseason Poll, Hillsdale was selected in fifth place behind the Panthers in fourth.
Garrit Aissen has completed 103-of-174 passes under center this season with 1,259 passing yards, ten touchdowns and seven interceptions. He ranks seventh in the G-MAC for touchdowns and eighth in passing yards.
Michael Herzog is the G-MAC rushing leader with 1,158 yards on the ground (8th in D2). Herzog has carried the ball 210 times and scored 16 touchdowns (1st in G-MAC and 4th in D2). He is the national leader for all-purpose yards (168.4 YPG).
With no more Issac TeSlaa, Sam Lee has been the leading target for Aissen with 34 catches for 473 yards and three touchdowns. Shea Ruddy has a team-high five touchdowns (out of 18 catches for 379 yards).
Jacob Vance is the leading tackler with 48 stops this season. Matt Soderdahl has 47 tackles on defense.
Riley Tolsma leads with ten tackles for loss and 5.5 sacks.
Sam Zemis has three of Hillsdale's seven interceptions (tied for fifth in the G-MAC).
Julian Lee is four-of-nine on field goals while converting all 36 extra point attempts.
COURTESY OHIO DOMINICAN ATHLETIC COMMUNICATIONS