By Mariana Smith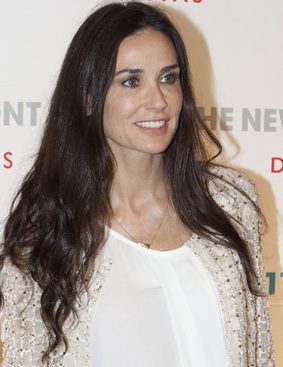 FROM WIKIPEDIA COMMONS
Demi Gene Moore (/dəˈmiː/ də-MEE; née Guynes; born November 11, 1962) is an American actress. She made her film debut in 1981 and appeared on the soap opera General Hospital (1982–1983) before coming to prominence as a member of the Brat Pack with roles in Blame It on Rio (1984), St. Elmo's Fire (1985), and About Last Night… (1986).[14] While the lattermost made Moore a star, she established herself as a bankable performer with Ghost, the highest-grossing film of 1990. Her performance was praised and earned her a Golden Globe Award nomination.
She had further box-office success in the early 1990s, with the films A Few Good Men (1992), Indecent Proposal (1993), and Disclosure (1994). In 1996, Moore became the highest-paid actress in film history when she received an unprecedented $12.5 million to star in Striptease. The large-budget starring vehicles The Scarlet Letter (1995), The Juror (1996) and G.I. Jane (1997) were commercially unsuccessful and contributed to a downturn in her career. She has since held sporadic leading roles in the arthouse dramas Passion of Mind (2000), Flawless (2008), and Blind (2017), as well as supporting roles in such films as Charlie's Angels: Full Throttle (2003), Bobby (2006), Mr. Brooks (2007), and Margin Call (2011). Moore's television work includes the Emmy Award-nominated cable anthology If These Walls Could Talk (1996) and the streaming series Brave New World (2020).
In 2019, she released a memoir titled Inside Out, which became a New York Times Best Seller. Moore has been married thrice, to the musician Freddy Moore and the actors Bruce Willis and Ashton Kutcher. She has three daughters with Willis.
TODAY'S ALMANAC
Traditionally, Indian Summer or "Second Summer" happens in November when a period of warm weather follows a cold spell or hard frost. Although there are differing dates for its occurence, for more than 230 years, the Almanac has adhered to the old saying, "If All Saints' (November 1) brings out winter, St. Martin's (November 11) brings out winter." So we use November 11 to 20.
Remembrance Day in Canada is a day to honor the Canadian men and women who have died in service to their country. Poppies are often worn in remembrance.
The date, November 11, marks the anniversary of the end of World War I in 1918. Traditionally, on Remembrance Day, two minutes of silence are observed at 11:00 a.m., the same time when World War I hostilities ended (the eleventh hour of the eleventh day of the eleventh month), according to an armistice agreement signed by Germany and the Allies.
Originally Armistice Day, commemorating the signing of the agreement that ended World War I at 11:00 A.M., November 11, 1918, this federal holiday was changed to Veterans Day in 1954. At that time, it became a day to honor all the men and women who have served in the armed forces of the United States. Each year, special ceremonies are held at Arlington National Cemetery in Virginia. Consider spending some time on-line learning more about our nation's veterans. The Great War Society has developed a Web site devoted to World War I educational materials. The World War II Memorial celebrates the victory of "the greatest generation" with a design that uses moving water to harmonize with its natural surroundings. Visit the Korean War Veterans Memorial online; this moving memorial, dedicated in 1995, is the latest addition to the National Mall in Washington, D.C. See a registry of all the names on the Vietnam Veterans Memorial Wall in Washington. Learn more about the military men and women who are on duty today."
Question of the Day
How big a turkey should I buy if I'm intending to feed ten people?
You should count on about one pound per person, precooked. This may turn out to be more than necessary, but better safe than without leftovers.
Advice of the Day
Caraway seeds keep pigeons from straying.
Home Hint of the Day
Treat really stubborn stains in marble with fresh hydrogen peroxide and a couple of drops of ammonia. (Peroxide loses strength as it ages — check the expiration date on the label.) Pour the mixture on the stain and let sit for several minutes. Then wash, rinse, and wipe dry.
Word of the Day
SOS
The letters signified by the signal ( … – … ) prescribed by the International Radiotelegraphic Convention of 1908 for use by ships in distress. 
SOS
 was chosen as the universal distress signal because this combination of three dots followed by three dashes followed by three dots (…–…), was easy to send and easily recognized, especially since they were usually sent as a nine-character signal, which stood out against the background of three-character Morse Code letters. The letters themselves are meaningless. 
SOS
 does not stand for Save Our Souls, Save Our Ship, Stop Other Signals, or Sure Of Sinking.
Puzzle of the Day
What is the longest word in the English language?
Smiles, because there is a mile between the first and last letters.
Born
Abigail Adams

 

(U.S. First Lady)

 

– 

Fyodor Dostoyevsky

 

(author)

 

– 

Maude Adams

 

(actress)

 

– 

George S. Patton, Jr.

 

(army general)

 

– 

Pat O'Brien

 

(actor)

 

– 

Howard Fast

 

(author)

 

– 

Kurt Vonnegut

 

(author)

 

– 

Jonathan Winters

 

(actor)

 

– 

Carlos Fuentes

 

(author)

 

– 

Fuzzy Zoeller

 

(golfer)

 

– 

Stanley Tucci

 

(actor)

 

– 

Demi Moore

 

(actress)

 

– 

Calista Flockhart

 

(actress)

 

– 

Leslie Mann

 

(actress)

 

– 

Leonardo DiCaprio

 

(actor)

 

– 

Christa B. Allen

 

(actress)

 

– 
Died
Nat Turner

 

(A deeply religious enslaved man who in August 1831 led a violent rebellion of enslaved people in Southampton County, Virginia )

 

– 

Søren Kierkegaard

 

(philosopher)

 

– 

Mary Kay Bergman

 

(voice actress)

 

– 

Yasser Arafat

 

(Palestinian leader who sought a homeland for his people)

 

– 

Delbert Mann

 

(director)

 

– 

Douglas Rain

 

(Canadian actor)

 

– 
Events
The founding grant for Stanford University was signed, Palo Alto, California

– 

Washington admitted to the Union as the 42nd state

– 

Tomb of the Unknown Soldier dedicated, Arlington, Virginia

– 

The Vietnam Women's Memorial was dedicated, Washington, D.C.

– 

George Bowering became the first Parliamentary Poet Laureate in Canada

– 

Transit of Mercury.

– 
Weather
Oklahoma City reached a record high temperature of 83 degrees F, before plunging 66 degrees to a record low of 17 degrees F that evening

– 

The Armistice Day Storm killed more than 100 people and dumped 17 inches of snow on Iowa and nearly 29 inches on Duluth, Minnesota

– 
COURTESY www.almanac.com