By Bane Rossi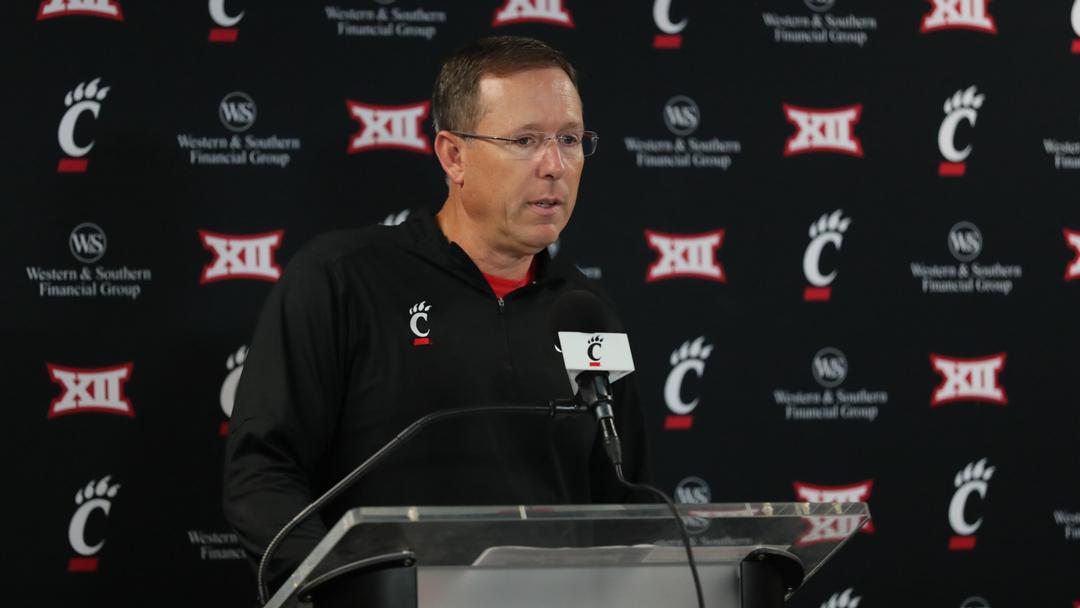 Scott Satterfield UC FTB Coach Postgame Press Conference UCF 28 UC 26 11 4 2023.mp3
November 04, 2023
UC rushed for 248 yards in the close loss
GAME BOOK
https://gobearcats.com/documents/2023/11/4/Cincinnati_vs_UCF_Game_Book_.PDF
POSTGAME NOTES
https://gobearcats.com/documents/2023/11/4/Cincinnati_vs_UCF_Postgame_Notes_11-4-23.pdf
CINCINNATI – Running backs Ryan Montgomery and Corey Kiner both rushed for 100 yards, but UCF held on for a 28-26 victory on Saturday at Historic Nippert Stadium.
Trailing 28-20 with 2:41 remaining in the game, the Bearcats fought to the finish.
Quarterback Emory Jones connected with Braden Smith on a 37-yard pass that set up a six-yard rushing touchdown from Kiner to bring UC within two points, but the two-point conversion to tie the game failed.
UCF got 164 yards and three touchdowns from running back RJ Harvey, and quarterback John Rhys Plumlee completed a 40-yard pass to Javon Baker with five minutes remaining in the game to set up a one-yard rushing touchdown from Harvey.
Cincinnati outgained UCF, 515-393, but lost the turnover battle, 2-0, and committed eight penalties, including a false start on first down with the ball at the 2-yard line and an ejection for running into the referee.
"You cannot win football games being that undisciplined, it's the turnovers and the penalties," head coach Scott Satterfield said. "We have to get that fixed, and we're going to continue to work hard to get that fixed."
Montgomery finished with a career-best 113 yards and a touchdown on eight carries in his first real action after missing more than a month due to injury. Kiner totaled 114 yards and one touchdown on 19 carries, constantly moving the chains for his fourth 100-yard game this season.
The performances on the ground marked the third time this season two different players rushed for 100 yards in the same game.
"The work of our running backs, I'm extremely proud of them and the way they competed," Satterfield said. "The offensive line opened up the holes like they did tonight and did a great job. It's just frustrating and obviously, we're going to work to continue to get that fixed and even after all of that, we still had a chance to go down and tie the game, but we didn't hit the two-point play."
Cincinnati totaled an impressive 291 total yards in the first half, while rotating quarterbacks Jones and Brady Lichtenberg, but had two turnovers and trailed 14-10 at halftime.
Lichtenberg tossed a 35-yard pass to wide receiver Xzavier Henderson who fumbled fighting for more yardage. Jones tossed an interception in the end zone to cap the first half, as well.
UCF received the ball coming out of halftime, but missed a 47-yard field goal.
Cincinnati took advantage of the miss, driving 75 yards to take a 17-14 on a 2-yard Ryan Montgomery score at the 5:19 mark in the third quarter. Donovan Ollie, a wide receiver transfer from Washington State, had a clutch 40-yard catch – his first as a Bearcat – on the drive.
The Knights answered back with a 10-play, 85-yard drive in which Plumlee scrambled for a pair of first downs on third-down plays. A Harvey touchdown run on a 25-yard rush gave UCF a 21-17 lead with 31 seconds left in the third quarter.
Jones threw a rope to Braden Smith for a 35-yard gain on 4th-and-9 from the UCF 37, giving Cincinnati the ball seven yards from the goal line. UC's drive stalled inside the 10 and kicker Carter Brown split the uprights with a field goal from 28 yards out to bring the Bearcats within a point, 21-20, with 6:21 left.
Harvey's third touchdown, a 1-yard rush, put UCF up 28-20 with 2:41 left.
UP NEXT
The Cincinnati football team travels to TDECU Stadium to face the Houston Cougars next Saturday for the first time as Big 12 opponents. UC last played Houston in 2021 in a 35-20 AAC Championship win at Nippert Stadium that propelled the Bearcats to the College Football Playoff.
COURTESY UC SPORTS COMMUNICATIONS