By Carey Van Lue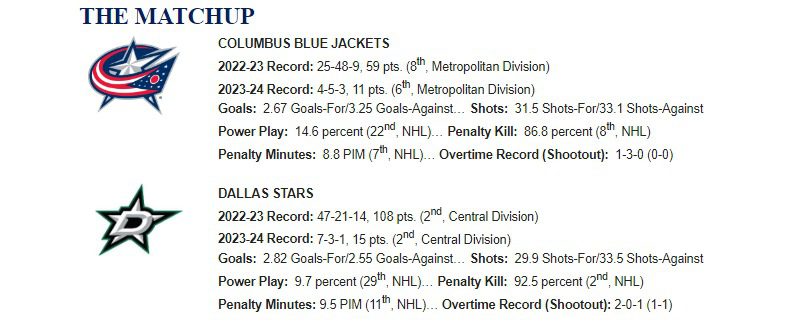 Stars to Watch
«  C Roope Hintz has registered 5-6-11 and three multi-point efforts in ten contests this season, tying for the club lead in goals and points.
«  G Jake Oettinger has earned points in six of eight games this season with a 5-2-1 record, 2.11 GAA and .933 SV% and is 8-0-1 with a 1.75 GAA and .927 SV% in nine career appearances against Columbus.
«  C Joe Pavelski (5-6-11, 11 GP) is tied for the Stars' lead in goals and points with points in seven of 11 appearances this season and has registered 19-21-40 in 48 career outings against CBJ.
All-Time Series
«  Columbus has gone 32-34-7 in all-time games against the Stars, including 17-15-5 at home.
«  The Blue Jackets are 2-3-0 in the last five meetings, but the Stars have won six of the last eight contests since Mar. 14, 2021 (CBJ; 2-5-1).
«  CBJ have killed off all 13 Stars power play chances over the nine games in the series with the club not allowing a power play opportunity in two of the contests (Mar. 13, 2021 and Dec. 19, 2022).
«  CBJ have registered points in 12 of the last 15 meetings at Nationwide Arena dating back to Jan. 28, 2013 (10-3-2).
«  The winning team has scored four or more goals in each of the last two meetings and five of the past seven since Apr. 15, 2021.
«  Dallas owns seven of the nine shutouts in the all-time series with Mathieu Garon (Jan. 10, 2010) and Sergei Bobrovsky (Oct. 22, 2016) recording CBJ's shutouts.
«  The Stars have recorded all three hat tricks in the series (MR: Tyler Seguin on Oct. 14, 2014), while the Blue Jackets have been awarded both penalty shots (MR: Emil Bemstrom unsuccessful on Mar. 13, 2021).
This Season (CBJ, 0-1-0)
«  Oct. 30, 2023 – at DAL 5, CBJ 3
«  Nov. 9, 2023 – at COLUMBUS (7:30 p.m. ET)
Player Notables vs. Stars
«  LW Johnny Gaudreau – 10-8-18 in 23 career GP, including points in eight of his 12  career home contests against the Stars (6-3-9).
«  F Jack Roslovic – 2-11-13 in 21 career GP, including assists in each of his last six home games vs. the club (1-8-9).
«  D Damon Severson – 2-6-8 in 16 career GP, including points in two-straight (1-1-2) and five of his last six appearances against the Stars (1-4-5).
«  D Zach Werenski – 4-8-12 in 16 career GP, including 3-3-6 with points in four of his last five games against the club, goals in each of his last three games played at home (3-2-5) and points in each of his last four home outings (3-3-6) as well as picking up points in seven of his nine contests at Nationwide Arena in his career (4-6-10).
BLUE JACKETS TEAM NOTES
The Blue Jackets fell in both games of their two-game road trip, falling 2-1 at Washington on Saturday and 5-4 in overtime at Florida on Monday.
CBJ have played five one-goal games this season (1-1-3), including in each of the last two.
The team is in a stretch of eight-of-10 games played against Eastern Conference teams from Oct. 26-Nov. 14.  The only two games against the Western Conference during that stretch are against Dallas (Oct. 30 at Dallas, Nov. 9 at CBJ).
The club has killed off all 13 opponent power play opportunities over the past five contests.
CBJ rank eighth in the NHL in penalty kill percentage this season at 86.8 pct. (33-of-38) and rank second in penalty kill percentage since Oct. 10 (92.6 pct.), killing off 25-of-27 opponent power play chances over the last nine games.
Columbus posted the third-highest total of blocked shots in a game this season with 30 in Monday's game at Florida.  The club ranks second in the NHL in blocked shots this season (239) and blocked shots-per-60 minutes (19.61).
Blue Jackets blueliners collected four assists in Monday's game at Florida and have combined to rank eighth-T among NHL defensive units in assists and 10th in points with 5-24-29 in 12 games this season.
CBJ play their fourth (1-1-1) of sixteen Thursday contests this season against Dallas on Nov. 9. It's also the third of nine Thursday home games played during 2023-24.
BLUE JACKETS PLAYER NOTES
C Adam Fantilli, the 2023 third overall pick, has registered 2-4-6 in 12 GP this season to rank seventh-T among League rookies in assists, eighth-T in goals and 11th  in points.
LW Johnny Gaudreau notched his first goal of the season this past Thursday against Tampa and has 1-4-5 in 12 games this season.  In his first season with the Blue Jackets in 2022-23, he led the club in assists, points, and multi-point games with 21-53-74 and 20 multi-point outings in 80 contests.
D Erik Gudbranson has posted points in two of the last three games (1-2-3) after notching the game winner on Nov. 2 vs. Tampa Bay and picking up his fourth career multi-assist outing with two assists on Monday at Florida.  He leads the team and ranks eighth-T among NHL skaters in blocked shots this season with 33.
C Boone Jenner, who has registered goals in two of the last three games (2-1-3) after scoring at Florida on Monday, leads the club in goals and ranks second in points with 6-2-8 in 12 outings this season.  The Jackets' captain has won 60% or more of his draws in seven-of-12 games this season and ranks seventh in the NHL for faceoff wins and 11th in faceoff percentage, winning 133-of-225 (59.1 pct.).
RW Kirill Marchenko has tied his career high (Jan. 23-27, 2023; 4-0-4) with points in three-straight games (2-1-3).  With 2-4-6 in ten appearances this season, he has already tied his career high in assists after posting 21-4-24 in 59 contests during his 2022-23 rookie campaign.
D Ivan Provorov has collected assists in eight of 12 games played this season (0-9-9).  He leads the team in assists and points, while ranking seventh-T among NHL blueliners in assists.
C Cole Sillinger has recorded assists in three of the last four outings.
LW Dmitri Voronkov has posted points in four of his first six NHL games (2-2-4), including three-straight from Oct. 30-Nov. 4 (2-1-3).  He became the third player in team history to record four or more points in their first five NHL games, joining Zach Werenski (2-3-5; Oct. 13-25, 2016) and David Vyborny (3-1-4; Oct. 7-15, 2000).
D Zach Werenski, who missed the final 69 games of the 2022-23 season due to a shoulder injury, has collected 1-5-6 in his last nine outings.
CBJ have two 19-year-old rookies on the team with C Adam Fantilli (2023 third overall pick) and D David Jiricek (2022 sixth overall selection).
BLUE JACKETS MILESTONES
RW Yegor Chinakhov is six games from 100 for his NHL career (11-16-27, 94 GP)
LW Johnny Gaudreau is six games from 700 for his NHL career (232-456-688, 694 GP).
C Boone Jenner (176-161-337, 669 GP) is five games from tying LW Rick Nash (289-258-547, 674 GP) for the most career games played in CBJ history.
F Patrik Laine is one goal from 200 for his NHL career (199-182-381, 466 GP).
D Andrew Peeke is three games away from his 200th NHL game (9-26-35, 197 GP).
C Jack Roslovic is three points from 200 and three games from 400 for his NHL career (73-124-197, 397 GP).
D Zach Werenski (80-171-251, 426 GP) is two assists from tying D Seth Jones (50-173-223, 381 GP) for most career assists by a defenseman in franchise history.
OhioHEALTH INJURY REPORT
G Daniil Tarasov (knee) is on the Injured/Non Roster List on Oct. 9 (Week-to-Week); 12 games
F Patrik Laine (upper body) is on Injured Reserve retroactive to Oct. 20 (Day-to-Day); 8 games
TOTAL MAN GAMES LOST: 30
COURTESY BLUE JACKETS COMMUNICATIONS