By Lady Williamson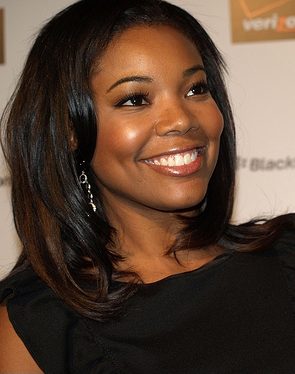 FROM WIKIPEDIA COMMONS
Gabrielle Monique Union-Wade (née Union; born October 29, 1972) is an American actress. Her career began in the 1990s, when she made dozens of appearances on television sitcoms, prior to landing supporting roles in 1999 teen films She's All That and 10 Things I Hate About You. She rose to greater prominence the following year, after she landed her breakthrough role in the teen film Bring It On.
Union is known for her performances in the romantic comedy films The Brothers (2001), Deliver Us from Eva (2003), Daddy's Little Girls (2007), Think Like a Man (2012) and Think Like a Man Too (2014). She also had starring roles in the CBS medical drama series City of Angels (2000) and in the films Bad Boys II (2003), Cradle 2 the Grave (2003), Neo Ned (2005), Cadillac Records (2008), Top Five (2014), Breaking In (2018), and The Perfect Find (2023). She has also co-starred in the films The Birth of a Nation (2016), Almost Christmas (2016) and Sleepless (2017).
Union starred as the lead characters in BET drama series Being Mary Jane (2013-2019), for which she has received an NAACP Image Award, and in the crime series L.A.'s Finest (2019-2020). Outside of acting, Union has written four books: two memoirs, titled We're Going to Need More Wine (2017) and You Got Anything Stronger? (2021), and two children's books, titled Welcome to the Party (2020) and Shady Baby (2021).
She has also been an outspoken advocate for issues involving women's health, LGBTQ+ equality, and violence against women, and was awarded the President's Award from the NAACP Image Awards, alongside her husband Dwyane Wade for their humanitarian efforts. Union was included on Time's list of the 100 most influential people in the world in 2020.
Gabrielle grew up a Nebraska Cornhuskers fan and a Turner Gill fan.
TODAY'S ALMANAC
Question of the Day
Is it possible to grow rosemary in an outdoor bed in Nashville, Tennessee, without having to dig it up and bring it inside before the first frost? I am wondering whether heavy mulching at the base and a burlap cover over the plant would help it live through our mild winter freezes.
Since rosemary is a tender shrub that overwinters well in Zones 8 through 10 and Nashville is in Zone 6, you'll be taking a risk by leaving yours outside through the cold season. But it's worth a shot. Mulching heavily is a good idea — try surrounding the plant with leaves packed into black plastic bags — and consider building a cold frame for the plant. Also, if you can, put the plant on the south side of your house, up against a wall for protection, but in full sun. This may provide enough warmth to help the plant survive the winter.
Advice of the Day
Shine laminated countertops with white vinegar and water.
Home Hint of the Day
Did you run out of toothpaste? Substitute baking soda mixed with a little salt or baking soda mixed with hydrogen peroxide.
Word of the Day
Epact
A number from 1 to 30 that indicates the Moon's age on January 1 at Greenwich, England; used for determining the date of Easter.
Puzzle of the Day
Why is coffee like an ax with a dull edge?
It must be ground before being used.
Born
James Boswell

 

(biographer)

 

– 

Daniel Decatur Emmett

 

(songwriter, musician)

 

– 

Fred Lazarus, Jr.

 

(merchandiser)

 

– 

Fanny Brice

 

(singer & comedienne)

 

– 

Melba Moore

 

(singer)

 

– 

Richard Dreyfuss

 

(actor)

 

– 

Kate Jackson

 

(actress)

 

– 

Mike Gartner

 

(hockey player)

 

– 

Joely Fisher

 

(actress)

 

– 

Winona Ryder

 

(actress)

 

– 

Gabrielle Union

 

(actress)

 

– 

Ben Foster

 

(actor)

 

– 

Amanda Beard

 

(Olympic swimmer)

 

– 
Died
Joseph Pulitzer

 

(journalist)

 

– 

Chang Lin-Tien

 

(first Asian-American to head a major U.S. university when he was named chancellor at the University of California at Berkeley)

 

– 
Events
First commencement of first U.S. coeducational college (Oberlin) took place

– 

Black Tuesday at the NY Stock Exchange—Great Depression began

– 

The first peacetime draft in U.S. history went into effect

– 

The first ballpoint pens went on sale at Gimbel's Department store in N.Y.C. at $12.50 a piece

– 

Boris Pasternak refused the Nobel Prize for literature under pressure from Soviet authorities

– 

A spectacular gem robbery took place in New York's American Museum of Natural History. The greatest loss was the Star of India, the largest sapphire in the world

– 

John Glenn returned to space at age 77

– 

A 6.4-magnitude earthquake struck southwestern Pakistan

– 

The Philadelphia Phillies won the World Series

– 

A man paddled a 1,364-pound pumpkin down the River Ouse in Yorkshire, England

– 

The Friends for Life animal shelter in Houston, Texas, posted a story on Facebook about their escape artist cat named Quilty, who repeatedly freed friends from the shelter's cat room. The talented kitty gained Internet fame and his story was picked up by the news media. He later was adopted.

– 
Weather
A deadly tornado struck Berryville, Arkansas

– 

A snow hurricane occurred in Maine

– 

Typhoon Cimaron battered the northern Philippines with winds up to 143 mph

– 
COURTESY www.almanac.com