By Lady Williamson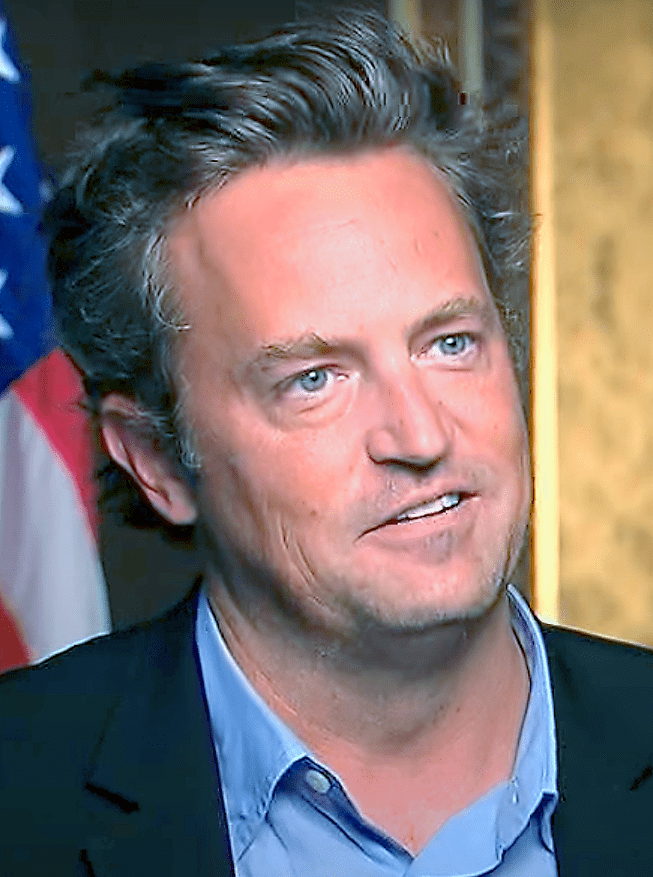 FROM WIKIPEDIA COMMONS
Matthew Langford Perry (August 19, 1969 – October 28, 2023) was an American and Canadian actor. He starred as Chandler Bing on Friends from 1994 to 2004. Perry also appeared on Ally McBeal (2002) and received Primetime Emmy Award nominations for his roles in The West Wing (2003) and The Ron Clark Story (2006). He gained a leading role in the NBC series Studio 60 on the Sunset Strip which aired from 2006 to 2007. Perry also became known for his leading film roles in Fools Rush In (1997), Almost Heroes (1998), Three to Tango (1999), The Whole Nine Yards (2000), Serving Sara (2002), The Whole Ten Yards (2005), and 17 Again (2009). He voiced Benny in the video game Fallout: New Vegas (2010).
Perry was co-creator, co-writer, executive producer, and star of the ABC sitcom Mr. Sunshine, which ran from February to April 2011. In August 2012, he starred as sportscaster Ryan King on the NBC sitcom Go On. Perry co-developed and starred in a revival of the CBS sitcom The Odd Couple portraying Oscar Madison from 2015 to 2017. He had recurring roles in the legal dramas The Good Wife (2012-2013), and The Good Fight (2017). He portrayed Ted Kennedy in The Kennedys: After Camelot (2017) and appeared as himself in Friends: The Reunion (2021).
Over the course of his career, Perry suffered severe addictions to drugs and alcohol. Through his recovery he became an advocate for rehabilitation and spokesperson for the National Association of Drug Court Professionals. In 2013 he received the Champion of Recovery Award from The White House Office of National Drug Control Policy. He wrote his memoir entitled, Friends, Lovers, and the Big Terrible Thing (2022).
On October 28, 2023, after a call from Perry's assistant, officers from the Los Angeles Police Department found Perry dead of drowning in a hot tub at his home in Pacific Palisades, Los Angeles, with no signs of foul play involved.